15 Best Free Fast File Copy Software [Tested for Speeds]
9. RichCopy 4
RichCopy is actually a tool developed at Microsoft and was used internally by them to copy files for several years before being made available to download. It's a multi threaded program allowing many files to be copied in parallel and has several of the functions you might want from a 3rd party copy program such as pause, resume, verify, profiles, file / directory filtering, multiple sources at once and full command line support.
Multiple file copy test 1: 223 seconds
ISO copy test 2: 233 seconds
Network copy test 3: 64 seconds
---
10. SuperCopier 2.3
SuperCopier is an open source transfer utility and is quite similar in looks and functionality to UltraCopier apart from this tool seems to be more stable. Most actions are accessed from the system tray including adding a new copy task and it has the standard pause / resume / skip buttons in addition to the copy list and several options to deal with errors or file collisions. Buffer size and Transfer speed can also be controlled from the Configuration window.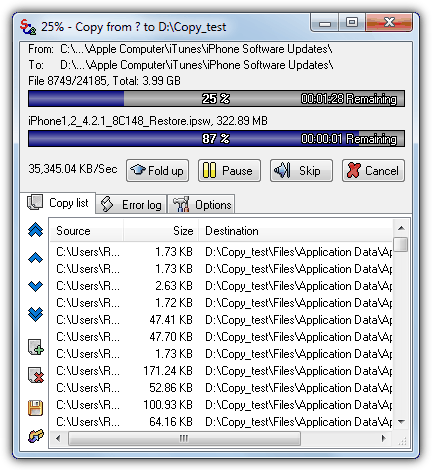 Multiple file copy test 1: 187 seconds
ISO copy test 2: 92 seconds
Network copy test 3: 98 seconds
---
11. TeraCopy 2.27
TeraCopy is one of the most popular tools around because it can completely replace Windows Explorer as the default copy handler and also adds itself to the context menu. It can also pause, skip and verify copied files using CRC32 in addition to dragging and dropping files onto the copy queue. A portable version is made available using the installer and users of Total Commander and Directory Opus have options to integrate TeraCopy into those file managers.

Multiple file copy test 1: 147 seconds
ISO copy test 2: 110 seconds
Network copy test 3: 102 seconds
---
12. UltraCopier 0.3.1
We had a few problems with the latest version of UltraCopier 0.4 as it kept throwing up errors during transfers and then crashing. The earlier 0.3.1 did work well enough to test though, so bear that in mind. The program will replace Explorer by default while it's running in the system tray and one odd thing is it keeps expanding the copy dialog window to fit in long file names. Standard functions such as pause and skip are available as well as a copy queue and several options on what to do for file collisions or issues.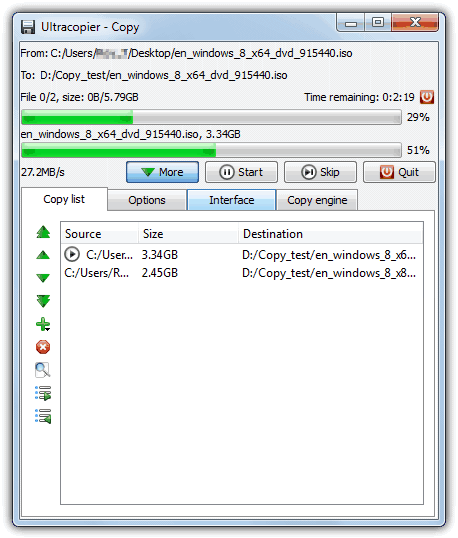 Multiple file copy test 1: 184 seconds
ISO copy test 2: 86 seconds
Network copy test 3: 92 seconds
---
13. Unstoppable Copier 5.2
Roadkil's Unstoppable Copier has been around a while and is a popular tool for copying as much data as possible from corrupted or damaged discs and drives. The program does have a number of useful features including a batch mode which you can run from the command line, logging, a right click context menu entry and several options on how to treat potentially corrupted or damaged files. A portable version is also available.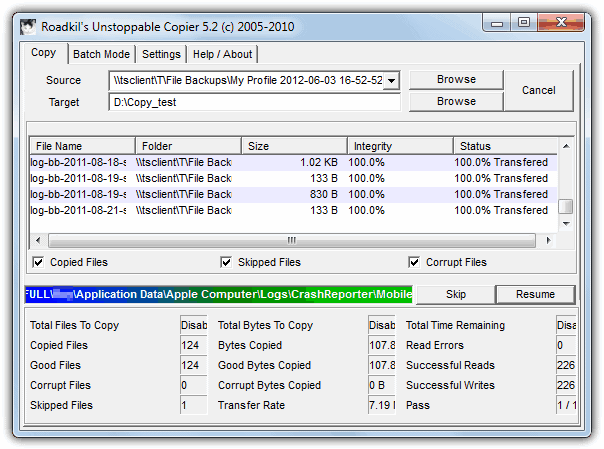 Multiple file copy test 1: 435 seconds
ISO copy test 2: 96 seconds
Network copy test 3: 175 seconds
Download Unstoppable Copier 5.2
---
14. WinMend File Copy 1.4.2.0
WinMend would certainly win a prize for its nice looking interface and is certainly a more novice friendly tool because it has no options to speak of apart from a buffer slider and the ability to overwrite or skip matching files at the destination. The copy process can be paused and resumed, but other than that, WinMend File Copy is pretty much standard.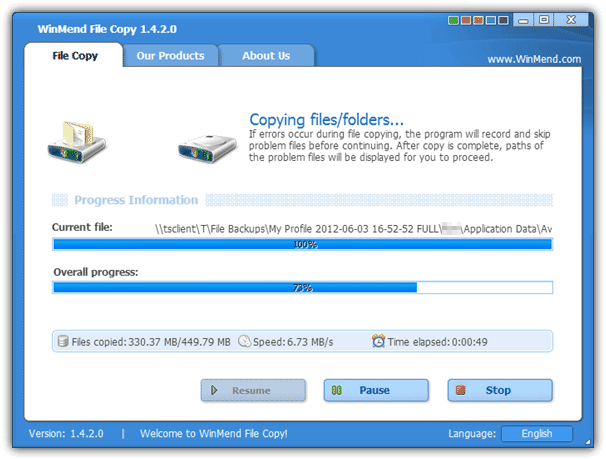 Multiple file copy test 1: 213 seconds
ISO copy test 2: 195 seconds
Network copy test 3: 118 seconds
---
15. WinRoboCopy 1.2
WinRoboCopy is simply a GUI interface for the built in Robocopy command line utility present in Windows Vista and above. It's not for the novice because a lot of the buttons and tick boxes are the command line switches. It does however have a built in scheduler, drag and drop onto the window, a simple before and after script editor and a settings (or Robojob) saver for different copy profiles.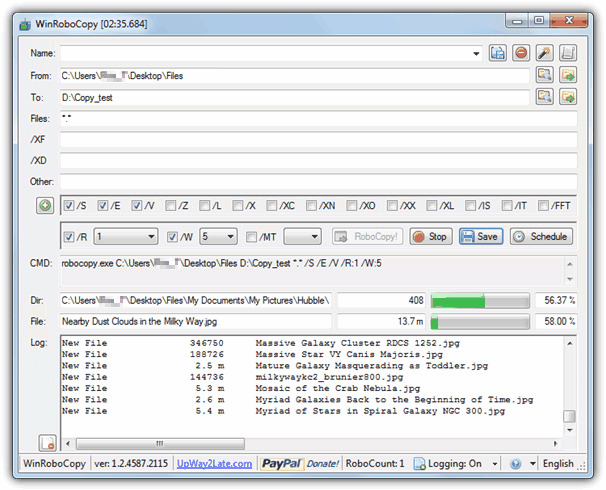 Multiple file copy test 1: 162 seconds
ISO copy test 2: 90 seconds
Network copy test 3: Wouldn't copy over the network.
We tested 4 other file copy tools and they weren't included for various reasons; LD Move was in the top 4 or 5 in the ISO copy test but constantly crashed in tests 1 and 3. A similar tool called QCopy, also completed the ISO copy fine, but after 20 minutes of copying the smaller files, we gave up because it reported there was still several hours to finish, even with the network copying which it was designed for. After 20 minutes SchizoCopy and Bit Copier both progressed at less then 1% per minute which meant they would have taken over an hour an a half to finish a test others were completing in under 2 minutes.
---
The Results and Findings
Here's a table summary of all the results from each software in the 3 tests performed. To add a baseline and for curiosity, Windows XP, 7 and 8 (both 64-bit) were also included to see how their default Windows transfer performs. Do note that the operating systems are clean and at stock settings with nothing turned off to help improve the results, including Windows Defender. Green is the fastest followed by yellow in 2nd. Red is the slowest and orange the 2nd slowest.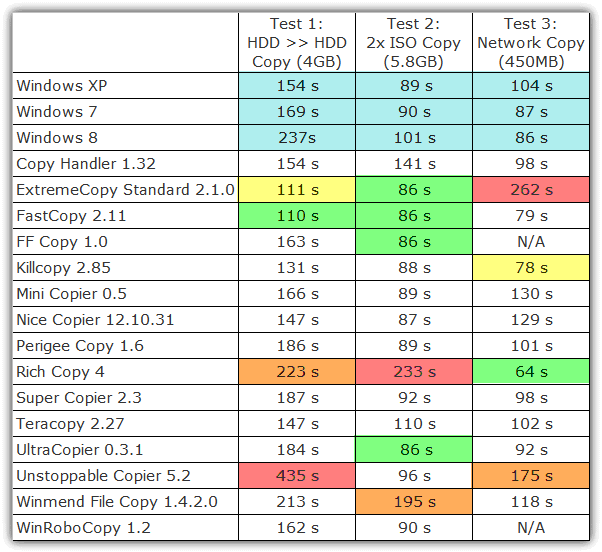 The Main Points:
In an equal test it was a surprise and disappointment to see Windows 8 perform so poorly after all the improvements Microsoft are supposed to have made to it. This is explained to a large degree though by the Security Essentials antivirus part of Windows Defender scanning every file and slowing everything down, so you get better security out of the box but slower transfer speeds. In a quick test with it turned off, the result was comparable to Windows 7.
Probably the most popular tool TeraCopy was really in the middle of the pack overall in terms of outright speed. The multiple file copy test 1 result was quite good but in both tests 2 and 3, it was distinctly average.
For pure copying speed you really can't look past Fast Copy. It won both file copy tests and was a close 3rd in the network test.
If you don't want to copy files over a network, Extreme Copy is also a very fast tool and a close second or equal to Fast Copy in 2 of the 3 tests. But for network usage, Extreme Copy was consistently the slowest software to complete that test.
Although its disc to disc copying was awful, RichCopy was the clear winner in the network test and was designed with high latency or low bandwidth networks in mind. It's something you might like to look at if you perform a lot of network transfers.
As it's a popular tool we had to include Unstoppable Copier, but the results may seem a bit unkind because it was one of the slowest overall. The program is more of a corrupted file copier though and not really built for speed so it's still a valuable tool to have around, especially the portable version.
What the test does show on the whole is that for copying large files between drives Windows keeps up with the 3rd party tools and you won't get much of a speed boost. Where you do gain though, is in the extra functions like pause / resume, handling copy failures and queuing etc. For copying lots of smaller files many of these tools do make a great deal of sense with their improved caching and algorithms which really can make a sizable difference in transfer times.
Although this isn't a definitive test it does at least show how well or badly Windows and several other tools perform in common scenarios most of us are likely to encounter quite often. These tests should give you a better idea what free copying tools may be more suited to your needs…