9 Ways to Remove Unused, Old or Hidden Drivers
Almost every piece of hardware attached to your Windows computer will show up in Device Manager as an installed device. This includes Graphics cards, CPUs, USB devices, disk drives, network adapters, and just about anything else. When the device is first connected to the computer, Windows will detect it and either install the device driver automatically or you install it yourself from CD or the internet.
After that, it's not a problem while the device remains connected but can potentially become a problem if you disconnect it. The driver that was installed when the new hardware was connected does not get uninstalled when the hardware is removed. Over time this can leave driver entries on the system for devices that have long since been removed. Some applications also don't remove software drivers when you uninstall the software.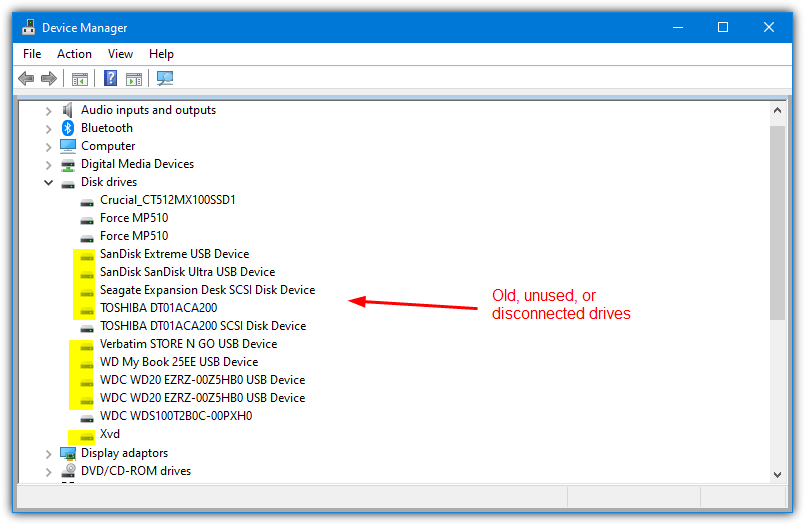 Even if the hardware or software is no longer available, Windows still looks for it on boot. This can lengthen boot time and potentially cause future driver conflicts so it makes sense to remove what is no longer required. As Windows hides these devices by default, we show you 8 ways to find and remove old and unused device drivers from your system. Make sure to run programs or Command Prompts as an administrator where possible.

DriverFix is a driver update program that monitors the computer hardware and all other relevant driver software. The application performs a full system scan and informs users about missing or corrupt drivers. Users can either download the application directly from the official website or get it together with other internet software. From the Update Center, the user can select which drivers to remove, and the uninstall process will begin. Before you begin the uninstallation process, you should back up and save all your drivers into a compressed zip file to avoid losing important data.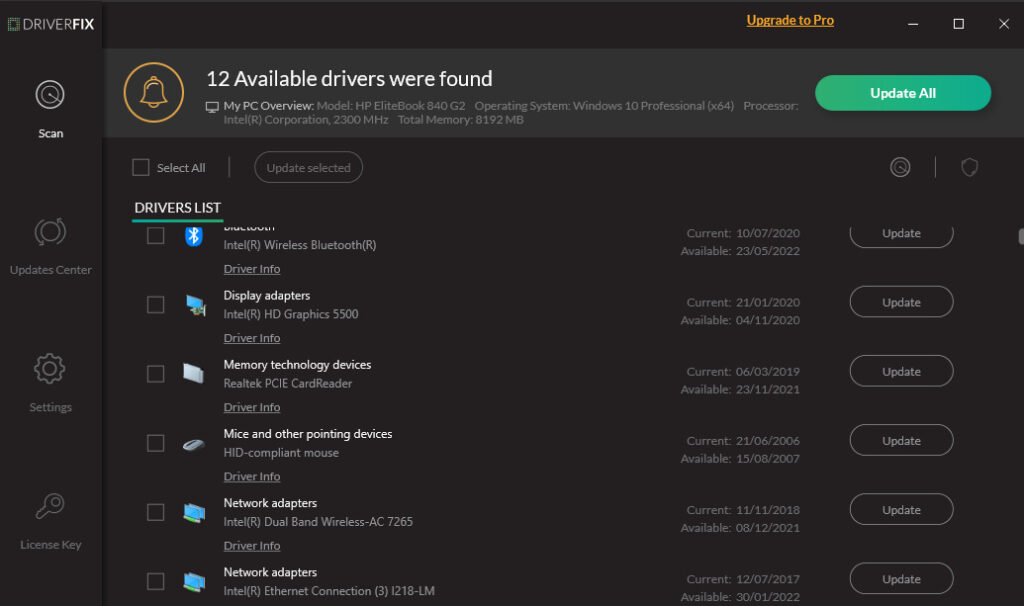 The application is able to remove corrupt or outdated display and audio drivers from Realtek, Nvidia, Intel, and Creative Soundblaster. DriverFix is compatible with both SSD and Hard Disk systems, and this makes it accessible to a wide range of users. The software has a simple, intuitive interface, making it a popular option among users who want to save time and energy.
---
2. Display Driver Uninstaller (DDU)
In recent years DDU has become a highly recommended tool for removing old or corrupt display drivers from the likes of AMD, Nvidia, and Intel. Along the way, DDU has also gained the ability to remove audio drivers from Realtek and Creative Soundblaster. A big difference between DDU and the other options here is it will remove files, folders, and registry entries belonging to the video/audio drivers. Therefore, DDU should be used with care with backups to hand where possible.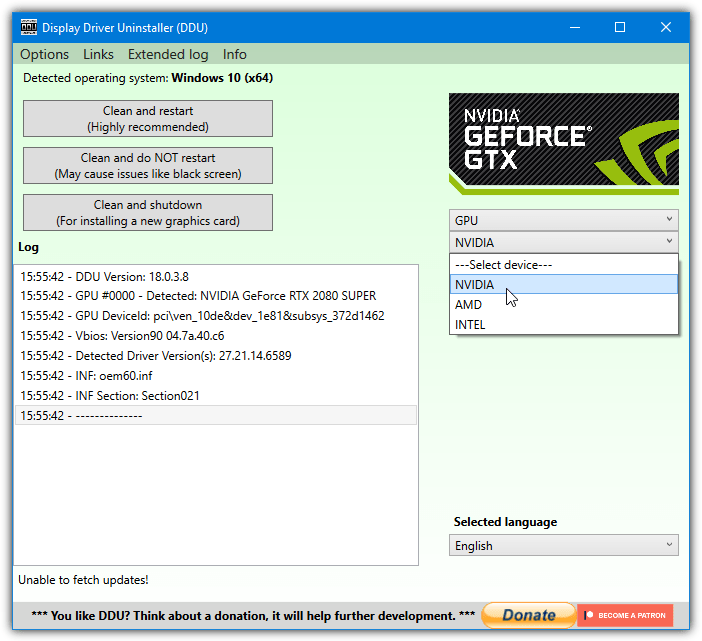 It is also highly recommended to run DDU from Safe Mode. If that's not possible, run the program and clean, reboot, then repeat the process again (clean and reboot). During the first launch, the Options screen will appear where you can choose to remove graphics driver related software such as GeForce Experience, PhysX, 3DTV Play, or the AMD/Nvidia/Intel Control Panel.
There's also options to remove monitor drivers, prevent Windows 10 from automatically installing new drivers, remove the Vulkan runtime, and create a restore point. On the main window select the device type (Audio or GPU) from the dropdown and then the hardware device itself. Press "Clean and restart" and let the process complete.
Download Display Driver Uninstaller (DDU)
---
3. GhostBuster
GhostBuster has been developed with the express intention of allowing for the detection and removal of drivers for old, unused, or hidden devices. Otherwise known as ghost devices. Both setup installer and portable versions are available which is useful as this is not a tool you use every day, so installation isn't really necessary.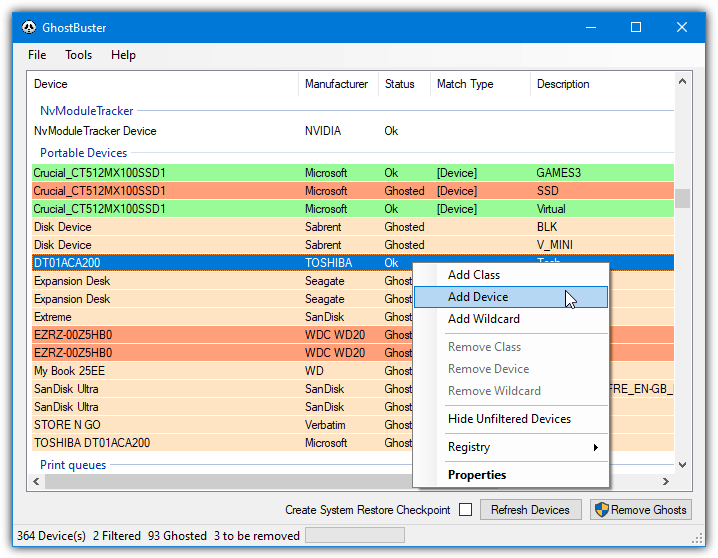 All unused devices are listed in a light orange color while any devices currently being used are shown in green. To add devices to the removal list and turn them dark orange, right click an entry and click the selected Add option. Note you cannot remove individual entries and can only remove by Device type (Generic USB Hub, Generic PnP Monitor, or USB Input Device, etc) or Class (all System devices or all Disk drives, etc).
When ready, optionally tick the to create a restore point box and then press the Remove Ghosts button. If, for example, you remove all unplugged USB drives, each will be redetected the next time it is inserted.
---
4. Nirsoft DevManView
DevManView is an alternative tool to the Windows Device Manager, but it displays a whole lot more useful information. Like all Nirsoft tools, DevManView is small, portable, and packs a lot into its small size. Before viewing and removing any devices it's a good idea to first change a couple of settings so things are easier to see.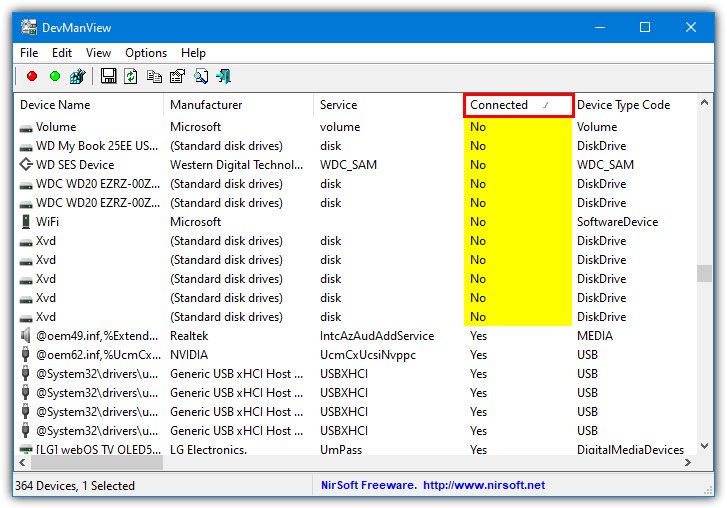 Go into the Options menu and enable Mark Connected Devices and Show Non Plug and Play Drivers, then click on the Connected column header to sort the list by which devices are connected and which aren't. Then click, Shift+click or Ctrl+click to select the required devices and go to File > Uninstall Selected Devices. Alternatively, use the right click context menu Uninstall Selected Devices option on the device.
Devices can also be disabled instead of removed for troubleshooting purposes (press F6). Command line options are available, "/uninstall" and "/use_wildcard" being the most useful for the purpose of removing unused and hidden devices.
---
5. Device Remover
In terms of a third party device management application, Device Remover is probably the most advanced and feature rich free program available. For some reason, the program is no longer developed and the official website has disappeared. The last available version is from 2014 so is new enough to work fine for most people. Both portable and installer versions can be downloaded.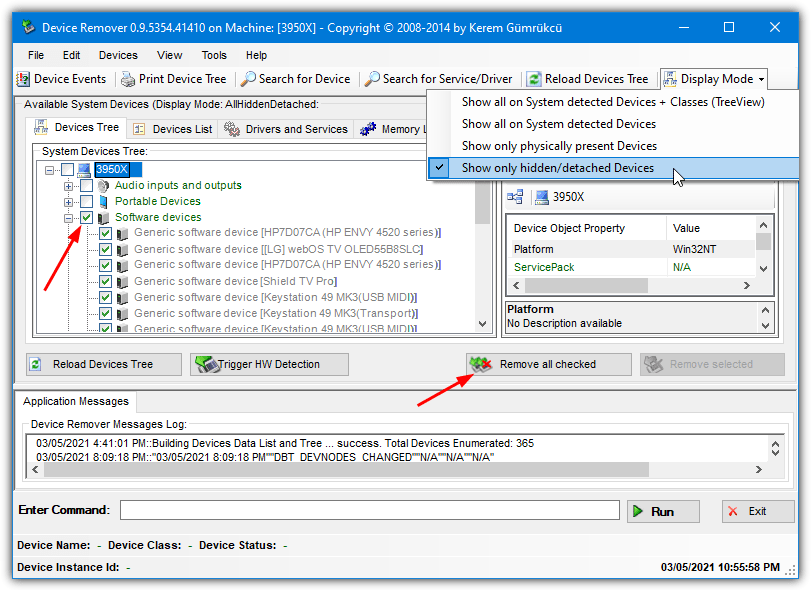 During the first run, you will be asked if you want to let the program run an optimize routine, allowing it should speed up the device detection and enumeration process. Once loaded, devices can be viewed in a tree or list style, selectable from the tabs. To switch to showing only hidden devices click Display Mode on the toolbar and select Show only hidden/detached devices.
From there, it's a simple process of looking through the devices and checking the boxes of any to remove, then click Remove all checked when ready. A warning and confirmation window will appear to give you one last opportunity to back out. Click Remove all devices when you're ready or Cancel to go back. Although the device removal procedure is quite simple, Device Remover is a powerful tool so other functions need to be handled with care.
Download Device Remover (Copy of original website served by the Internet Archive)