Disk Wipe Bootable USB Tools: 9 Best to Use in 2023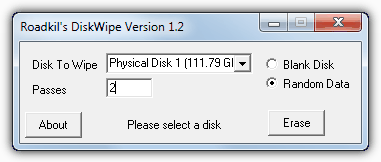 Roadkil has many little useful tools and Disk Wipe is just about as easy and simple to operate as they come. The program is a tiny portable executable of around 50K and can overwrite partitions or physical discs selectable from the drop down menu. Simply select whether you want to blank the drive with zero's or random data and enter the number of passes in the box, then click the button to erase. Disk Wipe also works on floppy disks and USB pen sticks and is compatible with Windows 95 and above.
---
7. Hardwipe
Hardwipe has quite a few useful features and in addition to erasing drives or partitions completely, it can also securely erase files, folders and the drive's remaining free space. Since we last looked at Hardwipe it has gained the welcome addition of an official portable version although the small trade off is you don't get the right click Explorer context menu options found in the installer version which allows you to wipe selected files, drives or free space at the click of the button. The program has also gained advertising in its main window in the latest release which isn't too distracting thankfully.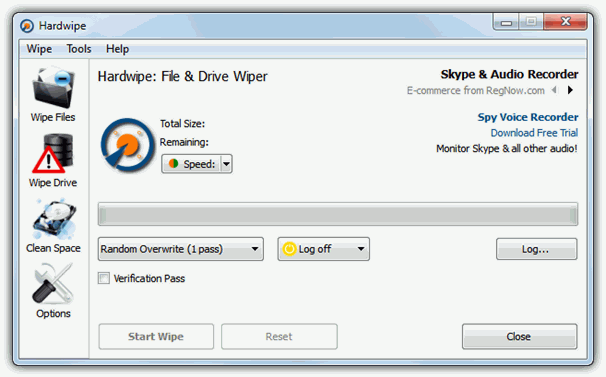 To select a volume click the Wipe drive button on the left and select the drive or partition to sanitize. There are 6 erasing methods; zero fill, random fill (default), GOST R 50739-95 (2 pass), DOD 5220.22-M (3 pass), Schneier (7 pass) and the fully paranoid Gutmann 35 pass method. The erase can be verified and the computer can be shutdown after the wiping completes. Auto throttling could be useful and reduces wiping speed if it detects the computer is being used or there is mouse / keyboard activity. Hardwipe works on Windows XP SP2 and above.
---
8. Disk Wipe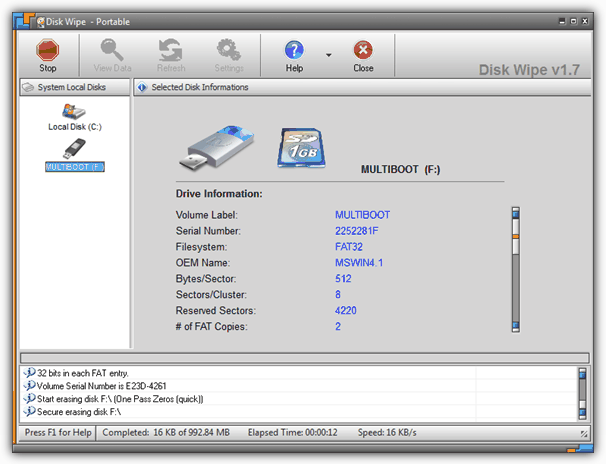 Disk Wipe is an easy to use and standalone portable utility that works with hard drives, USB sticks and memory cards etc, and is able to erase them using a variety of different methods. The program will also format the drive before wiping because it works faster if it does so, FAT16, FAT32 and NTFS can be chosen. There are 7 erasing types to choose from including the quick zero fill, random fill and GOST 2 pass (1 zero, 1 random) methods, and the slower British HMG, DOD 5220 and Gutmann methods. A View Data option allows you to view the drive to see what data is present in each cluster, Disk Wipe works on Windows XP and above.
---
9. MiniTool Drive Wipe
MiniTool are the people behind the excellent partition manager Partition Wizard, and another one of their tools is the simple to use Drive wipe. Sadly the program isn't portable unless you know how to extract it with Universal Extractor, so may be best suited to erasing external USB sticks or hard drives etc.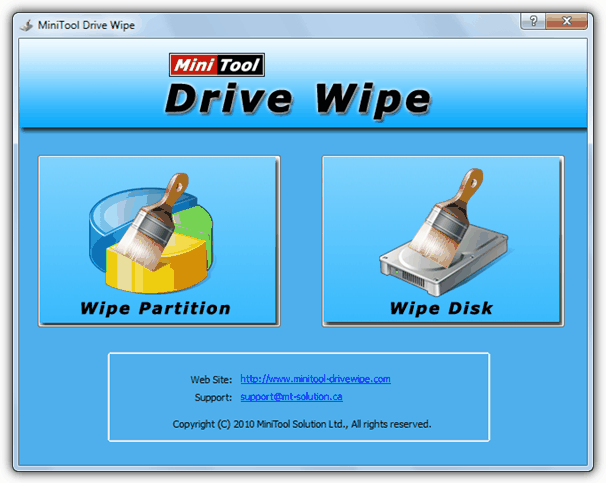 The program has 2 main options on startup, Wipe Partition or Wipe Disk, and you simply select the volume to wipe using the partition manager style disc layout. There are 5 basic erasing methods available; zero's or one's single pass, a zero's and one's 2 pass, and the DOD 3 or 7 pass methods. Drive Wipe works on Windows 2000 and above.
---
Editor's Note: Anybody wondering why other good sanitizing tools such as CCleaner or Eraser aren't included here, it's because they were covered in a similar article about wiping the free space on hard drives which is also well worth reading.
Special Note: There has been much talk on the internet over the years about how many passes and how much sanitizing needs to be done to make the data on a drive irretrievable. The general consensus is that 1 or maybe even 2 passes is about all you really need to wipe a hard drive, 3 at the most, anything above that is pretty much pointless. In this case a random fill is generally preferred to a single 0 or 1 fill. Even the man behind the famous 35 pass method, Peter Gutmann, has said in his paper on the subject, for drives manufactured since around 2001, 2 random passes is the best you can do.
SSD's are slightly different again and because of the service functions they have such as wear leveling etc, a standard overwrite with a piece of software is not always enough. In this case, running an ATA Secure Erase command included in the firmware of all modern drives is the best solution and takes very little time compared to a full erase. This resets the memory storage cells back to factory condition and wipes the data off, something which is often recommended to also restore performance to slow running SSD drives. Parted Magic's Eraser and HDDErase both can perform this function.
Another option is encrypting the drive with something like Bitlocker or Truecrypt before a 1 pass or secure erase. This way, in the highly unlikely event anything is left that is recoverable, it's encrypted anyway. Of course, you're welcome to run as many passes to sanitize your drive as you wish or feel comfortable with, but in all reality, there appears to be very little to be gained running any more than 1 or 2 passes.