7 Tools to Enhance or Replace the Windows Task Switcher
Everybody knows that like most other desktop operating systems, Windows can multitask and easily handles several different applications open at once. The way you can cycle through these open programs is by using the keyboard combination of pressing Alt+Tab. Depending on your version of Windows, you will either get a strip of icons or small thumbnail images to represent the open programs, which you can then use to switch between the required application's window to bring what you want to the front.
Windows Vista and 7 also come with a more visually appealing task switching mechanism called Flip 3D which can be accessed with the Win key+Tab combination on all but the Basic versions of those operating systems. Whether you would like to get the Flip 3D switcher on Windows XP or like to have a more functional way of cycling your open windows while pressing Alt+Tab, a few 3rd party tools are on hand to help. Here's a selection of 7 tools (6 free and 1 shareware) to help you get the most out of the Windows Alt+Tab function.
1.
TaskSwitchXP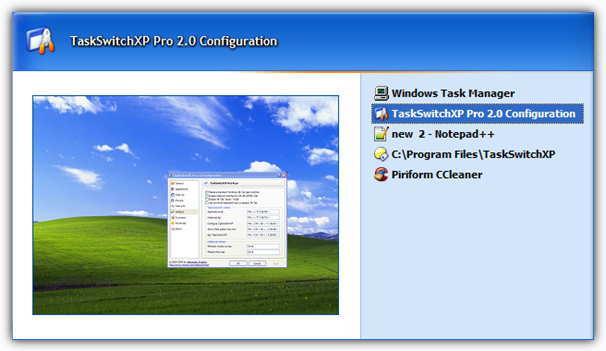 TaskSwitchXP is a small and lightweight utility that greatly enhances the standard Windows XP Alt+Tab switching capabilities. There are a number of changes that can be made to how the task switching dialog looks, which is displayed in a list format as well as a large thumbnail image for each window. TaskSwitchXP makes use of the visual styles from XP so different layouts and its appearance can be totally configured to your liking. A number of different keyboard shortcuts can be setup and a window is available where you can enter any application window you want to exclude from the program. The task switcher can also be configured to activate on the active monitor of a multi monitor setup. Works on Windows XP only.
---
2. Shock Aero 3D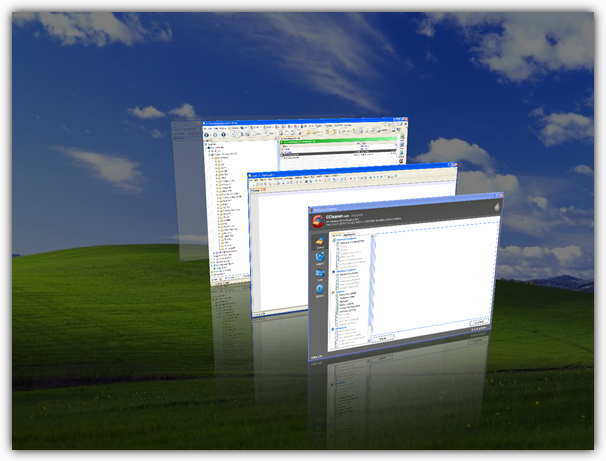 Shock Aero 3D brings the Windows Flip 3D effect using OpenGL to XP or versions of Vista or 7 that don't have it enabled. In addition to the standard 3D flipping effect, it also has other ways to display the windows by either a wave motion water effect or by means of a full screen grid. Various small animation effects can be applied such as bouncing or reflections, and there's also a rather neat feature of an animated background where there is a choice of water, raindrops or a warp tunnel to have running behind the windows with a background image of your choice. A custom hotkey can be configured in addition to the default of Winkey+Tab. Works on Windows 2000, XP, 2003, Vista and 7.
---
3. VistaSwitcher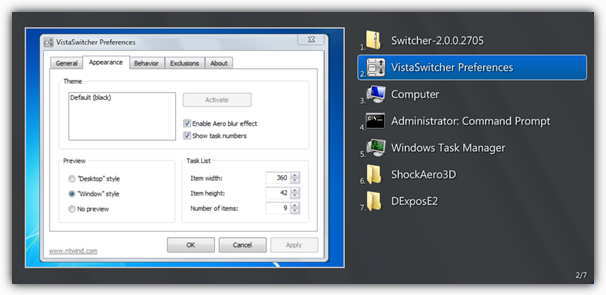 Vistaswitcher is like a much more powerful version of TaskSwitchXP that also works on Windows Vista and 7 as well. Pressing Alt+Tab will bring up the task switching window where you can scroll through the opened tasks complete with a preview window, which can be of the window's place on the desktop or just the window itself. The standard Alt+Tab replacement mode can be enabled or disabled, and 2 other key combinations can be custom set. VistaSwitcher can also scroll through open windows from the same application such as Office etc, and there is a useful set of options for multi monitor support such as Alt+Tabbing on the active monitor or filtering out applications which aren't on the active monitor. Compatible with Windows XP, Vista and 7.
---
4. DExposE2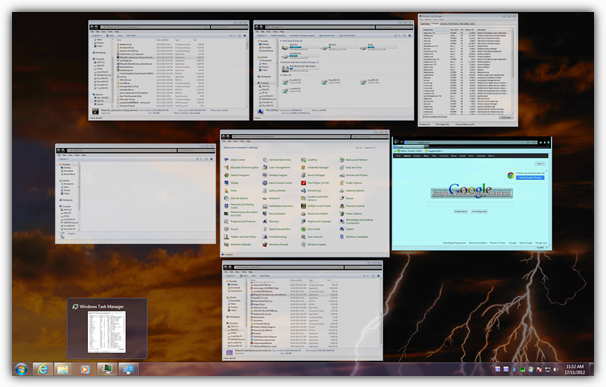 This tool aims to clone the task switching Expose feature in the Mac OS X operating system on Windows XP, Vista and 7, although when tested on Windows 7, it didn't seem to work that well. There are several options to configure how DExposE2 looks and behaves, including hot corners like Windows 8 where you can expose all or just the current application, and key combinations can be setup to your liking. There is also an exclusion list where you can enter any applications that don't play nicely with the program (ObjectDock.exe is entered by default). There is a portable version available made by VMWare Thinapp but that didn't seem to work too well, even on XP. A nice tool IF you can get it working reliably.
---
5. Switcher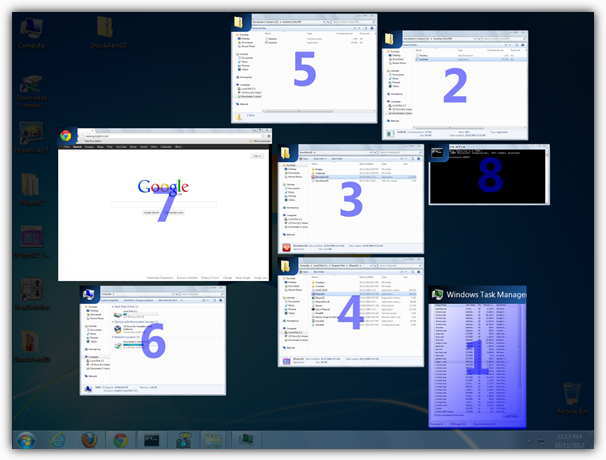 Although Switcher isn't setup as an Alt+Tab replacement by default, it can easily be configured to do so because there are several custom keyboard and mouse shortcut options which can be setup to your liking. There are 3 main window views; tile, dock and grid, and a number of visual changes can be made such as animation speeds, each window's appearance, framing, colors and fonts etc. A useful function in Switcher if you're someone who constantly has a huge amount of windows open at once is a built in search, just start typing and the windows will filter down to match the keyword. All these options are all the more impressive as Switcher is a standalone executable of under 500KB. Although it isn't compatible with XP, Switcher works on Vista and Windows 7.
---
6. Alt+Tab Tuner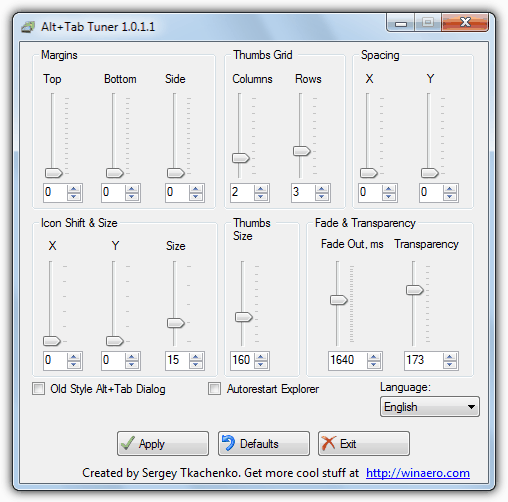 This tool is not a replacement for the Windows 7 and 8 task switching function, but more of a tweaker that can edit some of the options not normally available for the default task switcher. Things such as the fade, transparency, image size, spacing levels and margins can be altered to tailor the standard Alt+Tab a bit more to your liking. Fans of the old classic Alt+Tab dialog can tick the box and have the old icon view which is handy for users who don't want the graphical nature of newer task switchers in Windows. Alt+Tab Tuner is completely portable and has separate executable files for Windows 7 and 8.
---
7. TopDesk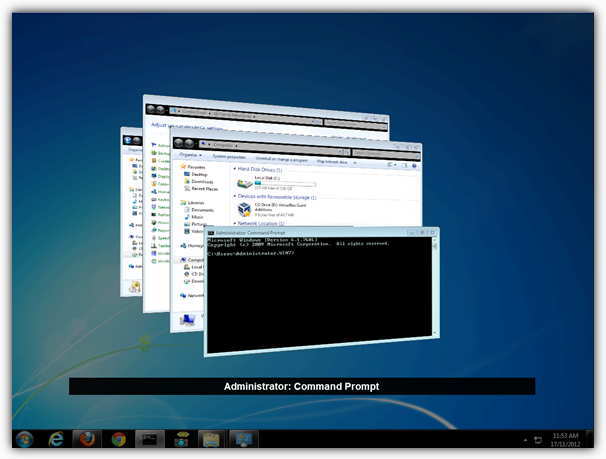 TopDesk isn't a free application and is shareware with a 14 day trial and costs around $20, but you do get the choices of an Expose Mac OS X type task switcher or a Flip3D effect switcher enabled for versions of Windows like XP or Vista / 7 Basic that don't have it by default. It also has hot spots in the corners and also at the center edges of the screen for quick task switching, and several key combinations can be configured. Flip, grid and spatial layout effect modes are available and each can be edited visually in several different ways if you wish. A performance mode can reduce the load of the task switching effect on lower spec machines. Works on Windows XP SP2 and above including Windows 8.
If you want the Flip 3D effect in your version of Windows, Shock Aero 3D is certainly a nice and easy tool to try out. VistaSwitcher is definitely more of a power users choice and will help you quickly and efficiently cycle through your opened applications, with the added bonus of being actively updated. TopDesk might be a tool to look at IF you can't get the free tools to do want you want.