Low Memory Usage Antivirus: Best from 25 Tested
One of the most common things users do to try and keep their computer running as smooth as possible, is keep control over which programs start with Windows. Having just a few memory or processor hungry programs loading into the system tray on boot can have an adverse affect on the performance of your computer. One of the most common applications that will load with Windows and stay resident in the background while the system is on, will be your chosen antivirus software. Have you ever wondered which are the lightest antivirus packages available and which ones don't do so well on memory usage?
It's maybe not such a major issue for newer computers these days having an antivirus which isn't especially memory efficient because they often come equipped with 4GB or more of RAM. But if your computer isn't the latest and greatest, using a package which might possibly be eating hundreds of Megabytes of system memory could slow your computer down considerably at inopportune moments. To find out just how much memory gets used by running antivirus software, we've decided to gather together a mixture of 25 popular commercial and free antivirus packages to see how they perform.
How We Tested
As you might expect, testing an antivirus product for its memory usage is certainly not an exact science because the program is never standing still and nearly always doing something in the background. A problem with taking memory readings is there are several different numbers you can look at.

1. Eset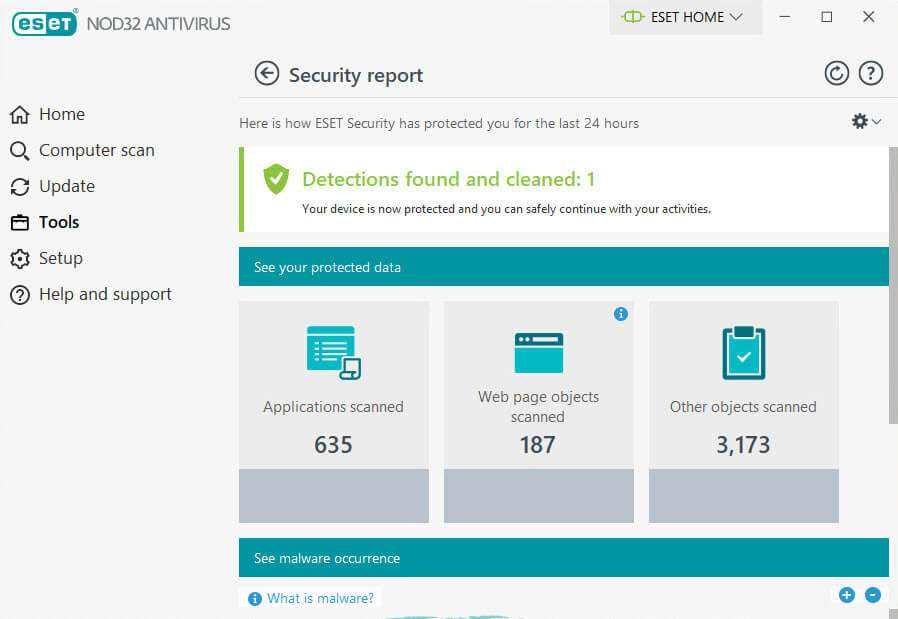 This anti-virus tool is very popular for several reasons. For one, Eset comes with many features to help users protect their data and devices. With more than 100 million users worldwide, the application protects your devices against spyware, malware, and ransomware. Users can perform a variety of scans, including system, custom, and removable device scans.
The software is also capable of detecting thousands of malware in a light-weight manner. Furthermore, Eset provides extra encryptions to protect users when they browse the internet. With Eset, customers can also use the software to recover their stolen devices.
---
2. Bitdefender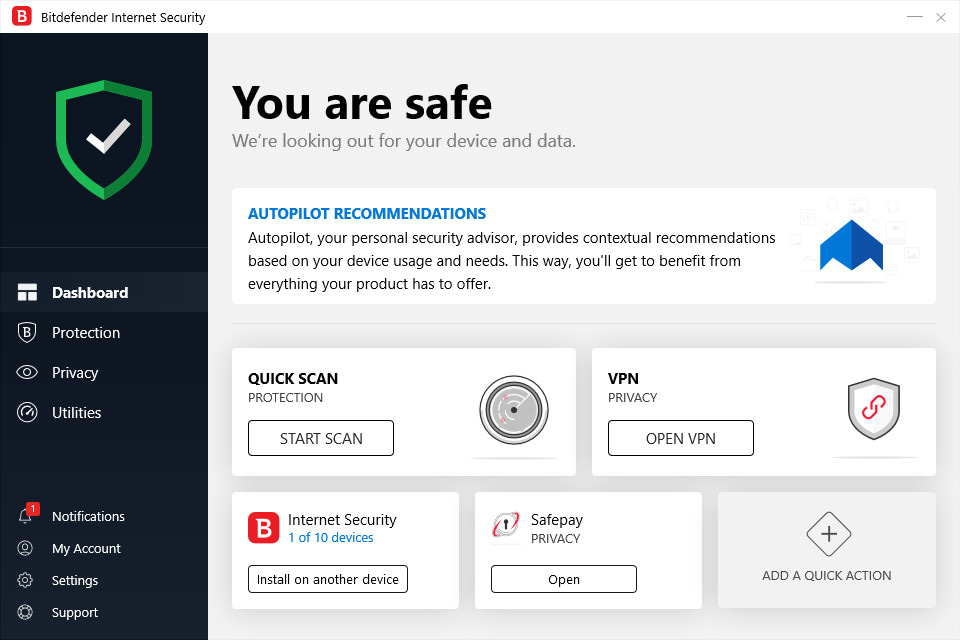 Used by over 500 million customers worldwide, the Bitdefender is a low memory anti-virus software that provides anti-virus protection. With Bitdefender, users can surf the web anonymously without having to worry about identity and data theft. The application uses artificial intelligence and other disruptive technologies to detect, monitor, destroy, and block any malware that can harm the device. The tool is available to Windows, MacOS, Android, andiOS devices.
---
3. Total AV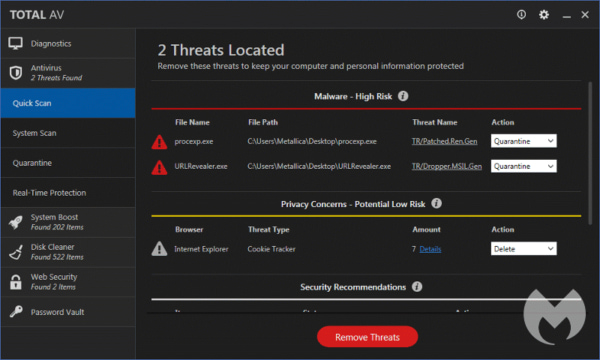 This popular anti-virus software can eliminate trojan horses, spyware, viruses, ransomware, and other types of malware that are dangerous to the system. Total AV provides real-time protection against viruses as the tool displays daily virus updates. Furthermore, users can remotely access their device firewall, making it a very accessible and portable tool. Additionally, Total AV has an adblock feature that monitors all downloads and installs for potential viruses. It also encrypts the computer's browsing data, helping the user to remain anonymous and safe. This utility tool provides round-the-clock protection.
---
4. Guard.io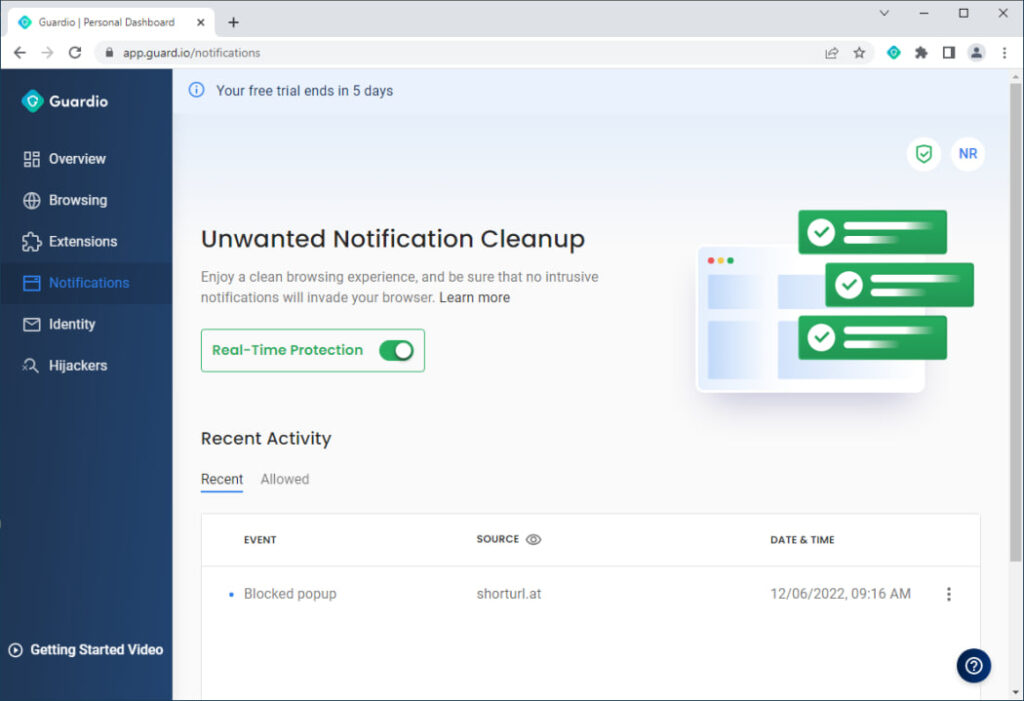 This Chrome extension is a powerful, lightweight web anti-virus that allows safe, clean browsing. The tool blocks phishing sites that attempt to steal users' information, passwords, and identity. It also alerts when there's a breach of the customer's data. Furthermore, the application removes small malicious software that might try to steal the customer's data.
---
The two memory readings we paid most attention to were "Working Set" and "Private Working Set" (WS Private), which do two things:
Working Set – This is the amount of memory used by the process PLUS the amount of memory that is shared with other processes. As such, this value isn't truly accurate because shared memory can be double counted due to the same resource being registered in multiple processes. It does though represent the maximum amount of non virtual memory in use by the process. This is the default memory column in the Windows XP Task Manager.
Private Working Set – Is similar to Working Set, but excludes the shared memory. This is only the the amount of memory in use by the process itself and isn't shared among other processes. Private Working Set is perhaps a more accurate indication of how much physical memory the process itself is using, and is also the default memory column for Task Manager in Windows Vista/7/8.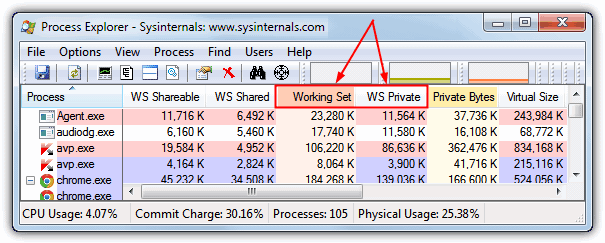 We decided to approach this task by gathering memory readings over a period of time. 10 readings were taken for each product at 30 second intervals, totaling 5 minutes of monitoring during idle and another 5 minutes while running a scan. The average score was then taken for each antivirus with all processes created by the application added together. All antivirus software was fully updated before testing using windows 7 32-bit, and the memory readings were taken using Sysinternals Process Explorer.
Below are the results for each antivirus package along with the average Working Set and Private Working Set scores in Kilobytes (KB) while idle and during a scan. The software is in reverse order with the heaviest Private Working Set usage for idle and scan combined listed first, going down to the lowest score and most efficient. If you want to jump straight to the list of results to see how your antivirus got on, they are at the bottom of page 2.
25. ZoneAlarm Free AntiVirus + Firewall 11.0.000.504

Number of Processes: 4
Processes Monitored: ISWSVC.exe, vsmon.exe, zatray.exe, ForceField.exe
Idle Working Set (KB): 223,260
Idle Private Working Set (KB): 191,472
Scan Working Set (KB): 287,443
Scan Private Working Set (KB): 226,222
---
24. Sophos Endpoint Security and Control 10.2

Number of Processes: 7
Processes Monitored: swi_service.exe, SavService.exe, SAVAdminService.exe, ALsvc.exe, ALMon.exe, SavProgress.exe, SavMain.exe
Idle Working Set (KB): 216,482
Idle Private Working Set (KB): 192,436
Scan Working Set (KB): 467,817
Scan Private Working Set (KB): 198,452
---
23. Emsisoft Anti-Malware 7.0.0.21

Number of Processes: 3
Processes Monitored: a2guard.exe, a2service.exe, a2start.exe
Idle Working Set (KB): 131,158
Idle Private Working Set (KB): 125,337
Scan Working Set (KB): 251,945
Scan Private Working Set (KB): 240,770
---
22. Quick Heal AntiVirus Pro 2013

Number of Processes: 8
Processes Monitored: ScSecSvc.exe, SCANWSCS.EXE, scanner.exe, SAPISSVC.EXE, QUHLPSVC.EXE, OPSSVC.EXE, ONLINENT.EXE, EMLPROXY.EXE
Idle Working Set (KB): 99,090
Idle Private Working Set (KB): 66,134
Scan Working Set (KB): 273,984
Scan Private Working Set (KB): 227,424
---
21. McAfee AntiVirus Plus 2013

Number of Processes: 9
Processes Monitored: McAPExe.exe, mcinfo.exe, mcods.exe, McSACore.exe, mcshield.exe, McSvHost.exe, mcsvrcnt.exe, McUICnt.exe, mfefire.exe
Idle Working Set (KB): 142,375
Idle Private Working Set (KB): 103,518
Scan Working Set (KB): 239,500
Scan Private Working Set (KB): 184,214
---
20. Ad-Aware Free Antivirus + 10.5.2.4379

Number of Processes: 4
Processes Monitored: SBAMSvc.exe, adawarebp.exe, AdAware.exe, AdAwareService.exe
Idle Working Set (KB): 162,540
Idle Private Working Set (KB): 118,728
Scan Working Set (KB): 189,223
Scan Private Working Set (KB): 144,394
---
19. Bitdefender Antivirus Free Edition 1.0.14.889

Number of Processes: 2
Processes Monitored: gziface.exe, gzserv.exe
Idle Working Set (KB): 115,559
Idle Private Working Set (KB): 91,742
Scan Working Set (KB): 135,836
Scan Private Working Set (KB): 115,795
---
18. Trend Micro Titanium Antivirus + 6.0.1215

Number of Processes: 6
Processes Monitored: uiWatchDog.exe, uiSeAgnt.exe, coreServiceShell.exe, coreFrameworkHost.exe, AMSP_LogServer.exe, WSCStatusController.exe
Idle Working Set (KB): 102,208
Idle Private Working Set (KB): 72,754
Scan Working Set (KB): 161,926
Scan Private Working Set (KB): 130,022
---
17. Avira Free Antivirus 13.0.0.3499

Number of Processes: 6
Processes Monitored: avgnt.exe, avguard.exe, avshadow.exe, avwebgrd.exe, sched.exe, avscan.exe
Idle Working Set (KB): 63,754
Idle Private Working Set (KB): 41,138
Scan Working Set (KB): 199,264
Scan Private Working Set (KB): 157,750
---
16. VIPRE Antivirus 2013 6.2.1.10

Number of Processes: 3
Processes Monitored: SBAMSvc.exe, SBAMTray.exe, SBPIMSvc.exe
Idle Working Set (KB): 114,098
Idle Private Working Set (KB): 91,981
Scan Working Set (KB): 134,488
Scan Private Working Set (KB): 104,936
---
15. NANO Antivirus Free 0.24.0.52214

Number of Processes: 2
Processes Monitored: nanosvc.exe, nanoav.exe
Idle Working Set (KB): 176,141
Idle Private Working Set (KB): 53,846
Scan Working Set (KB): 287,284
Scan Private Working Set (KB): 131,201
---
14. ESET NOD32 Antivirus 6.0.316.0

Number of Processes: 2
Processes Monitored: egui.exe, ekrn.exe
Idle Working Set (KB): 93,616
Idle Private Working Set (KB): 76,441
Scan Working Set (KB): 103,244
Scan Private Working Set (KB): 82,913
---
13. Dr.Web Anti-virus 8.0.8.04230

Number of Processes: 6
Processes Monitored: dwarkdaemon.exe, dwengine.exe, dwnetfilter.exe, dwscanner.exe, dwservice.exe, spideragent.exe
Idle Working Set (KB): 92,006
Idle Private Working Set (KB): 66,822
Scan Working Set (KB): 117,973
Scan Private Working Set (KB): 90,430

12. Kaspersky Anti-Virus 13.0.1.4190