Anti Screen Capture Software: Best Picks in 2023
Security experts consider keylogging as the most dangerous threat because it allows cyber criminals to capture everything you type on your keyboard. This includes passwords so that they can gain access to your online accounts such as your email, banking, forums, websites and etc to steal valuable information. If keystroke logging is not damaging enough, your webcam, screen, clipboard and microphone can also be secretly captured and logged without your knowledge.
There are a couple of different methods to protect yourself against keyloggers. First you can use an on-screen virtual keyboard where your mouse will be used to select the keys when entering your password instead of typing it from the physical keyboard that is logged. A good antivirus can also recognize some of the known and unknown keyloggers through virus definition or heuristic analysis. Finally, a dedicated anti keylogging tool that constantly monitors the behavior of running applications and notifies you if it detects any potential keylogging activity.
In this article we'll be putting 3 anti keylogging programs named Zemana AntiLogger, SpyShelter Premium and DataGuard AntiKeylogger to the test with real keylogging tools that are popular and widely being used to determine the effectiveness of each program.
1.
Zemana AntiLogger
Zemana AntiLogger is a program we've mentioned a lot over the years because it's been one of the leading tools to block several different types of hack methods. The shareware version of AntiLogger costs $29.95+taxes although they sometimes have giveaways for a free 1 year license, worth keeping an eye out for. Zemana also claims to be fully compatible with nearly every antivirus/security package available, there is a compatibility chart on their website so you can check beforehand.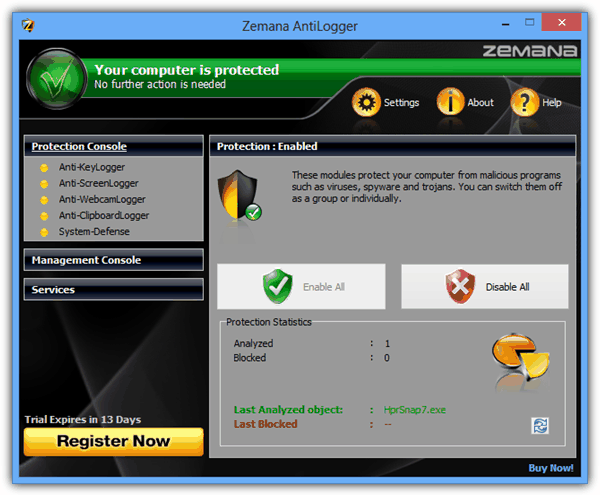 Apart from the basic keystroke protect which is what the free version of Zemana features, the full version also offers Anti-SSL logging protection against banking trojans and SSL sniffers, a screen capture prevention module to block image grabs of your desktop activity, protection against copying Clipboard data, and a module to stop hijacking of connected webcams and microphones. The System Defense feature blocks against several types of attack that try to inject DLL code, load low level kernel drivers, or modify the system registry/memory. Zemana AntiLogger is compatible with Windows XP, Vista, 7 and 8 (32-bit and 64-bit).
Note: The "Free" version of Zemana AntiLogger only encrypt keystrokes and does not notify nor block any detected keylogging activity. It's a very different method to protecting against keyloggers and you can read more about the keystroke encryption test that we've done.
---
2. SpyShelter Premium
While SpyShelter also offers a cut down free personal version of it's Stop-Logger application, one of the crucial advantages the premium version offers is full support for 64-bit systems, the free version is 32-bit only. Note the keystroke encryption driver for SpyShelter does not work on Windows XP systems. SpyShelter Premium is available in single or 5 user packs starting from €20 for a years protection for 1 user. Windows XP up to Windows 8 (32-bit and 64-bit) is supported.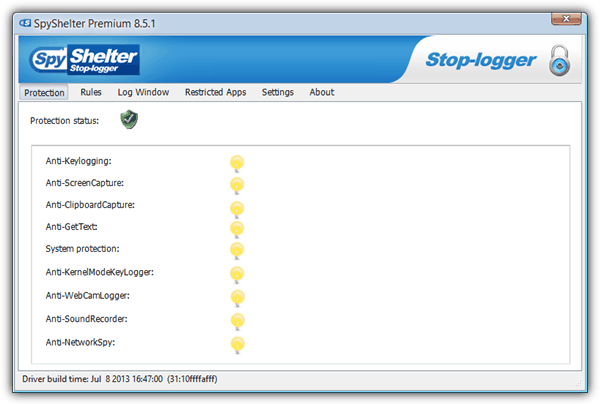 SpyShelter Premium has a number of defense modules including kernel mode keylogger protection with keystroke encryption, webcam and VOIP audio hacking protection, clipboard data hacking prevention, an anti-screen capture module, and also a System Defense guard that acts as a Host Intrusion Prevention System (HIPS) to protect critical areas from code injection such as memory and the registry. An Internet Security module blocks trojans and hack attempts through SSL, HTTPS, POP, SMTP and FTP. Suspicious files can be sent to the Virus Total online scanner with a click of the mouse.
---
3. DataGuard AntiKeylogger
DataGuard AntiKeylogger is at a disadvantage from the outset because none of its product line has been updated for a few years, that also includes their more user friendly NextGen AntiKeylogger products. As a consequence, DataGuard AntiKeylogger does not work on Windows 8 and supports Windows 2000 SP4 to Windows 7 32-bit versions only. Prices range from the Free basic version up to the Ultimate version we're looking at here, priced at $59.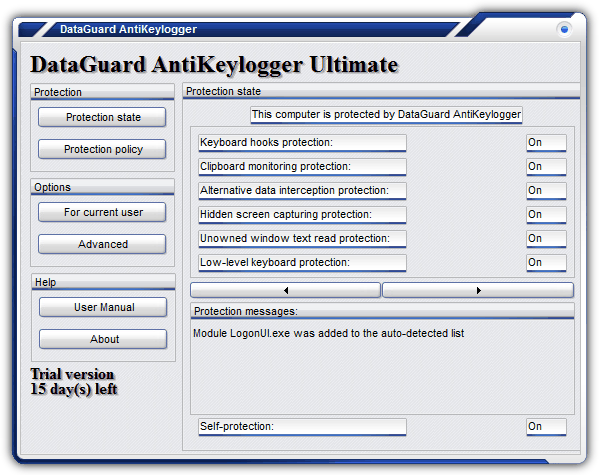 DataGuard AntiKeylogger Ultimate offers protection against several different methods of keylogging, Windows clipboard monitoring, protection against capturing screenshots, and text blocking to prevent capturing text from opened documents and windows. Keyboard filters, DirectX based and kernel level keyloggers can also be blocked. The kernel level message filters will only work on Windows 2000 and XP.