Free TV for PC: Best Live TV Apps in 2023
Most of us have a television at home with limited free channels to watch unless you subscribe to satellite or cable TV that provides a wider ranger of channels. If you didn't know, it is possible to get free access to thousands of TV channels online from your computer by just installing a software without a TV card or any other hardware other than your computer, web browser and an Internet connection. These software are not sophisticated as it only provides a working TV channel listings and also searching or filtering capabilities. You will however need media player software such as Windows Media Player or RealPlayer to stream the video to your computer.
If you search on the Internet, you can easily find a lot of software that claims to allow you to watch thousands of TV channels from your computer. After testing more than a dozen of such software, we end up getting non working channels on half of the software while the working ones are mostly shareware that requires a paid license. We've tested and compiled a working list of 5 software which you can watch TV from your computer for free.
1.
JLC's Internet TV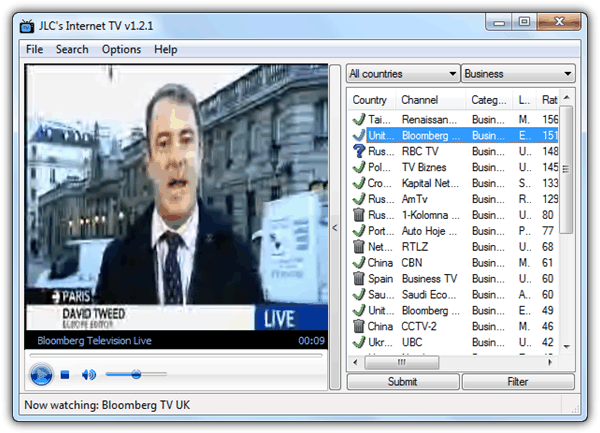 This is one of our favorite. Although it is not actively being updated but there are quite a lot of channels that still works. It is free and most importantly clean from any sneaky adware installation during setup. After installation, starting JLC's Internet TV the first time will prompt you to download the latest channel list. There were a whopping 2697 channels when we tested it and the useful information such as ratings, language, bitrate, category, channel name and country on the channel list is very useful for sorting purposes. The filtering and search function makes it even easier to retrieve the channels that you are interested in.
The only small problem we experienced was the setup is an older version 1.1.0. You will have to run the update twice from Help > Check for updates in order to get updated to the latest version 1.2.1 that has a better channel listings and bug fixes.
---
2. Readon TV Movie Radio Player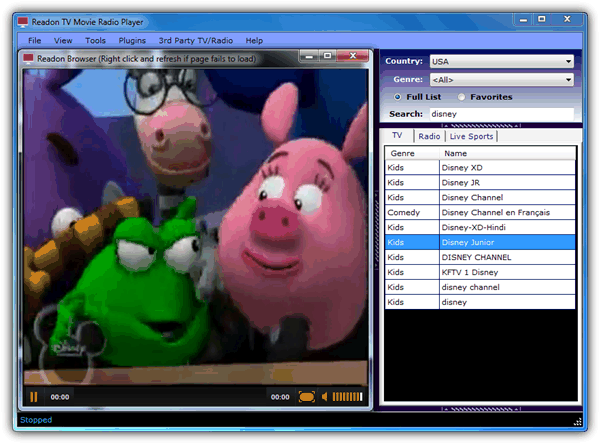 Readon TV Player is another of our favorite because not only it has its own channel listings including live sports, it also support 3rd party TV/Radio services such as SopCast, ShoutCast TV, TVU Player, YouTube and PPStream. This saves you the trouble of installing multiple full TV player software when it only requires a plugin to stream which can also be easily installed from the Plugins menu. The channels can be filtered by country, genre or favorites and it has a search function as well. Runs only on Windows.
Download Readon TV Movie Radio Player
---
3. SopCast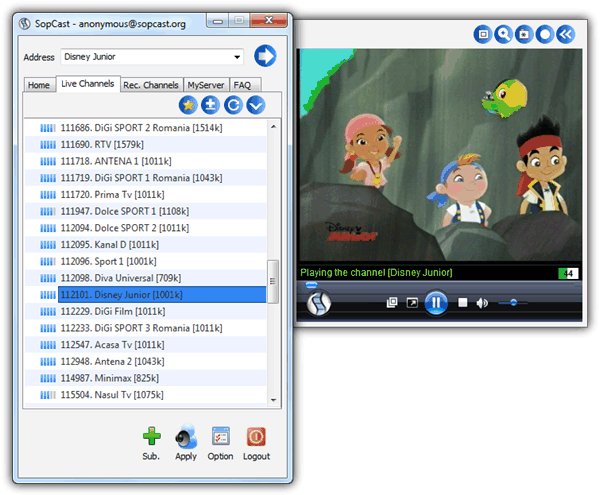 SopCast uses a unique P2P technology to stream the channels. There are not a lot of channels but some of the rare ones such as HBO and Disney Junior are included in the list. To use SopCast, run the program and you can either login as anonymous or your account. Go to Live Channels tab and double click on the channels that you want to stream. SopCast is also capable of broadcasting video or audio but it requires you to login to your account which can be created for free. Supports Windows, Linux, Mac and Android devices.
During installation, the Ask Toolbar will be prompted to install by default. Make sure you select Custom Installation and uncheck both of the checkboxes before clicking the Install button.
---
4. TVUPlayer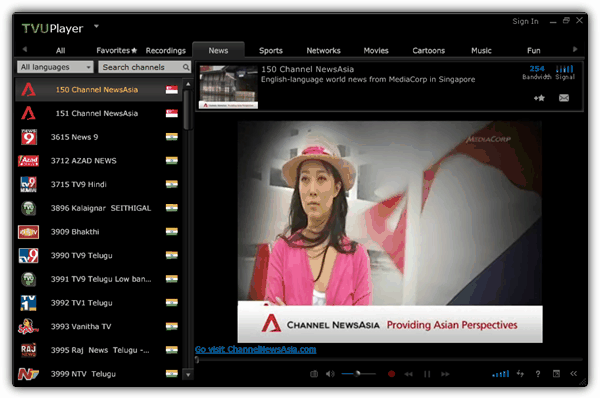 TVUPlayer by TVU Networks has been providing free TV since 2005. You can sort the channels from the category, languages, and also searching using a keyword. A very useful piece of information shown when hovering your mouse cursor over the channels is the bandwidth and signal strength meter so you have a higher chance of choosing a video channel that will stream without requiring to buffer all the time. TVUPlayer works on Windows and Mac.
---
5. Online TV Player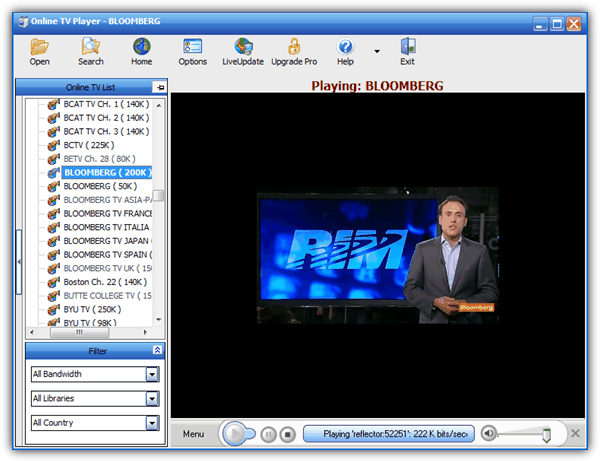 There are 2 versions of Online TV Player which is the free and PRO. The paid version contains more channels but from what we see in the channel list, the free version already contains more than a hundred channels. The channels are sorted in a tree view according to country and you can filter based on bandwidth connection, libraries or country. There is also a search function where you can find the name of the channel that you want to watch. The bitrate is also displayed where higher bitrate means better quality but requires a faster connection to stream.
The graphical user interface seems to be a bit outdated but rest assured that the given channels are still working.