On Screen Measurement Tools [8 Best Picks for 2023]
You wouldn't turn to your computer as the first alternative to get the dimensions of a physical object. Of course, computers can easily tell how many pixels are on the screen, but actually measuring something in inches or centimeters is tricky.
Whether you want to find out if an object is in the correct position in your graphic work or the dimensions of a real object but don't have a ruler or tape measure in hand, there are virtual rulers to help you out.
To use a ruler for measuring a physical object, it needs to be well calibrated correctly. The calibration might differ from screen to screen depending on resolutions and physical screen sizes. Some options can calibrate against a real-world object of known dimensions, but most won't.
So, you need to know the resolution of the current display (e.g. 1920×1080) and its exact visible display size in inches. Using a value of 22 inches when your monitor is actually 21.5 inches will produce an inaccurate measurement and needs to be as close as possible.
Once you have this information, visit the DPI / PPI Calculator webpage and enter the horizontal and vertical resolutions, and the diagonal screen size. This gives you a Pixels Per Inch (PPI) number which you can then enter into the ruler utility. Here are the top options to help you find out various measurements either in the real world or virtually on the screen.
Best On-Screen Measurement Tools
1. MB-Ruler – Best on-screen measurement tool overall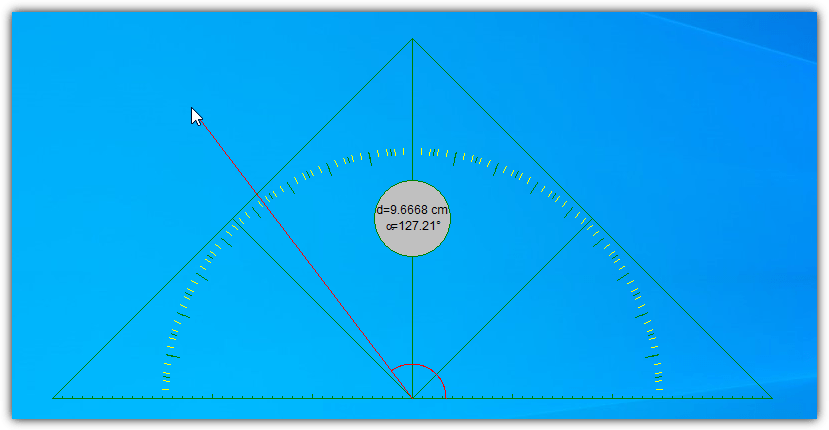 Operating System: Windows
Pricing: Free
Developer: Markus Bader.
MB-Ruler is a Windows software utility for measuring actual distances on the screen and maps. It measures distances using six scales of measurement, calculates angles with a protractor, and checks coordinates.
You can download a standalone portable version by creating one from the options menu. The interface is a semi-transparent set square in which the center acts as the starting point for measuring.
You simply grab and drag it around the screen to change the start point. Other notable features on the app include a color picker, screen capture, a grid system with snapping, a screen loupe function, and overlayed shapes and lines or points.
Pros
You can measure up to 31 shapes and instruments, including distances, circles, and polygons
Export measured distances to a CSV file
The software comes with a developer interface for integrating with other applications
Place temporary starting points, lines, texts, and bitmaps on your screen
Cons
Has a steep learning curve
2. ImageJ – Analyze pictures and calculate the sizes of objects inside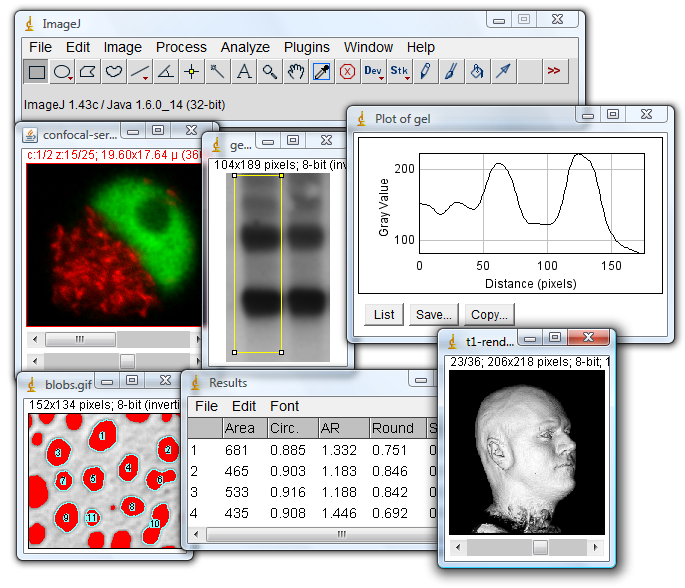 Operating System: Windows and OS X
Pricing: Free
Developer: Tiago Ferreira
ImageJ is a freeware for measuring pixels on your PC. You can use it to analyze pictures, identify the sizes of objects, and process, view, and edit images on your computer.
The app requires a Java Runtime Environment and the latest version installed on your PC to run. However, you can request an update from the app by navigating to Help>Update ImageJ.
Use the app to analyze various image types, including TIFF, JPEG, GIF, BMP, FITs, and RAW pictures. You can also open multiple windows to analyze several images simultaneously.
Pros
Analyze several images simultaneously
Calculate the object sizes on your image
Supports various image formats, including TIFF, JPEG, GIF, and FITs
Comes with numerous photo editing features
Cons
The app rarely receives updates
3. iRuler – Measure the size of your screen and the actual image size
Operating System: Web-based
Pricing: Free
Developer: Sergey Vinogradov & OutCorp
iRuler is a webpage with a static wood effect ruler in which you can measure real-world objects. Use the website to measure objects in your pocket. It's useful when you don't have a ruler in hand.
Make sure to check your monitor dimensions are correct under the ruler. If they aren't, click the link to select from a small list, or select "even more" to enter your own and input the diagonal size of the monitor and its pixel resolution. For some reason, it asks for aspect ratio even though it really wants the vertical and horizontal screen resolution.
Pros
Accurately measure the length of physical items using your screen
The ruler is responsive, showing accurate measurements on different devices
You don't need to download software on your PC to use it
Measure the length of your screen or select your monitor dimensions
Cons
It's only useful for measuring length and width
4. Pili Actual Ruler – Automatically detects the actual size of your screen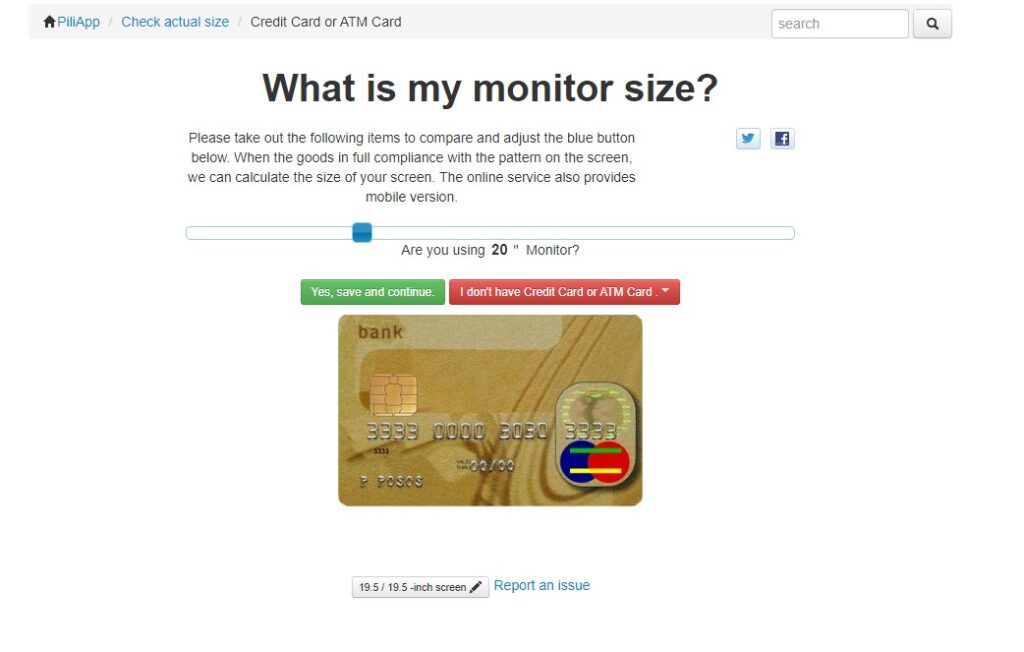 Operating System: Web-based
Pricing: Free
Developer: PiliApp
Do you have small hands and need to know the actual size of a smartphone before you purchase? Pili Actual Ruler is designed to detect the screen size of a device. It uses your device's actual screen size to show an accurate representation of the device you seek.
The website has a search form you can use to find popular products and estimate their screen size. Top items you can search for include iPods, iPads, mobile phones, smartwatches, and tablets.
Pros
Estimate the actual size of a device before you purchase
Measure the actual size of rings, gadgets, and smart devices
Estimate the size of different screens
You don't need to download software on your PC
Cons
You can't measure objects on images
5. JS Screen Ruler – Accurately measure the size of anything on your screen

Operating System: Windows
Pricing: Free
Developer: Spadix Software
JS Screen Ruler can display pixels, inches, picas, or centimeters, and the size of the ruler can simply be extended by dragging the small slider. The right-click menu gives you the option to flip the ruler from horizontal to vertical, mark the exact center of the ruler, snap it to the left edge of your desktop screen, and set the pixels per inch for a more accurate measurement as mentioned above.
There is also the Shareware Pro version in the zip archive which has a 15-day trial although it only offers functions like color changing and ruler rotation which you probably won't need. JS Screen Ruler is portable and works on Windows 95 up to 7 64-bit.
Pros
Accurately measure the length of anything on your screen
Adjust the ruler size based on your monitor settings
Drag and drop the ruler to your desired location
Measure the size of an item in pixels, inches, picas, or centimeters
Cons
You have to adjust the size to measure large objects
6. WonderWebware Screen Ruler – Measure the distance between two points on your screen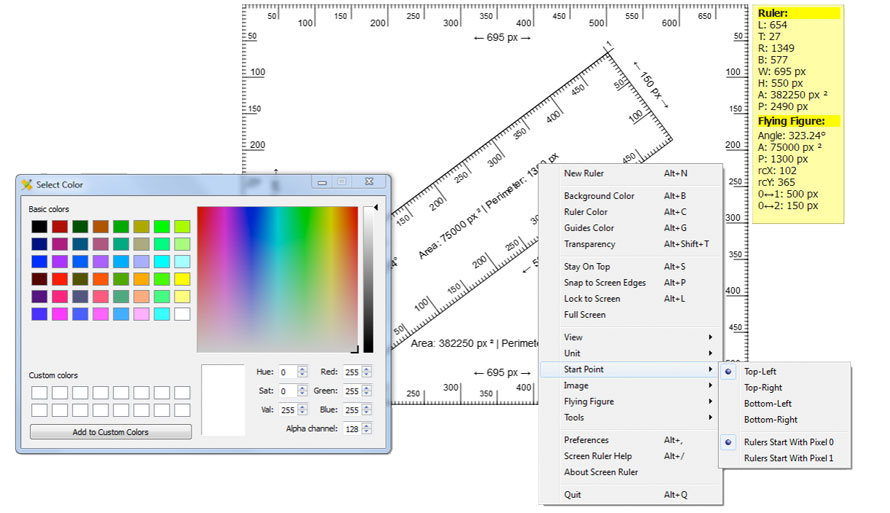 Operating System: Windows and Mac
Pricing: Free
Developer: Melanto Ltd
WonderWebware Screen Ruler is a practical application for measuring objects and distances anywhere on your screen. It uses a ruler on a screen and a few configuration options that are easy to figure out.
The software supports pixels, centimeters, millimeters, points, and inches. It's excellent for defining your units, measuring areas and perimeters, working with multi-display systems, and horizontal and vertical guides.
Pros
Measure the actual length of an item in centimeters, millimeters, and inches
Uses low CPU and RAM, enabling you to perform multiple tasks
Measure the areas of figures on your screen
Small file size of 688kb
Cons
It does not measure images
Download WonderWebware Screen Ruler
7. Bluegrams Screen Ruler – Measure distances in centimeters, inches, and points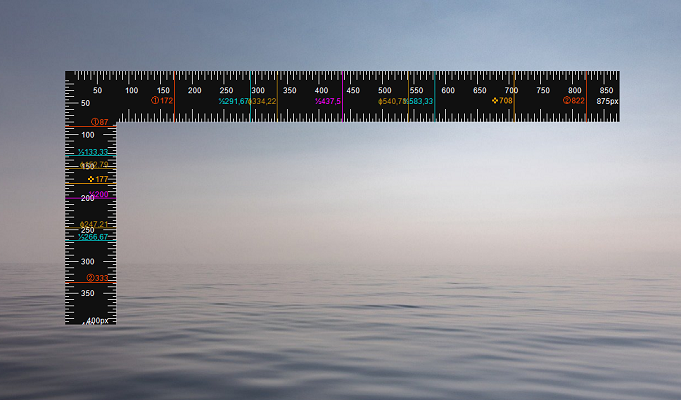 Operating System: Windows
Pricing: Free
Developer: Open source
Bluegrams Screen Ruler is a fast, lightweight, and configurable ruler for measuring the sizes of elements on the screen using centimeters, pixels, and inches. Measure images using two-dimensions, one-dimension, and horizontal/vertical scales.
You can resize the ruler accordingly using the mouse and keyboard and custom-mark lines. Change all color settings to make it more user-friendly, or change the theme from dark to light.
Pros
Measure items in inches, centimeters, pixels, and percentage
Measure the length of one-dimensional and two-dimensional items
Automatically measure the screen size of your window
Precise moving, resizing, and flipping with keyboard shortcuts
Cons
It can be difficult to use at first
Download Bluegrams Screen Ruler
8. Free Online Ruler – Web ruler with inches and centimeters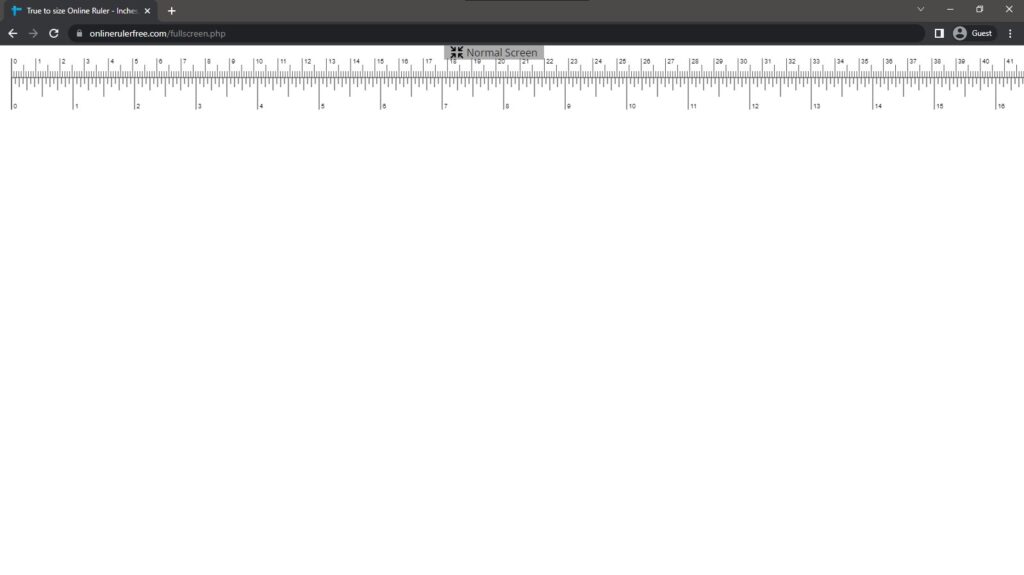 Operating System: Web-based
Pricing: Free
Developer: Online Ruler Free
This online ruler is pretty simple to use and has measurements for millimeters, centimeters, and inches down to 1/16 of an inch. You can also click and drag the ruler around the browser window as well as hold Ctrl and rotate it through 360­°. There are checkboxes to enable/disable centimeter and inch markers and an option to flip the ruler horizontally.
Click Calibrate and you have options to calibrate the ruler against a real object. You can use a credit/bank card, a US Dollar, a sheet of A4 or Letter size paper, or use another object where the exact size is known. Drag the ruler so the markings match the object you hold up to the screen, then click the calibrate link again when that's done.
Pros
Detect the screen size and display the ruler as its actual size
Measure the actual size of an item by comparing it with an actual size
Use the fullscreen feature to accurately measure the screen item
Measure an item in centimeters and inches
Cons
It can only measure the length and width of items
9. A Ruler for Windows – Quickly and easily measure objects on your screen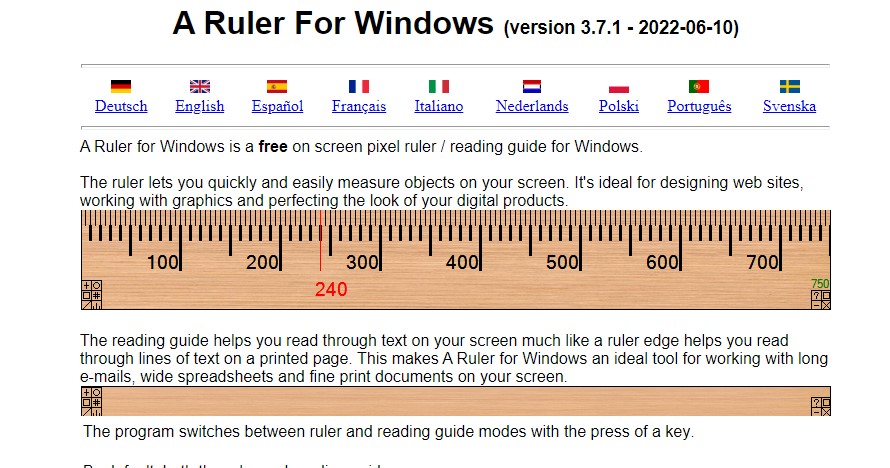 Operating System: Windows
Pricing: Free
Developer: Rob Latour
This measurement utility is more of a web or graphic design tool because it only measures in screen pixels and not centimeters or inches. That makes it no use for measuring real objects but it's useful for any sort of graphics or visual work you do on your PC. As there are no centimeter or inch measurements, A Ruler for Windows doesn't need calibrating.
The ruler itself comes with 4 different skins to choose from and a reading guide mode that turns off the numbers and markers so you can use it to read documents or books. The ruler can be flipped into vertical mode and resized or locked into position. There is also a zoom mode that can zoom into your desktop up to 4x to get more accurate measurements, keyboard shortcuts, and various measuring markers.
Pros
Quickly and easily measure the size of objects on your screen
Great for designing web pages, working with graphics, and designing digital products
Customize the appearance and design of your ruler with skin changers
Flip the ruler horizontally or vertically to measure the length of the items
Cons
You can only measure the length and width of items
10. Online Ruler – Excellent for measuring the actual sizes of an object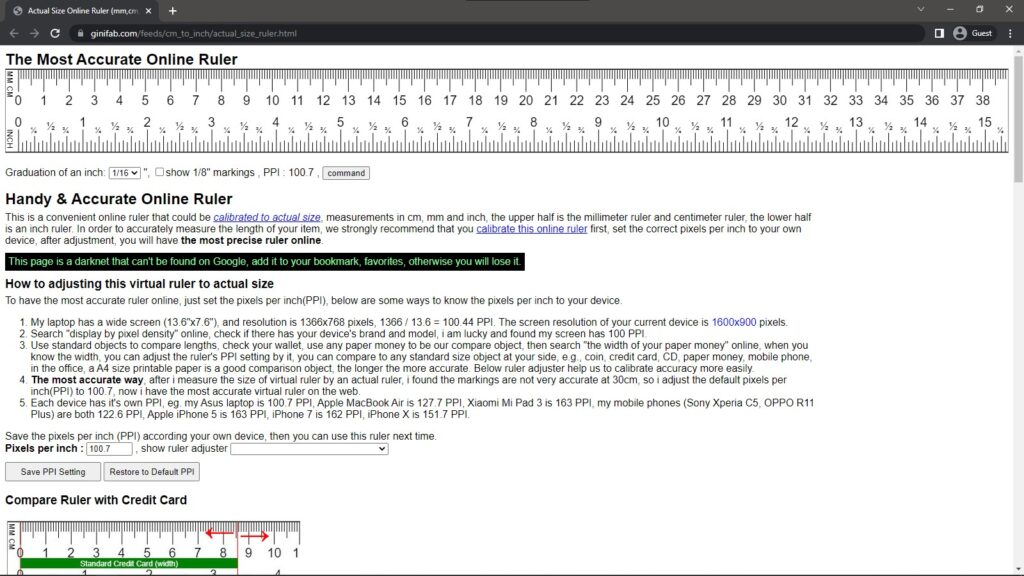 Operating System: Web-based
Pricing: Free
Developer: www.ginifab.com
We found two websites that host this online ruler. The original developer is ginifab.com and another website ursupplier.com hosts a slightly scaled-back version. Besides centimeters and millimeters, the ruler can scale down to 1/32 of an inch with optional 1/8-inch markings. The original version is multi-language and has a command box so you can tell it to mark certain dimensions (e.g. "show 8 3/4 inches").
Online Ruler is very good for enabling calibration because, in addition to using the standard pixels per inch method, it also has options to measure against a real-world object. You can use A4 paper, a $1 bill, a €50 note, a £10 note, a CD, or a standard credit/bank card. Hold the item up to the screen and drag the ruler markings to match the object, then press Save to keep the setting for next time. Note the PPI value for future use with this or other rulers.
Pros
Measure the length and width of items using centimeters and inches
Use actual calibrations to find out the accuracy of your measurements
You have two different websites to work with, so it's always available
Hold items on the screen to measure items
Cons
The software is limited compared to other tools
When looking to measure the width and length of physical items, you rarely seek your computer for answers. With the above-mentioned tools, you can measure the length of items using your PC.
All tools show actual measurements, and you can use some for graphic design and web development. Try them out and tell us which tool you found most helpful in the comments section below.