USBOblivion Erases All Traces of Connected USB Drives and CD-ROM
When we connect any USB drives or CD-ROM to a Windows computer, the USB device will be recorded deep inside Windows for the convenience of automatically making the drives available without checking and reinstalling the drivers. Both USBDeview and IntelliAdmin USB History Viewer is capable of revealing all USB devices that you previously connected on the computer. If for some reason you are looking for a way to erase information about devices that have been connected to the PC, USBDeview seems to be able to offer such feature which is by right clicking on the USB device listed in USBDeview and select "Uninstall Selected Devices".
The "Uninstall Selected Devices" option in USBDeview works but unfortunately it doesn't fully clean up all history traces that is left in Windows. USBOblivion would be a more suitable utility to serve the purpose of erasing all traces of USB-connected drives and CD-ROM drives from the registry in Windows 2000, Windows XP, Windows 2003, Windows Vista, Windows 7 32/64-bit versions.
USBOblivion is a free and simple portable tool where it only has one button and two options. The only button that does the job is "Clean" while the two options are real cleanup and backup. When the "Do real clean" option is unchecked, USBOblivion runs a simulation of the cleanup so you can check on the entries found on your computer before really removing the history.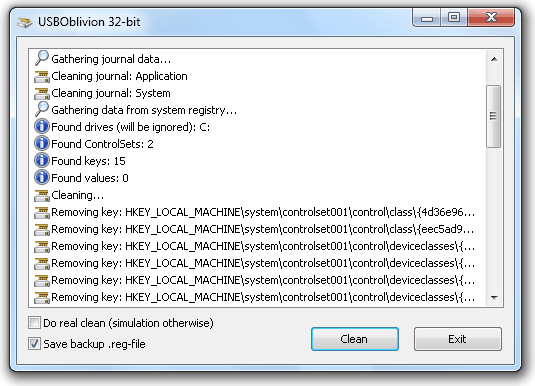 USBOblivion also has an option to backup the registry which is enabled by default. The backup file is automatically saved into your Documents folder with the .reg file extension. If you need to restore back the traces of USB devices, simply double click on the .reg file.
I've always thought that the USB history are only stored in USBSTOR location at registry. Thanks to the USBOblivion tool, today I get to know that Windows actually stores the history in other locations as well. There are 32-bit and 64-bit versions of USB Oblivion, so make sure you downloaded the correct version according to your Windows.