UptimeRobot Alternative Tools: 7 Best Free & Paid [2023]
UptimeRobot is a cloud-based monitoring service for websites and web services. It monitors the working of websites, web services, and servers to ensure that they operate without a break and respond to user requests. It can track response time, performance, and more. Here, let's look at the uptime robot alternative that you can choose for website monitoring.
As per the statistics from 2021, over 1.8 billion websites are registered on the internet, but only 25% are active.
Some of the key features of UptimeRobot are:
Automated monitoring: UptimeRobot can be set up to monitor, which works 24/7, requires less human interference, and send notifications to the designated contact person when an issue is detected.
Performance: UptimeRobot can collect performance metrics such as response time, availability, network uptime, and more.
Customizable alerting: UptimeRobot can send notifications via email, SMS, and webhooks when an issue is detected or the webpage does not respond.
Multi-location monitoring: UptimeRobot can monitor services from multiple locations worldwide to ensure users receive the best performance.
Best UptimeRobot alternatives
1. FreshPing – Best UptimeRobot Alternative for Large Enterprises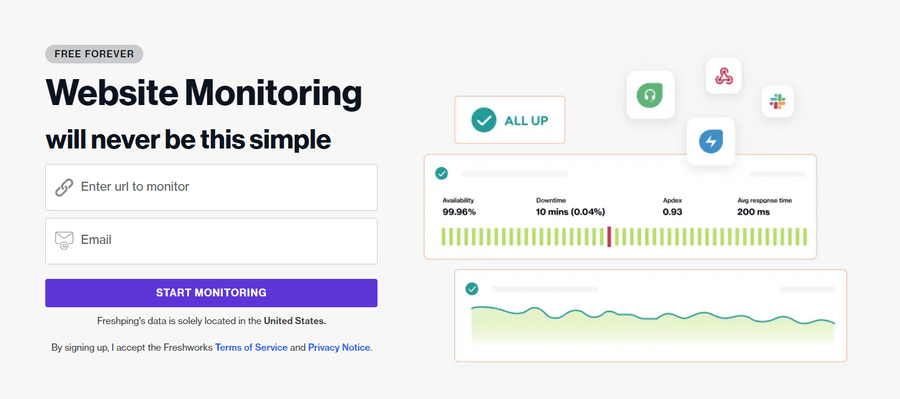 Developer: Freshworks
License: Free
Freshping is an uptime robot alternative that can be used to monitor multiple URLs in minute intervals. It notifies the developers as soon as it finds a bug or downfall in the performance of the website. It notifies through various platforms such as Slack, Email, Twilio, and even SMS, which makes it more reliable.
The best part about this tool is that you can log in through multiple users setting and add up to 30 members. If anything goes wrong with the website, all the members will receive a notification. This can be done in 10 different global locations.
Pros
It provides multi-channel notification.
It provides multi-user login, which makes it more feasible.
It is a free tool and can be used by small size businesses.
It notifies instantly about the downtime.
Cons
It does not provide an application programming interface.
2. Site24x7 – Best UptimeRobot Alternative for monitoring website performance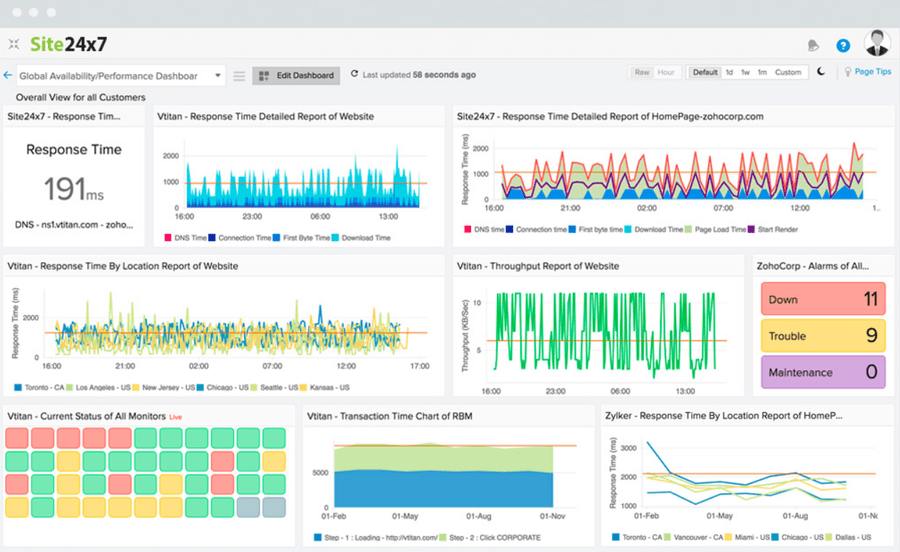 Developer: Manage Engine
License: Paid
Site24x7 is a tool that monitors website performance through HTTP, DNS servers, URLs, and many more. It functions from 120+ global locations. It gives complete visibility across the cloud resources. On top of that, it also uses artificial intelligence and machine learning to monitor the website's working.
Site24x7 provides 5 to 100 network interfaces, making it easy to use by many. It also gives standard and classic support to the users. It comes with four different packages, and you can select the one which suits your business size and scale.
Pros
It provides real-user monitoring.
It tracks application performance.
It troubleshoots the issues using the application logs across the servers.
Cons
It is not suitable for small-scale businesses.
3. Screpy – Best AI-based Website Monitoring Tool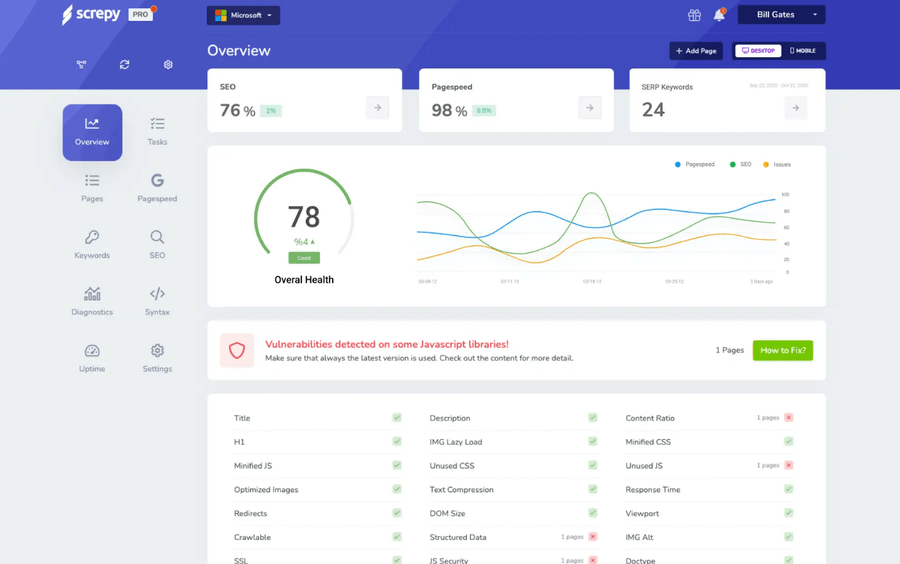 Developer: Airscarp
License: Paid
Screpy is different from other tools as it is an AI-based monitoring tool. It does not require much human interaction and is solely powered by artificial intelligence. It is an uptime robot open source alternative with a less complex interface, making it user-friendly and chosen by many firms.
If it spots any bug or downfall in the website, it instantly notifies the users, mainly through emails. It also works as an SEO expert and tracks website keywords for better ranking. It initially provides a free trial period in which you can test it and know how it works.
Pros
It guarantees a 100% SEO score.
It provides the speed monitoring of the page.
It provides personalized solutions for the problem.
Cons
On-page SEO navigation is pretty confusing.
4. Pingdom – Best Self-Hosted UptimeRobot Alternative

Developer: SolarWinds
License: Paid
Pingdom monitors the website on an advanced level and from 70+ global locations. It has a filter check to discard false alarms. It is an uptime robot alternative self hosted, notifying the developers about the website's downfall and if any function of the website needs to be fixed.
Pingdom notifies the developers through SMS, Email, and webhook. It tests the operating speed of the websites and monitors the root cause of slow functioning. It examines the load which the user page has to bear. This tool also makes a note of the users and frequent visitors to the website.
Pros
It provides real-time monitoring.
It is available in 70+ global locations.
It works round the clock.
Cons
The notifications are sent through limited platforms only.
5. StatusCake – Best UptimeRobot Alternative for Small Businesses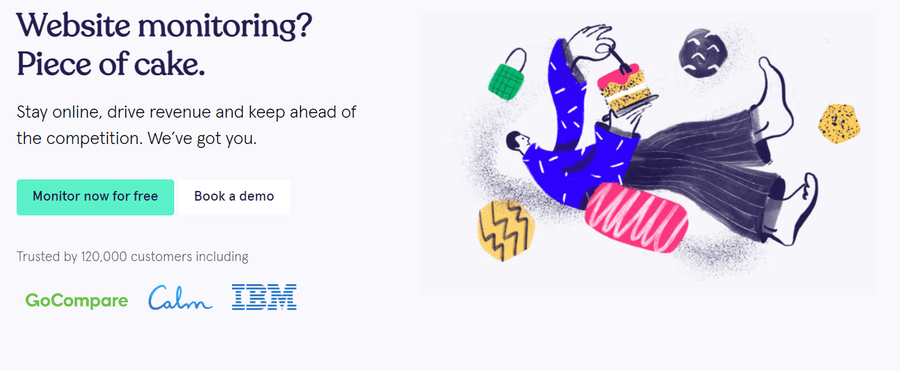 Developer: Status Cake
License: Free
StatusCake is a free monitoring service tool that monitors the website's working and has domain monitoring, server monitoring, and secure socket layers monitoring. It notifies about the slow working or non-working of the website through 14 platforms, including Slack, Discord, Microsoft Teams, and many more.
The main aim of the tool is to know about the problem faster so that it can be solved at an early stage. It is an uptime robot open source alternative that provides good customer support and also allows multiple user logins. It also scans for malware and viruses.
Pros
It is suitable for small businesses as it is a free tool.
It is accessible through multiple locations.
It provides secure socket layer monitoring.
It provides malware and virus scanning.
Cons
It can give false alarms.
6. Pulsetic – Best Website Monitoring Tool for Generating Incident Management Reports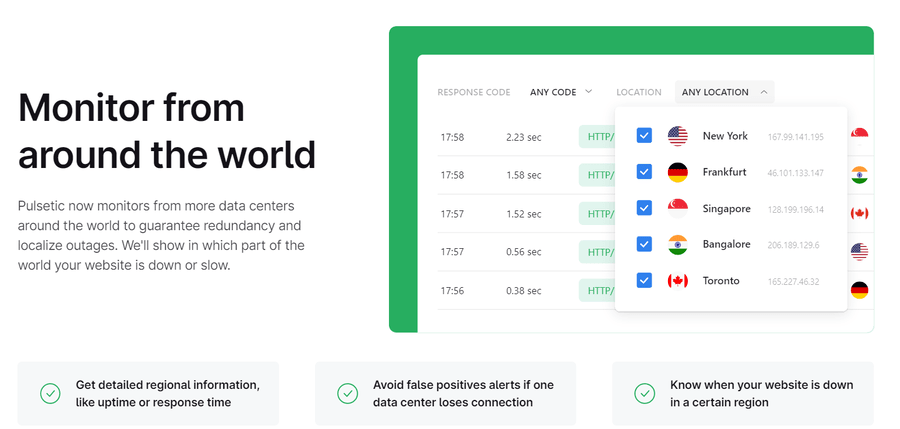 Developer: Andrian Valeanu
License: Paid
Pulsetic is a tool that gives downtime alerts via multiple platforms. It is a highly suitable tool as it is portable and can be used even with a USB stick. It proactively works on the problem in the websites and solves it quickly. On top of that, it also creates incident management reports to track the actual problem on the website. It is an uptime robot alternative and provides detailed information about in which particular region the website is inoperative.
Pros
It provides reports of the past 30 days.
It automatically updates the website from time to time.
It is easy to customize requests.
It is a portable tool with accurate results.
Cons
It does not provide SEO services.
7. Better Uptime – Overall Best for quick checks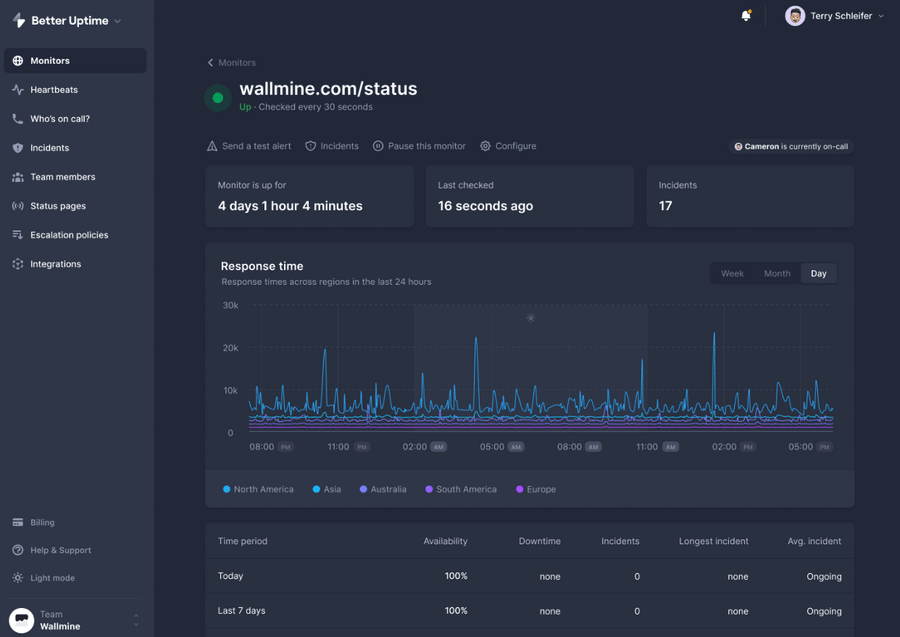 Developer: Veronika Kolejak
License: Paid
Better Uptime is mainly an infrastructure monitoring platform. The best feature of this tool is that it checks for false alarms triple time. It also alarms the right person on duty and solves the problem as fast as possible. It sends the developer a screenshot of the problem and the details about when the website broke.
Better Uptime is integrated with 100+ services and is accessible from various locations. Apart from the various applications like Slack and Microsoft Teams, it also uses push notifications for alarm purposes. It gives a quick check in less than 30 seconds, even after merging different incidents, checking from multiple locations, and discarding false information.
Pros
It provides a triple check on false alarms
Detailed notification with an attached screenshot
It also provides on-call alerting
Cons
It has a complex user interface.
Overview of Best UptimeRobot Alternatives
Software
Top Features
Maintenance
Alerting
False Positives
Freshping
– It provides notifications on multiple channels.
– Comes with an advanced alerting system
Yes
Yes
No
Site24x7
– It effectively tracks the load on the servers of the website.
– It is suitable and reliable for large enterprises.
Yes
Yes
No
Screpy
– It works on an AI-based server.
– It provides detailed guidelines to solve any problem.
No
Yes
No
Pingdom
– It re-checks alarms, which eliminates false information.
– It provides a better user experience.
Yes
Yes
No
StatusCake
– Enables monitoring from 40+ different locations.
– Provides Domain Monitoring, SSL Certificate Monitoring, and Truly Global Monitoring.
Yes
Yes
Yes
Pulsetic
– Provides detailed regional information, which makes it more efficient.
– Allows you to receive alerts through multiple channels.
Yes
Yes
No
Better Uptime
– Comes with a triple check on alarms.
– Provides notifications through on-call alerts.
Yes
Yes
No
What is the difference between StatusCake and UptimeRobot?
Status Cake gives more options compared to the latter regarding how a person should be contacted and through which platform it will be more feasible to check the website. UptimeRobot gives more reliable information as it eliminates false alarms beforehand. The user interface of UptimeRobot is more straightforward and less complex. StatusCake scans the malware and detects bugs in the website. UptimeRobot has more economical plans and is suitable for all scales of business.
They both are available in the form of a mobile application. However, StatusCake is a more comprehensive and feature-rich monitoring solution than UptimeRobot. Moreover, StatusCake monitors website uptime, SSL certificates, response time, and other performance metrics more granularly than UptimeRobot. On the other hand, UptimeRobot provides keyword monitoring and SSL checking, which StatusCake does not provide.
Conclusion
Using different tools to monitor websites is necessary to ensure that websites are running smoothly, are secure, and have minimal downtime. Different tools can provide insights into performance metrics, security vulnerabilities, and data about user behavior that can help website owners make informed decisions about their website's performance and security. Additionally, website monitoring tools can help website owners identify and address potential issues before they become serious problems.
It is important to determine the types of monitoring needed for your business, like PHP monitoring or others. Cost is another major factor when selecting a website monitoring tool. Different tools come with different plans and pricing options. You should determine your budget and select a tool that fits your budget. Once you've narrowed down your choices, it's time to test the tools. Most website monitoring tools offer a free trial period, so take advantage of this and test the tools thoroughly before making a purchase.