UnWrapper GOTD V2 Saves the Latest Giveawayoftheday Setup Files
Almost everybody who likes to download some free software from time to time knows all about GiveawayOfTheDay. Since 2006 GiveawayOfTheDay has been offering shareware and commercial software to its readers, free of charge. The GiveawayOfTheDay software is rotated once a day and you have 24 hours to download and install, then activate the software on your computer. If you don't install during that time it's tough luck because the software is wrapped in their own custom installer which will only allow you to install and activate the software within the one day period.
It does this by checking the GOTD servers online and won't allow the download if you are trying outside of the 24 hour period. While the software given away might not always be very good, it used to be very easy to download and then save the installer and license information for future use outside of the time limit. The installer used to store itself in the Windows Temp folder and could easily be copied, then you had the real installer ready to use any time you wanted to. But in 2012 there was a controversial change and made saving the installer files very difficult.
The updated 2012 wrapper was based on Themida technology which is similar to what's used in malicious rootkits. It was done largely to stop users easily grabbing the installer and registration information without installing the software, something which GiveawayOfTheDay don't like you doing because you're only supposed to install and activate the program on the day the software is offered.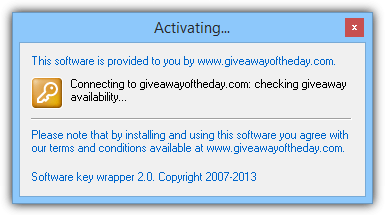 A member called Maximus from the cracking group Revenge Crew saved the day in late 2012 because he released a small tool called Unwrapper GOTD which allowed you to still get hold of installers and license keys from the encrypted .GCD files for future usage. That tool, although good, had a major problem which was it wouldn't work properly in 64-bit versions of Windows. But yet again, GiveawayOfTheDay made changes to their wrapper in early 2015 which means Unwrapper GOTD version 1 no longer works.
Although GiveawayOfTheDay isn't as good as it once was, there are still users who would like to keep some GOTD giveaways if only there was a way around this newer 2015 protection. Thankfully, Maximus has done it again and released Unwrapper GOTD version 2!
UnWrapper GOTD v2
weighs in at only 60KB and is just as easy to use as the previous version. Firstly, download the
Giveaway of the Day
software and extract the downloaded zip file to a folder. There will be a Readme.txt with any related activation links or serial numbers, a Setup.exe and a Setup.gcd. Alternatively you may get a standard setup.exe installer that isn't wrapped and an Activate.exe that is protected along with its Activate.gcd, this will usually produce a .reg file that needs merging into your registry to activate the software.
Run the UnWrapper GOTD v2 executable and it will popup a file requester dialog which will ask you where the extracted Setup.exe or Activate.exe file is (it has an orange icon), simply locate and double click on the file.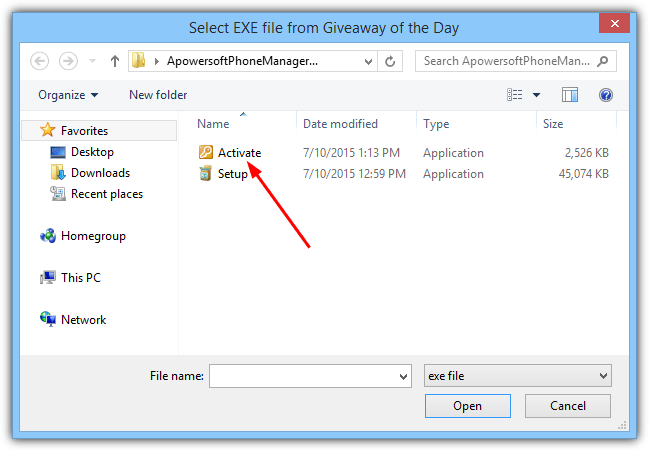 After a few seconds the unwrapper should tell you tell you the original installer or activation registry file has been saved in the same folder as the GOTD executable and files.

Any subsequent windows after you've seen this box are irrelevant and can be closed or canceled if you don't want to install the software right now. Go back to the original folder and your new setup installer or registration.reg file should be there. If it is, the old setup.exe and setup.gcd files can be deleted. The text file can be removed only if it doesn't contain a serial number or registration link etc.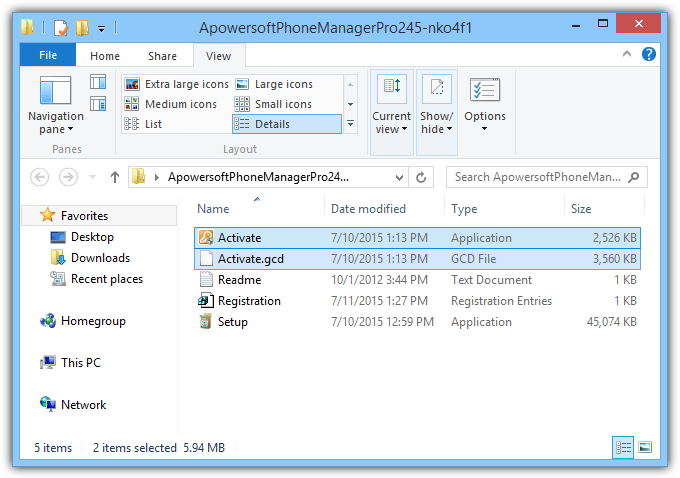 Unwrapping Files from an Expired GOTD Giveaway
Version 2 of Unwrapper GOTD also includes another function which is being able to extract the setup installer or registration file after the 24 hour period expires. This can be useful if you downloaded the giveaway and for whatever reason didn't connect to the GOTD server within the allotted time.
This is a three step process and requires a separate text file called gotd_keys.txt to be present inside the extracted giveaway's folder, Unwrapper GOTD runs in offline save mode where it downloads an extraction key to the text file, and then it runs in offline load mode where it uses the key and unwraps the .GCD file. Here's how to do it:
1. In the extracted giveaway folder, add the text file. Right click > New > Text Document and give it the name gotd_keys.txt. If file extensions are not set to show in Windows simply call it gotd_keys.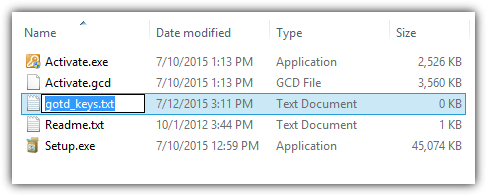 2. Run Unwrapper GOTD and select the Activate.exe or Setup.exe file.  After a few seconds a window will say the unwrapper is running in 'offline mode – Save' and a popup will show a request/response key has been saved to the gotd_keys.txt file.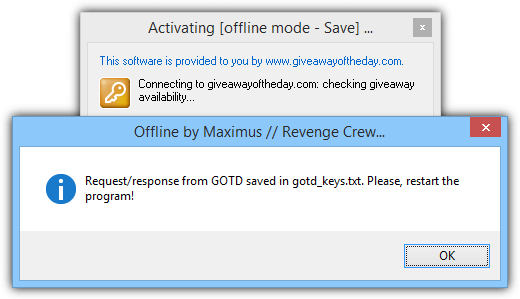 3. For a second time run Unwrapper GOTD v2 and select the Activate.exe or Setup.exe again. This time it will show 'offline mode – Load' in the title bar and the key will be read to unwrap the files.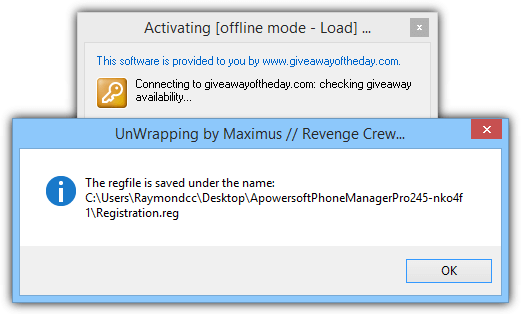 This should behave exactly like if you were running the giveaway during the normal one day period, but you aren't! Note although Unwrapper GOTD 2.01 needed an active internet connection while unwrapping using this method, 2.03 has removed this requirement.
Although we've not had a great deal of time to thoroughly test the program, it so far works fine on a wrapped installer with Activate.exe/Activate.gcd or Setup.exe/Setup.gcd files. It should also work on Game Giveawayoftheday's just as well. A Youtube video of Unwrapper GOTD v2 created by Maximus showing how it works is available. We will continue to check over the coming days to see if the program works correctly in all possible scenarios.
We're happy to report this new Unwrapper GOTD v2 works fine on 32-bit and 64-bit versions of Windows XP, Vista, 7, 8.1 and 10 preview without issue. Unwrapper GOTD v2 requires administrator privileges to work, if the program fails to extract the files properly then temporarily disable your security software.
Important Note: Because Unwrapper GOTD is similar to a hacking or cracking tool it will inevitably get flagged as malicious in a number of antivirus, at places like VirusTotal and in your web browser. We are as sure as we can be the author is acting in good faith and the tool is only trying to extract the GOTD files from what is effectively an installer using DRM. Please bear this in mind and if you are unsure or worried about the program producing the false positives it does, then please don't download or use Unwrapper GOTD.