Nero Uninstaller Tool & How to Remove Nero Completely
Most people will know of Nero burning software. It's one of the most popular shareware programs to burn various kinds of optical discs, and it also comes with a suite of multimedia tools for viewing, editing and creating things like photo discs and video or music discs. A lot of users might also have received the Nero Essentials software that comes bundled sometimes if you buy a separate DVD burner.
Unfortunately, a lot of people these days have got a bit fed up with Nero due to the fact it has become so bloated with useless junk, that the great burning program it once has got rather lost in all the other software and components that come with it. Back with Nero 6 everything you wanted to fulfill your burning needs was all included within not much more than a 30MB installer. These days the Nero 11 installer is over 350MB!
This is one of the reasons why a lot of people still use older versions of Nero because they are a lot smaller and still accomplish the burning tasks required of them. Unfortunately even the older versions of Nero still have some pretty useless components such as Scout and create a lot of files spread around your system and a large number of registry keys.
If you have any Nero software installed on your computer and you want to remove it, if you try checking Add or Remove Programs in your Control Panel, you should find related entries in there which enable you to uninstall/remove the products from your computer. But wait, there's a problem with this…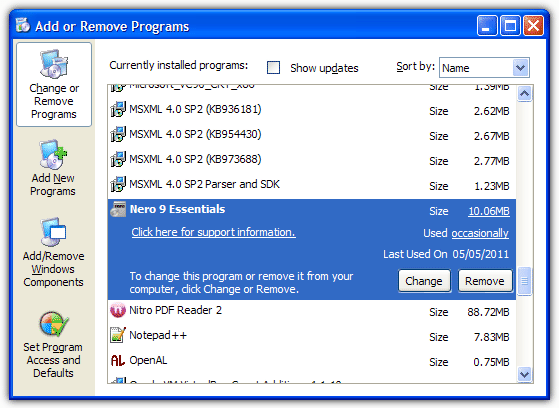 Rather oddly, according to Nero themselves, even though you should be able to remove any Nero software from your computer using Add or Remove Programs in your Control Panel, it is not advisable to do that because it won't remove all Nero entries!
If you thought it was only Antivirus companies releasing cleanup tools for their software, you'd be wrong. Nero also have their own utility to clean up a number of software installations because obviously their own uninstallers aren't thorough enough.
Nero used to provide a few different Cleaning Tools to remove various versions of their software, for example different tools for versions 5, 6, 7, NeroVision and InCD. These days things are a little easier because there is a general cleaning tool to cover all of those mentioned and a few more distro's.
The Nero General CleanTool can purge your system of a number of products including Nero 9, Nero 8, Nero 7 and Nero BackItUp 4. The actual official support list seems to be rather vague because if you try to download the dedicated Nero 6 cleaning tool, it will simply download this one instead.
What is for definite is the General CleanTool DOES NOT support any Nero 10 or Nero 11 products and the tool won't pick them up. See the bottom of the article for more Nero 10 and 11 removal information.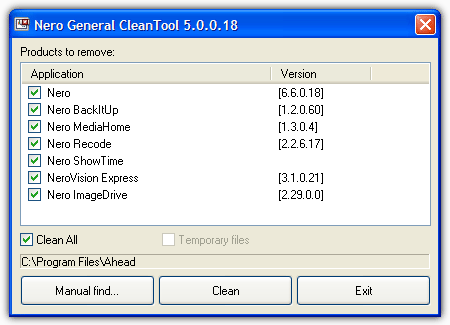 After you download, extract and execute the General CleanTool, it automatically starts a search for any Nero software installed on your computer. It will then display the results for you to choose which software it detected you'd like to remove. If you want to remove all Nero software, just click on the "Clean All" checkbox. Otherwise you can just select which software you'd like to remove.
If the tool finds any temporary Nero files on the system, the relevant tick box will become available. If an installation hasn't been detected you can point to it manually by clicking the "Manual find…" button.
When the clean begins, you will be asked if you want to keep or remove the Nero serial number and any plug-in licenses. If you don't know what they are, it's best to leave them in for now. The removal might take a few minutes depending on what you have installed and what's being removed, and the computer will most likely need to be rebooted afterwards.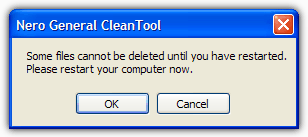 Download Nero General CleanTool
Uninstall Nero 10 and 11
Although the CleanTool does not support Nero 10 and 11 products, Nero themselves say the standard uninstaller found in Add and Remove / Programs and Features is much better for those versions than the older uninstall process in versions 9 and below, and therefore a cleaning tool isn't needed. So for 10 and 11 the standard uninstaller should be good enough.
If you have problems using the standard removal process and can't get rid of Nero, The Program Install and Uninstall Troubleshooter from Microsoft might be able to help. Or you could try an uninstaller tool such a Revo Uninstaller, IObit Uninstaller or Geek Uninstaller.