Geek Uninstaller Review – Is it Any Good?
As you know, whenever you install a piece of software it will install several files and probably registry entries on the system in order to work. And this is fine while you're using it. When you choose to uninstall the software, you simply use the programs dedicated shortcut icon or go through Add/Remove or Programs and Features in the Control Panel.
Unfortunately, as is the case with just about all versions of Windows, quite often this doesn't completely remove all traces of the files, folders and registry entries used by the software and these get left on your system. While this might not be a major problem at the time, it can cause potential issues down the line. This is especially true with system utilities and security software or software which installs a large amount of information and data. It's possibly expected that sometimes a file or two or a registry key is left behind, but sometimes there are literally hundreds or even thousands that remain which isn't good news for an efficiently run system.
The majority of users will no doubt know about third party uninstall programs like Revo Uninstaller and IObit Uninstaller, a couple of programs I keep in my USB toolkit. These programs and others like them are especially designed to remove leftover registry information, files and folders after uninstalling a program which the Windows built-in tool doesn't touch.
Geek Uninstaller
is another free utility to enter this area. The program is an entirely portable standalone executable (after unzipping) so is ideal for a pen stick. Apart from its clean and easy to use interface, it also supports 30 different languages and has a Force removal option to uninstall software that refuses to go through its own uninstaller.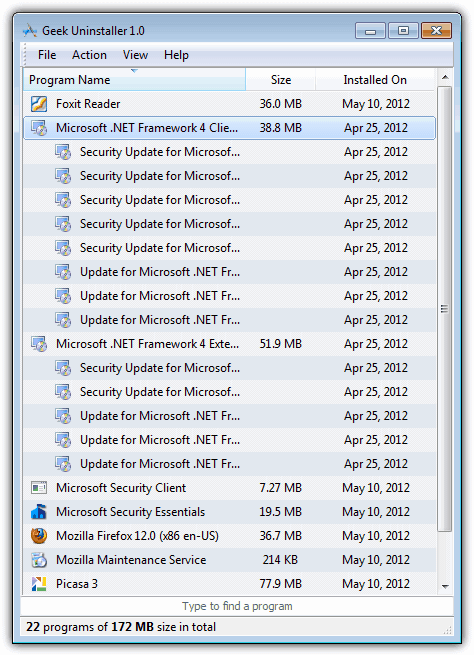 The display is clear and concise with the installed software name, its size and the install date listed, along with a search bar at the bottom if your software list is rather large. Press F5 to refresh the display at any time. Starting the removal is simply done by pressing Enter on the chosen program, double clicking it, or right clicking and select Uninstall.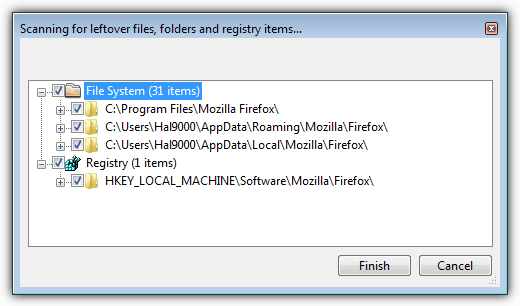 After going through the programs own uninstall process, Geek Uninstaller will do a scan for leftovers, much like any other software of this type. The results window will then give you the opportunity to remove what the programs uninstaller has missed.
Right clicking any entry in the main window gives you the option to force a removal if the official uninstaller doesn't work, remove the entry from the list if the software has already gone and it still shows up, navigate to the connected registry entry for the uninstaller, open the programs install folder and go to the programs website. The last option will do a simple Google search for the software name or company listed in the uninstaller's details.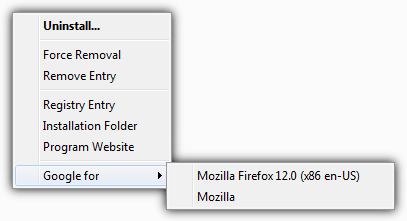 Below is a quick and simple test I ran on some pieces of freeware to see what leftovers a few portable uninstallers found. The programs used were Geek Uninstaller 1.0, Revo Uninstaller 1.93 and IOBit Uninstaller 2.2. The default scan modes were used in each program. Revo has an Advanced scan where the others are using the best mode they have. Items could be files or folders.
Foxit Reader 5.30
Geek Uninstaller: 1 Registry entry
Revo Uninstaller Moderate Mode: 1 Registry entry and 3 items
IOBit Uninstaller Powerful scan: Nothing Found
Notepad++ 6.1
Geek Uninstaller: 3 items
Revo Uninstaller Moderate Mode: 14 Registry entries and 17 items
IOBit Uninstaller Powerful scan: 24 Registry entries and 17 items
Firefox 12
Geek Uninstaller: 1 Registry entry and 2 items
Revo Uninstaller Moderate Mode: 3 items
IOBit Uninstaller Powerful scan: 3 items
Google Picasa 3.9
Geek Uninstaller: 2 items
Revo Uninstaller Moderate Mode: 1 item
IOBit Uninstaller Powerful scan: 3 Registry entries and 2 items
Kingsoft Office Free 2012
Geek Uninstaller: 3 Registry entries
Revo Uninstaller Moderate Mode: 28 Registry entries
IOBit Uninstaller Powerful scan: Nothing Found
Microsoft Security Essentials 4
Geek Uninstaller: 1 Registry entry
Revo Uninstaller Moderate Mode: 6 items
IOBit Uninstaller Powerful scan: Nothing Found
The GIMP 2.8
This uninstaller is just about perfect as all three programs found absolutely no leftovers whatsoever.
From looking at the results, Geek Uninstaller has a long way to go to get close to Revo Uninstaller in finding residual data. It did however find a couple of entries which IOBit Uninstaller missed although this did seem to be when all three found very little. This might not be such a bad thing at the moment, because the other two will create a restore point for you so you can roll back if things go wrong. Geek as yet, does not. It did scan a bit quicker than the other two, but this is expected if fewer system areas are scanned for leftovers.
Geek Uninstaller is only on version 1.0 and its initial release was the beginning of May, so if the developer decides to improve it further, there is definitely the potential for a decent uninstaller tool which may one day be a serious alternative to the more established names. One to keep a watchful eye on. Compatible with Windows 7, 8, XP, Vista and 2003/2008.