Unable to Activate Windows 7 Error Code 0xC004C008
I have a desktop computer which comes with Windows Vista preinstalled but I've wiped the drive and installed Windows 7 activating it with a Technet license. A technet license is a genuine product key where I can activate Windows 7 legally but the license agreement states that it is only for testing purposes but cannot be used for playing games, email and etc. I also use Rollback RX, a software that is very similar to Comodo Time Machine to revert the PC back to the time when I created a snapshot. So every time after testing a software extensively, I would rollback to get a clean state of Windows 7 again. It is much better than Ghost because it takes less than a minute to restore with Rollback RX compared to Ghost which takes 4 minutes.
One weird problem I always encounter is after rolling back the system, Windows 7 will be deactivated and I will have to activate it again via online.

As far as I know, a single technet Windows 7 product key can be used to activate up to 10 different machines and there are no limits in activation for that 10 computers. Since yesterday I was having problems getting Windows 7 activated after rolling back the system.
Every time I click the "Activate Windows online now" button and waited for a few seconds, I get a window saying "Type a different product key for activation. The product key you typed cannot be used to activate Windows on this computer". I then get 4 options to buy a new product key online, retype your product key, use the automated phone system to activate or contact Microsoft to help resolve this problem.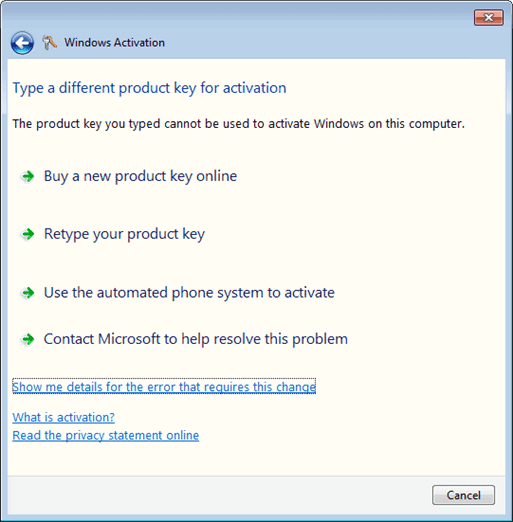 Clicking on the Show me details for the error that requires this change link tells me that the following information was found for this error: Code: 0xC004C008 and description The activation server determined that the specified product key could not be used.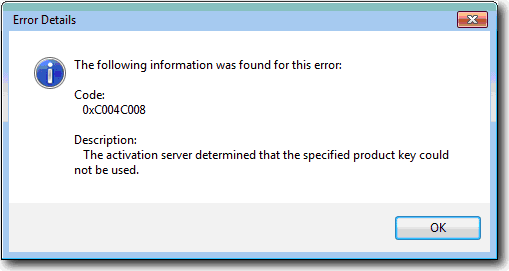 Since I have a technet account and I can generate up to 10 product keys, I generated a new Windows 7 product key and tried activating again but still failed. Finally I talked to Paul about this issue and he said he and some of his friends are having similar problems too and this happens once in a while when the Microsoft activation server are acting up. That explains why we have 3 days until the automatic activation starts again which by then Microsoft would have fixed their activation server.
Anyway I tried the 3rd option which is to use the automated phone system to activate Windows 7 and it worked! I called up a toll free number, keyed in the installation ID via the phone's keypad and received an auto generated confirmation ID. Have you ever experienced such problem in your Windows 7?