Recover Formatted Hard Drive: Best Free Data Recovery Tools
Recently there was a discussion in our forum about data recovery and we were quite surprised to discover that many people don't think that data recovery software works. In our experience, it does work more often than not and it's saved me many times after accidentally deleting important files, or after formatting a hard drive and forgetting to backup some files. There was only once, I wrongly formatted my external hard drive and somehow I wasn't able to get back all my files. I have several external hard drives, all with the same casing and no label. I guess the reason I wasn't able to get back my files is because I might have copied some files to another hard drive.
The data recovery market is quite competitive and there are loads of products out there, but mostly it's paid commercial software. Some may have a free version or trial but usually you only get to view the files that can be recovered or you're able to recover a small amount of data such as 64KB. There are still some free and unrestricted products out there that can help you get your files back, and we have 10 useful data recovery programs here for you to have a look at.
When recovering data from deletion or corruption, there are some simple rules to follow for the best chance of recovery:

Try to stop using the device or partition you want to recover from because if you're trying to recover files from your C drive for example, any activity such as browsing the internet might accidentally overwrite what you're trying to get back.
Do NOT install, download or extract the data recovery software onto the hard drive or external device that you want to recover from.
Do NOT save the recovered files onto the same hard drive that you're recovering from, some recovery tools will automatically warn you or not allow you to do it.
Do take note that these are our top 13 picks for Free data recovery software and are in no particular order of preference. Being at number 1 does not necessarily mean it is better than number 5.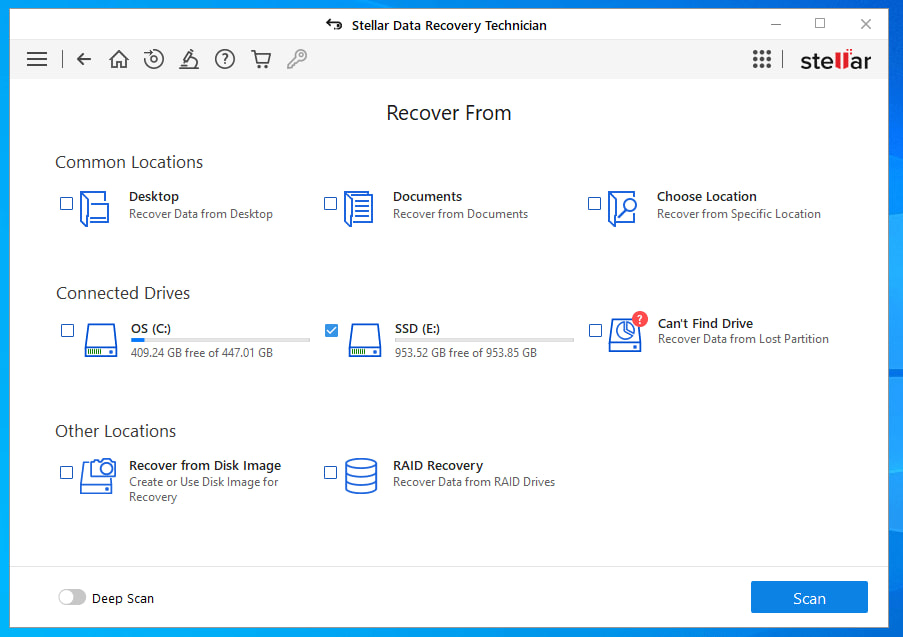 Developed by Stellar, this application is among the top data recovery tools available. Users use Stellar to retrieve deleted files from storage devices like formatted hard drives, USB drivers, hard disks, and memory cards. The software is compatible with Windows, iOS, and macOS devices, giving users more access and flexibility. One feature that stands out is the product's friendly interface which makes navigation easy and effective.
Furthermore, the company boasts of a high success rate when recovering lost data due to formatting, virus attacks, or partitioning. The tool can recover various file types, including but not limited to PEG, PNG, BMP, GIF, Word, Excel, AVI, MPEG, MPG, MP4, 3GP, DBX, and EDB. The tool offers different scans to help users locate lost data based on their specific needs. Some of these scan types include Quick Scan, Deep Scan, and Raw Recovery.
Download Stellar Data Recovery
2. EaseUS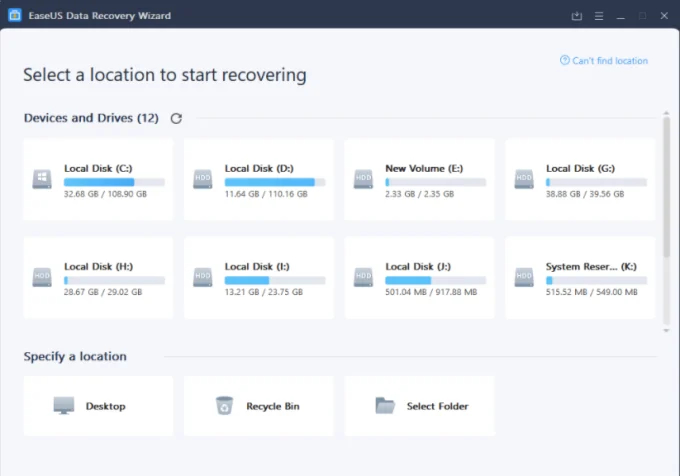 This platform is a secure and reliable data recovery software that allows the user to recover deleted data. Used by millions of customers worldwide, the software has a range of features that make it useful. For example, users can choose from a wealth of different scanning modes, like deep scanning that ensures absolute recovery results.
Although it's a bit pricier than other tools, this recovery software improves the quality of the data it retrieves. The company offers customers a free and paid plan, depending on their needs.
3. Recuva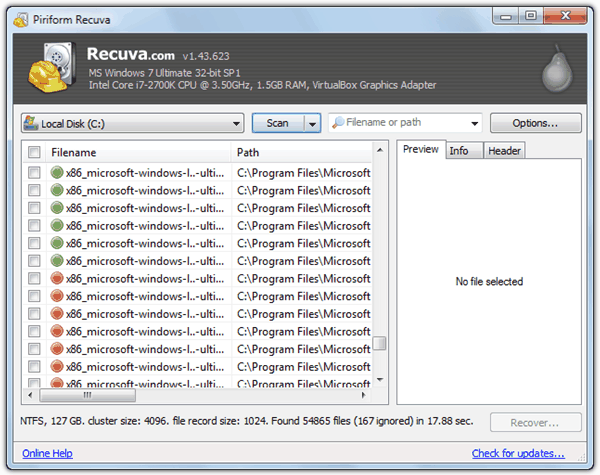 Recuva is a free Windows utility from the makers of CCleaner to restore files that have been accidentally deleted from your computer. This includes FAT, NTFS and exFAT file systems, and files emptied from the Recycle bin as well as images, music, video and other files that have been deleted by user error from digital camera/phone memory cards or MP3/MP4 players. By using the more thorough Deep Scan mode you have a better chance to recover files, and "Scan for non-deleted files" turns Recuva's search mode into recovering files from damaged or formatted partitions. There's also a useful secure file eraser so selected deleted files cannot be recovered.
The zip file is only 3MB in size and it's portable (an installer version is available) giving Recuva an advantage over some other tools which need installing.
4. Disk Drill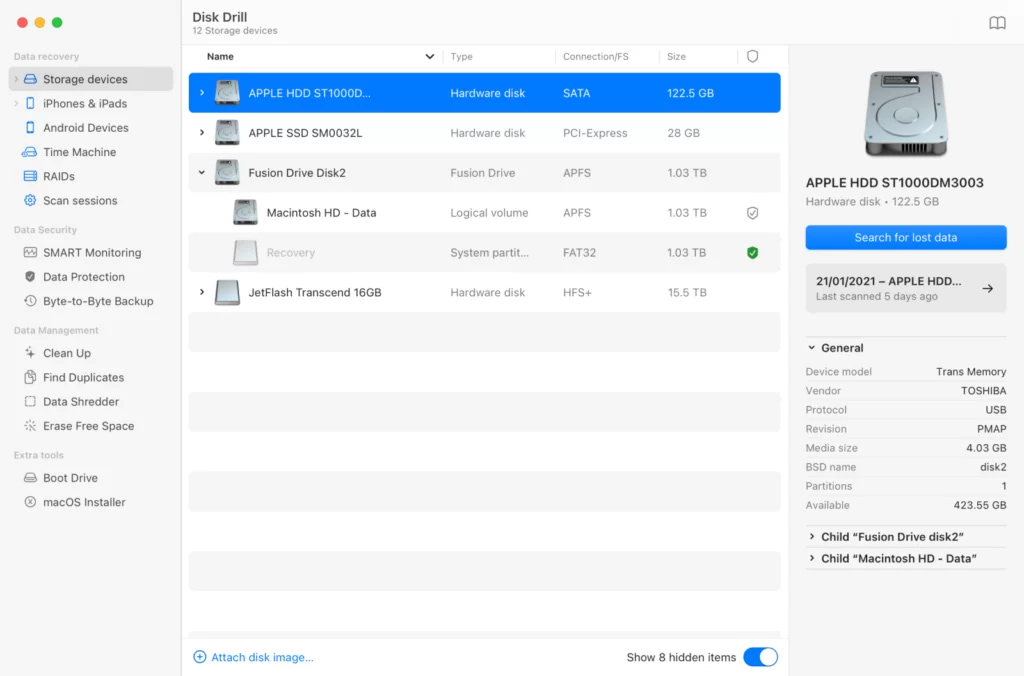 This data recovery tool is designed to recover data from formatted hard drives and storage devices like USB drivers and memory cards. The tool uses various techniques to help the user restore lost data. First, the software uses a "Recovery Vault" feature to keep track of all deleted files, making it easy for the user to restore their data from one dashboard.
One reason the tool is a go-to for computer owners is its intuitive interface that is readily accessible to non-technical users. As long as the data has not been overwritten, users can rely on the tool to recover data in different formats, including photos, music, videos, documents, etc. Furthermore, you can easily pause and resume scans at your own convenience. Even the free version of the app includes all versions of the Disk Drill security updates, making it possible for you to maintain and protect your privacy at all times.
---
5. PC Inspector File Recovery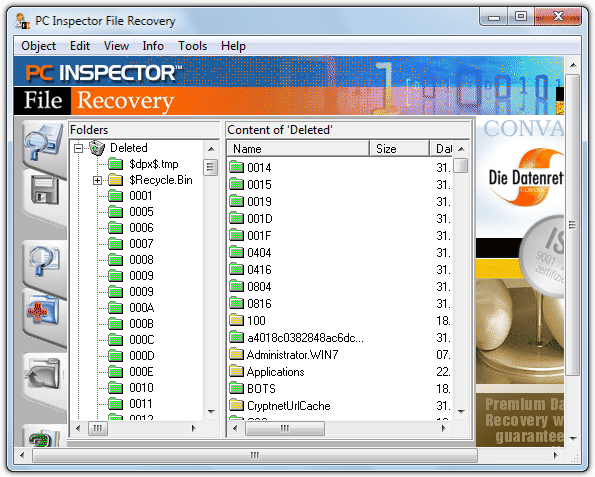 PC Inspector can recover data from most FAT and NTFS partitions even if the boot sector has been erased or damaged. You can also save recovered files onto network drives and several types of video, audio, pictures and archives with damaged headers can be recovered using a special mode. Formats include ARJ, AVI, BMP, DOC, DXF, XLS, EXE, GIF, HLP, HTML, JPG, LZH, MID, MOV, MP3, PDF, PNG, RTF, TAR, TIF, WAV and ZIP. You can also scan just specific areas of the disc with the Cluster scanner if you know the lost files are near the beginning, middle or end of the drive etc.
The setup file is 3.3 MB in size. The FAQ says it's not compatible with any Windows operating system above XP although it ran perfectly fine on Windows 7 when tested.
Download PC INSPECTOR File Recovery
---
6. Puran File Recovery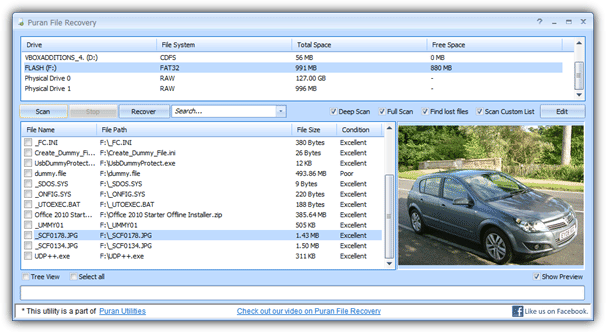 There are 3 main recovery modes and range from the default Quick Scan which simply reads the FAT or NTFS file system for deleted files from the recycle bin etc, to Deep Scan that also includes scanning all available free space, or Full Scan will check all space on the device for the best chance of recovery. Using the "Find lost files" option turns Puran File Recovery into a tool to recover all files from a lost or damaged partition. Something else you can do is edit the custom scan list which stores file signatures for more accurate recovery of badly damaged data.
This program is available either as a standalone tool or as part of the also free Puran Utilities suite. The standalone installer is 2.2MB in size and works on Windows XP up to Windows 8.
---
7. LazeSoft Data Recovery Home/Free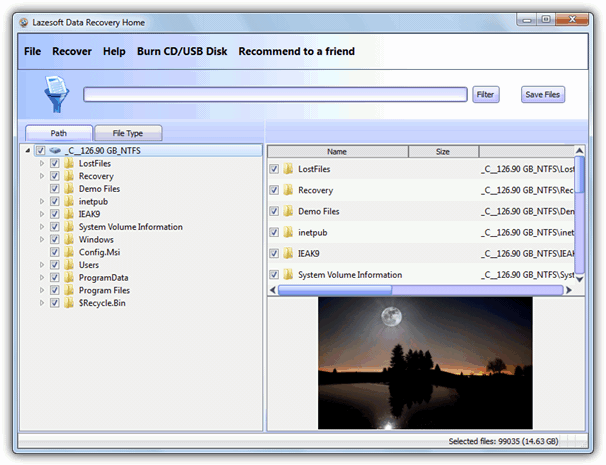 The LazeSoft program has 2 modes; deleted or lost file recovery for general undelete purposes, and a partition recovery mode which can find and recover files and folders in formatted, lost or damaged partitions. It can recover data from FAT, NTFS (including encrypted and compressed), memory cards, USB, phones/mp3 players and RAID arrays etc. MBR, GPT partitions and dynamic partitions can be scanned in the partition recovery mode. You can easily narrow down your file search by using the filter option or File Type tab.
LazeSoft has 2 free versions for download, the 6MB Free edition simply installs and works within Windows, the 21MB Home edition has an added option to create a bootable CD/USB/ISO recovery disc. Using this could greatly reduce the risk of overwriting files you're trying to recover.
Download LazeSoft Data Recovery Home/Free
---
8. Wise Data Recovery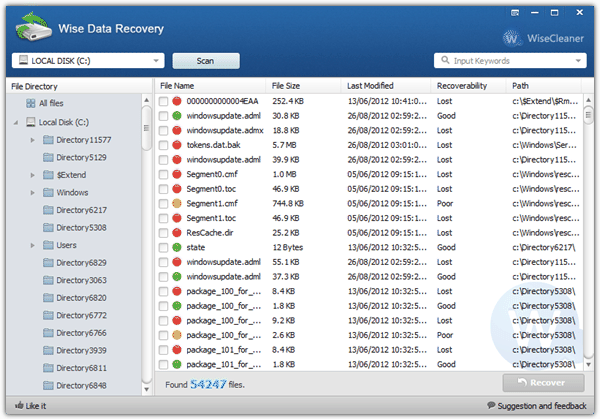 This utility is one of the fastest undelete tools around, looks good and has an intuitive interface. Wise data recovery can find deleted files from local drives, USB drives, cameras, memory cards, removable media devices etc. As well as being easy to use, it also includes a fast search filter by selecting in-built file extension groups using the file's type. Although the scanning is fast, the program has no deep scan mode which it could mean a slightly reduced chance of recovering the most hard to recover files.
An installer executable or portable version is available, the portable version is on the Download page and not the product page. Wise Data Recovery is compatible with Windows XP up to Windows 8.
Download Wise Data Recovery

9. SoftPerfect File Recovery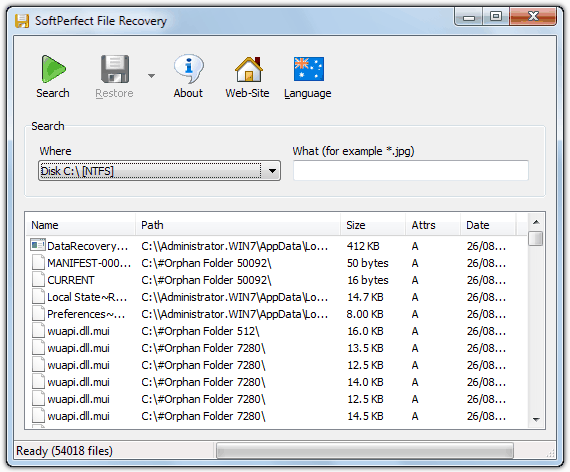 SoftPerfect File Recovery is another simple but effective file recovery tool. It can restore deleted files from hard drives, floppy disks, USB flash drives, most types of memory cards and other storage media. It supports compressed and encrypted file systems like NTFS and NTFS5 as well as the standard FAT12, FAT16 and FAT32. The program is about as easy to use as you can get, select your drive and press the button.
SoftPerfect is a standalone portable executable so no installation is required. The program is only 500KB in size and supports Windows 2000 to Windows 7.
Download SoftPerfect File Recovery
---
10. FreeUndelete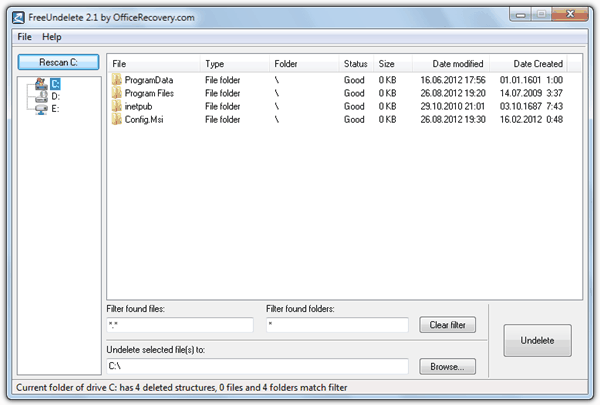 This is another simply and easy to use deleted file recovery tool. There is support for NTFS 1, NTFS 2, FAT12, FAT16 and FAT32 file systems. A couple of wildcard filters are there to narrow down the search. The scan does take a couple of minutes and seems to be quite thorough, somewhere in between the standard and thorough modes of other tools. Selecting files is done by highlighting them and using Shift or Ctrl to multi select. Make sure to change the "Undelete selected files(s) to" location if you're recovering data from the C drive.
The setup file is just under a Megabyte in size. It can be extracted with 7zip but the extracted files must have the "fru." prefix removed from the file names.
---
11. Glary Undelete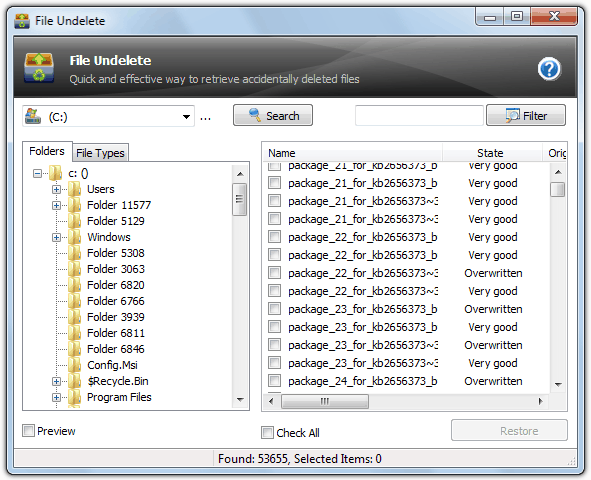 Glary Undelete is another free and pretty easy-to-use file undeleting program for most types of FAT, EFS and NTFS file systems, including compressed and encrypted NTFS. Recycle Bin deletes, DOS window deletes, and those files deleted from Windows Explorer with the SHIFT key held down can be recovered. The program supports recovery from basic and dynamic hard drive volumes, floppies and just about any type of external media. Click the Preview tick box to view images to be recovered.
This is the same undelete tool that is found in the excellent Glary Utilities suite, and as there is a portable version of that software, it's recommended you download that as it doesn't need installing. The Glary Undelete setup is 1.6 MB in size or the portable Glary Utils zip file is around 8MB. Works on Windows 2000 to Windows 8.
Download Glary Undelete | Portable Version in Glary Utils
---
12. Pandora Recovery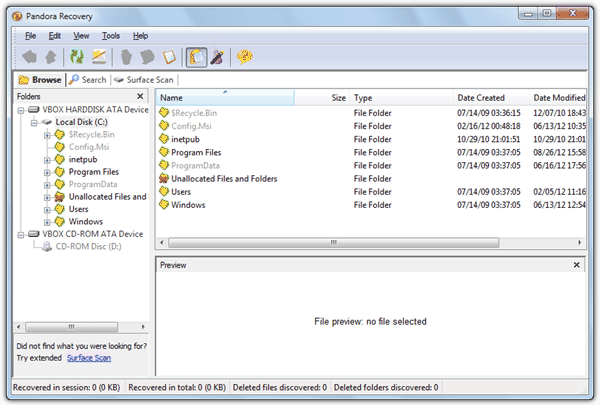 Pandora Recovery recovers files permanently removed from the Recycle Bin or files deleted directly via the DOS Prompt etc. There is a powerful search option and a preview window allowing you to view deleted images and text files. Pandora includes a Surface Scan mode which is helpful for damaged or reformatted partitions or a corrupt file allocation table. There is a useful wizard when you start the program to help with the recovery.
The setup file is 3.1 MB in size and Pandora Recovery is listed as compatible with Windows 2000 to Vista, but seems to work OK on Windows 7.
---
13. TOKIWA DataRecovery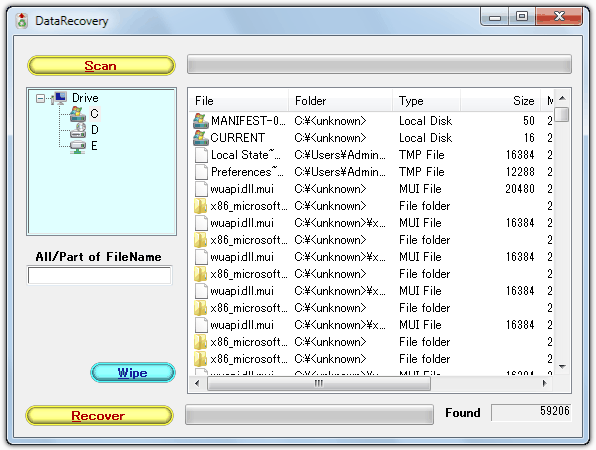 This little tool is a plain and simple one to undelete files from FAT12, FAT16, FAT32 and NTFS partitions. It can also recover NTFS compressed files, EFS encrypted files and files using a partial filename search string. A Wipe button can permanently delete recoverable files, although you can't wipe files on the C drive in Vista or above.
The zip file is only 200KB in size and the extracted executable is 400KB, no installation is required and it's portable.
Hopefully one of the above tools should help you get your data back. If you don't have too much data to recover, you might want to have a look at EaseUS Data Recovery Wizard Free Edition. This is a powerful tool to recover data from lost, RAW, formatted or corrupt partitions on internal and external drives and memory media. The full version is $70 but the free version can recover 1GB of data so worth a look if it's enough. Another freeware that we can recommend is Roadkil's Undelete which is a tiny and portable tool that can undelete files from Windows 98 to Windows 7.