Fake Flash Test: 7 Free Tools to Check Real Capacity
Counterfeit computer products, including flash memory storage, have become increasingly common in recent years. While all types of flash memory storage, such as USB flash drives, SD/CF cards, and SSD drives, have been affected, counterfeit USB flash drives are the most prevalent. With countless types, capacities, and speeds, it's easy to mistake them for genuine products.
This problem isn't limited to online marketplaces like eBay; even legitimate retailers such as Amazon have been caught out. To avoid getting scammed, it's essential to verify that any flash device you purchase is what you paid for.
To ensure that a flash drive is genuine, first, confirm that the serial or code number on the device is legitimate. Secondly, make sure that the drive's capacity matches the advertised size, as counterfeit drives often use smaller and cheaper memory chips. Interestingly, some fake drives may even appear to be the correct size in Windows.
Thankfully, there are several software created to help identify counterfeit drives. By using these tools, you can determine if a drive is smaller than the advertised size, indicating that it's likely to be a fake product.
Best tools to test fake USB capacity
1. H2testw – Best tools to test USB capacity overall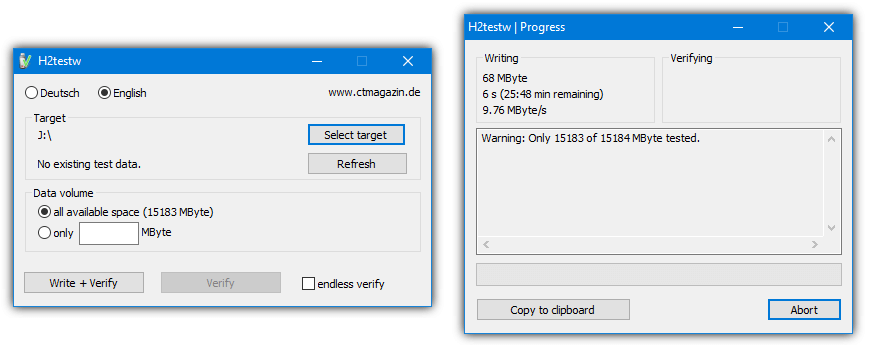 Operating system: Windows
Pricing: Free
Developer: Harald Bögeholz
H2testw is a tool primarily designed to test fake USB capacity. You can use it to detect errors on a device or how it compares to others. One unique thing about H2testw is that it gives you a chance to choose the amount of data you want to scan. You can scan the entire device or a small amount of storage space.
Although H2testw was primarily designed for USB testing, it can also scan hard disks (External and Internal), memory cards, and network volumes. To get started, set the number of files that can be written to the specified location and press the "Write + Verify" button.
With H2testw, you can test the performance of any device connected to your personal computer, whether it's a USB flash drive, SSD, HDD, or MicroSD write speed.
Pros
Scan any device connected to your computer
Choose the amount of space you want to scan
Best for low-capacity devices
Scan hard disks, USB flash drives, SSD, HDD, and MicroSD
Cons
2. FakeFlashTest – Best for writing/reading USB capacity and speed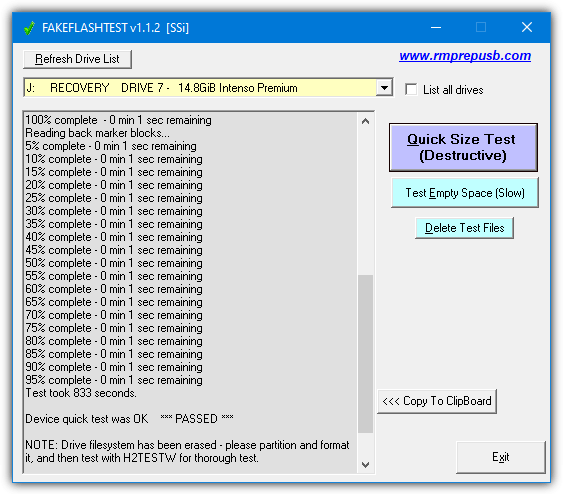 Operating System: Windows
Pricing: Free
Developer: RMPrepUSB
FakeFlashTest is designed to test the actual memory of a USB flash drive or SD card. You can use it to verify the USB device storage size before your purchase.
The software does not test every byte. It just searches for missing chunks of memory, so it is much faster than other tests. Besides that, it stops corruption. For example, a 32GB USB flash drive card may only contain 8 GB of space that can get corrupted easily, leading to data loss.
You will find two options in the FakeFlashTest tool. The first is the Quick Size Test, which determines the drive's actual size, capability, and genuineness. However, Quick Size Test may delete your files and cause data loss. We recommend backing up files before starting your check.
The second is that it writes test files to the free space on your hard drive. This second test only deletes files automatically if the drive is counterfeit.
Pros
It includes optimizations and methods better suited for modern flash media
Compatible with USBs and SD cards
The software does not test every byte, so it's much faster
Do a quick-size test and write test files
Cons
Deletes files without warning
3. Check Flash – Best for keeping a detailed audit trail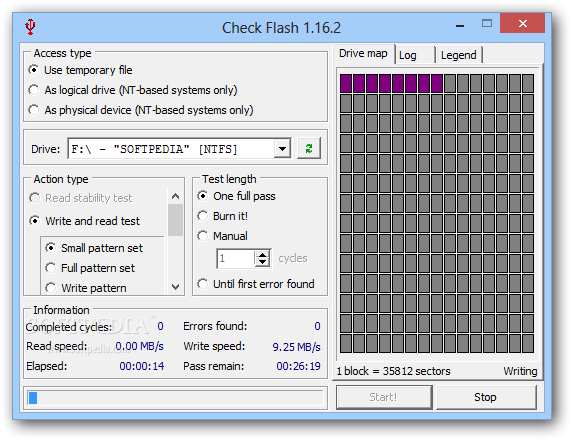 Operating system: Windows
Pricing: Free
Developer: Cherkes Mihail
Check Flash is a tool for formatting and testing USB flash drives. It lets you check the reading/writing speed, edit partition info, save and restore full drive and partition images, and save and restore MBR. It can also perform full drive or partition cleaning.
The software is lightweight and does not take up much space. Irrespective of the drive type, it offers three possible ways of accessing the drive. These include a temporary file, logical drive, and physical device.
After running the software, you'll get details on the completed cycle, read and write speed, and found errors. The tool analyzes the sectors of the drive and creates a visual map of the device.
Pros
Ability to save drive stability tests to disk
It displays drive mapping
View the number of sectors tested and remaining to be tested.
Supports access to multiple types
Cons
Testing an empty USB drive takes a while
4. USB Flash Drive Tester – Best for fake sizes often seen on low-quality USB flash drives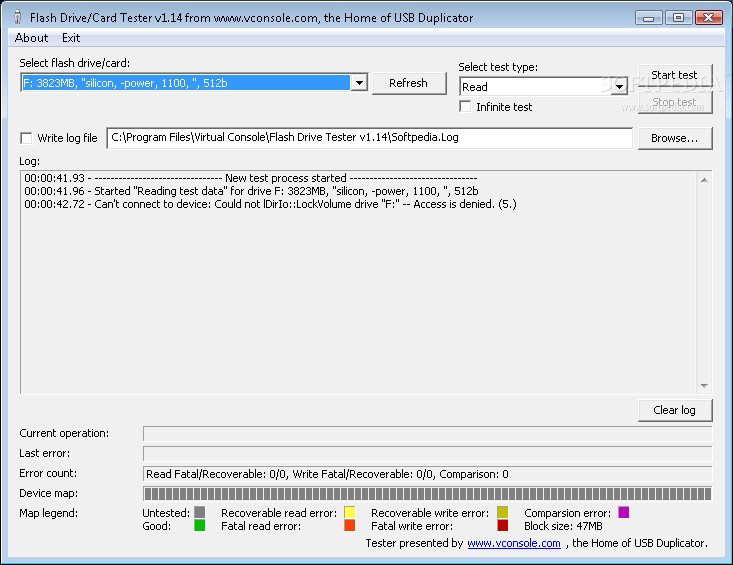 Operating system: Windows
Pricing: Free
Developer: Virtual Console
USB Flash Drive Tester checks the integrity of removable devices, such as SD cards and USB flash drives to detect fakes and unstable sectors. It has a well-defined layout and is often best for testing fake sizes in low-quality disks.
Pick one of the plugged-in drives or cards from the software's drag-and-drop list and select one of the utility's available tests. You can read, write, compare tests, or record all log activity to an external file with the LOG format.
USB Flash Drive Tester barely uses CPU and system memory, so it doesn't interfere with the run time of other active programs. It has a good response time and completes tests fast without crashing, hanging, or popping up error dialogues.
Pros
It doesn't take up much free space
It completes tests pretty fast without crashing or hanging
It's safe software to use
Cons
The user interface can be improved
5. ChipGenius – Best for viewing detailed information about removable drives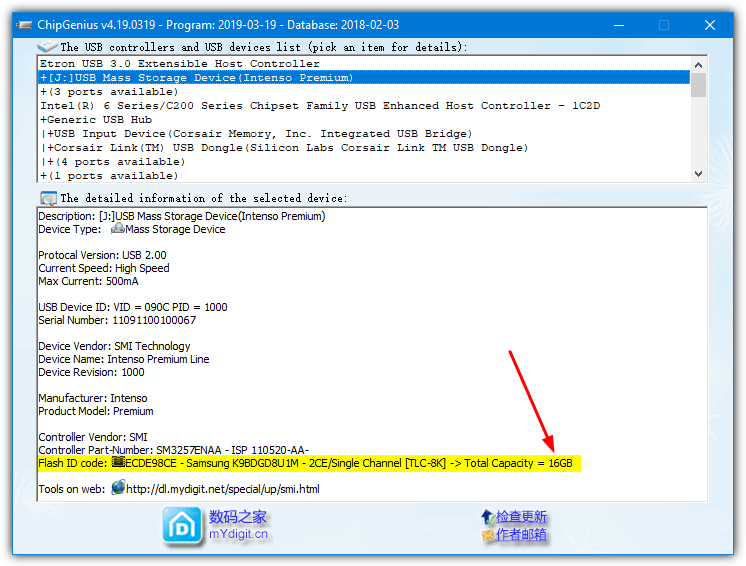 Operating system: Windows
Pricing: Free
Developer: hit00
ChipGenius is designed to help users extract information about their USB devices. It helps find out the actual capacity of a USB device and is particularly useful when a flash device is not visible in File Explorer but only in the dedicated 'Devices' section of the Control Panel.
The software developers must've paid more attention to functionalities than appearance since it keeps everything limited. The interface has only two sections showing a complete list of all the USB devices and controllers and the details about the selected device.
Getting started with ChipGenius is straightforward. As a portable application, you can run ChipGenius on a Windows system without the need for installation. This tool can be on a computer running Windows 11 or Windows 10. It comes in both 32-bit and 64-bit downloads.
Pros
It can recognize nearly any USB device
No download is required to use this program
Easy to use
Cons
Older operating systems are not currently supported
6. Flash Drive/Card Tester – Great for detecting counterfeit products with fake capacity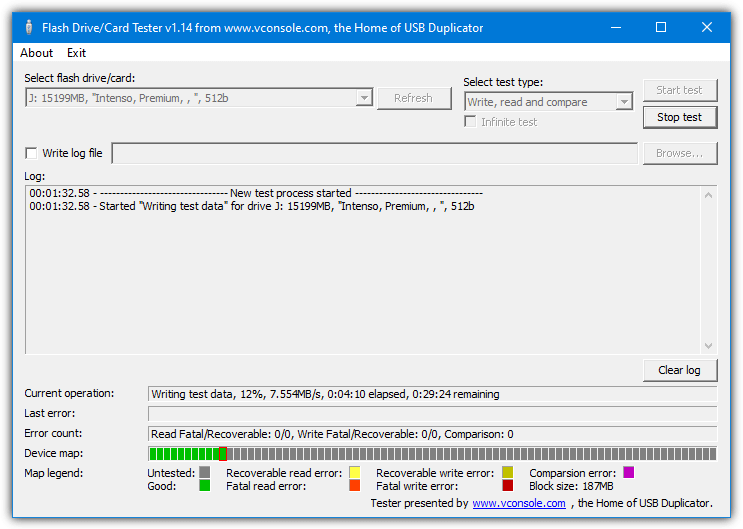 Operating System: Windows
Pricing: Free
Developer: Virtual Console, LLC
Flash Drive/Card Tester is a generic tool for testing flash drives or SD/CF cards especially useful for detecting counterfeit drives with fake capacity. It works similarly to H2testw by writing data to the device, reading it back, and then comparing the differences. Any errors that occur indicate a problem with the drive.
To run a full test select your flash drive from the drop-down, choose the test type; Write, Read, or Compare, then start the test. If you don't have time to run a full test on a large or slow drive, the software will write the data to the drive now and compare it late.
It uses the separate test types of Write and then Read. Flash Drive/Card Tester officially comes as a setup installer but because it's only two files, we've zipped them up to create a portable version.
Pros
A generic tool for testing flash drives and SD/CF cards
The tool is useful for testing low-volume devices
You can write the test and analyze the data later
It comes with portable and installer versions for convenience
Cons
The functionality is limited compared to other tools
Download Flash Drive/Card Tester
7. Quick Disk Test – Best for testing drives partially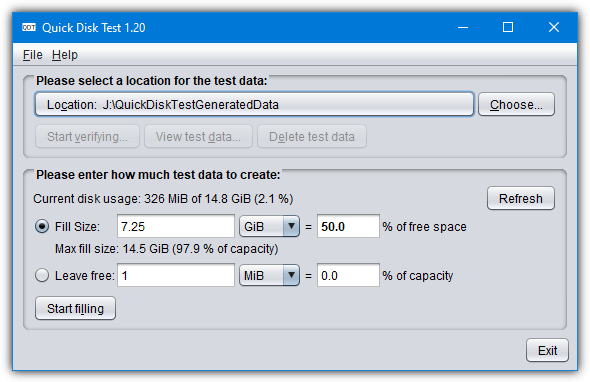 Operating System: Windows, Mac, and Linux
Pricing: Free
Developer: rdiez
Designed with Java, Quick Disk Test can run on other operating systems like Mac and Linux as well as Windows. You need Java installed on your system to run it. To start right-click on the .Jar file and select Open or Open with > Java(TM) Java Platform Binary; a double click will not work.
Click the location button at the top to select a drive. You can write as much data as you want. For instance, you can choose to 30% fill the drive or fill it with a specific amount of data. Alternatively, use the leave-free option to do the opposite. Fake drives are typically something like 2GB, 4GB, 8GB, or 16GB so you could start with a percentage that will cover some or all of those capacities.
Data already on the drive is not overwritten but new data is added to fill in the selected amount. A useful function is being able to stop the process while writing data to the drive, restart the program later, and continue filling in where it left off. For some reason, the drop-down capacity menus go up to one trillion terabytes which you'll never need.
Pros
The software works well on Mac, Linux, and Windows
It runs on Java, meaning it's secure and easy to deploy
You can partially test drives for faster drive testing
The tool can stop the process while writing data on the drive
Cons
You must install Java on your PC to run it
How to check the real capacity of a flash drive
You can check the real capacity of your flash drive using any of the third-party software we have covered above, Here are the steps you need to follow to check the real capacity of a flash drive.
Find a reputable fake USB capacity testing software: There are many USB capacity testing software programs available, but few are reputable or accurate. Research to find a program that has good reviews and a track record of accurately detecting the real capacity of flash drives.
Insert your flash drive into a USB port on your computer: After downloading and installing the software, insert the flash drive you want to check into a USB port on your computer. Make sure that the port is working properly and that the drive is recognized by your computer.
Start the testing process: Once you've selected the drive, start the testing process. The program will write data to the drive until it's full, and then read the data back to determine the real capacity of the drive.
Wait for the software to complete the testing process: This may take several minutes or hours, depending on the size of your flash drive. Once the testing process is complete, the software will display the real capacity of your flash drive.
By following the above-outlined steps, you will be able to check the real capacity of a flash. However, you need to keep in mind that the steps may vary strictly from software to software. So ensure you read the instruction of the software you picked.
Final Thoughts
Testing the capacity of USB drives ensures that you get value for your money. With the prevalence of fake USB drives in the market, it is important to have reliable tools that can accurately determine the true capacity of a USB drive.
Some of the best tools available for this purpose include H2testw, FakeFlashTest, and Check Flash. These tools are easy to use and provide reliable results that can help prevent data loss and ensure that your USB drives are working correctly.
What do you think about the above-mentioned tools? Which tool did you find most useful? Share your thoughts in the comment section below.