15 Free Temporary Email Address Sites [One Day, Week, Month]
Everywhere you go online, it seems that somebody is asking for your email address whether there's a valid reason for it or not. This can range from newsgroups, mailing lists or discussion boards, to shopping or voucher sites or simply to download a piece of freeware. Everybody wants it because they know how valuable it can be. The problem is, every time you give out your email address, you run the risk of being bombarded with spam, even if you think you have opted out.  You might be able to unsubscribe from some of these messages, but sometimes it can take weeks to get off the mailing list, or more often than not the option just doesn't work at all. But thankfully there's a solution by using disposable or temporary email addresses.
The general idea is for the temporary email address to be created and remain active long enough for you to receive a reply from whoever the address was given to. Then you don't have to use it again. If you're trying to signup for message board or streaming/sharing logins, it's also worth checking sites like ButMeNot or Share Your Pass to see if somebody has already shared one you can use. The downside is anyone can login to the address you create without a password, even another user who accidentally creates the same name. This means for privacy reasons you shouldn't send anything personal or private through them.
Make sure you are not using common names like Raymond, and use more obscure ones such as Raymondcc2468cc where possible. A few sites do not offer you the choice of login name and they randomly generate a username for you, some others will offer password protection for the account which offers better privacy. Below are 15 websites that offer free temporary email services along with what each service has to offer. They are listed in no particular order.
1.
Mailcatch

Temporary emails removal time depends of server load (few hours to few days)
Own choice of login name of 1 to 25 characters
Available RSS feed for your inbox
A Firefox add-on is available
Can add time limited temporary email forwarding
---
2. MyTrashMail

Emails removed after anywhere between 2 hours and 3 days. The smaller the email, the longer it stays on the system
Your own choice of login name
Able to send anonymous email
Offers more secure inbox by password protecting the email address
Email Forwarding to your real address available
---
3. Mailinator

Emails removed after 5 days
Holds only 10 emails at once in the inbox (no attachments allowed)
Own choice of login name up to 25 characters
Random name suggestions
Available RSS and Atom feeds
All emails are stripped of attachments (files/images), max size 120K
Can be used in POP email client like Outlook, Windows Live Mail etc.
Widget Maker to add a mailbox to your web page
---
4. SpamBog

Random or user created username with a choice of domains
Domains with (PW) can password protect the inbox
Read emails are deleted after 7 days, unread after 30 days
Mailbox has its own spam block list
Able to forward and reply to received messages
Attachments of 2MB accepted
RSS Feed and ATOM Feed available
Account/address remains open for 90 days after last mail check
Sadly parts of the English web pages are still in German
---
5. Hide My Ass Anonymous Email

Can choose your own user name
Account is password protected for better security
Expiration time of inbox: 24hrs, 1 week, 1 month, 5 months, 1 year
Option to send new mail notifications to real email address
Expiration can be altered in settings with option to also "Expire now"
Other useful Hide My Ass functions include a Free Web Proxy
---

User or random generated address with 4 domains to choose from
Temporary address deleted 24 hours after last check for email
Messages permanently deleted after 24 hours
Can keep email address active by checking for mail once a day
Sister site to the Fake Name Generator which creates a complete fake identity
---

Unchecked mails held for 1 hour
Checked mails held for another extra hour
Beta mail sender can send mails up to 150MB
Choice of random or custom login name
Can create alias of address
---
8. 10MinuteMail

Generates random mail address for you
Expires after 10 minutes
Can click to extend for a further 10 minutes
Can reply to emails
40+ languages
---
9. AirMail

Randomly generated temporary email address, can be instantly changed
Messages deleted 24 hours after you close the AirMail browser window/tab
Multilingual with 10 languages available
Inbox refreshed every 10 seconds, an alert will sound on new email
---
10. Spambox
Multilingual with 12 languages
Address removed from 30 mins up to 1 year
Needs real email address
Incoming emails automatically forwarded to your real email
---
11. MyTempEmail

Address expires in 30 minutes
Can extend another 30 minutes
Able to generate random or custom email address
Can reply to received emails from temporary address
Forward emails to your real address for 1 hour up to 4 weeks
---
12. TempEMail

Own choice of login name
Messages and temporary email address expire after 14 days
---
13. YopMail

Random or user generated temporary email address
Messages kept for 8 days
Firefox, IE extensions and Opera widget available
Setup alias for your inbox
Can send emails to other YopMail addresses
Optimized page for mobile devices available
---
14. Mailexpire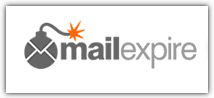 Emails removed after selected period of 12 hours up to 3 months
Generates random login name for you
Email forwarded so requires a real email address
Can create alias
---
15. Jetable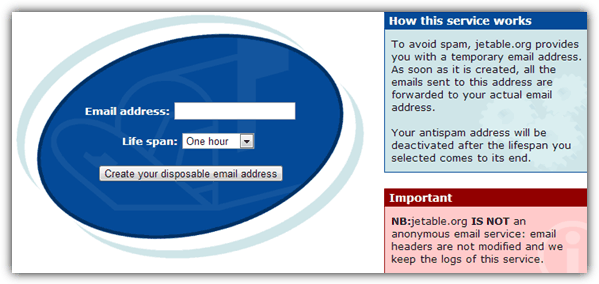 Temporary email removed after user specified period of 1 hour, 1 day, 1 week or 1 month
Generates random login name for you
Needs authenticating via real email address
Email Forwarding option
We hope this article is useful for everyone to avoid being put into spammer lists. Please use caution with temporary email services as most aren't secure enough to send private information and should be used for more simple messages, such as getting a free giveaway key from a company like Ashampoo for example, to avoid the spam that comes with it.