5 Best Synology Network Monitoring Tools in 2023
Synology network monitoring is a process that almost every organization's IT team performs. However, with an abundance of network monitoring tools, choosing the right one that best suits your organization is a formidable task. To resolve this problem, we'll discuss the best synology network monitoring tools that could help analyze network traffic.
Best Synology Monitoring Software



Software

Best for

Top Features


1.

PRTG Network Monitor

Creating real-time network maps of an organization's infrastructure.
Monitor all the connected devices, networks, traffic, and your IT infrastructure.

Every license of PRTG equips users with all the tools required in an organization, so there is no need for add-ons or additional plugins.

Equipped with in-built cluster functionality.

No time-consuming configuration is required upon installation of this utility.

2.

ManageEngine OpManager

Responding to network changes quickly.

Provides deep visibility into load balancers, wireless LAN controllers, servers, VMs, printers, and storage devices.

Enable users to drill down into the root cause of network issues and eliminate that.

Offers in-depth analysis of device health and performance of IP-based devices.

Ensure servers are running at their optimum performance level.

Custom and user-specific dashboards.Ability to monitor components like tenants and endpoint groups.


3.

Datadog Network Monitoring

Centralized data centers

Effectively analyze the performance of bare-meta appliances such as routers, switches, and firewalls.

Trouble-shoot inefficient load-balancing.Analyze network traffic between two network endpoints.

Track crucial network metrics like TCP retransmits and network churn.

Monitor communication between cloud regions.

Ability to distinguish between client-side code errors and server-side DNS failure.

4.

Auvik
Multi-site businesses

Respond to network issues in real time.

Protect network users from annoying downtime.

Inform users of all the network events with their pre-configured and customizable alerts.

Identify the root cause of network issues faster while reducing MTTR.

5.

Nagios

Bandwidth utilization analysis.
Network analyzer tool provides in-depth analysis of network traffic sources and potential security threats.

Enable users to gather high-level information about network health that helps with comprehensive network analysis.

Seamlessly integrates with an organization's existing network monitoring solutions.

Offers an extensive view of network traffic and bandwidth data.

Adapts to the organization's existing environment for hassle-free implementation.
1. PRTG Network Monitor – Best Synology monitoring tool overall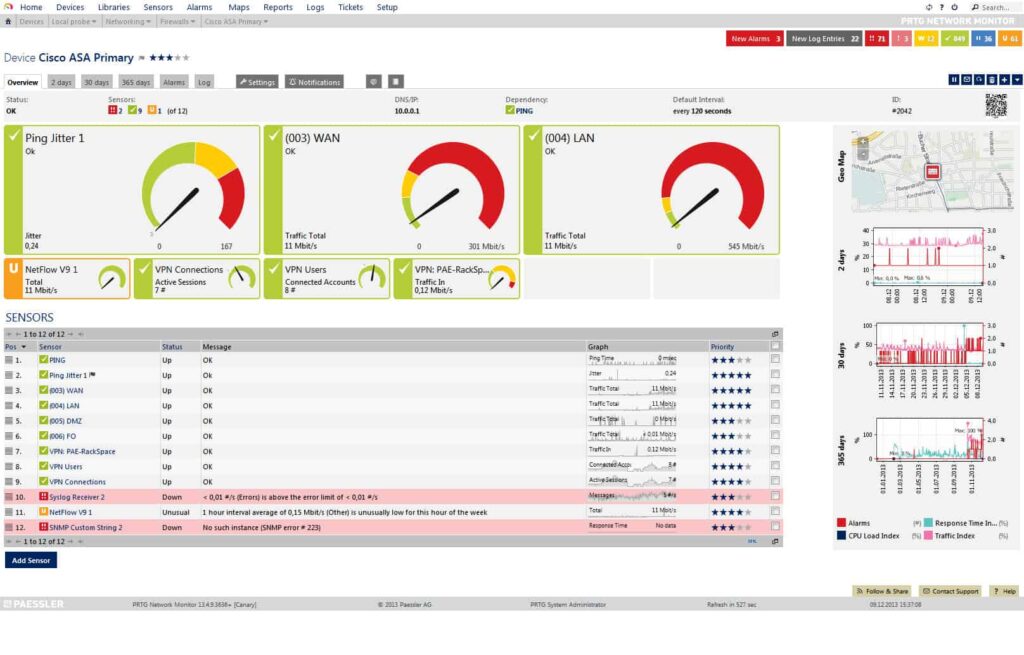 Supported OS: Windows, Mac, Linux, iOS, and Android.
Developer: PAESSLER AG.
License: proprietary license software.
PRTG is a free network monitoring tool that uses packet sniffing and SNMP protocol to monitor network traffic. It allows you to choose between different sensors like Bandwidth Monitoring Sensors, SNMP sensors, VoIP, and QoS to monitor various segments of the network. Above all, it allows users to monitor all the traffic, systems, network connections, and SAP applications in an organization's IT infrastructure.
Pros
Since the utility is on-premise hosted, you always have control over the hardware, backups, configurations, and the latest updates.
More than 500,000 peoples use it in their day-to-day business operations.
Powerful and easy to use.
Well-suited for companies running on a tight budget.
One-year free maintenance.
No hidden cost.
Easy to install, set up, and use.
Cons
No discussion forums for the resolution of problems.
2. ManageEngine OpManager – Monitor switches, routers, servers, and VMs for fault and performance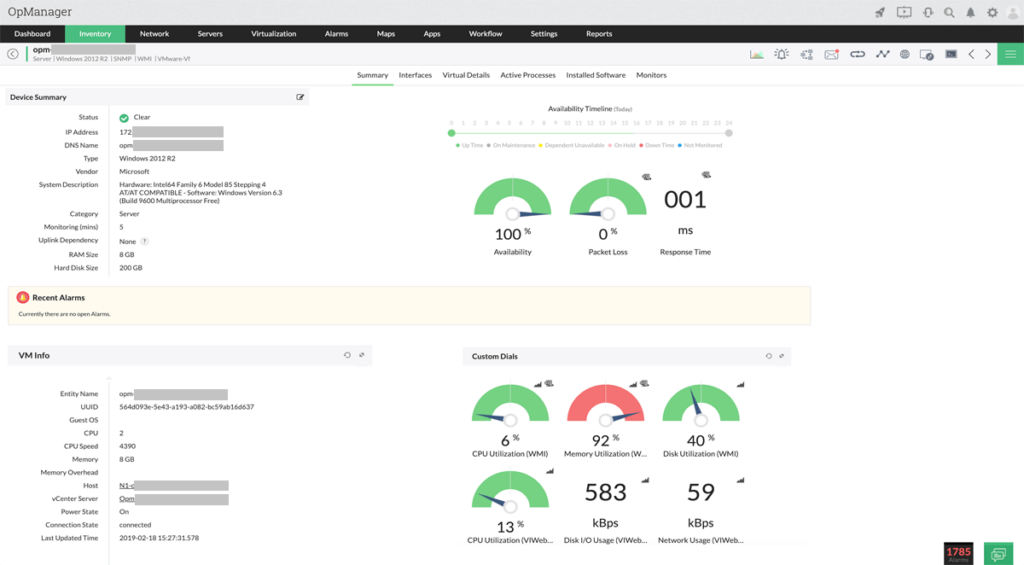 Supported OS: Windows, Mac, Linux, iOS, iPad, Android, and Linux.
License: free, commercial license
Developer: Zoho Corporation Pvt. Ltd.
ManageEngine OpManager is an ideal network monitoring tool that can flawlessly monitor the performance of routers, switches, and virtual machines in real time. The customizable dashboard offers 200+ widgets to make the user experience exciting. Moreover, ManageEngine OpManager is one of the few monitoring tools that provide a GUI-based interface for Linux users. The high-quality graphs and charts make status recognition more accessible than ever before.
Pros
Easy to use and install.
24/7 customer support.
Monitor WiFi strength and Wireless network traffic.
Ability to troubleshoot performance issues and WAN outages.
Highly scalable.
Offers detailed insights into numerous problematic areas of the network.
Cons
Users have to spend some time to understand this feature-rich tool fully.
3. Nagios Core – Top-rated synology network monitoring tool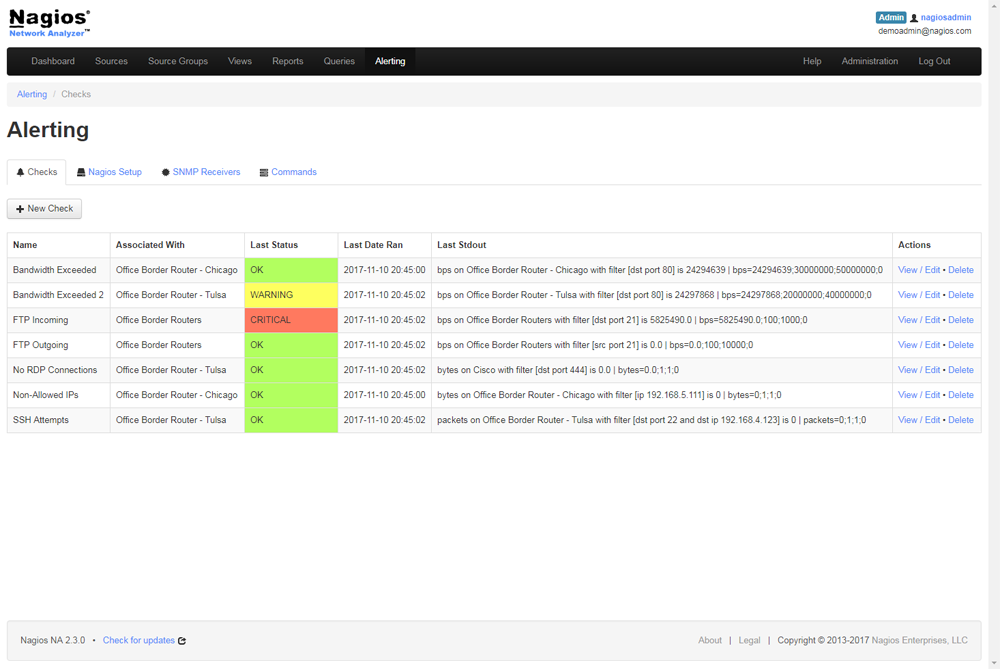 Supported OS: Windows, Mac, iOS, iPad, Android, and Linux.
License: Free (Trial version)
Developer: Nagios Enterprises, LLC.
Nagios Core is an open-source synology network monitoring tool that provides a special web interface to its users for tracking network performance. With the network interface, you can monitor Current Network Status, and Network Service Status displayed at the top of the page. Trusted by many Fortune 500 Companies, notably Cisco, Disney, Associated Press, and Honeywell.
Pros
Intuitive yet compelling user interface.
Its home dashboard provides a complete overview of sources, checks, and network flow.
Alert users when suspicious activities take place.
Equipped with advanced visualization tools to provide insights into the network traffic, bandwidth, and overall network health.
Allow users to monitor the traffic usage of a particular application.
Cons
The installation process is a bit complex and requires technical skills.
The free version lacks quality customer support.
4. Auvik – Best open-source synology network monitoring tool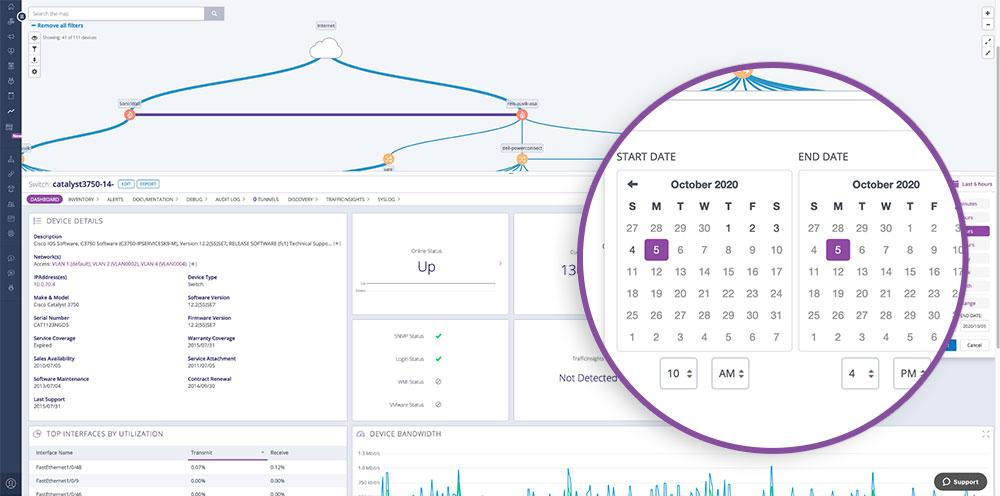 Supported OS: Windows, Mac, Linux, iPad, iOS, and Android.
License: Free (Trial version)
Developer: Auvik Network Inc.
Auvik is a cloud-based network monitoring tool equipped with many system management tools. The utility can be accessed via a web browser without installing it. When you open an account, it automatically installs collectors into your system. On top of that, Auvik can control multiple sites simultaneously and centralize their control.
Pros
Automatically update network topology.
Allow users to decide how often they want to receive alerts and notifications.
Protect remote workers from VPN capacity issues.
Instantly inform the users if the network or the ISP creates an internet connectivity issue.
Helps with troubleshooting network issues.
The network Auvik stores provide users with archives for reporting, analysis, and planning.
Cons
Advanced features only come with the top-tier subscription.
Lack of direct support for new users.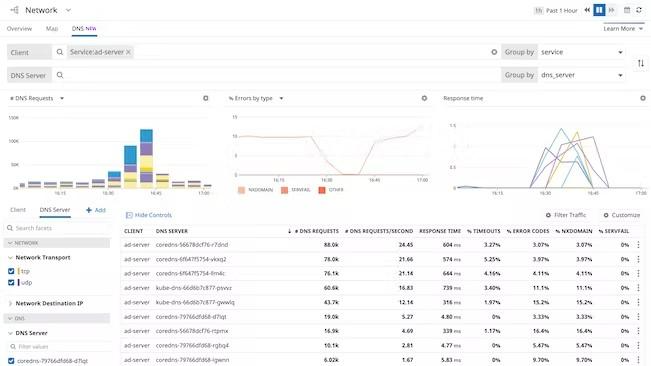 Supported OS: Windows, Mac, Linux, iOS, iPad, and Android.
Popular use cases: cloud cost management, log management, continuous profiler, cloud SIEM, and infrastructure monitoring.
License: Free (14 days trial)
Developer: Datadog
Datadog Network Monitoring tool is a SaaS-based network monitor that flawlessly examines network traffic flow. It is an exceptional network monitoring device that emphasizes the status of each device connected to the network, such as hubs, switches, routers, and gadgets. Above all, it enables end-to-end visibility into on-premise, cloud-based, and hybrid networks.
Pros
Fortune 500 companies spanning dozens of industries trust Datadog.
Automatically detect anomalies in your environment.
Pinpoint the underlying services and teams responsible for network congestion.
Proactively monitor the network health.
Unleash machine-learning-based alerts to inform users of any potential threat.
Monitor DNS server health.
Analyze network traffic as it flows through the containers, availability zones, and on-premise servers.
Cons
The trial period is very short.
The initial setup process is painstakingly time-consuming.
Download Datadog Network Monitoring
How do I monitor traffic on my Synology NAS?
Unleashing the Synology network monitoring tool is the best way to monitor network traffic. Network monitoring tools are also referred to as traffic analyzers. These analyzers examine the data emanating from network devices and extract headers of passing traffic to categorize data by traffic, source, and destination.
Final thoughts
IT infrastructure and network monitoring are indispensable to delivering excellent service to end-users, no matter if we talk about RMM monitoring tools or home network monitoring software. Some software packages offer monitoring tools that cover an organization's requirements. However, if you want to proactively respond to the network failure before it damages your entire IT infrastructure, consider purchasing a separate network monitoring tool. The fact that the monitoring tools issue alerts regarding potential threats makes them an inalienable part of today's IT landscape.