10 Ways to Extract Frames from GIF: 10 Best Extractors in 2023
Although there are newer alternatives like Animated PNG (APNG) and Animated WebP, GIF is the standard file format to use when it comes to animated images.
If you would like to extract a particular frame from an animated movie, you don't require a third-party tool. Simply pause the media player, press the "Print Screen" button on your keyboard, and paste it into Paint or Microsoft Word.
However, getting frames from animated GIF images can be quite challenging as you can't just pause the animation to take a screenshot. If you find yourself seeking ways to extract frames from GIF files, then you're in the right place.
In this article, we'll provide you with the best GIF frame extractor tools that can help you effortlessly split a GIF animation into individual frames.
Best GIF frame extractor tools
1. Adobe Photoshop – Best GIF frame extractor tool overall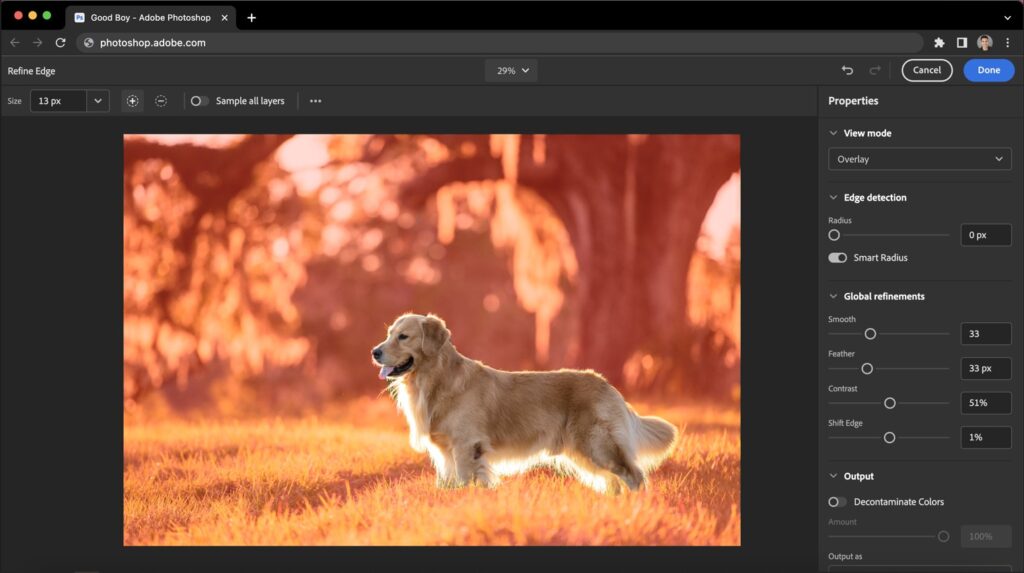 Operating system: Windows and cloud
Pricing: Free trial
Developer: Adobe Inc
Adobe Photoshop is an intuitive software that lets you create beautiful images, graphics, 3D artwork, and paintings. Professionals can use it to synchronize and share images, colors, and other design elements across devices.
With Adobe Photoshop, you can make GIFs from images and extract an image from an animated GIF. By opening the GIF file in Photoshop, you'll see the layers in the right sidebar.
To save your still images on file, navigate to File > Export > Layers to Files > Export Layers. Choose the destination folder you'd like to save your files, the file type, and image quality then hit the Run button. This will export all frames into image files in the selected format.
Pros
The software is fairly easy to use
Lots of features are available in Adobe Creative Cloud
Libraries follow you through your day for each client
Cons
License renewal can be a bit difficult
2. 7GIF – Best for playing GIFs Frame-by-Frame and exporting images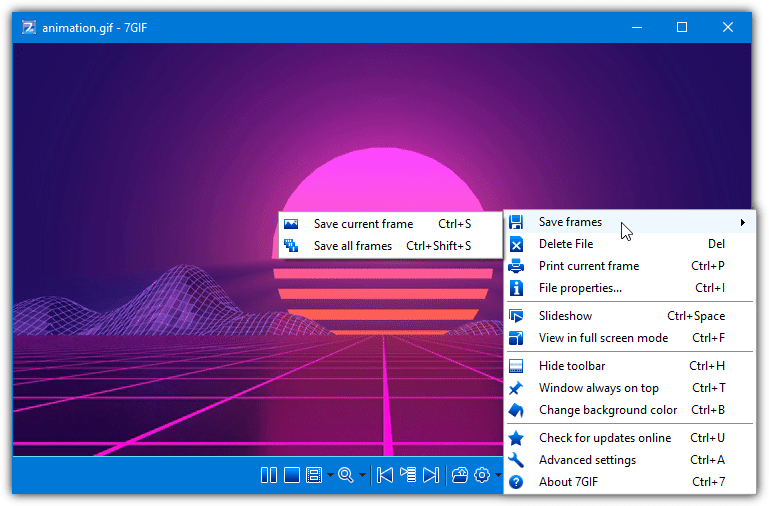 Operating system: Windows
Pricing: Free
Developer: Xtreme-LAb
7GIF is multimedia software designed specifically for viewing GIFs. It's equipped with commands and tools for playing GIFs and exploring their contents frame-by-frame.
The software aims to give you more control over your GIFs with a lot of options. Besides playing GIFs, you can pause, repeat, view frame-by-frame, enhance image quality, and export frames from animations. The tool supports 14 languages and receives online updates directly from within.
To get started, load the animated GIF into 7GIF. Click the Options button on the bottom right of the toolbar and go to Save Frames at the top. You have the option to save (Ctrl+S) the current frame or save all frames to JPG, BMP, PNG, TIF, GIF, or WMF files (Ctrl+Shift+S). Saving to JPG will let you select a quality level for the images.
Pros
The software integrates with Windows File Explorer
Pause, play, and stop GIF files
Read advanced GIF file properties
You can export single or all frames from a GIF
Cons
Few image processing options
3. GIF Viewer – Great for viewing GIF files like movies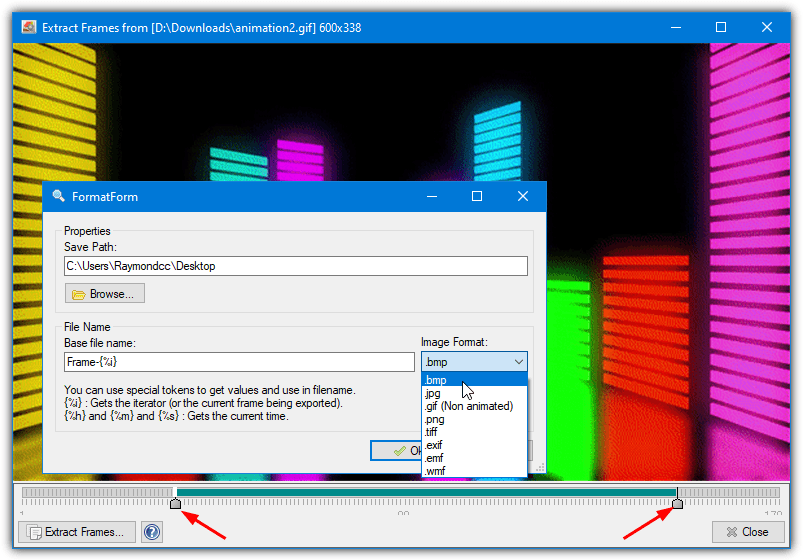 Operating system: Windows
Pricing: Free
Developer: Luiz Fernando
GIF Viewer is great for visualizing and extracting frames from GIF files. It offers extra features unavailable in the classic Windows image viewer. You can restart the animation at any moment or convert your images to different file formats, like JPG, PNG, and TIF.
The software offers a few configurations to play with. It allows you to seek a position in the video frame, choose the image quality of the output, pause and play GIF files, and extract frames.
Extracting GIF frames using GIF Viewer is a simple process. Simply open a GIF file by either dragging and dropping it, browsing for the file, or double-clicking if you have associated the program with GIF files. Right-click on the image, and click the "Extract Frames" button.
Pros
Slideshow GIFs in a folder indefinitely
Play, pause, zoom, fast-forward, and rewind backward
Lets you set the frame rate and slide through the frames sequence
Change GIF speed and save all frames in a GIF
Cons
Has limited photo editing features
4. GifSplitter – Best for modifying GIF animation frames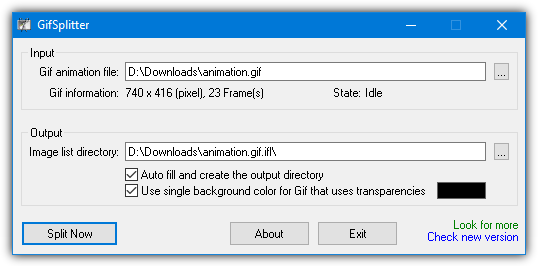 Operating system: Windows
Pricing: Free
Developer: XoYo Software
GifSplitter is a portable and lightweight tool for extracting all frames from GIF animations. You can save them as image files with the BMP extension.
The software's interface is clean and easy to figure out. It's not packed in a setup kit, so you can copy the downloaded files to a USB flash drive or any directory on the disk and run it without installation.
The tool does not require running or adding new entries to your system registry. However, it doesn't store your settings on exit. Extracted images are output as BMP files.
Pros
Make an ASCII art animation from a GIF file
Split images and decide where to place them
System resources usage is minimal
Cons
Lacks a rich set of features
5. Animated Gif Frame Extractor – Best for extracting one of your favorite frames from an animated GIF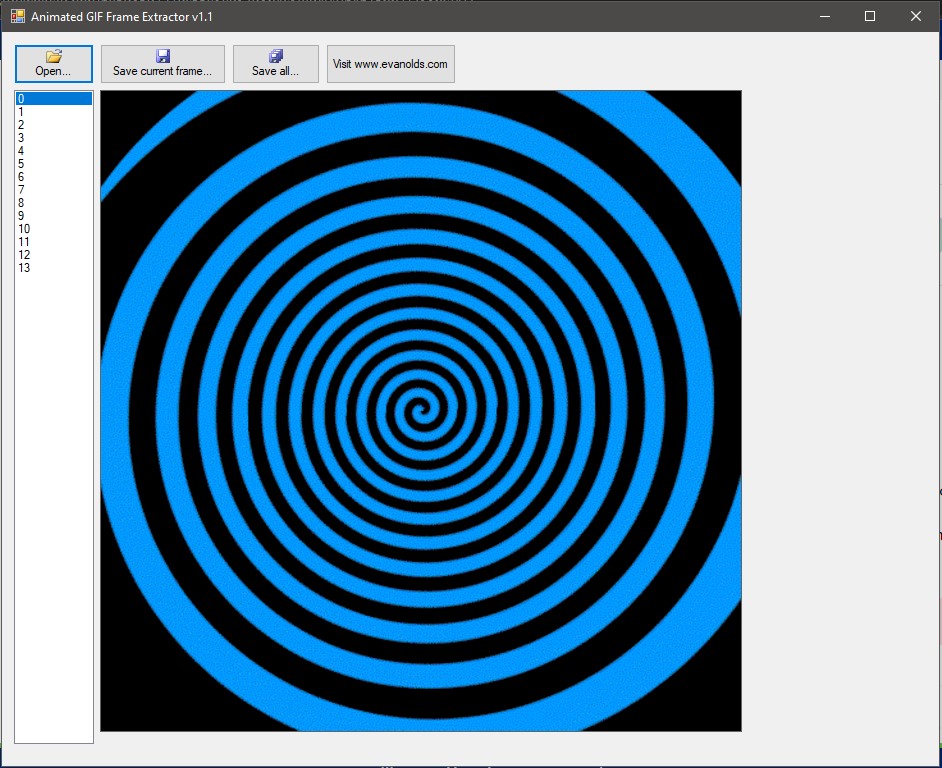 Operating system: Windows
Pricing: Free
Developer: Evan Olds
Animated Gif Frame Extractor is a portable software that comes in handy when extracting frames from GIF animations. It's easy to work with, even if you have little or no experience in software apps.
You can extract frames from GIFs and save them as individual images. The software supports PNG, GIF, JPG, TIFF, and BMP file types. It can resize frames and adjust frame rates to create smoother animations.
The animated Gif Frame Extractor's interface is based on a standard window with a straightforward structure. Users can open GIF animation using only the file browser because the drag-and-drop feature isn't available.
Pros
Adjust GIF frame rates and resize frames
Extract GIF frames to GIF, PNG, JPG, TIFF, or BMP file types
Drag and drop files into the software
Animated Gif Frame Extractor is fast accurate and easy to use
Cons
Hasn't been updated recently
Download Animated Gif Frame Extractor
6. ImageMagick – Best for converting images from one format to another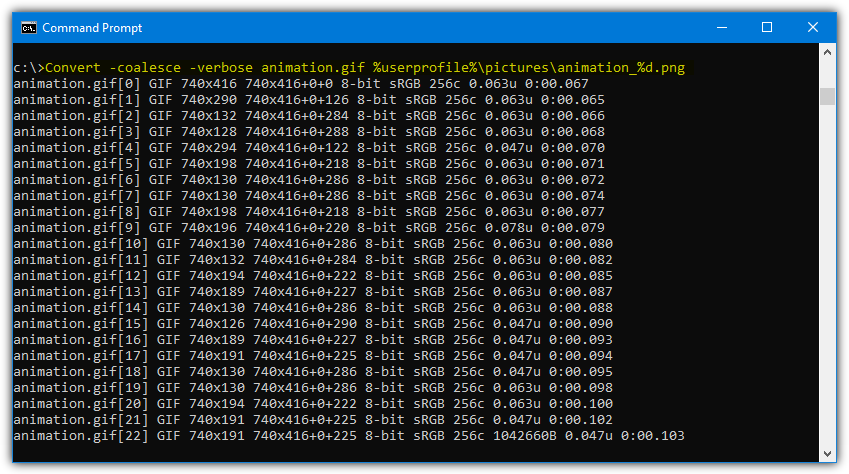 Operating system: Windows, Linux, and macOS
Pricing: Free
Developer: ImageMagick Studio LLC
ImageMagick is an open-source software suite for viewing, editing, and converting images. It can read 200+ image file formats and supports plenty of image manipulation operations, including cropping, resizing, and color correction.
The software has a command-line interface for processing complex image processing tasks. You can automate most image manipulation pipelines without needing to intervene. This is especially if you have many GIF files you'd like to process.
With the ImageMagick Convert tool, you can extract frames from GIFs by simply entering the command "Convert-coalesce.gif animation_%d.png and you will have the frame extracted. View the example usage section to find out how to use the software.
Pros
Create a GIF animation from a group of images
Force all pixels in a color range to black or white
Utilize the software from the command line
Bi-directional text shaping and formatting
Cons
ImageMagick can be complex for beginners to use
7. IrfanView – Best for converting files in batch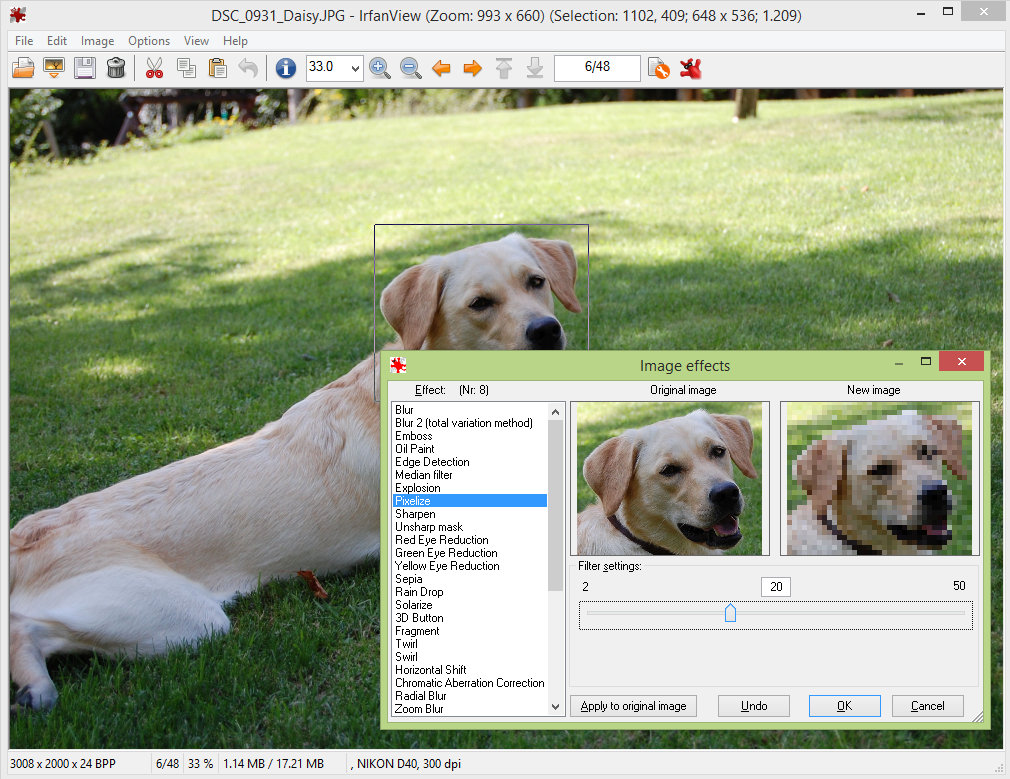 Operating system: Windows
Pricing: Pricing
Developer: Irfan Škiljan
IrfanView is a fast and innovative graphic viewer, organizer, editor, and converter. It's straightforward for beginners and powerful for experts. It's compact so it doesn't use up much space or overuse your PC.
Developers claim it offers unique features not available in other alternatives. Some options on the platform include thumbnail preview, paint option, lossless JPG rotation, batch conversion, multipage TIFF editing, and extracting frames from GIFs.
Navigate to the "Option" button on the top menu bar and click the "Extract all frames" option. Once you click on extract all frames, you will be able to either select all GIF frames or set a range of frames for extraction.
Pros
The software supports many file formats
Batch image conversion and multipage TIF editing
Supports embedded color profiles in JPG and TIF files
Add overlay texts and images
Cons
Plugins need a bit of work
8. GIF Image Tools – Open-source and lightweight tool for viewing GIF files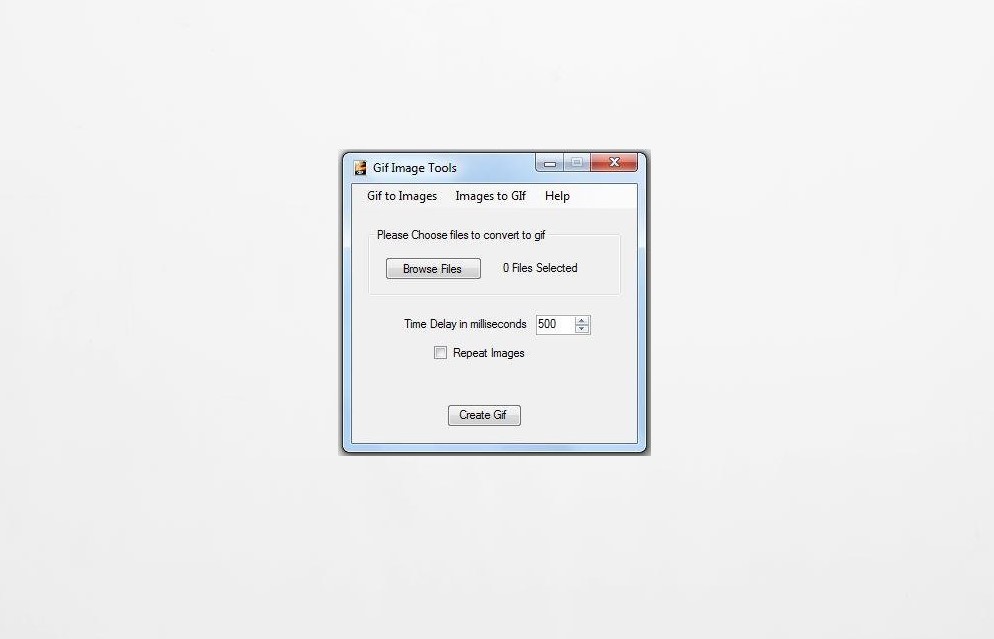 Operating System: Windows
Pricing: Free
Developer: ramu2514
GIF Image Tools is a small utility tool for creating animated GIF files from images. It compresses several images to give you optimize GIF images you can share fast across all devices. With the first image resolution, the other images will automatically take form.
Despite being just 68.5kb, the software has two integrated software: GIF frame image extractor and GIF image creator. The former is easy to use and set up. After installation, click GIF to images and add a GIF you'd like to extract images from. Choose the output folder and start extracting the files.
Pros
It's easy to use for those who want to extract GIF images
It's lightweight with minimal features, serving a unique purpose
The software supports all image formats
Create highly compressed and optimized images
Cons
It only comes with minimal features
9. AniView – Small GIF image viewer and extractor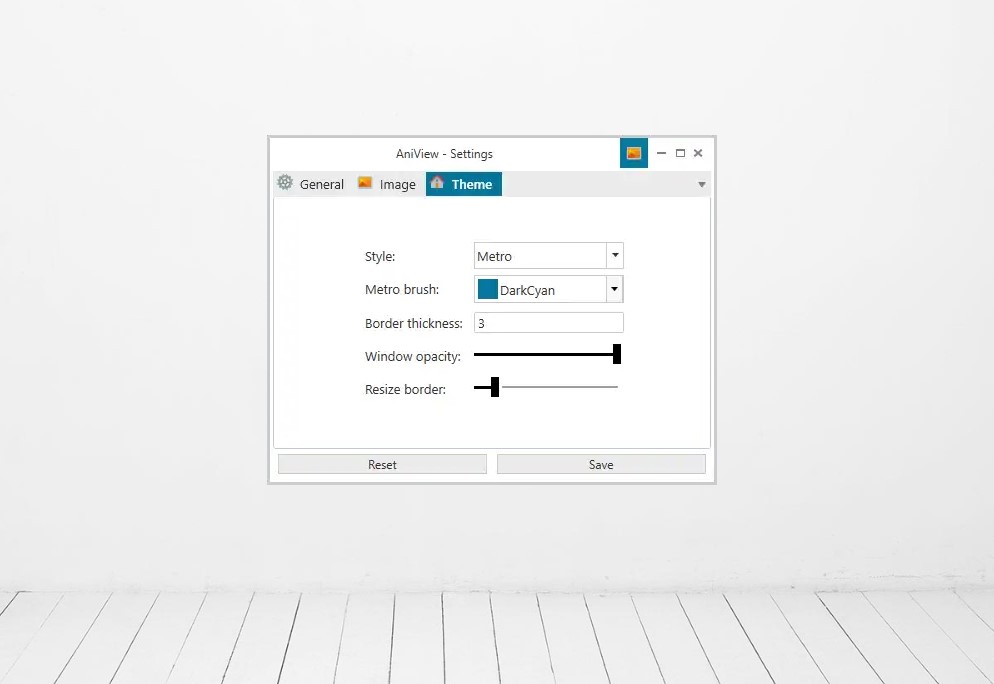 Operating System: Windows
Pricing: Free
Developer: AniView
AniView is a free and open-source solution for viewing GIF files. You can control GIF images similar to videos, pause, and stop them mid-view. It comes with an installer and a portable version.
The software supports different versions including GIF play, looping slideshows, and changing image colors. In addition, Aniview supports frame extraction, changing each individual frame to a format of your liking.
Pros
The application features a drag-and-drop functionality
It supports automatic window resizing
Extract each individual frame inside a GIF image
Cons
It has limited features compared to other tools
10. EZGIF – Best for extracting GIF frames from the internet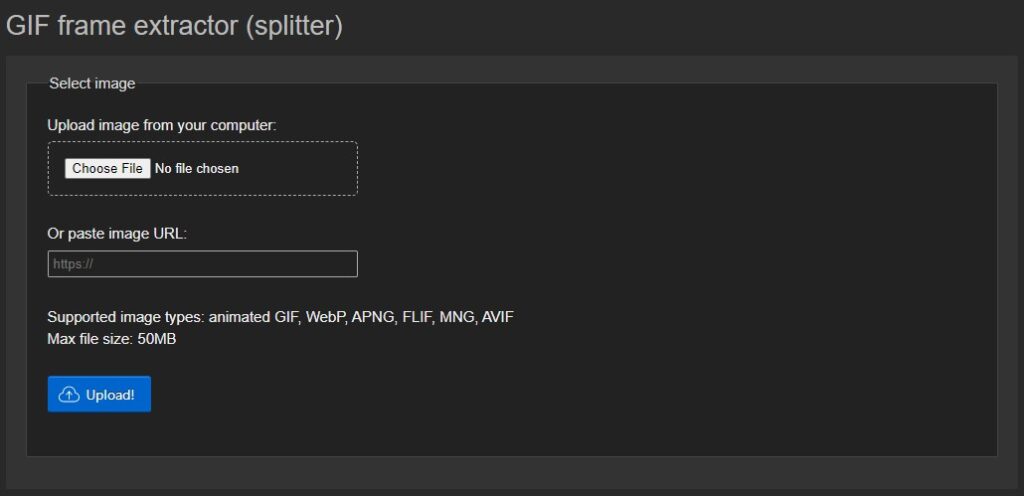 Operating System: Web-based
Pricing: Free
Developer: ezgif
EZGIF is a great tool if you're using an alien computer or don't want to download any software on your computer. It's designed to convert images into a sequence and extract frames from animated images, including GIF, APNG, WebP, FLIF, AVIF, and MNG.
The software decompresses a GIF file, allowing you to download individual frames or edit them separately. Rearrange the frame order or remove some frames and restore the animation.
If you want, you can download the frames as a ZIP file, edit them from your computer, and reupload them on the website to remake the GIF image. Other functions you can perform on the platform include making GIFs, turning videos into GIFs, Resizing, Rotating, adding text, and more.
You don't need to register to use the website. Just upload your image on the platform and start the process. However, the website runs Ads, which aren't too intrusive as they're well-placed.
Pros
Drag and drop images from your computer or paste the image URL
Download images as a ZIP file
Upload images in an archive to create an animation image
It keeps file names unchanged to preserve frame order and duration
Cons
How to choose the best GIF frame extractor tool
When choosing the best GIF frame extractor tool, there are a few things you need to consider. First, ensure compatibility with your operating system, as some extractors are designed for specific platforms.
Next, evaluate the tool's user interface and ease of use. Additionally, check for features such as batch extraction, which can save time when dealing with multiple GIFs.
It's also essential to assess the output options, such as image formats and quality settings. Finally, consider user reviews and ratings to gauge overall satisfaction and reliability.
Final Thoughts
These tools are exceptional and empower users to extract and use specific frames from GIFs for different purposes, including creating captivating visuals, analyzing motion, or generating engaging content.
With their ease of use and per se features, these tools prove to be invaluable assets for GIF enthusiasts and professionals alike.