12 Best Motion Detection Software for Webcam Monitoring
Webcams are very common nowadays and most, if not all modern laptops come with one built-in at the top center above the screen. It can be used for a lot of different purposes such as making a video call (chatting, demonstration, conference, webinar), taking pictures of yourself and even logging in to a computer using face recognition.
A webcam can also be used as a surveillance camera by installing the correct software and configuring it to automatically record videos, notify you via email and perform custom actions when a motion is detected. This allows you to setup a powerful home based CCTV to monitor a section of your home which is most likely a source of break-ins without spending unnecessary money to install an expensive complete home surveillance system.
There's a number of software applications that can turn your computer and webcam into a surveillance system, each has its own pros and cons with different features. There are some that are difficult to configure which are meant for more advanced users while there are also user friendly ones that are lightweight. Below you can find our recommended list of 12 free webcam monitoring software based on your needs.
1.
Camera Viewer Pro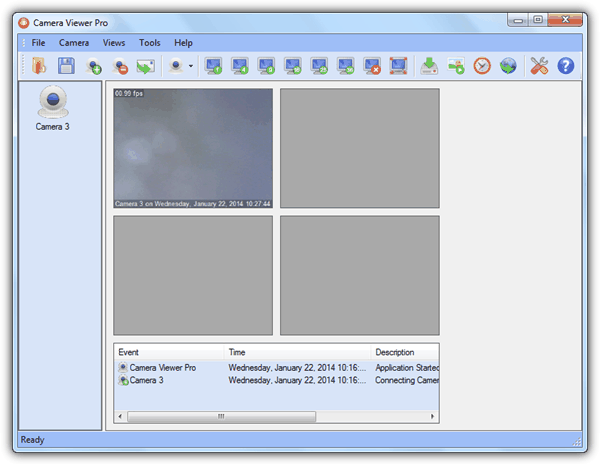 Camera Viewer Pro is one of the best in terms of usability and system resource usage. It comes with the right balance of features which makes the program easy to use and configure. Moreover, normally a video surveillance software will constantly hog the CPU but Camera Viewer Pro is very intelligent and uses merely 0%-1% of the CPU during monitoring.
The only thing that you may want to change in the settings after adding a camera is the Frame Rate which by default is 1. A higher FPS gives a smoother recording but you'll need to decrease the sensitivity level by lowering the threshold level. The only drawback on Camera Viewer Pro is that the official website is no longer accessible which means that the development has stopped. It was last updated in April 2013 and fortunately works perfectly in Windows 8.
---
2. ContaCam
ContaCam is another free video surveillance software that is just as good as Camera Viewer Pro. It has all the necessary features to turn your computer into a CCTV system but the scheduler is a bit limited where you get to specify only one range of time frame per day for motion detection recording.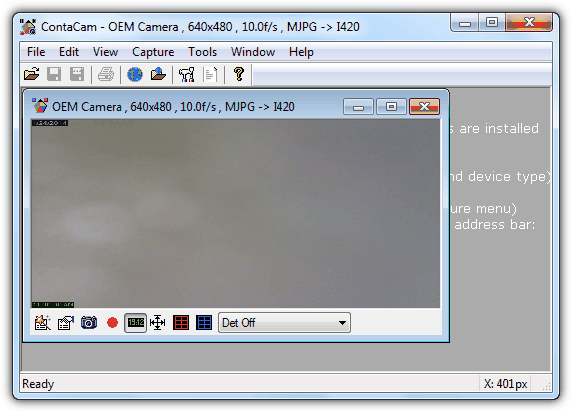 Do take note that by default ContaCam saves the recording as a SWF animation for motion detection. It is very rare for a video surveillance software to use SWF format for recording because of the 16,000 frame limit. That would mean you only get to record nearly 9 minutes of video if you set it to use 30 frames per second. You can of course change it to AVI at the Movement Detection tab in "Device Settings".
---
3. Genius Vision NVR Community Edition (CmE)
Genius Vision NVR is an enterprise-grade IP camera recording shareware originated from Taiwan. They offer a free version called the Community Edition with full functionality but it has a limit of 16-channels with 4-channel intelligent video which is mostly enough for non-commercial use.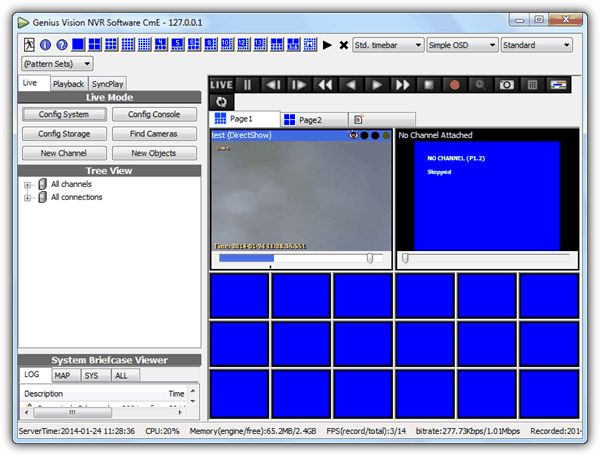 Out of all the video surveillance software listed on this page, Genius Vision NVR CmE is the most difficult to use and configure because of the different terms that are being used on the program. For example, the motion detector is called the "Video Analytics". The online user manual documentation is not much of a help either. The graphical user interface (GUI) looks a bit dated like it has been made for Windows 98/2000. We experienced a few crashes when testing out this software.
Download Genius Vision NVR Community Edition (CmE)
---
4. iSpy
iSpy is an open source camera security software that comes with a huge list of features including audio monitoring which is rarely found in video surveillance software. Because of its rich set of features, there are many scenarios and uses of iSpy such as monitoring a sleeping baby, machinery, nanny, pets, staff and etc.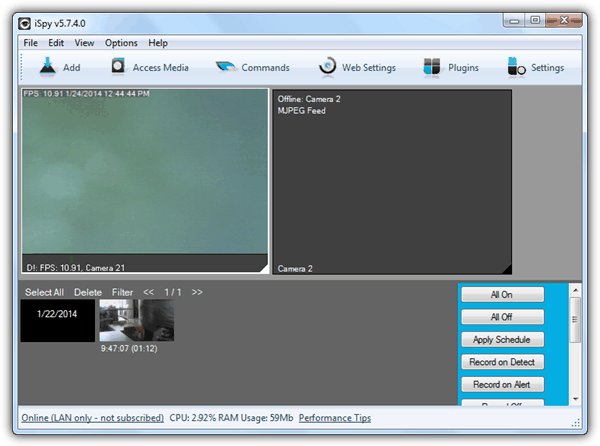 iSpy is a good example that not all open source software is fully functional. Although iSpy comes with a huge list of features, there are some very basic functions such as remote access streaming and email alerts that are only available for paid subscribers. Furthermore, there is an annoyance in playback where by default it plays in iSpy which requires you to sign up for a free iSpy account when all it does in the end is play using your default media player.
---
5. Netcam Studio
From the creators of the popular WebcamXP and Webcam 7, Moonware Studios have developed a new product that is similar to their previous webcam software except using a new architecture and graphical user interface for better performance. You can expect a huge list of supported and pre-configured network cameras to make configuration easier. If you are looking for a video surveillance software that is packed with features, Netcam Studio is the answer. Apart from the common features found in a video surveillance software, Netcam Studio has audio detection, license plate recognition, sync recordings to Cloud and NAS.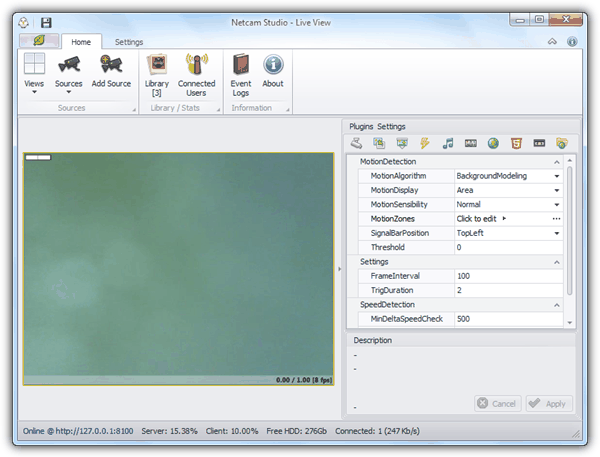 Do note that Netcam Studio is still in beta and we've encountered problems during installation itself, but managed to get it installed by custom installing one module at a time. Both .NET Framework 4 and Visual Studio 2012 C++ redistributable are required by Netcam Studio. The free version embeds a non-intrusive watermark of the Netcam Studio logo at the bottom of the recorded video which blends in nicely with the time overlay.
---
6. Rear View Mirror
Instead of a full featured camera surveillance software, Rear View Mirror is a pretty simple one with its own unique feature where the window of the monitored camera only shows up when motion is detected. It can also be configured to enable sound alert playing your favorite .wav file and record a video on motion alert.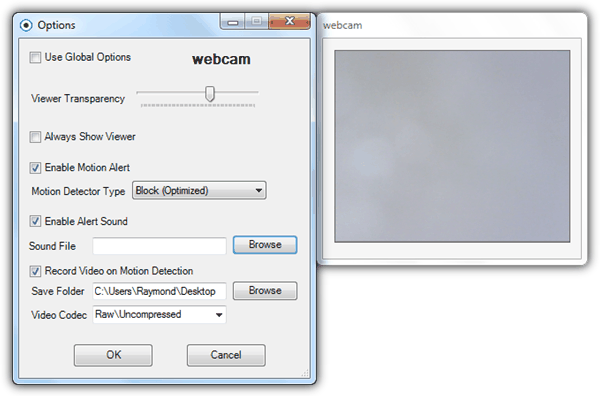 Despite not having a lot of security camera features, Rear View Mirror uses up quite a lot of CPU power ranging from 17%-20% when tested with only 1 webcam.
---
7. SecureCam2
The SecureCam2 installer size is the smallest at only 343KB but it has all the necessary basic features for a security camera software. You can find the ability to manually record or automatically record based on schedule, detect motion, embed a text overlay to frames and a web server for online streaming. It also includes a player to play the MJPG recordings.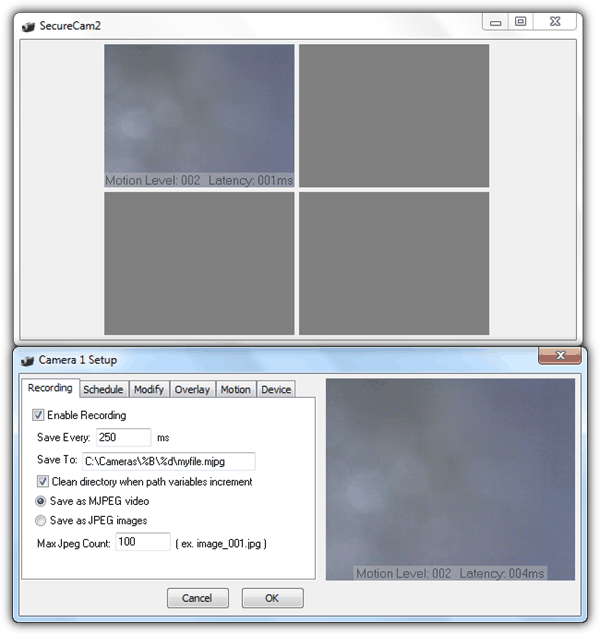 The only limitation in SecureCam2 is it only supports up to 4 cameras. A donation to the software author will increase the limit to support 100 simultaneous cameras.
Go to page 2 to continue viewing the remaining video surveillance software and also the features comparison table.