Send Free SMS Worldwide [E-FreeSMS Usage Guide]
With applications such as WhatsApp, Viber, Skype and etc for smartphones, many people get to save a lot of money because the messages sent and received from the apps are virtually free. However these applications rely on the data plan and not the mobile network. If there is no Internet connection on the smartphone, the messages cannot be sent nor received which could result in the delay of receiving the message.
Although SMS are more reliable compared to the messaging apps for smartphones, there are times when the SMS gateway server cannot cope up with the load such as on Christmas. It is important not to pass urgent messages via SMS or messaging apps but you should call them instead to relay the message yourself.
As previously said that the SMS are sometimes more reliable than messaging apps, but it cost money to send a single message to a contact. There used to be a method where you can send SMS using your email but most of the mobile providers has disabled that feature due to abuse. You can find a lot of websites that claims to offer free SMS service but unfortunately most of them don't work.
You can try sending a test SMS message to yourself and you probably won't get it which makes you think if they're collecting mobile numbers for spamming purposes. After testing a bunch of websites, we finally found one that is able to send SMS for free!
e-FreeSMS.com
is able to send free SMS worldwide. The best part is it doesn't require registration where you can immediately start sending SMS by filling up the form. First you will need to select the country where the country code will be automatically filled in to avoid mistakes. Then enter the phone number that you want to send the SMS to, your message containing a maximum of 140 characters, type in the CAPTCHA code and press the
SEND NOW
button.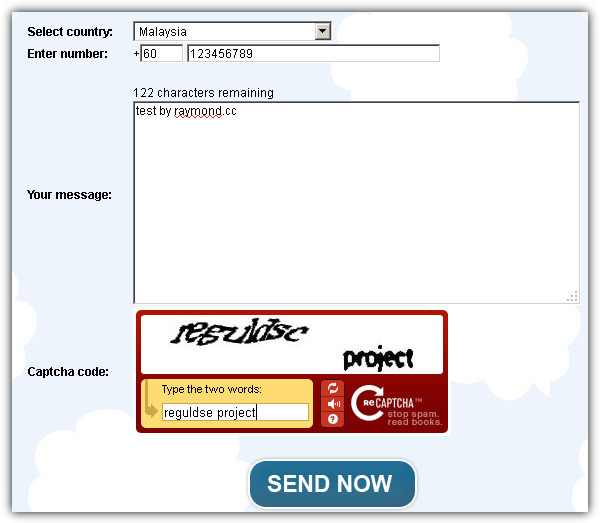 Normally the maximum characters for a text message in SMS is 160 and the reason why you're limited to 140 in e-FreeSMS.com is because they might embed advertisements at the end of your message. There are two SMS servers to choose from at e-FreeSMS.com but we only received the test SMS we sent from Server 1. It is possible that the Server 2 is temporarily offline due to maintenance and will probably get back online at a later time.
The sender's number cannot be changed or set. If you send a free SMS using Server 1, the recipient will see that the text message come from +1-407-968-7512 which is a number from Florida, US. So make sure you identify yourself in the message if you intend to let the recipient know that it is sent by you. There is a 3 minute wait time before you can send another message to prevent users from abusing this valuable and useful free SMS service.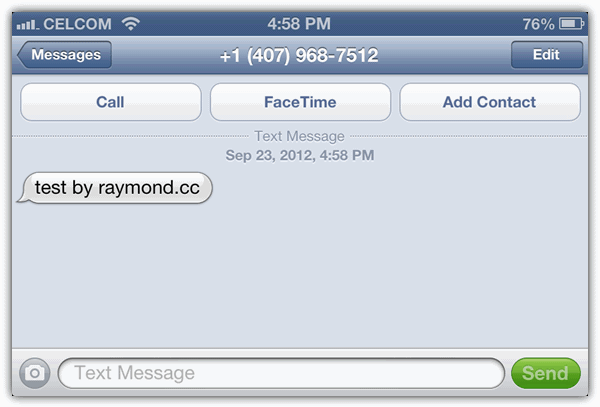 From what we've noticed, you will get the message saying "Your message has been sent and will be delivered shortly!" as long as you filled up the form correctly. You should not fully trust the message because Server 2 reported the same thing but we have not receive the test message we sent a few hours ago.