7 Most Secure File Sharing Tools for Business [2023 Reviewed]
File Sharing for businesses is extremely easy due to different internet tools. But with more and more internet usage, there are higher chances of threats too.
Cybercriminals are waiting to steal all your data when you fail to share your files securely. Security breaches and data loss are extremely common in today's world. This is where secure file sharing for business becomes a need for the hour.
If your business is not using a secure channel or service for file sharing, then your business data is at a huge risk.
To come to aid, we have listed the best secure file-sharing services for businesses to safeguard sensitive information.
Best Secure File Sharing Service for Business
Software
Best for
Top Features
Box Business
Large enterprises that have to manage huge data systems
Preview files before downloading
Easy migration due to integrations
Dropbox Business
Small and medium-sized businesses that don't require advanced features
Easy third-party collaboration with no account requirements
Flexible monthly pricing plans
Google Workspace Drive
Small organizations and individual users who don't want to worry about local storage
Easy access control for every file and folder
Plenty of productivity tools
OneDrive for Business
Businesses that use Windows systems only
Excellent support with Microsoft Office 365 bundle
Easy to create and share folders across organizations
WeTransfer
One-time file transfers
Extremely fast transfers with no account required
Only require the recipient's email address for file sharing
Citrix ShareFile
Encryption during transit and storage
Email plugin allows you to easily share large files
Real-time collaboration availability
Egnyte
Sharing confidential data with multiple file sharing options
Extra backup copy of every file transfer is saved
Robust mobile access
1. Box Business – Best Secure File Sharing for Business Overall

Operating System: Windows, Mac, Android, iOS
Pricing: Freemium
Company: Box, Inc.
Box was among the earliest cloud-based file storage to gain immense popularity on the internet. Box is focused more on helping large businesses and enterprises.
This tool is useful for enterprise collaboration and cloud content management with the help of various integrations with services like G-suite.
There's no limit to the number of files you can share in your business organization, and it also allows your team to collaborate. To view any file like PDF, Word, or Excel, you don't have to download them.
You can start with the free plan that offers 10GB of storage, 250MB of file upload limit, and sharing capabilities with limited permissions. You can try out the 14-day free trial with any plan for Box Business.
Pros
Advanced security controls
Intelligent threat detection
Integration with cloud productivity suites
Meets every compliance requirement
Preview any file before downloading
Built-in task manager app
Cons
Searchability feature is absent
Mobile app offers limited editing features
2. Dropbox Business – Excellent for Cloud File Sharing for Business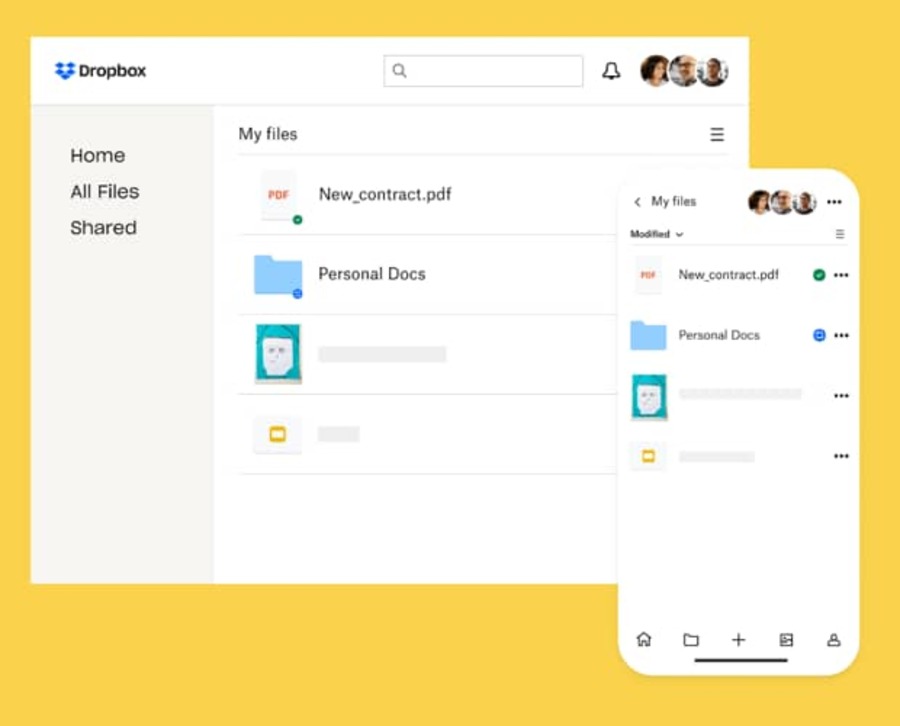 Operating System: Windows, Mac, Android, and iOS
Pricing: Freemium
Company: Dropbox, Inc.
Dropbox Business is another secure cloud storage useful for file-sharing and collaborations. Accessing Dropbox files is easy from your computer, phone, or tablet. There is perfect sync capability among all the devices.
Dropbox Business is extremely useful for organizations and teams to store and access files. Admin permission controls also make it easy to manage data access. The main aim of Dropbox is to improve the team's productivity and collaboration with its integrations and features.
Dropbox provides a Basic plan for individuals to offer 2GB of storage. You can also try out the business plans for a free 30-day trial.
Pros
Integrations with Gmail, Salesforce, Slack, and some other tools
Automatically sync files across devices
Supports file sharing even with people who don't have an account
Chat feature for live collaboration
Cons
Only 2GB of free storage
Unexpected syncs can slow down machines
3. Google Workspace Drive – Great choice for Secure File Sharing with clients

Operating System: Windows, Mac, Android, and iOS
Pricing: Freemium
Company: Google
Google Drive, Google Photos, and Gmail are all a part of Google Workspace. Google Drive's UI is completely similar to File Explorer on a PC. Google Drive was one of the 1st companies to come up with document collaboration with the help of its browser-based suite of tools.
File sharing is very easy with Google Drive due to access controls on every folder for different levels. You can easily set up a folder for a team and grant equal access or view-only access.
Google offers free storage of 15GB to every individual user that is shared between the entire Google Workspace. Google Drive also allows an auto-syncing feature for some of your folders from the system.
Pros
Encryption-enforced security
Auto backup of photos and videos through the mobile app
Integration with office suites
Cons
No password protection for shared files
4. OneDrive for Business – Best Platform for Encrypted File Sharing for Business

Operating System: Windows and Android
Pricing: Freemium
Company: Microsoft
OneDrive for Business is another cloud-based file storage solution by Microsoft. It provides file sharing, storing, and collaboration opportunities. On top of that, you also get access to the cloud-based Microsoft 365 bundle, including Word, PowerPoint, Excel, and more.
OneDrive provides trusted and secure file sharing for businesses as it encrypts the files with SSL. A simple link sent through email or message allows the recipients to access all the files you wish to share with them.
The best feature is that you can even set an expiration date on the file links so those files can't be accessed after that period.
OneDrive provides 5GB of free storage to begin with.
Pros
Ransomware detection and recovery
Expiring and password-protected sharing links
Restore files up to 30 days
Excellent permission settings
Cons
No compatibility with mac OS
Slow upload and download speeds
5. WeTransfer – Amazing choice for Corporate File Sharing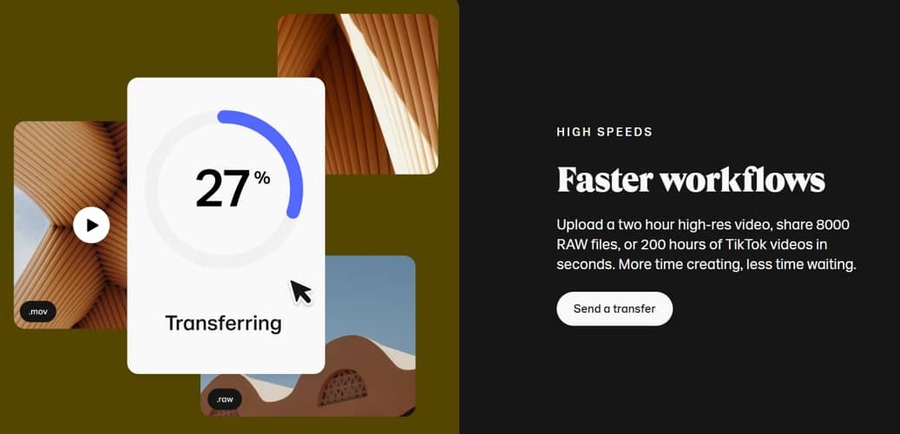 Operating System: Windows, Mac, and Android
Pricing: Freemium
Company: WeTransfer
If you want to go for convenience, then WeTransfer is your best bet for sending files. You simply have to visit the platform, enter yours and the recipient's email address, put up a message, and send the file.
WeTransfer Pro also provides a drag-and-drop feature for 20GB worth of files along with 1TB of storage space. Access controls allow you to protect all your business file transfers with passwords.
WeTransfer is available for free to transfer files to 3 people at the most. After that, you must purchase WeTransfer Pro to get email transfers to up to 50 people.
Pros
Convenient for one-time file sharing
Easy-to-use interface
No account required
Cons
Limited to sharing 2GB files per transfer
6. Citrix ShareFile – Effective Tool for Confidentially Sharing Business Files

Operating System: Windows, Mac, Android, and iOS
Pricing: Freemium
Company: Citrix
Secure file sharing for business data is easily accomplished with Citrix ShareFile. You can store documents and files in cloud storage and send them easily through the email plugin.
As the files are encrypted while sending, no one else can access the files or read them. No need to worry about phishing attacks, data thefts, or credential thefts during file sharing.
Citrix ShareFile allows you to edit projects while offline and sync all the changes when you reconnect. It also provides the feature of real-time collaboration with your team members so that you can co-edit the same document.
You can begin with the 30-day free trial of Citrix ShareFile before going with the business plans.
Pros
Email plugin makes it easy to send large files
Files are encrypted during transit and storage
Robust security system
Cons
Managing files at scale can become tricky
7. Egnyte – All-in-one tool for Secure File Sharing for Business

Operating System: Windows, Mac, Android, and iOS
Pricing: Freemium
Company: Egnyte, Inc.
If your business wants complete control over every file that's shared in the organization or with other organizations, then Egnyte is the perfect tool for you.
Egnyte has plenty of advanced features to make file sharing easier and provide access restrictions too. However, you can even use its API to integrate the platform with other services.
There are options available for shareable links and file sharing with passwords and expiry dates. You can even add link download limits and permission levels for certain folders for enhanced confidentiality.
Pros
Perfect for enterprise environments
Option for download limits and link expiry
Highest encryption standards
Cons
A bit difficult to understand.
What is the best way for a small business to share files?
Secure file sharing with clients is possible through different cloud-based storage available online. You can try out any cloud storage from the ones mentioned above to share, sync, store, and collaborate. The best part is you also get free storage up to some extent to understand the tool with ease.
Is Dropbox secure enough for business?
Dropbox is a highly secure method for corporate file sharing due to its Advanced Encryption Standard. Dropbox uses AES 256-bit key that banks utilize. You can create individual accounts on Dropbox and share files through links. Even if outsiders view the file through your link, everything is logged in the system. This limits outsiders from copying or editing any files and makes the platform secure for business file sharing.
How do you securely share files outside an organization?
Plenty of online tools and platforms can help you securely share files outside an organization. You can use platforms like Dropbox, Box, Google Drive, etc., to share files and manage access to every file with the help of different permission levels. Also, tools like Egnyte and Citrix ShareFile provide link download limits or link expiry dates for security enhancement. You can even try out different File Hosting Sites that provides a direct download link for the uploaded files.
Is cloud storage safe for business?
Cloud storage is an extremely safe option for businesses to store or share files. No matter how confidential the files are, you can expect complete corporate file sharing and storage encryption. As the servers of these cloud storage are located in warehouses, there's no chance for people to access them. Also, the files stored on the cloud storage are encrypted to prevent intruders from peeking into the files.
Most secure file sharing service for business – Box Business
Box Business is an excellent and secure file sharing option to choose from among this list. There's no real limit to the number of files you are allowed to share with your team or employees in the organization. The intelligent threat control system and advanced security controls are like the icing on the cake for your usage of Box Business. Moreover, you can even take advantage of the built-in task manager app for enhanced productivity.
Final Thoughts
After reading the entire article, it might have become easy for you to choose one secure file sharing option for your business. Based on the options provided above, you can try out the ones you feel are perfect for your business needs.
Every file sharing option mentioned above has its own pros and cons. With the availability of multiple plans for every platform, it will become pretty easy for you to make the right choice for your business. Make encrypted file sharing for business become an easy task with the help of the best secure file sharing services.