7 Best Free Network File Search Tools for LAN in 2023
It's not that uncommon these days for households to have more than one Windows computer in them with desktops, laptops, ultrabooks, netbooks, and even Surface devices a possibility. If you fit into that category, then it's probably also the case that they will all be networked wired or wirelessly to a router so they can connect to the internet, and also together so files can be shared between each other.
The problem with having different machines on the local area network is it's not that easy to find all available shared files and folders, you would normally have to manually browse the shared folders to find what you're looking for. Obviously, Windows has a built-in search feature that scans your own computer for files, but it doesn't automatically scan the network for anything.
There are many dedicated search utilities around that give the opportunity to search local files and optionally a mapped network drive. However, there are free tools around that are specifically designed to scan your local network for shared folders so you can see what's shared on the network. This way you can search the LAN in a similar way you would search your own computer.

Tools That Scan The Network For Shared Folders
The software we list here is able to scan an entire network range for connected computers and then search for files in the shared folders it finds. This is obviously the best method if you have a large number of shared folders on the network or folders are continually being added/removed.
1. Softperfect LAN Search Pro
LAN Search Pro used to be shareware but it is free these days although no longer updated or supported. It's a powerful utility that is specifically designed to perform searches over a Local Area Network quickly and efficiently while being easy to use. LAN Search Pro is also able to scan and search hidden network resources, restricted access resources, IP subnets, and LAN FTP servers among other things.
Sadly, LAN Search Pro cannot search the network from the off as the default search method of "Entire network" doesn't work. It will accept specific computer addresses/names or an IP address range. Go to Options (Ctrl+O) and click the Net Search tab. Choose either "Only these computers" or "Computers with specific IP addresses" and enter the addresses or range.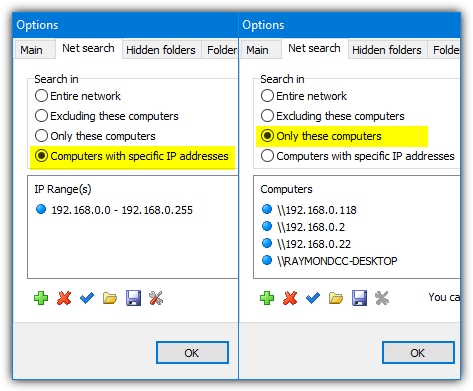 A useful feature is the built-in password manager which allows you to store the username and password login details for computers or shared folders that are protected. A list of computer logins can also be imported from a Comma Separated Value file (CSV) to make things easier for multiple entries. If you have already saved remote computer credentials in Windows, this won't be required.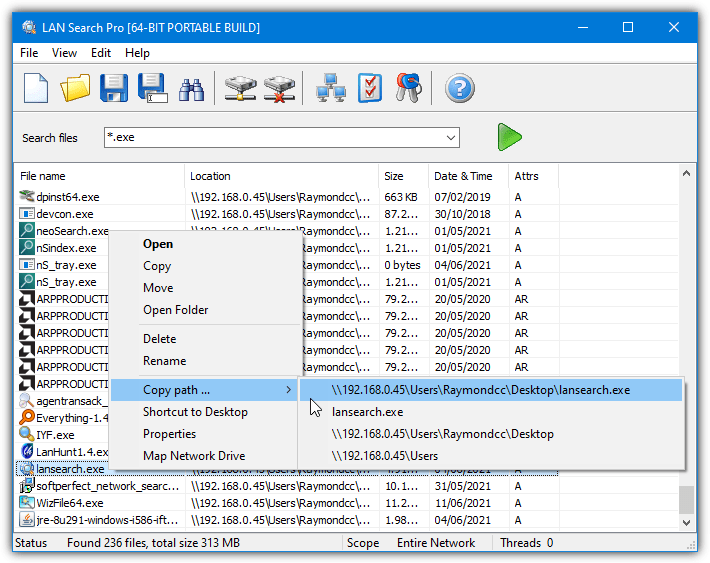 Searching is the same as it would be in Windows, simply enter the search terms into the text box. Wildcards are fully supported and multiple terms can be entered on the line by separating with a semicolon. Once the search has completed and the files are displayed, standard Windows functions such as copy, move, delete, copy path, Properties, and rename are accessible from the right click menu.
---
2. LanHunt
LanHunt calls itself a LAN search engine and is a tool that can list and index all the files on the local network and store them in the program's database. While this should be quicker to search than LAN Search Pro's live search, it does mean you might not get the latest list of files available on the LAN if they have been added since the last index update.
LanHunt is a Java based application so requires you have the Java Runtime Environment installed. It works in a series of 3 steps to set everything up and get the file list off the LAN and into the database. Firstly, you'll be asked to enter the IP address range to search on the network, it's best to keep this range as narrow as possible to speed up the indexing although the program does do parallel searching.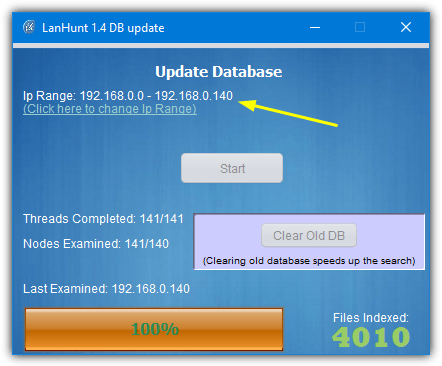 The second step will begin scanning the given IP range on the network for the files. The last step will take you to the main LanHunt window where you can start performing searches. Simply type in the keyword and press Hunt to get the results. Wildcards or multiple search terms are not supported but the search will show all results that include the keyword. There's a drop down menu to filter executable files, video, music, and documents.
The search results will show in a new window which will display the location and filename of a match along with buttons to open the file, downloaded the file, or open the folder location. You can also perform another search from the same window. LanHunt has a rather quirky interface but it's quite an efficient tool.
---
3. SoftPerfect Network Search Engine
Network Search Engine works by making one PC on the network a server that scans other computer shares and stores the data in its database. Then you can access the database from other computers to search for files. Due to this way of working, the server machine really needs to be on all the time or at least on when other computers might want to perform a search. Like LAN Search Pro, it is no longer updated or supported.
There are a few steps required to set up Network Search Engine on the server side. First, install the software and then open the Administration Console. In General, enter your Windows user account user name and password (required), then go to Computers. Like LAN Search Pro, the Entire network option did not work for us, so we had to use "Specified computers only" or "Specified IP ranges".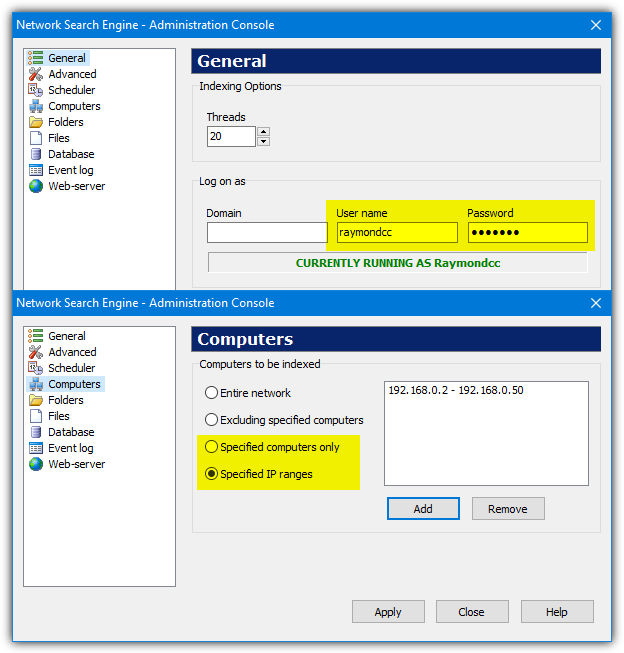 In the Scheduler window, press Start to run a complete crawl of available/specified computers.  The included GUI Client executable can be run on any computer on the network where you can search or browse the available shares from the database. Folder and File filters can be edited later, such as hiding hidden shares or including/excluding specific files or folders. Incremental indexing scans will take place at specified intervals.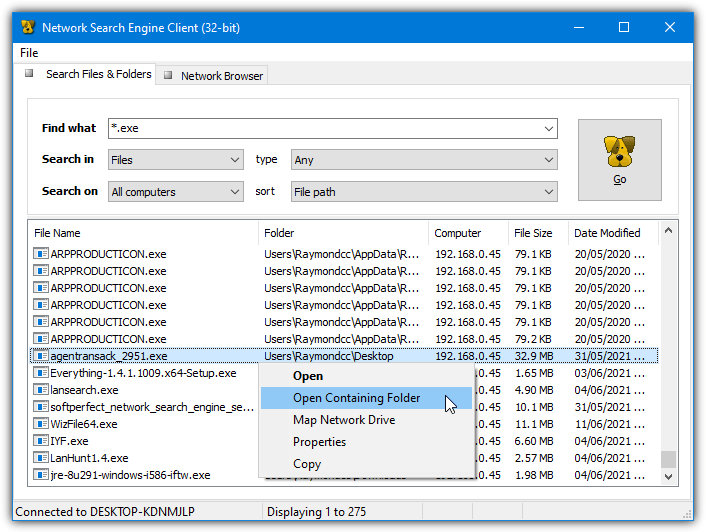 It's also possible to set up a web server to search or browse the shares from a web browser on any client PC. In the Admin Console, go to Web-server, press Start, and optionally enable auto startup. Then you can enter "[server IP or name]:8080/scripts/netsearch.exe" into a browser's address bar to bring up a browse and search user interface. Check your Firewall if the search window does not appear.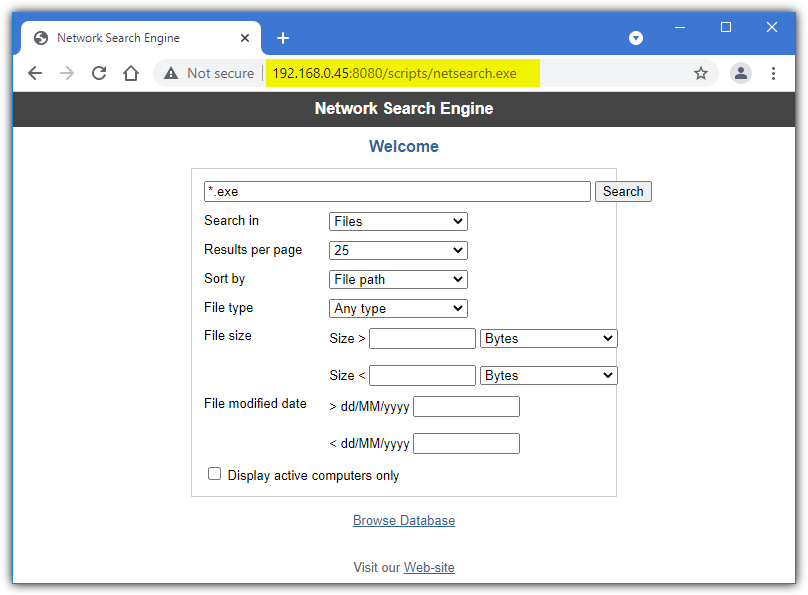 A drawback with Network Search Engine is it does not work on shares that are protected by an account password. Therefore, the Windows "Password Protected Sharing" option in "Network and Sharing Centre" > "Advanced sharing settings" needs to be disabled or no shares will be scanned on that computer. This is obviously a potential security risk and the decision to disable the option should be carefully considered.
Download SoftPerfect Network Search Engine
On page 2 we'll look at four more search tools that can scan the local network the local network for your files.