10 Safest Torrent Clients (2023 Ranked & Reviewed)
Torrenting using the safest torrent client is the most preferred way to download large files such as software, movies, and books. Although legal, it exposes your IP address to everyone and increases the risk of getting malware, spyware, and viruses on your computer.
Torrenting copyrighted material is illegal, but copyright laws are complicated. If you don't take proper precautions, you might expose your internet activities to copyright trolls and your ISP. You might get a warning letter for downloading stuff you didn't know was copyrighted.
This article discusses the best ways to stay safe while torrenting files and reviews the safest torrent clients you can use to download large files.
What is the Safest Way to Torrent?
Most digital-privacy-conscious torrent users rely on virtual private networks (VPNs) to hide their internet activities from Internet Service Providers and copyright trolls. Good VPN clients don't keep a log of your internet activity and are fast enough that they don't interrupt your downloads.
When choosing a VPN, look for one that isn't based in a country where the government can demand customer records. We highly recommend using ExpressVPN to ensure private and secure internet access on any device.
ExpressVPN doesn't keep your activity or connection logs, and you can set it up on any device, including PC, Mac, Android, or iOS. It operates on ultra-fast servers in 94 countries and offers a 30-day risk-free money-back guarantee.
To secure your computer from malware and viruses from torrent files, we highly recommend installing an antivirus like ESET Antivirus. It's available on Windows, Mac, and Android devices.
What are the Safest Torrent Clients?
The safest torrent clients have different safety features and tools, with some being safer than others. Knowing which torrent client to use to avoid malware, spyware, viruses, and snooping eyes can be overwhelming.
After rigorous research and testing, we've compiled a list of the 10 safest torrent clients we think meet the criteria to help you avoid unsafe ones. Read the comprehensive list of the top 10 torrent/P2P clients below.
Best for
Top Features
1.
BitPort.io
Downloading files sequentially
Downloading 1 torrent every 24 hours
Torrent via the cloud
Support for Chromecast and Apple TV
Google Drive capability
Downloading torrents in bulk
Assigning priorities to hasten downloads
Managing torrents remotely
2.
uTorrent
Downloading torrents on Android or tablet
Virus and malware protection
Can stream or play any file type
Better file conversion capability
3.
qBittorrent
Downloading without redistributing
Polished user interface with no Ads
RSS feed support with download filters
Supports many extensions
4.
Deluge
Protocol encryption for safer downloading
Local peer discovery and exchange
Highly customizable Plenty of plug-ins
5.
Vuze
Downloading torrents on the go
Control upload and download speeds
Auto start on device restart
Search and discover torrents
6.
BitLord
Finding the network's maximum carrying capacity
Search to find torrent files
Play videos on file while downloading
Connect with Chromecast
7.
Transmission
Encrypting files and enhancing IP filtering
Built-in server to control transmissions remotely
Peer caching and blocklists for bad peers
Bandwidth limits and support for IPV6
8.
WebTorrent
Prioritizing certain torrent files
Free, commercial, ad-free, and open source
Stream videos on AirPlay, Chromecast, and DLNA
Lightweight and fast
9.
BitTorrent
Downloading files sequentially
Downloading torrents in bulk
Assigning priorities to hasten downloads
Managing torrents remotely
10.
BitComet
Detecting server support for downloads to resume
Long-term HTTP and DNS seeding
Preview files while downloading
Speed up downloads and revive dead torrents
1. BitPort.io – Great for downloading 1 torrent every 24 hours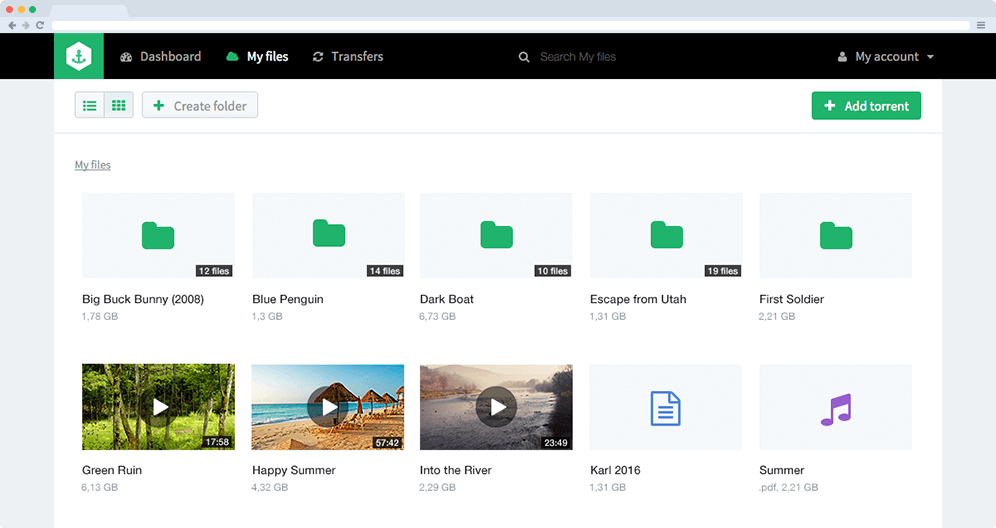 Operating System: Windows, PlayStation. Xbox, Android
Pricing: Freemium
Developer: Cool Sheep Technologies s.r.o
BitPort uses cloud storage to store your files and accelerate the download process. This adds a layer of security and saves your computer storage, allowing you to perform other activities as you download.
In addition to saving your computer storage, you never lose your files when your internet connection expires. You can access the files from the cloud and create folders to store your files in an organized manner.
You don't need to download any software on your computer to use Bitport.io. However, you may need to sign up for their service.
BitPort.io can be useful if you don't want to save files on your computer or want to access them from several devices. You can manage files from your smart TV, Android, PC, or iOS devices.
The platform is free, but you must upgrade to access advanced features. It charges $5 per month for the Basic package, $10 for the Standard package, and $15 for the Big package.
2. uTorrent – Best for downloading torrents on Android or tablet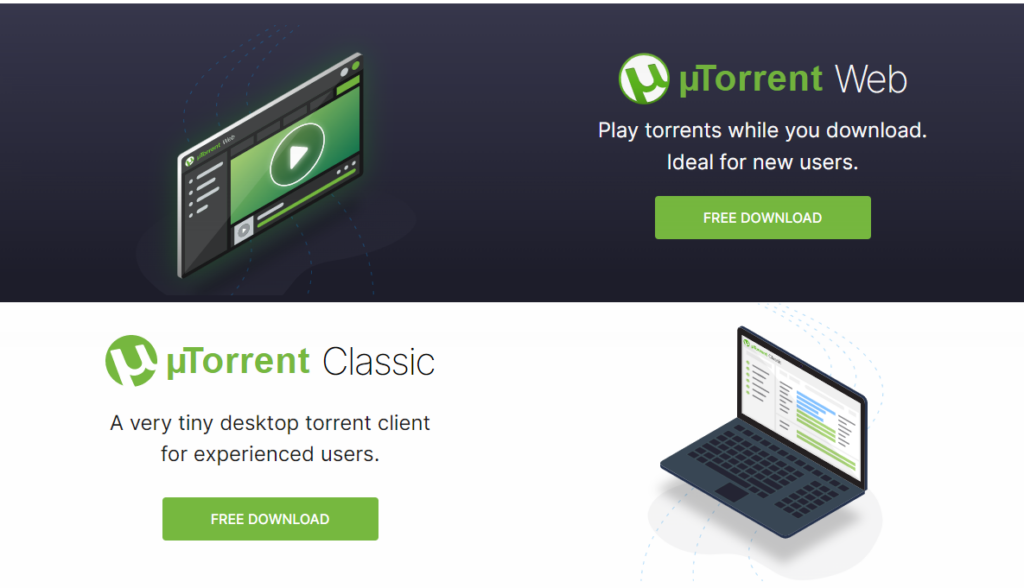 Operating System: Windows 10, 11, 7, Mac, Linux, Android
Pricing: Free
Developer: Rainberry, Inc
uTorrent is one of the most widely used torrent clients globally, with 125 million users. It's lightweight and has a simple and organized interface, making it excellent for novice and advanced users.
UTorrent has a web version called uTorrent Web that runs entirely on your web browser, meaning it doesn't consume many computer resources. The web version is also faster than uTorrent clients for Windows.
The software has various customization options, including scheduling and prioritizing files, setting bandwidths, verifying seeds, managing clients remotely, and finding torrents with built-in search engines.
Thanks to its built-in media player, you can install third-party plugins and stream torrents as they download.
3. qBittorrent – Excellent choice if you want to Download without redistributing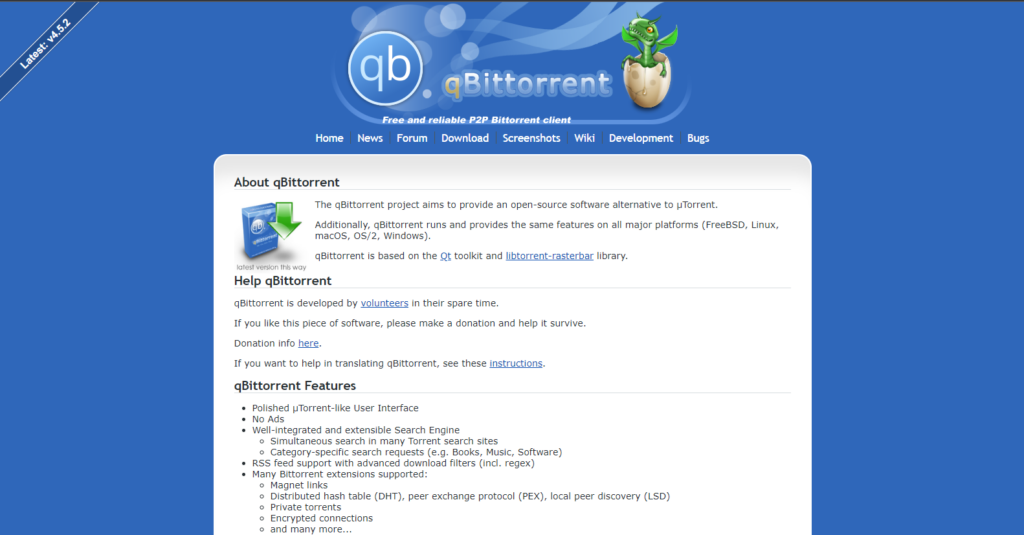 Operating System: Windows 10, 11, 7, Mac, Linux, Android
Pricing: Free
Developer: Bram Cohen and Rainberry, Inc
qBittorrent is a free and open-source torrent client to download torrents fast and easily. The platform doesn't display Ads nor has bundled software that you don't need.
qBittorrent is simple and easy to use with advanced features at your request. It's most suitable for beginners and users with relatively weak hardware and performance computers. The fact that some users claim qBittorrent cuts off their internet connection must be considered.
The features on qBittorrent include RSS feed support, sequential downloading, IP filtering, torrent creation, bandwidth scheduling, media playback, and UI lock.
It comes with tools to schedule computer resource limits while downloading and watching videos while they download. However, it lacks extensions for advanced users.
4. Deluge – Great for protocol encryption for safer downloading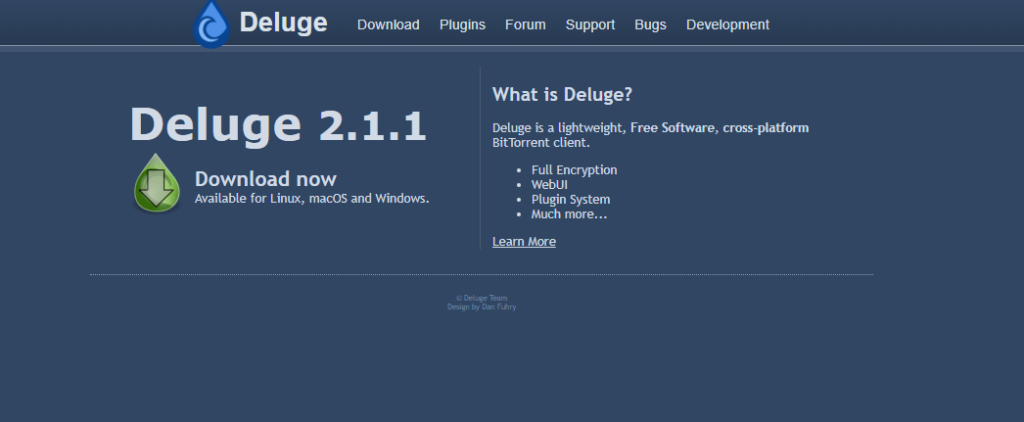 Operating System: Windows, Mac, OS X
Pricing: Free
Developer: Deluge BitTorrent client Team
Deluge is a great alternative for beginners looking for a simple, user-friendly, and powerful torrent client. It's free and open-source, making it versatile.
The torrent client supports third-party plugins, allowing you to extend its capabilities to customize your experience. You can set bandwidth limits, download and upload speed limits, IP block rules, and download schedules.
The platform does not have Ads or bundled-up software with the main package. However, the tool has a steep learning curve, especially for people unfamiliar with torrent clients.
5. Vuze – Excellent choice for downloading torrents on the go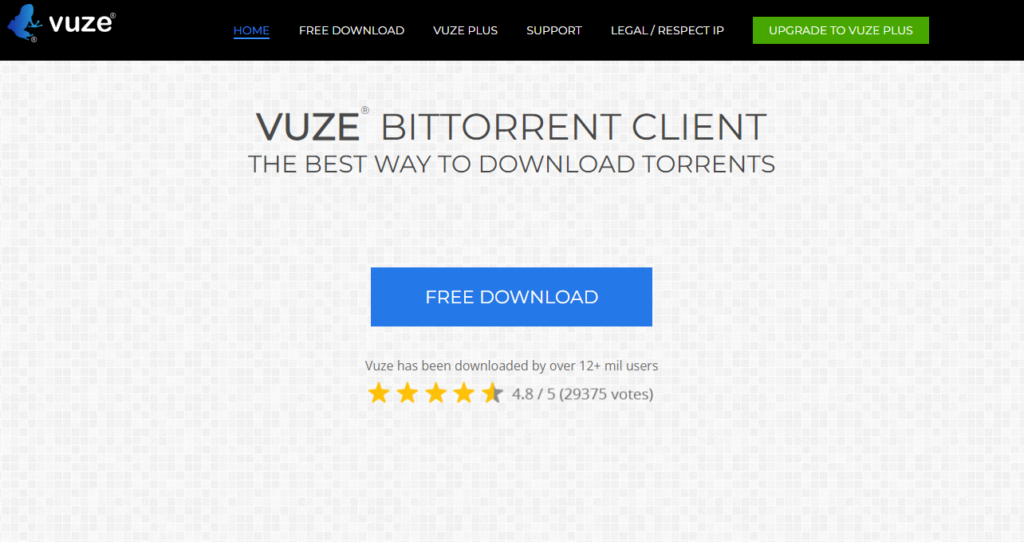 Operating System: Windows, Mac, Android, iOS
Pricing: Free
Developer: Azureus Software, Inc
Vuze is perhaps the most feature-packaged and customizable torrent client on the internet. It's not easy to master, but you might need it to add your features and capabilities if you're an advanced torrent user.
You can also expand its functionality by installing third-party software plugins. Users can stream files as they download using the in-built video streaming player.
The torrent client has tools to adjust the download/upload speed limits, bandwidth limits, IP filtering, magnet link support, and more. You can also search for torrents in the in-built search engine.
6. BitLord – Good at finding the network's maximum carrying capacity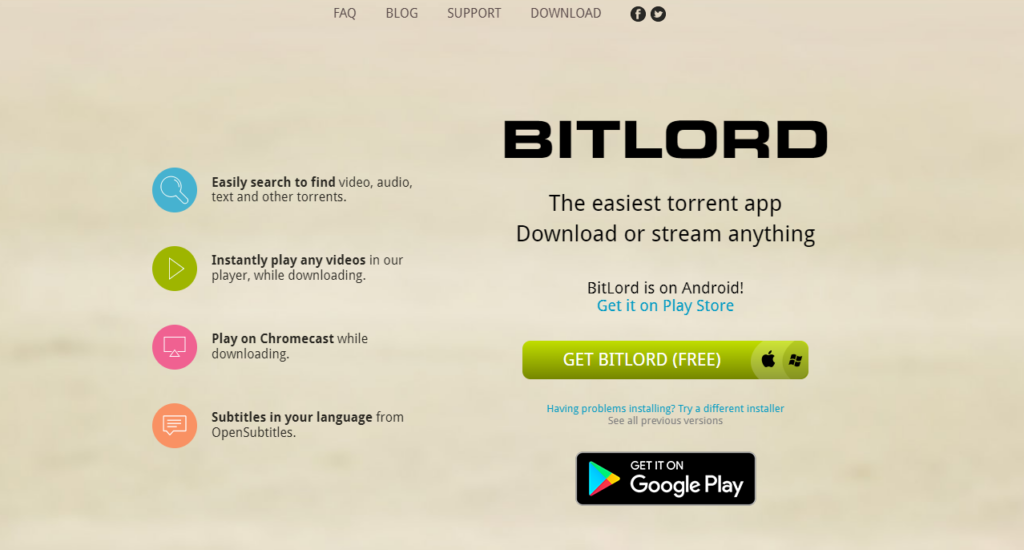 Operating System: Windows, macOS, and Android
Pricing: Free
Developer: House of Life
BitLord is a useful torrent client with amazing features to help you download your desired files. You can use it to sort out torrents by names, download and upload speeds, dates, and estimated finish dates.
Bitlord prevents your computer from going to sleep when downloading or uploading files. By adjusting how many files to download at a time, you can increase the download speed and schedule files based on importance.
The user interface is clutter-free but seemingly old-fashioned. It allows users to create torrents and protect the app with a password to prevent someone from accessing their downloads.
You can use the application on mobile, Windows PC, and Macbook. However, it comes with bundled software, which you can't use on Linux.
7. Transmission – Great for encrypting files and enhancing IP filtering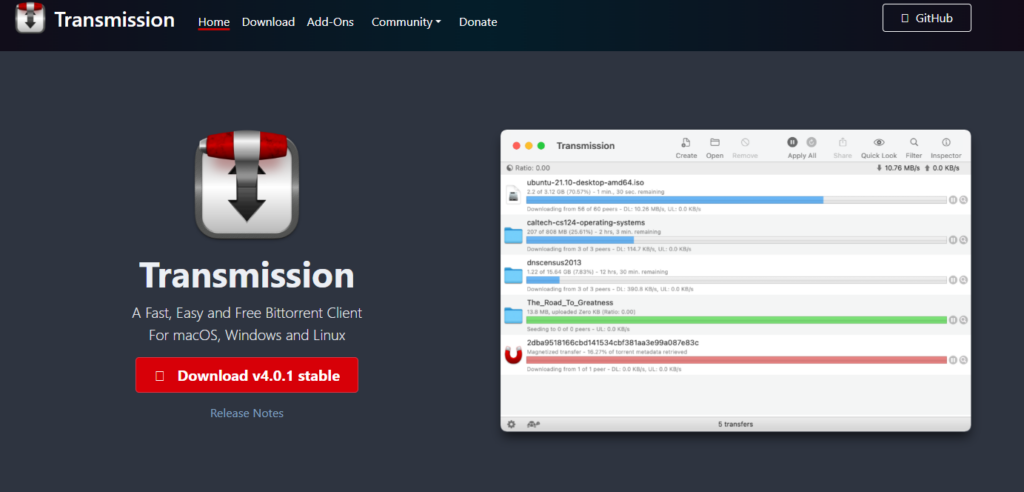 Operating System: Unix-like, macOS, Microsoft Windows
Pricing: Free
Developer: Mike Gelfand, Charles Kerr, Mitchell Livingston
Transmission is a simple yet powerful BitTorrent client with one of the lowest footprints of any torrent client. It's easy to use and intuitive, designed to integrate nicely with your chosen computing environment.
The application is free and open-source, balancing usefulness and functionality without the bloat. You can use it on Mac, Windows, and Linux.
Key features of the program include support for encryption, download scheduling, faster download speeds, and remote management. It's ideal for servers, embedded systems, and headless use.
8. WebTorrent – Great for prioritizing certain torrent files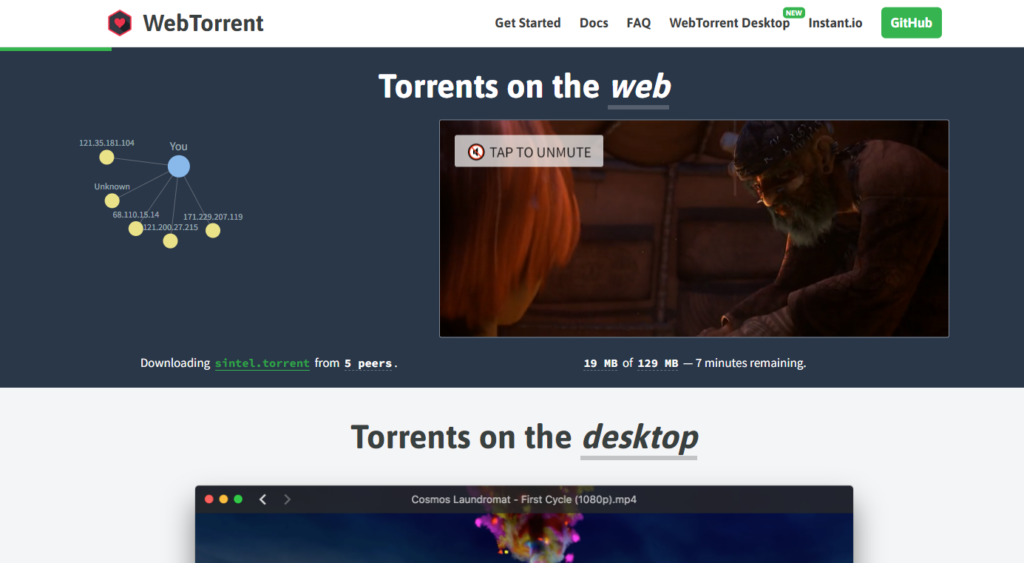 Operating System: Browser, Mac, Windows, and Linux.
Pricing: Free
Developer: WebTorrent
WebTorrent is a p2p streaming torrent client for the web browser and desktop. It's written in Javascript for the web and uses WebRTC for peer-to-peer transport, making it lightweight and intuitive.
You don't require browser plugins, extensions, or installations to use WebTorrent. You can host files or stream videos, music, and audiobooks from the depths of the internet.
WebTorrent developers also own Instant.io, a useful cloud torrent platform for sharing files with peers. There are also many sites like Wormhole, GitTorrent, File.pizza, PeerWeb, and more.
9. BitTorrent – Safest torrent client overall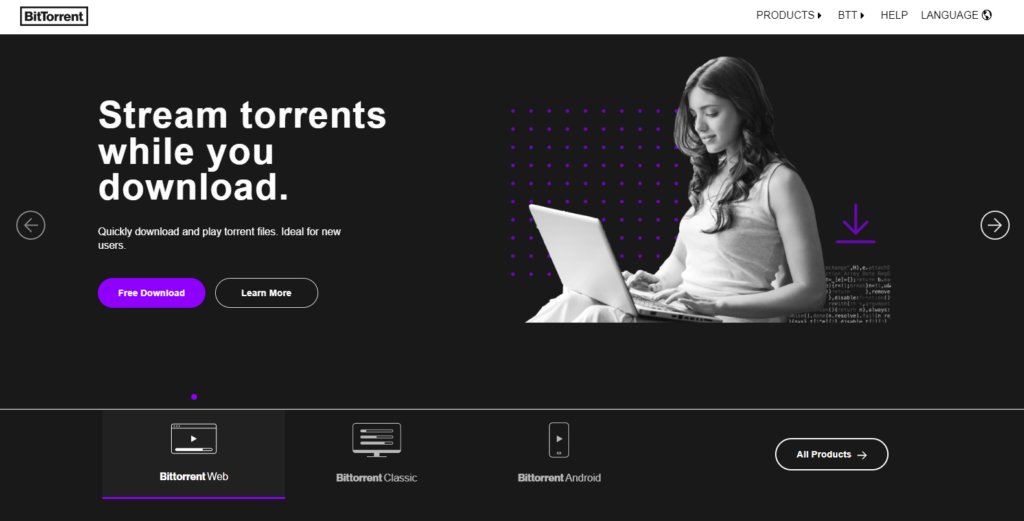 Operating System: Windows 10, 11, 7, Mac, Android, iOS
Pricing: Free
Developer: Bram Cohen and Rainberry, Inc
BitTorrent is a renowned and powerful free torrent client with over 2 billion users. It has many features and supports various operating systems, including Windows, MacOS, Linux, Android, and iOS.
BitTorrent is among the longest-running torrent clients that receive regular updates and support. The most useful features include built-in search functionality, encrypted connections, and magnet link support.
It comes with drag-and-drop features and a customizable interface. You also get malware protection, playback, and Wi-Fi-only support on Android to help you avoid using your data when on a limited data plan.
The biggest drawback of BitTorrent is that it includes Ads in the free version and comes with bundled software you rarely need.
10. BitComet – Tool for detecting server support for downloads to resume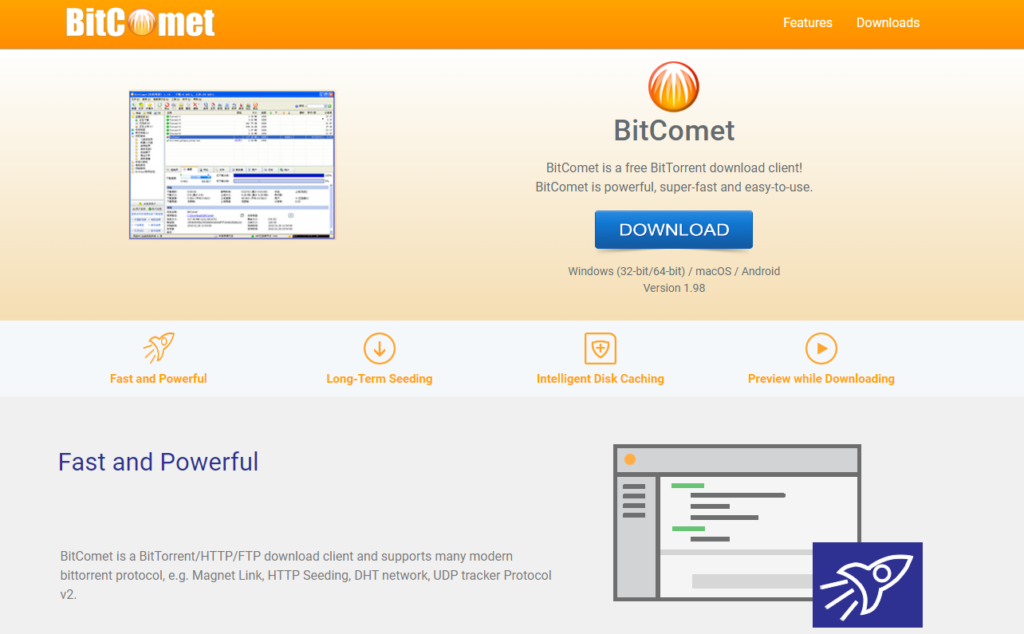 Operating System: Windows, macOS, Android
Pricing: Free
Developer: BitComet Development Group (China)
BitComet is designed as a download manager for torrent files to help users easily handle BitTorrent, HTTP, and FTP requests. It's easy to use, dynamic, and fast, offering high-speed downloads for large files.
Since it uses HTTP and FTP, it claims to provide safer and quicker ways to download and share files online. However, it features an old-fashioned design similar to other clients.
You can configure the app to shut down your computer after the download. Other features you might like include multi-mirror and multi-section downloading, bandwidth schedulers, quick resume, intelligent disk caching, and connection optimization.
Will I go to jail for torrenting?
Torrenting files is legal in most countries. However, it depends on what you download. If you torrent illegal or copyrighted material, you might get in trouble.
You're less likely to go to jail for torrenting copyright files. Most lawsuits are civil suits, and if a penalty is levied, it's usually a fine or in terms of monetary compensation.
Which is safer, BitTorrent or uTorrent?
BitTorrent is considered safer than uTorrent as it hasn't had as many controversies as the latter.
For instance, many users claim uTorrent used to have a cryptocurrency miner bundled on the installation package, which would reduce the computer's performance.
Is qBittorrent safer than BitTorrent?
BitTorrent isn't as focused on the user's safety as qBittorrent. It suggests using a VPN to secure your activities online.
qBittorrent offers an SSL certificate for users to use remote options. It works to remove malware, viruses, and spyware tools. It's a safe tool when combined with a VPN.
Can you get caught torrenting if you use a VPN?
VPNs add a layer of security to your computer by hiding your IP address and web traffic. However, you can get caught torrenting even when using a VPN.
For starters, your IP might leak if your VPN doesn't have a kill switch. The government might also compel your VPN service provider to hand over your personal information if they notice suspicious activity online.
How does my ISP know I'm torrenting?
If you download files from a website with an SSL encryption certificate, your ISP can not see what you're downloading. Since most torrents use HTTP and FTP connection, the ISP can see what you download.
They might also look at your connection patterns and bandwidth usage to realize that you're torrenting files. They can tell when you connect with different IP addresses while uploading files.
Final Thoughts
If you want to torrent files securely on your mobile, PC, or Mac device, you should install a safe VPN like Expressvpn. The software masks your IP address and hides your online activity.
For faster torrenting, use the safest torrent clients we've listed above. We tried and tested them for security, speed, and convenience. If you find other useful tools, share your comments in the comment section below.