3 Ways to Install and Run Kaspersky Rescue Disk from USB Flash Drive
Of course, there are many good free antivirus packages around, but if somebody was to ask us which commercial antivirus or internet security package we would recommend to people, without a doubt, one of those at the top of the list would be Kaspersky. The detection rates are great and always among the best in A/V comparison tests, it's loaded with features and doesn't slow down your computer too much.
Something that has become popular in recent years are antivirus rescue CD's that you can boot straight to without booting into Windows to help remove the most severe malware infections from your computer. Most of the major players in antivirus software have rescue CD's available that you can use, the problem being some of the paid ones require you to actually have the full product to be able to download and use it. Kaspersky Rescue Disk 10 is different though, because you get all the great malware detection and removal abilities Kaspersky offers, and it's completely free for anyone to use!
The Kaspersky Rescue Disk 10 comes as an ISO image which you can burn to an empty disc and boot up the computer with it. With USB flash drives becoming so common nowadays, and all newer generation motherboards supporting booting from USB (read this post if your BIOS doesn't support USB booting), it makes sense to write the Kaspersky Rescue Disk onto a USB flash drive. Here's a selection of ways do it.
First and foremost, you need to download the Kaspersky Rescue Disk 10 ISO file to your computer, file size is around 280MB.
Download Kaspersky Rescue Disk 10
Then you need a tool to put the Kaspersky ISO onto USB flash drive.
1. Use the Official Kaspersky USB Rescue Disk
Like developers of other antivirus software, Kaspersky has realized many people want to take advantage of USB and install the rescue disk onto flash drive, so have provided their own USB maker tool.
1. Download the Kaspersky USB Rescue Disk Maker. Run rescue2usb.exe and click Install to extract the files to a folder of your choice. Kaspersky USB Rescue Disk Maker will automatically run.
2. Insert the USB flash drive into your computer and the program will detect it and the drive should appear in the the USB Medium drop down.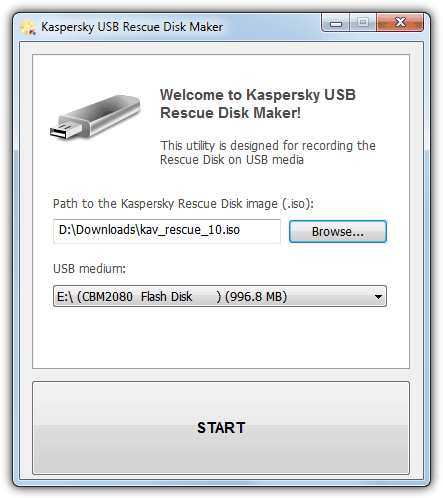 3. Click the Browse button and locate the Kaspersky Rescue Disk 10 ISO which you've downloaded previously.
4. Click Start and the tool will setup the USB drive with the rescue disk. If your flash drive isn't already formatted with the FAT or FAT32 file systems, you will be prompted to let the tool format your USB flash drive as NTFS isn't supported.
Although this tool will work in the majority of cases, if it doesn't work for you or you'd like to use something different, here are some other tools that will do the job.
2. Install Kaspersky Rescue Disk with Universal USB Installer / YUMI
Universal USB Installer and YUMI both have a trick up their sleeve when it comes to installing the Kaspersky Rescue Disk because they can download the ISO for you. The only real difference between these 2 tools is YUMI allows you to setup a multiboot USB, they look and perform just about the same. The instructions below are for Universal USB Installer.
1. Download Universal USB Installer and then run the program. Alternatively, if you want to setup a multiboot USB, Download YUMI.
2. In Step 1, select Kaspersky Rescue Disk from the drop down menu. If you don't have the ISO yet you can check the download box and it will automatically open your browser and begin the ISO download.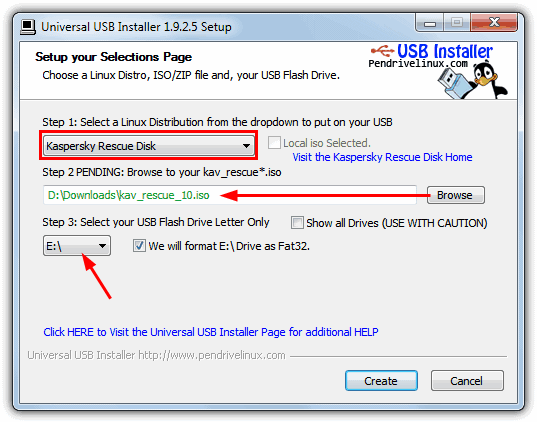 3. Press the Browse button and locate the ISO file which will then allow you to select the USB flash drive letter under step 3. An option is there to format the drive if it needs it (FAT or FAT32 is required).
4. Then simply Press the Create button and wait.
3. Use UNetbootin to Install the Kaspersky ISO to USB
On the face of it, UNetbootin has a useful function to download the Kaspersky Rescue ISO directly from the website, but unfortunately it doesn't work at this time so you need to get the file manually.
1. Download UNetbootin and run the program.
2. Insert the USB flash drive and make sure it's formatted to FAT32 as UNbootin won't warn you that an NTFS formatted drive won't boot the rescue disk.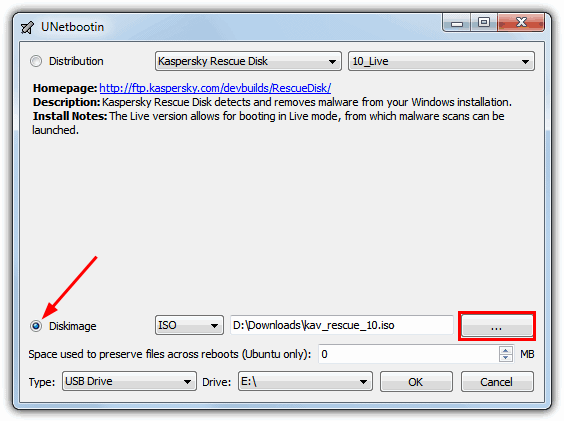 3. Click on the DiskImage button, then press the button to browse for the ISO file.
4. Make sure the Type is set to USB Drive, your USB flash drive letter is selected, then press OK to begin the write. UNbootin creates its own boot menu where you select either text mode or graphic mode but everything works the same.
Editor's Note: There are plenty of other utilities to get the Kaspersky Rescue Disk onto USB, but these 3 methods are among the quickest and easiest ways to do it. XBoot and SARDU are a few other tools, although do be aware SARDU contains several adware options during install and needs to be setup with great care.