7 Best Router Monitoring Software in 2023 [Free & Paid]
Router monitoring is a process that allows you to track your router to identify network flaws, prevent bottlenecks, and improve availability for optimal functionality.
You require excellent software to get better visibility. The most suitable tool for you will depend on your requirements, network size, and system configuration.
You can install router monitoring software and scale it based on your needs. You'll find numerous monitoring tools in the market. Each option will have unique features and monitoring capabilities. In this article we analyze the best router monitoring tools on the market.
Best router monitoring tools
Best For
Top Features
1.
Paessler PRTG network monitor
Analyzing and monitoring IT infrastructure
Distributed monitoring
Multiple user interfaces
Detailed reporting
2.
SolarWinds Network Performance Monitor
Providing comprehensive monitoring and Cluster failover solutions
Multi-vendor network monitoring
Network insights for deeper visibility
Advanced alerting
3.
ManageEngine OpManager
Monitoring network traffic and bandwidth usage
Bandwidth monitoring
Network performance monitoring
Providing buffer statistics
4.
WhatsUp Gold
Checking and analyzing the status and performance of the software
Network Traffic Visibility
Better troubleshooting
Bandwidth planning ability
5.
Icinga 2
Monitoring large networks and servers, and applications.
Web interface
Better integration
Performance data storage
6.
Zabbix
Advanced in real-time monitoring of the router and availability
Prompt detection of anomalies and prediction trends
Provides extensive route cause analysis for the router issues
Automatically fixes first-level problems
7.
Nagios
Monitoring critical router components and network switches.
Fall over capabilities to avoid downtime
Powerful script APIs to monitor the router
Centralized view of your monitor information
1. Paessler PRTG software – Best router monitoring software overall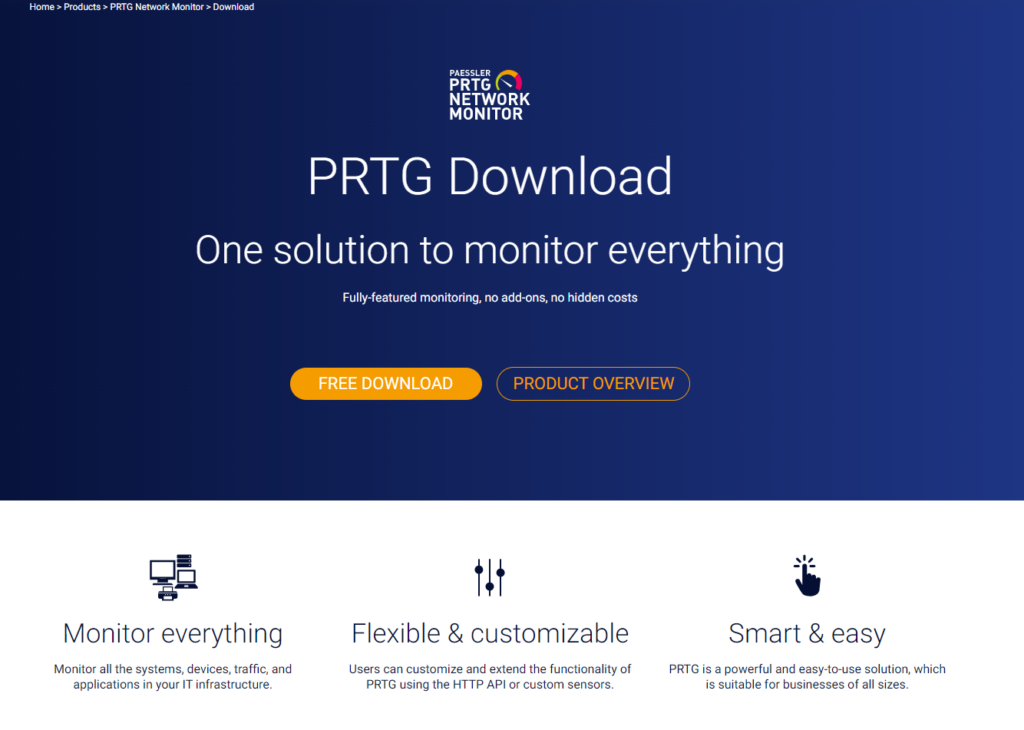 PRTG router monitoring software is an ideal tool for router and infrastructure monitoring. It helps you avoid overloading the router by checking bandwidth consumption, network traffic, and error messages. It also provides real-time router traffic monitoring to detect suspicious traffic to your router.
The software is easy to install using a step-by-step installation wizard. You can access it through the web interface, and its dashboard is highly customizable using the PRTG map designer.
Paessler PRTG software helps log monitoring by identifying weak spots, giving prompt alerts, and monitoring Windows event logs. It allows SOC experts to use remote probes to distribute monitoring information, monitor your LAN connections, and scan multiple networks simultaneously.
Paessler PRTG software allows you to customize the reporting to fit your needs and export the information in many forms or schedule regular reports. Additionally, the software enables failover tolerant monitoring, which provides automatic failover handling. The feature is beneficial if the primary master of the cluster fails.
Pros
You can access the software from the web interface, enterprise console, android, and iOS
It has a customizable dashboard for lone administrators and Noc teams
The company provides free support and application monitoring
The tool allows you to customize alarms with different alert types like email, push notifications
It has a drag-and-drop editor that allows reporting customization
Cons
It is a comprehensive software that will require more time to learn
Download Paessler PRTG software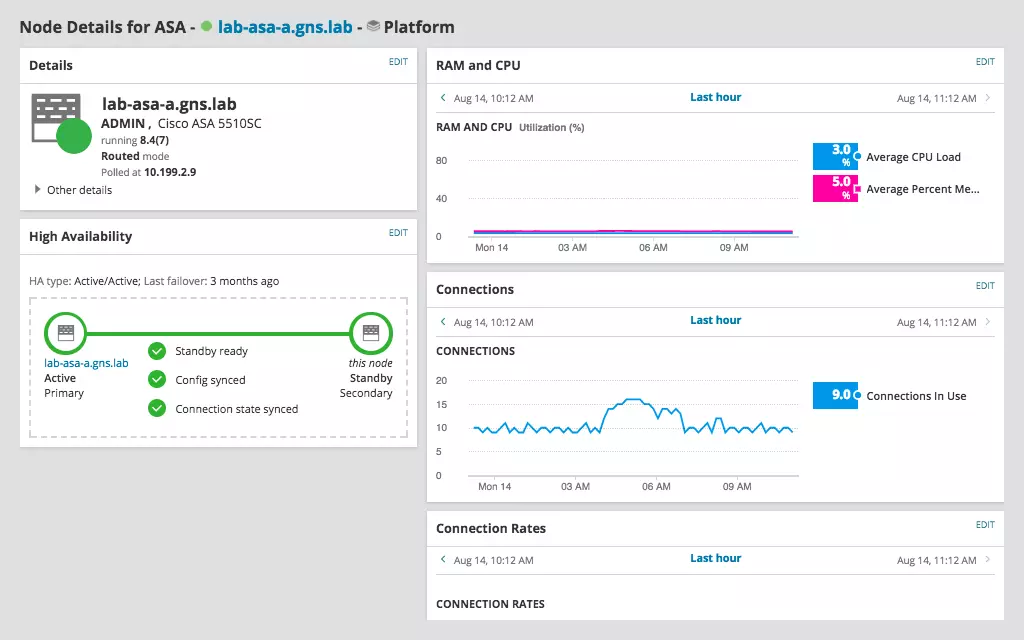 SolarWinds Network performance monitor is a Cisco router monitoring tool. It's mainly a router bandwidth monitor and can offer comprehensive fault monitoring and performance management. It provides real-time visibility into network performance, allowing you to identify issues promptly.
You can install SolarWinds Network Performance Monitor on Windows Server 2008 R2 and above. It has the following minimum requirements;
2 GHz CPU
4 GB RAM.
10 GB free disk space
After installation is complete, you'll need to reboot your server. You'll get several different monitoring methods, including the dashboard as the main view and Map View. Additionally, it provides you with continuous monitoring to ensure the consistent availability of your network. It extracts traffic flow information and allows you to implement traffic shaping.
The software offers two ideal solutions: network performance monitor and configuration manager.
Network performance monitor helps to reduce network outages and enhance performance, while Network Configuration Manager helps to reduce the time you'll need to manage critical changes and identify that the network is compliant.
Pros
The tool is ideal for monitoring Cisco hardware metrics
It provides condition and threshold-based alerting templates
The platform is intuitive as it utilizes color perfectly to highlight crucial insights
It can help you perform vulnerability assessments, configuration backup, network compliance
The system integrates nicely with a network performance monitor
Cons
Its design might be complex and will take time to explore if you're not a professional
Download SolarWinds Network Performance Monitor.
3. ManageEngine OpManager – Monitor network devices and manage bandwidth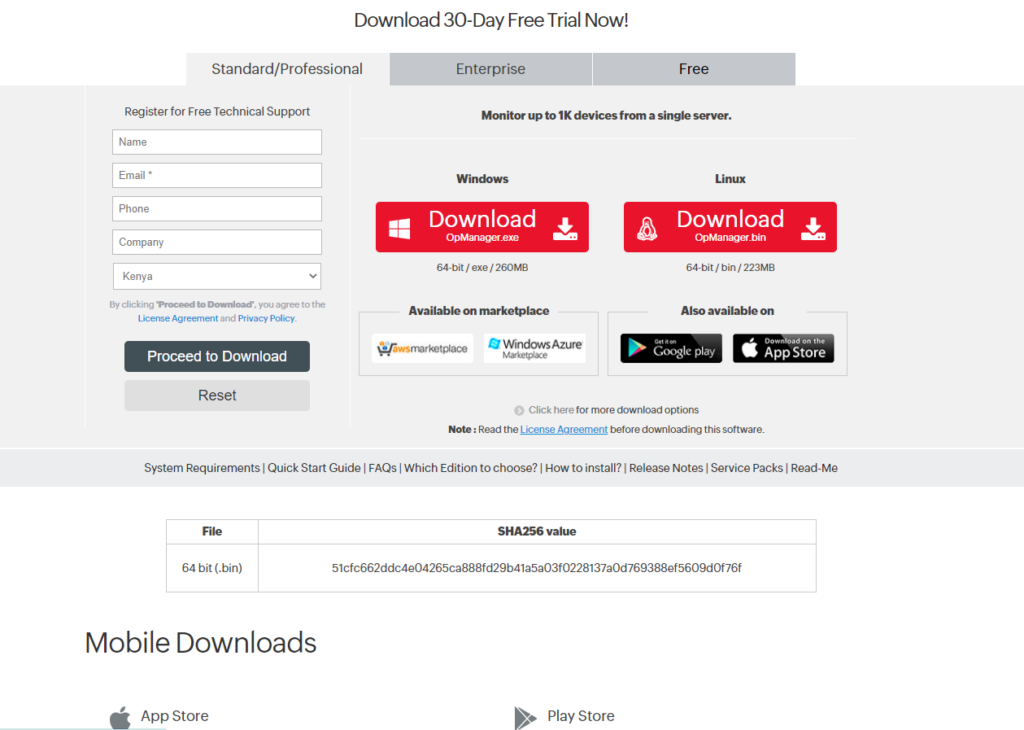 ManageEngine OpManager software allows you to manage network traffic and bandwidth usage and monitor network devices, like routers, from one integrated platform. The software is user-friendly, requires no setup, and you can watch multiple interfaces promptly.
Further, the software has a complete router monitoring solution that helps you monitor critical WAN links and their routers. You can install it in Windows and Linux OS and get a 30-day free trial. You can also get its three editions of paid versions, i.e., essential, Enterprise, and Service Packs.
The software allows you to check various metrics on your router, such as CPU and memory utilization, temperature and voltage, buffer statistics, and CRC errors and collisions.
Pros
It supports a free version, allowing you to automate first-level network fault troubleshooting
The tool can monitor services across multiple vendors
It continuously monitors the availability, performance, and latency of WAN links
You can schedule configuration backups when needed
The system provides detailed reporting as it uses both SNMP and NetFlow
It uses automatic network discovery to provide live inventories and network maps
Cons
Monitoring devices across multiple networks requires upgrading to enterprise editions, which can be expensive
It might be complex to use for beginners
Download ManageEngine OpManager
4. WhatsUp Gold – Excellent for getting a comprehensive view of your network traffic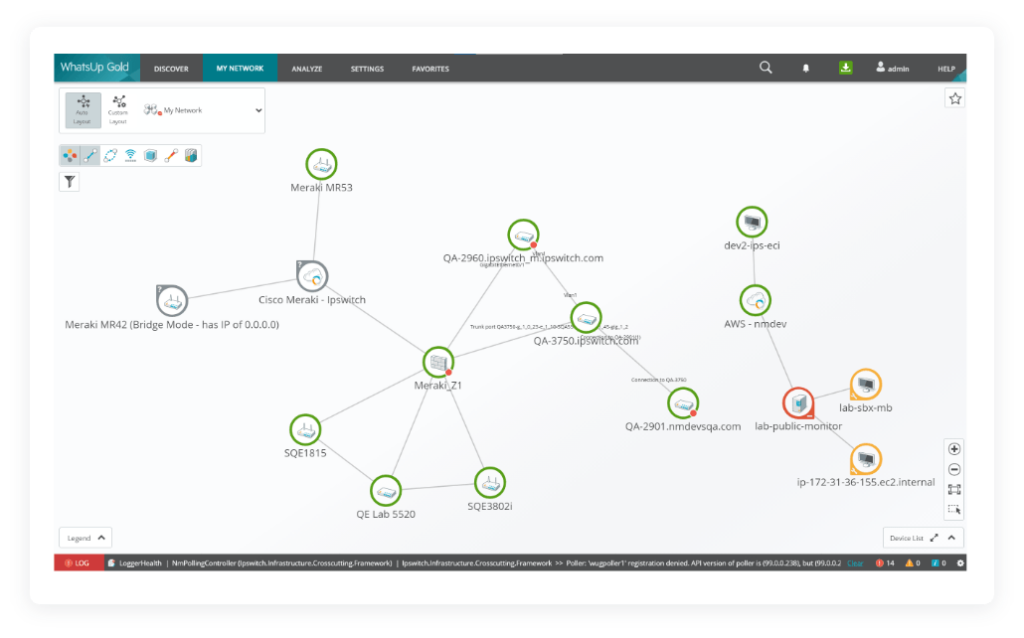 WhatsUp Gold is software for network traffic and router bandwidth monitoring. It provides a comprehensive view of your network traffic and the top users. The information can help you configure bandwidth usage policies and evenly distribute your bandwidth.
It helps to avoid failures due to increased bandwidth usage and can monitor your devices and applications hosted in the cloud or on-premises.
The software lets you find and fix network problems promptly before end users notice. It has an interactive user interface that gives you intuitive view availability and performance of devices and systems. Its latest version is easy to use, features better integration, and allows the importation/exportation of device roles and sub-roles.
Pros
The tool uses simple visualization of the insights
It is cost-effective as it supports modular pricing, allowing you to pay only for the needed features.
You can customize it to receive alerts on your email concerning the thresholds.
It provides router monitoring and bandwidth management
Better Reporting abilities
Cons
You might have trouble during module upgrades.
5. Icinga 2 – Open-source tool for infrastructure and service monitoring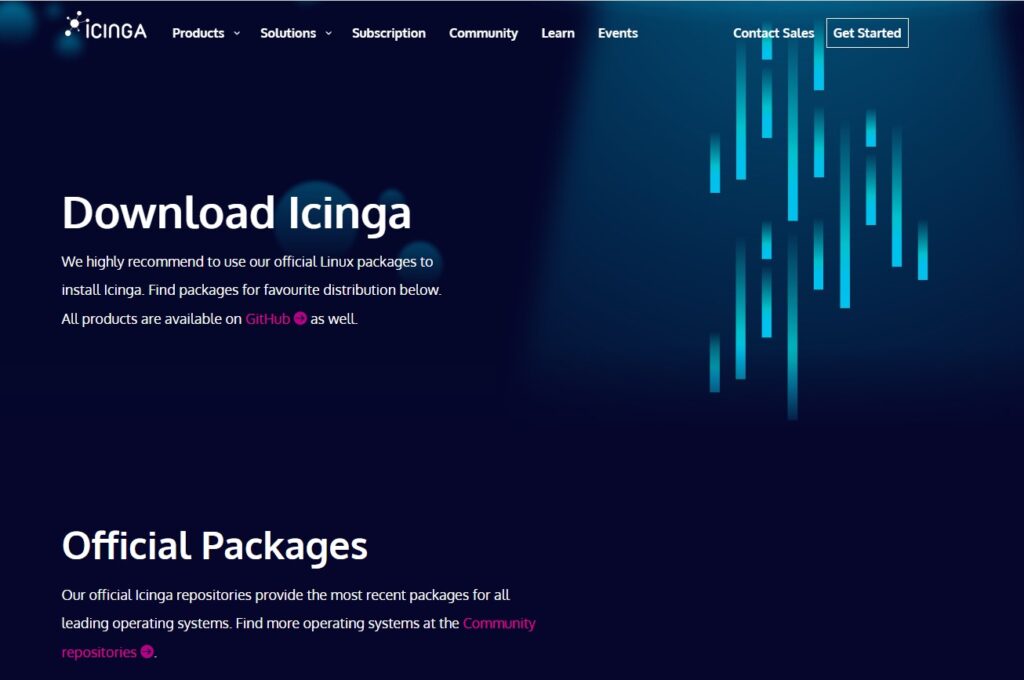 Icinga 2 software is an open-source infrastructure and service monitoring tool that allows you to monitor your network, servers, and applications. It checks the availability of network resources, identifies outages, and generates performance data.
The software is user-friendly and has pre-configured plugins. It is compatible with various operating systems, like Linux and windows. You can scale up easily and quickly depending on your needs. The flexible tool allows you to write your extension or choose from the existing modules.
Icinga 2 shows router status using Pings or SNMP. Once discovered, the software finds parameters like packet loss and bandwidth. You can integrate it with your workflows and tools for better router monitoring.
Its system and implementation requirements include configuring quickly and creating object definitions. Although it does not have hardware requirements, Icinga software runs better on a quad-core processor with 4GB RAM.
Pros
The tool supports cloud configuration, which includes a fully pre-configured monitoring stack from the cloud
It shows a performance data storage
The software is precise and open-source and supports built-in visual reporting
It can be on Linux and Windows systems
The software modules allow different functionality, which helps to keep the base installation sleek and lightweight
Cons
It relies on an open-source community for updates and support
Its design favors technical users
6. Zabbix – Works well with different kinds of IT infrastructure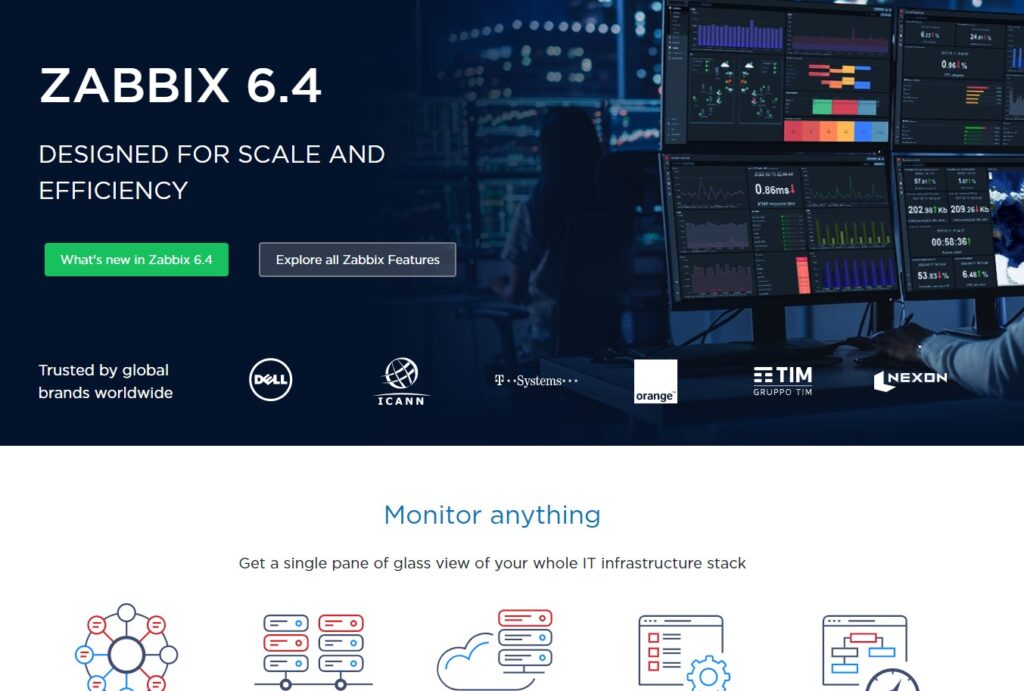 Zabbix router monitoring software works well with various kinds and sizes of IT infrastructure, services, and applications. It provides real-time monitoring of many metrics, such as network traffic. Depending on your customization, the software offers ideal reporting and information visualization.
Zabbix can run on various operating systems like Linux, IBM AIX, FreeBSD, Mac Os, windows, and more. However, you'll need physical and disk memory, a minimum of 128MB for physical memory, and 256MB to start. You might also require more CPU resources depending on the number of metrics and database engine.
Zabbix contains other major software components, which include:
Server: The agents' primary function is to report and integrate information. It stores all configuration, statistical and operational data.
Web interface: The web interface allows you to access Zabbix anywhere using any platform.
Proxy: The proxy helps collect performance and availability data on behalf of the server. Though it's an optional part of Zabbix deployment, deploying it is beneficial to distribute the load of a single Zabbix server.
Agent: Agents monitor metrics to track resources and applications and report the data to the server.
Database storage: The configuration information and data gathered by Zabbix are stored in a database.
Pros
The tool collects metrics from all devices, systems, or applications
It automatically detects problems from the incoming metric flow
The system has strong encryption between Zabbix components and open code for security audit
It supports different operating systems and collects metrics from all devices, systems, or applications
The platform automatically detects problems from the incoming metric flow
Cons
It takes time to get the software up and running
The costs can quickly spiral up as you scale
7. Nagios router monitoring – Excellent for monitoring your router status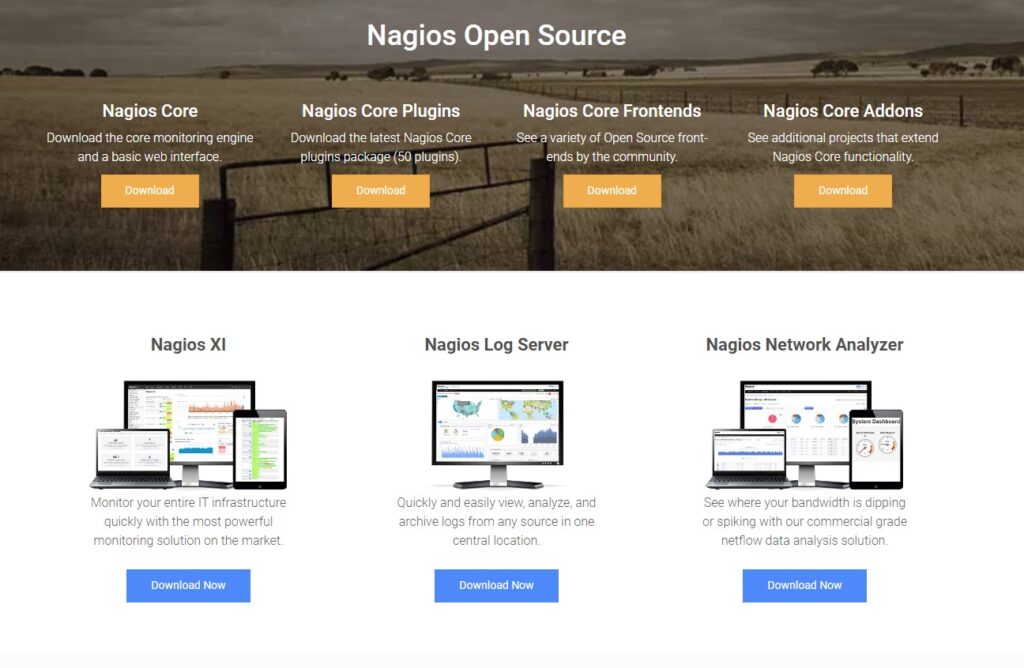 Nagios monitors the status of your router and network switches. It keeps your devices under control by sending pings and SNMP replies. It is based on client-server architecture and uses plugins, extensions, and stand-on to define the target to monitor.
The plugins work on command-line arguments and segregate them into lists that involve software, hardware, OS, security, cloud, and log files. The software contains a scheduler that transmits signals to run the plugins remotely.
After receiving the status of the remote host, the plugin sends information to the process scheduler from the plugin. The process scheduler updates the GUI regularly and sends the notifications to the admin.
Nagios requires quick configuration by editing its main configuration file and creating object definitions. It's free and can monitor the status of ports to help you not rely on IP. You can use it in various systems, such as Linux and windows.
Nagios provides a continuous check on your router network and tasks. It can also monitor the disk's memory usage, microprocessor load, number of processors, and running logs. Additionally, Nagios can monitor packet loss, provide SNMP status information, and monitor bandwidth and traffic rate.
Pros
The tool helps with capacity planning and supports various devices and applications
It contains hundreds of community-developed add-ons that extend its functionality.
The platform allows a better alerting system and seamless scalability
You can customize it to fit your needs.
It allows auto-discovery for easier device management.
Cons
You'll be charged for support
Its network mapping visualization requires improvement
Download Nagios Router monitoring
Can the router be monitored?
Yes, you can monitor routers. You'll see the website users visit or other activities while using the network. Your ISPs have router monitoring tools to make the process relatively easy. You can do full or partial monitoring functionality.
You'll need software with top features and abilities for better monitoring, like Huawei router monitoring software.
Final thoughts
Router monitoring is an important activity that individuals and organizations should do. It gives clear visibility into the network, detects security threats promptly, and enables you to utilize your IT resources optimally, besides that, it can be paired with VPN monitoring for more optimal results.
You must use effective monitoring software. The above is the best router monitoring software for the year. What do you think about the list? Share your thoughts in the comment section below.