How to Reset Windows Services to Default
X
INSTALL BY CLICKING THE DOWNLOAD FILE
Windows Services is an important hidden part of Windows where it allows programs to run automatically before even logging in to a user account. Many features in Windows depends on the services for it to work properly. For example, if the Windows Update service is stopped and disabled from startup, checking for updates via Windows Update will give you the error code 80070422 with the message "Windows Update encountered an unknown error". That is a very general error message and a normal computer user wouldn't even know where to start checking in order to fix the Windows Update problem.
Some malware modifies the Windows services and even after removing the malware, unfortunately the services which has been disabled by the malware are not be re-enabled back by antivirus software. This is when you will start to notice that some parts of Windows are broken even though the virus is no longer on the computer. Here are some free tools that you can use to reset Windows Services to default state.
The default Windows Services setting is definitely safe because I have never seen a case that you have to manually enable a service from the default Services settings for something to work. Most of the time only experienced computer users will disable unnecessary services hoping to squeeze every inch of performance out of their computer.
There are a couple of ways to restore the Services settings back to default.
The first method is to visit
Black Viper's website
, go to
Services Registry Files
according to the Windows version that is installed on your computer, download the appropriate file and run the .reg on your computer. Alternatively, you can also use Tweaking.com's
Windows Repair
AIO tool and select the "Set Windows Services To Default Startup" repair option. Windows Repair AIO uses the same default data from Black Viper.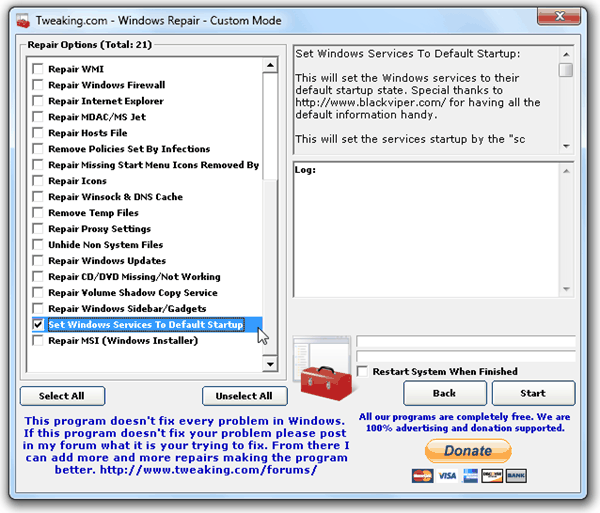 Do note that the Black Viper's Services Registry File and Windows Repair AIO tool only restores the Start key of the service. That means that the service entry in registry must be valid, then only it can be started. As for other cases where the service is not even shown in the Services.msc, that is due to the whole service entry being deleted from the registry.
For example, if you delete the whole wuauserv folder from HKLM\SYSTEM\CurrentControlSet\services\ in registry, you will not see Windows Update listed in services.msc. So far I have not found a tool that can restore all the services registry back to default but ComboFix is able to restore some of the important services such as Windows Firewall (MpsSvc), Base Filtering Engine (BFE), Windows Defender (WinDefend) and Windows Update (wuauserv).
If the services in Windows is so messed up that neither resetting to default services settings nor restoring some deleted services with ComboFix fixes the problem, your last resort is to perform a Windows repair by reinstalling Windows using the Windows installation disc.