Resize Picture Online: 10 Best Free Sites in 2023
The default image viewer program in Windows 7 called Windows Photo Viewer is only capable of rotating the image while the default image editor Microsoft Paint comes with more features such as crop, resize, rotate, color fill, color picker, insert text, outline, brushes and shapes. It also support all of the popular image format such as JPEG, Bitmap, GIF, TIFF and PNG. If you are looking for a more powerful photo editing tool that does much more than Paint but don't need the most advanced program such as Adobe Photoshop that cost hundreds of dollars for a license, you can try out the online photo editor services and you'll be surprised how much it can do without payment or even registration! Check out our top 10 websites that offers advanced online image editing for free.
1.
Pixlr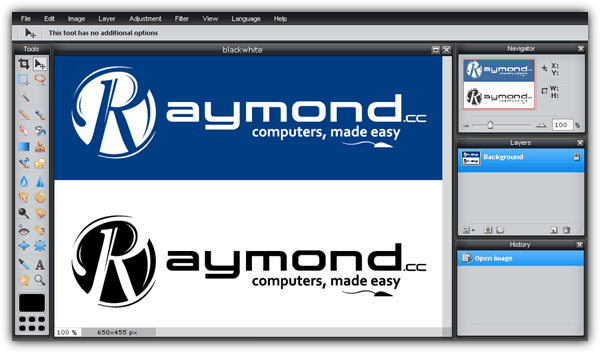 There are three versions of Pixlr to choose depending on your purpose. The playful version called Pixlr-o-matic basically contains a lot of really nice looking preset effects that can be applied to the uploaded image with a single click of a mouse button. The efficient version called Pixlr express contains editing features and is categorized accordingly for easy access. The advanced version called the editor looks very much like the online version of Adobe Photoshop that support layers and it requires some knowledge in using an advanced image editing software such as Photoshop. In fact it can even load and edit PSD files.
---
2. LunaPic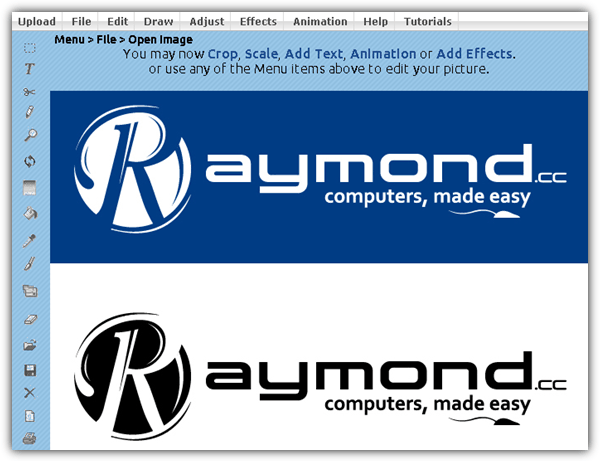 LunaPic doesn't have a fancy interface like Pixlr and it does look a bit old. However if you upload an image to edit in LunaPic, try moving your mouse cursor to the menubar options and you'll see a long list of drop down menu offering you a lot of effects, animation and drawing/editing/adjusting tools. The only drawback on LunaPic is it doesn't take effect immediately and requires a refresh on the web browser to display the changes.
---
3. BeFunky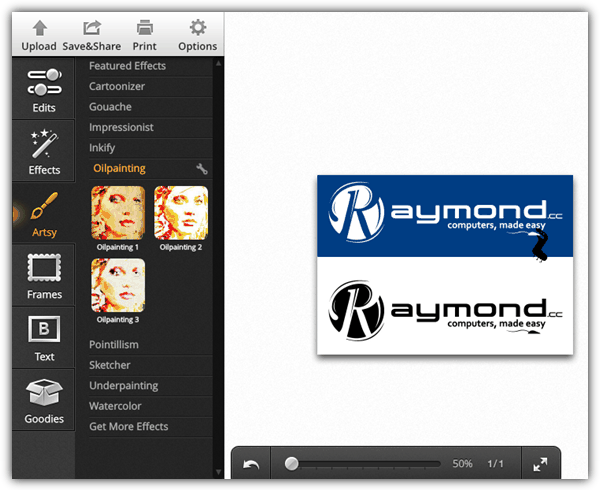 BeFunky is one of the most popular online image editing tool with an easy to use interface. The image is loaded instantly without uploading and the changes takes effect immediately as well. Most of the features requires only one click which makes it really easy for anyone to use. All of the editing tools are free to use and part of the effects are free as well. You will need to purchase a subscription in order to get more effects.
---
4. Pho.to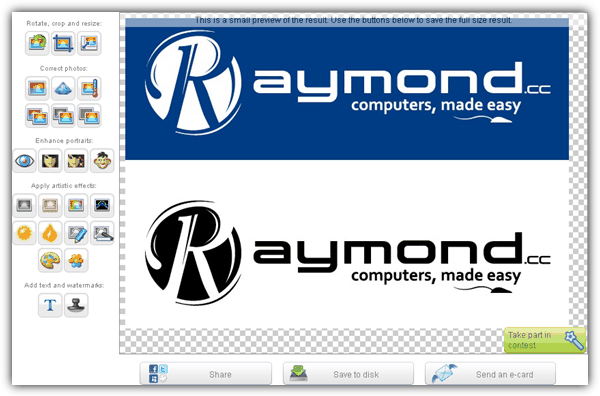 Unlike most of the online photo editor, Pho.to splits into 6 different editors and does not pack everything into one which can get a bit confusing if there are too many features. There is the touch up, one click photo enhancement, editor, avatar creation, effects, cartoons and face morphing. You will be able to jump around different editors without worrying of losing your previous changes because the changes are saved and can be easily loaded by clicking on the thumbnail.
---
5. iPiccy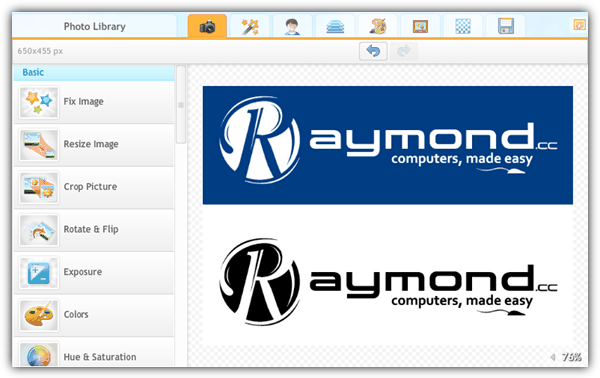 iPiccy runs on Flash and the initial good experience we had with iPiccy is it instantly loads the image from our computer without waiting to fully upload the image first. This is really useful if you have a really large image to edit and you can immediately start editing without waiting. The main features are placed at the top tab where you will find basic editor, photo effects, retouch, blender, painter, frames, and textures. What we really liked about iPiccy is it is fast and doesn't slow down your web browser plus the preview are displayed in real time without refresh.
---
6. Pixenate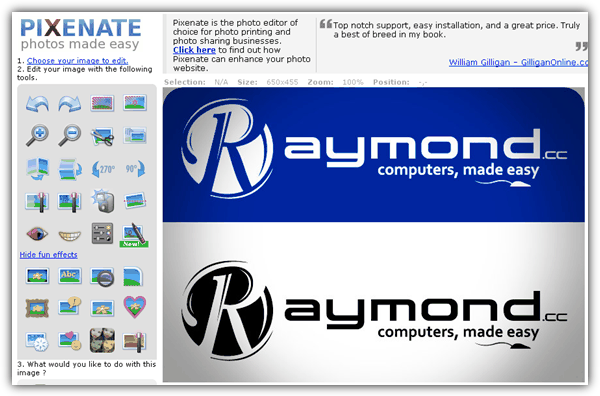 Pixenate does not require any plugins to run because it uses Javascript which is supported by most if not all web browsers. It doesn't aim to provide every single effect that can be used but instead it focus on providing unique and useful ones such as rounded corners, adding speech bubbles, snowflakes, and their all time favorite lomo effect.
---
7. Phixr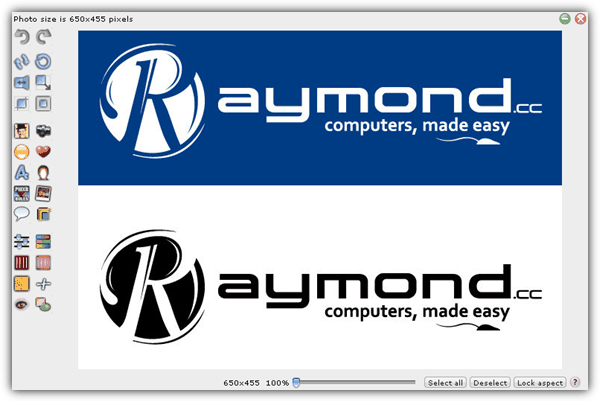 Phixr seems to require login to use but clicking on the new user link will log you in as guest. After uploading the photo to edit, the options are located at the left pane and the edited photo can be easily shared to social websites such as Facebook or uploaded to other image hosting websites such as Flickr, ImageShack.
---
8. piZap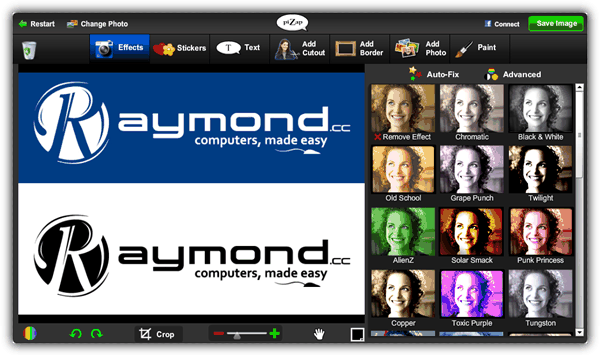 piZap runs on Flash and focuses more on effects but still provide very basic editing tools such as resize, rotate and scaling. The effects available at piZap is amazing especially the stickers. Other than online photo editing, you can easily make a collage, timeline covers for Facebook, and even real time webcam effects.
---
9. FotoFlexer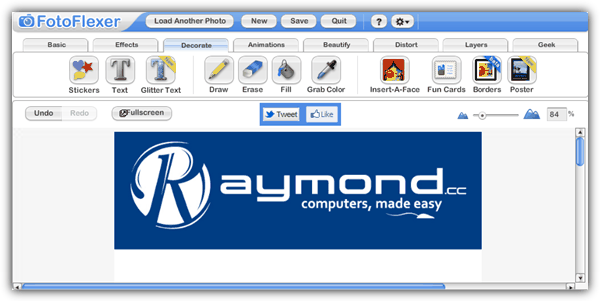 FotoFlexer runs on Flash and can only load JPEG, GIF and PNG format. It has support for layers, basic editing tools, effects, decoration, animations, beautify, distort, and advanced geek features. There are quite a number of effects to use but very few on decorate, animations, beautify and distort. Easy to use but there is an annoying advertisement at the top of the image editor that constantly being added that forces us to scroll down in order to fully view the image that we are editing.
---
10. Adobe Photoshop Express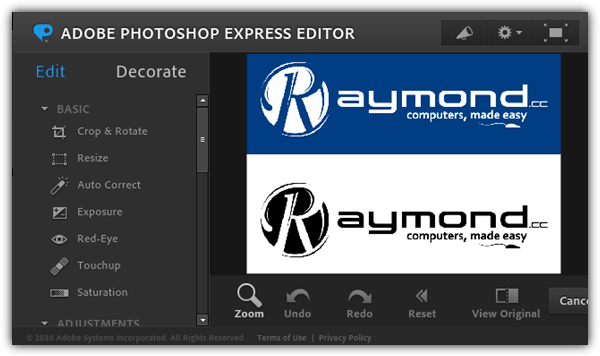 Instead of paying hundreds of dollars for Photoshop, Adobe offer an online light version of the Photoshop called Adobe Photoshop Express for free. In order to use it, you will need to sign up for an account where you'll be given extra goodies such as 2GB of free storage, online editor, gallery, slideshow, and video streaming. Some of the popular features found in the Adobe Photoshop Express Editor are dodge and burn tools, pop color, auto correct, bubbles, plus new crystallize and pixelate effects.