How to Uninstall Avast or AVG Authorization Passwords
Many commercial or free antivirus and internet security applications will offer some sort of built in protection. This is to stop unauthorized users from tampering with the settings of the program or disabling its functions. It's especially useful if the computer is used by children or less experienced users. They cannot inadvertently leave the computer more vulnerable by disabling real-time protection or altering other configuration options which could weaken security.
While generally a good thing, it can also lead to issues if there's a problem with the password stored by the software. Avast Antivirus and Internet Security is one such range of software that has this ability and has been able to restrict unauthorized users from changing its settings for some years. This is done by setting a password to protect the required areas of the program, then anyone else trying to access a protected area is greeted with a password authorization dialog.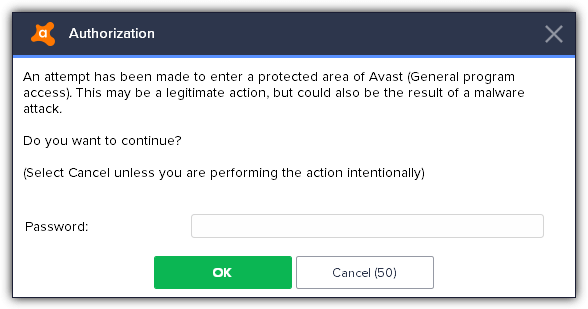 The authorization window will darken the rest of the screen and show just the password dialog.
An attempt has been made to enter a protected area of Avast. This may be a legitimate action, but could also be the result of a malware attack.

Do you want to continue?"
Cancel or enter the wrong password and you will be locked out of the areas selected for protection. There are several different parts of Avast that can be protected. Program settings, protection control, protection settings, scan control, scan settings, virus chest control, and backup/restore settings are selected by default when you check the option to apply password protection. The additional areas are update control and general program access. This last option will lock you out of the software entirely unless you know the password.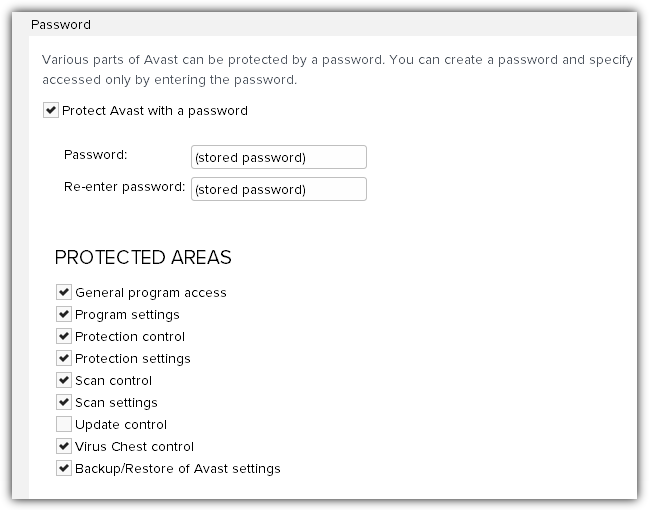 Back in 2016, Avast acquired AVG software for over 1 billion dollars so it now also owns AVG Antivirus and Internet Security as well. For 2017 AVG released a major update to its antivirus software. It now looks a lot more like Avast Antivirus with some functions also transferred over. The password protection function in AVG is identical to Avast's apart from some minor cosmetic changes.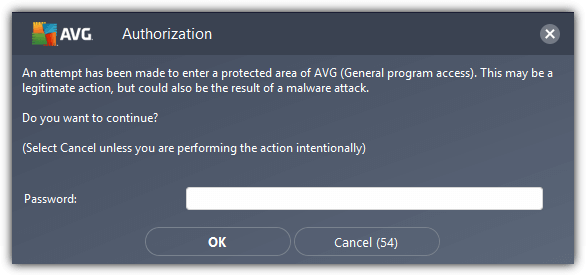 Over the years we've heard stories of users that have been locked out of Avast even though they claim to have known and entered the correct password. Whether you know the password is correct, somebody else has locked you out or you just can't remember what the password is, not being able to properly access the software can be frustrating.
To try and find a way around this issue, we analyzed Avast a while back and found out where the password is stored and how to remove it from the system. It will leave your Avast or AVG software free of the password lock. As AVG's password protection is identical, our methods to get around the issue are the same for both applications.
The Avast and AVG password is encrypted and stored in a file called
aswResp.dat
. All you need to do is to delete this file and the password lock is removed. Unfortunately, it's not that easy as the file cannot be deleted in Explorer. Even
file unlocking tools like Unlocker or IObit Unlocker
cannot delete aswResp.dat while the antivirus is running. It's not possible to kill the running antivirus processes because they are also protected. Most antivirus software prevents manipulation of its own files, and it's the same story here.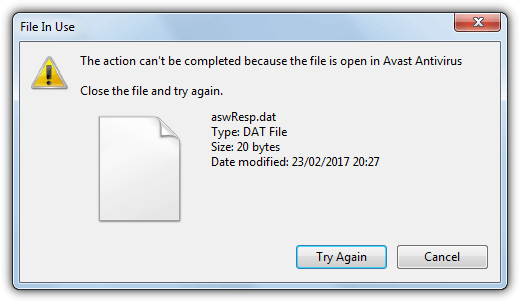 There are settings within the antivirus to disable self protection but it's more than likely you cannot change anything because of the password lock. The aswResp.dat file is far better protected than it used to be, so is harder to remove. Nevertheless, we still found a way to get around the problem and remove the aswResp.dat file in Avast, and now also AVG.
Deleting the aswResp.dat File in Windows
Here's the latest and most reliable method we have found to get around the password lock on Avast and AVG. This trick works on 32-bit and 64-bit versions of Windows XP, Vista, 7, 8.1 and 10. It also works on all Avast or AVG security software with the password protection option.
1. Download PowerTool v2. PowerTool is an advanced low level anti rootkit detection and removal tool that can remove even the most stubborn files. We have also used PC Hunter in the past but it is currently detected and blocked by Avast/AVG self protection.
2. Extract the PowerTool Zip file and launch the 32-bit or 64-bit version depending on your Windows version, administrator privileges are required. The program is portable and doesn't need installation.
3. Click the File tab and navigate to the following location using the folder tree on the left.
C:\ProgramData\Avast Software\Avast
For AVG:
C:\ProgramData\AVG\Antivirus
4. In the file list, locate aswResp.dat, it's often at the bottom of the list. Right click on it and select Force Delete File. Click Yes to confirm.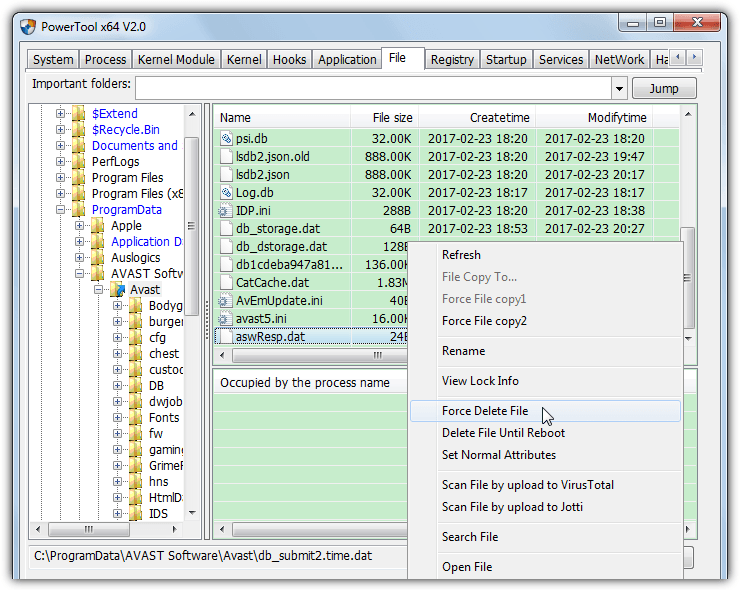 The file will instantly be deleted and with it the password locking you out of the antivirus settings. Open Avast or AVG from the tray icon and the password should be gone allowing you to access all previously locked areas.
To show how easy the process is, we have created a small YouTube clip for removing the password from Avast Free Antivirus. The process is the same for AVG and you only need the change the path in ProgramData.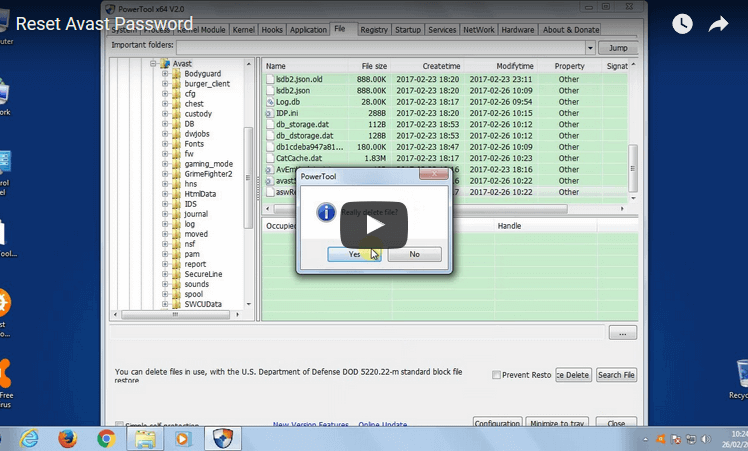 Important Note: PowerTool is an incredibly powerful program and could cause irreparable damage to your operating if used incorrectly. We strongly advise you use PowerTool only for following the guide above. Don't use any other parts of the program or delete any other files unless you know exactly what you are doing.
Manually Delete the aswResp.dat File
Another method is to delete the aswResp.dat file from within Safe Mode. Avast, AVG and most other antivirus applications are not active in Safe Mode. That means the file is not protected and can be moved or deleted easily.
To boot into Safe Mode, restart your computer and start tapping the F8 key until you see Advanced Boot Options. Select Safe Mode from the list and hit enter. If you can't get to Safe Mode yourself, there are some tools around that can do it easily for you.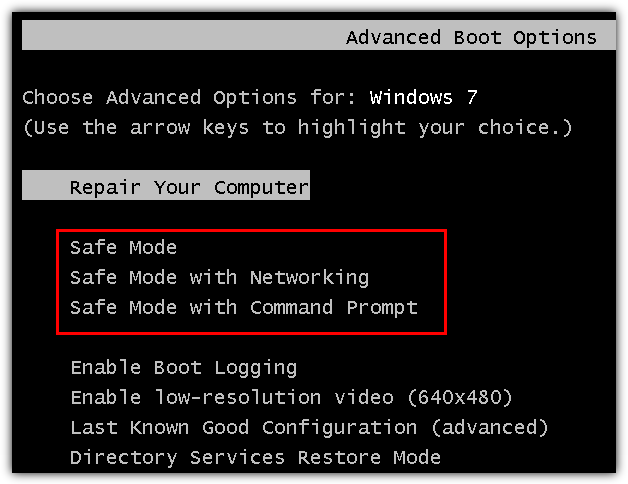 For Windows 8 and 10 users: Windows 8 and 10 can be a pain when trying to get to Safe Mode using F8 because the timespan for pressing the key has been reduced to virtually zero. An easy solution is holding Shift while pressing Restart. Then click Troubleshoot > Advanced options > Startup settings > Restart. Finally, on reboot press 4, 5 or 6 to enter the desired Safe Mode option.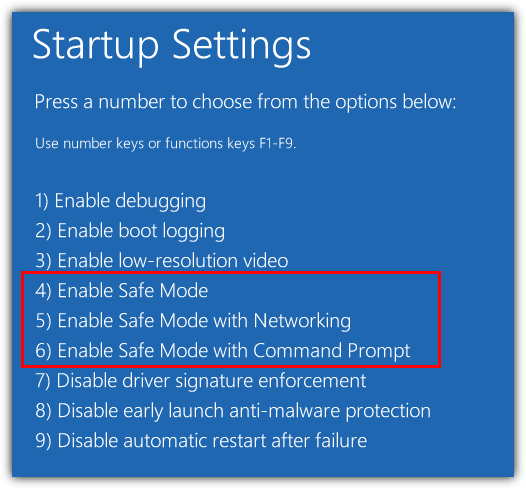 This is a one time Safe Mode boot unlike MsConfig which will repeatedly boot into Safe Mode until you turn the option off again.
1. When you're in Safe Mode, navigate to the respective antivirus folder.
C:\ProgramData\Avast Software\Avast
For AVG:
C:\ProgramData\AVG\Antivirus
2. Delete or move the aswResp.dat file to another location.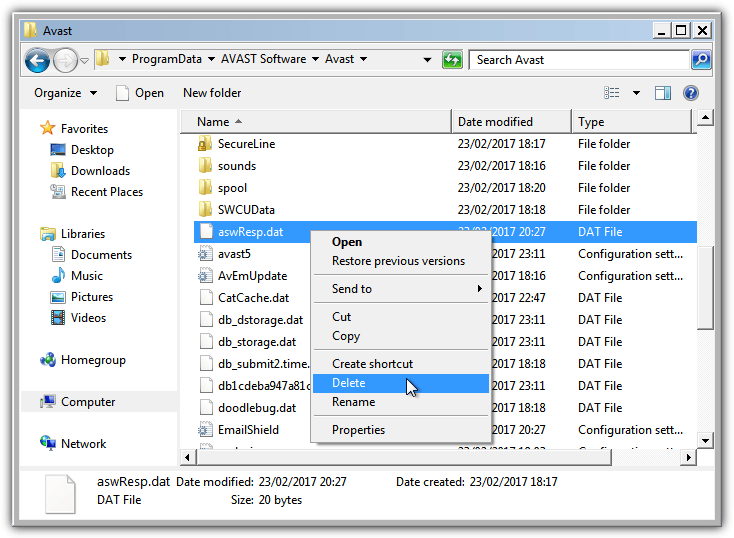 You will need to enable show hidden files in Folder Options first if your Windows isn't already
configured that way. Go to Control Panel > Folder Options > View tab > select "Show hidden files, folders, or drives". Alternatively, copy and paste the path above into your Explorer address bar to be taken straight to the folder.