3 Tools to Search for Torrents on Multiple Tracker Websites
Almost everyone with a computer has heard of Bittorrent and how this peer to peer file sharing network continues to be one of the main sources for users to get nearly any type of files they are after. Huge amounts of the total internet traffic around the world is actually taken up by Bittorrent P2P traffic and whether you're after legal files or otherwise, torrent tracker websites are available for you to get what you want if you know where to look.
Torrent tracker websites only host the .torrent file which you download and load into a torrent downloading program such as uTorrent, although some users prefer to store large files on cloud torrent sites. All pieces of the files you download are received from other users you're connected to which is why you should always use an extra layer of protection such as PeerBlock to filter out any undesirable connections.
The problem arises when you go on the web to search for a particular torrent file, many of the search sites often have fake files, are full of popups, contain adware or malware, or have been shut down. And then you might run into region restrictions on certain sites like The Pirate Bay which may mean you can't get onto the site from your country without using workarounds such as a VPN.
One of the go to tools for searching for torrent files from your desktop used to be Torrent Harvester which could search over 100 torrent tracker sites for your files. Sadly the project has been dead for a few years and its list of tracker sites is completely outdated while also not being fully compatible with newer versions of Windows. Thankfully there are a few alternatives available that are a bit more up to date and allow you to search more recent sites, here's 3 for you to try out.
1.
Bit Che
Bit Che is a quick and simple tool that searches a number of popular bit torrent sites. Although the application itself hasn't been updated since 2008, the scripts which contain the information about the trackers is more up to date although not totally new. There is a beta version 2 currently in development which you can test out and have a look at in the Bit Che forums.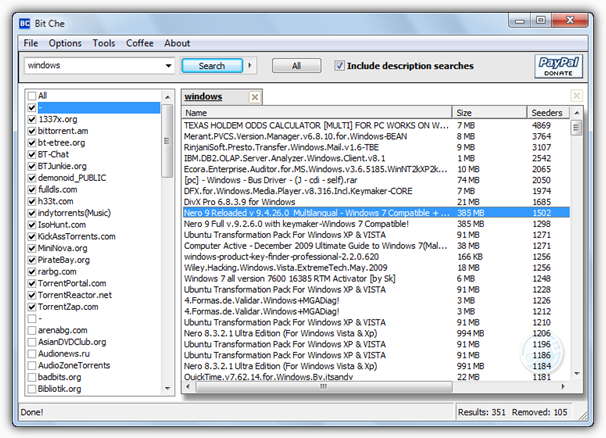 Once you've install the program and entered your search term the list of available torrents will be shown, 0 seed torrents, duplicates or similar torrents can be filtered out. The tracker sites can be viewed by pressing F2 and switched on and off by using the tick boxes. Right clicking on a tracker site allows you to go to its website and if there is a problem with the search, you can edit the search script if you have a bit of experience.
The number of supported trackers to search for torrents is quite large at around 60 sites, but about two thirds of them are registration only sites and 20 or so are free for everybody to search through without going to the related website to create an account. Luckily these registration sites are disabled by default so you don't have to worry about it. There are a few more sites supported that aren't included in Bit Che by default such as adult torrent tracker websites. To obtain these scripts and possibly find updates or new additions to current scripts, you need to sign up to the Bit Che forum, and look for them there.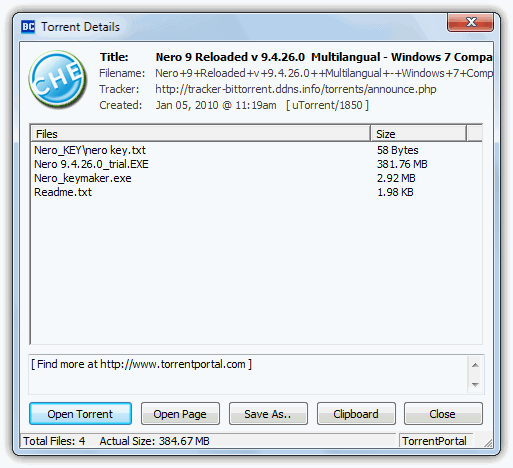 Something which is quite a useful feature is double clicking on an entry in the list will bring up a window where more details about the torrent are displayed such as the files inside it and their size, as well as buttons to open the torrent directly, save to your computer or go directly to the torrent file's webpage webpage on the tracker site.
---
2. Torrent Search
Torrent Search is quite a straightforward tool to use for torrent file searching and is reasonably if not totally up to date meaning the sites that can be searched have a fair chance of being online and available. It doesn't have that many searchable tracker sites but hopefully it's a case of quality of quantity with more searches working than not. Torrent Search is also compatible with the newer versions of Windows and is also cross platform with available versions for Mac OSX, Solaris, BSD and Linux.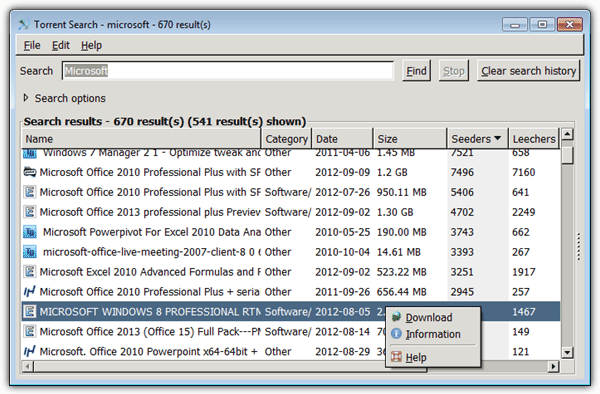 Around 30 tracker sites are supported although some are private meaning you need login details to include one in the search. Unfortunately even this list of trackers is slightly outdated with a few entries like Demonoid long gone. If you're feeling really adventurous new website plug-ins can be added manually with a bit of effort and current sites can be edited. Have a look at the plug-in development guide for more information.
To use Torrent Search simply install and run it, then type in your search term and click Find. After a minute or two you will get a list of results with information like the upload date, download size and number of seeders / leechers currently on the torrent. Right clicking or double clicking on the selected file lets you download the .torrent file or alternatively load it directly into your torrent downloading program.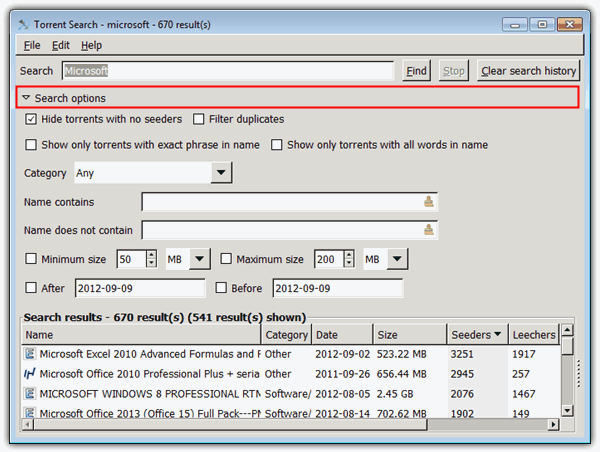 Clicking on "Search Options" will expand the window where you can add some useful filters to narrow the results list further, especially useful if you're searching for a very generic term. Options like "Hide torrents with no seeders" and "Filter duplicates" are useful to hide the useless and repeat entries, date and download size are helpful if you want a new torrent or don't want to start downloading anything too big.
---
3. PeerSpider
PeerSpider is a BitTorrent searching tool that allows you to search multiple torrent sites from one single program but it does things a little differently than the other tools. Instead of showing the results of a search in a list, PeerSpider includes its own integrated web browser and each site you include in the search is displayed in a Chrome like browser tab allowing you to view the results from each search engine individually. It's a bit like opening 20 torrent search engines in your browser at once and they are already searching for the term you have entered.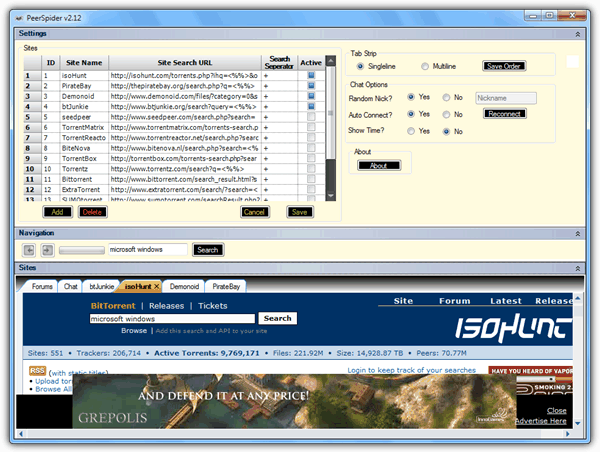 The program is a standalone portable executable and requires the .NET Framework v2 or above to be installed on your system. It's a good idea to use a dedicated folder for the program and not the desktop as it creates some database files in the same location.
There is a default total of 16 torrent sites to choose from although because the program hasn't been updated for a while, we found 6 of the sites aren't available any more. Sites are easily enabled or disabled by ticking on them in the Active column and clicking the Save button.
Searching for torrents is quite easy, all you have to do is enter your search term in the Navigation box and click the Search button. Once the search is complete, a tab for each chosen torrent site will appear in the browser with the search results. It's up to you to then go through each tab and find what you're looking for. This method is less efficient as opposed to Torrent Search and Bit Che because they do a lot of the hard work for you and collate everything into an easy to read list.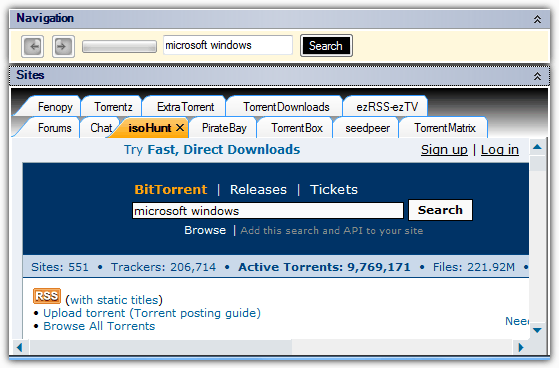 Where PeerSpider does excel though is the ease at which you can add your own sites or editing the listed sites already there. Simply take the search query URL from the site you want to add and then replace the search string inside the URL with <%%>. For example, to add BitSnoop its search URL would come out as "bitsnoop.com/search/all/zzzzz/c/d/1/" assuming you perform a search for zzzzz. Then simply add it to PeerSpider and replace zzzzz with <%%>

When a new search is performed a tab will appear with the name you have given and the search results from the new site. This makes it quite easy to keep your own up to date lists and means you don't have to depend on the developers to keep updating the program with new tracker sites.