5 Free Driver Cleaner Tools [Best to Use in 2023]
Many computer users will know what a device driver is and what role it performs on your computer. Put simply, a device driver is a piece of software that lets a hardware device talk to Windows. If you don't have any driver or the correct driver installed, the hardware will not function because Windows can't communicate with it. That's why it's important to find the correct and latest driver so things can run more smoothly.
With so many different hardware devices out there, a vast array of device drivers exist, sometimes for the exact same piece of hardware. It's good practice to remove old driver software before you buy and install another hardware component. Most of the time this is not a problem and you simply use the software's own uninstaller. This works most of the time and you can carry on with the new hardware/software installation.
If you are having issues removing old drivers properly, you need to be able to get them off the system another way. Otherwise, driver leftovers can be a cause of instability or communication problems with new hardware. In more extreme cases, such as changing the type of hard disk controller, Windows may not boot at all and throw a blue screen of death.
Here we list a selection of free tools that will be able to help you remove older or unused driver files and registry entries.
Display Driver Uninstaller (DDU)
This free and portable program has become one of the most useful and popular tools for manually removing Nvidia, AMD, and Intel graphics drivers. It is often recommended by tech websites and YouTube channels when troubleshooting display issues. Display Driver Uninstaller can also uninstall sound drivers from RealTek and Creative SoundBlaster although they are currently more of a work in progress.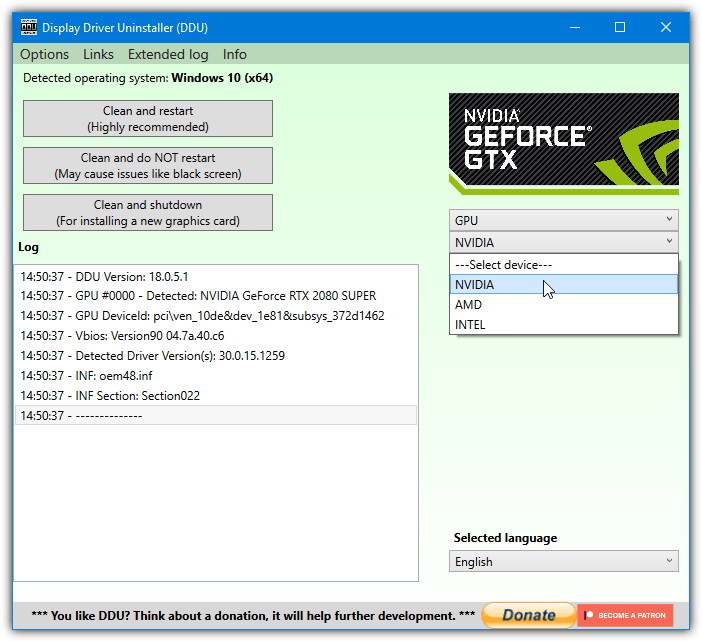 For best results, it is highly recommended to run DDU in Windows Safe Mode and remove the drivers from there. It still works from a standard Windows boot but is more prone to potential issues and may require a couple of reboots to clear all data. On the first launch, DDU will popup the settings window where you can opt to remove other driver data like PhysX, GeForce Experience, or AMD/Intel Control Panel.
Usage is quite easy. All you have to do is select the device type (Audio or GPU) from the dropdown menu on the right. Then select the manufacturer of your video card and press "Clean and restart". The "Clean and do not restart" option is not recommended.
Download Display Driver Uninstaller (DDU)
---
Driver Fusion
Driver Fusion is by the same developer as the old but popular Driver Sweeper and is essentially an updated and reworked version of Driver Sweeper. The biggest drawback is Driver Fusion is shareware and many features are not available in the free to use version. While the Driver Cleaner feature is in the free version, it is limited and purposely omits newer driver entries and cannot delete protected entries.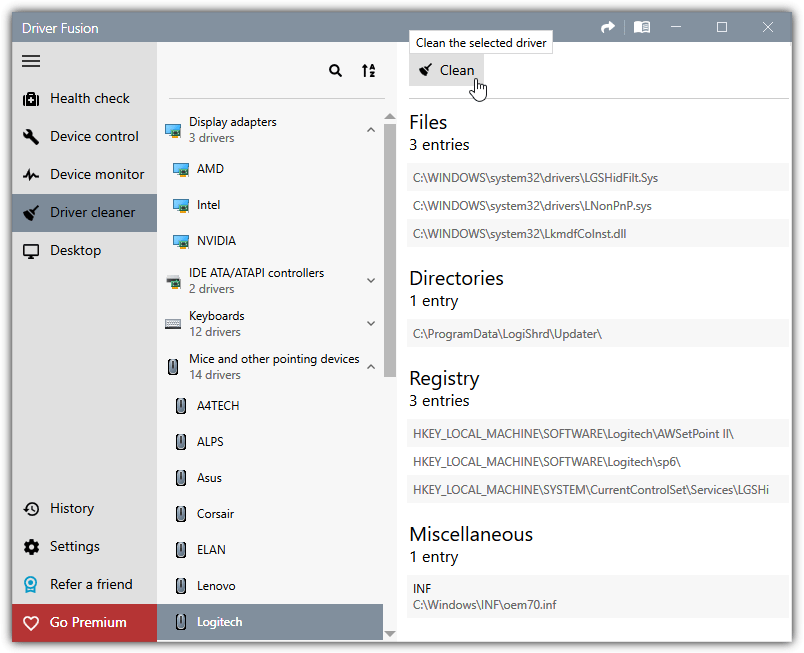 Usage is pretty simple and all you have to do is click on Driver Cleaner in the main user interface to get started. There are a number of preset categories for specific hardware manufacturers. Browse through the list, click on a manufacturer and it will then show any files, folders, or registry data that entry currently has on your system. Press Clean at the top to remove all the selected driver entries from the system.
The obvious issue with Driver Fusion is apart from the cleaning restriction of the free version, you are limited to searching for and removing only the device entries in its pre-defined list. If your device manufacturer is not listed, you are out of luck with this program.
---
Driver Sweeper
As we mentioned above, Driver Sweeper is the predecessor to Driver Fusion and hasn't been updated since 2011. As a result, it is more likely to miss files and registry entries left over by more recent driver software and you should try the newer Driver Fusion first. However, if you have an older system, or nothing else seems to work, Driver Sweeper still might be worth a go.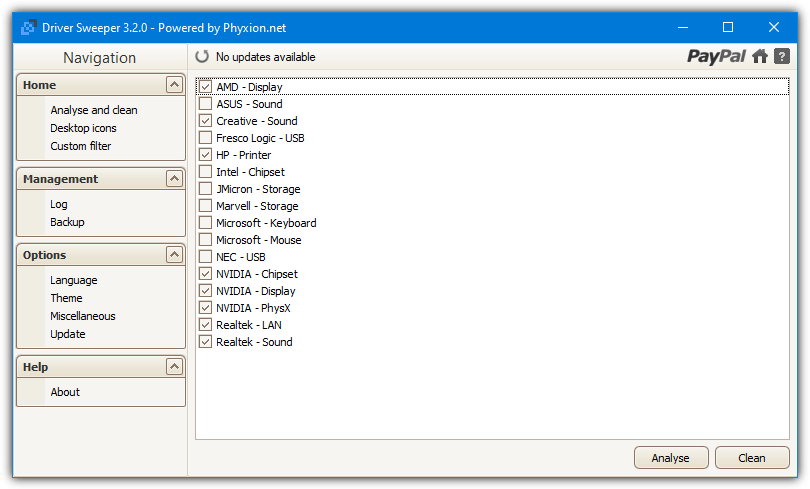 Driver sweeper has a total of 16 different entries in its list including AMD/Nvidia display, Asus/Creative/Realtek sound, Intel/Nvidia chipset, and HP printers. Put a check next to any entries you want to scan and press Analyse. If there is anything, it will be shown as a file, folder, or registry entry and you can select it manually or selectively with the filter button at the bottom.
Once you press Clean, a backup of the driver entries will be made so at least you can try to restore the data if you make a mistake. A rather oddball feature for a driver cleaning program is the Desktop Icon restorer. It will essentially backup the desktop icons and locations and restore them back at a later date. As we said earlier, use Driver Sweeper more as a last resort, not your first option.
---
Driver Talent Free
Driver Talent is a piece of software we've mentioned before for installing network drivers when you don't have an internet connection. This time, we are looking at the full blown software that is more of an application to update drivers, scan for faults, backup and restore drivers, and install from an offline source. Some functions are not available in the free version but the driver uninstalling feature does work.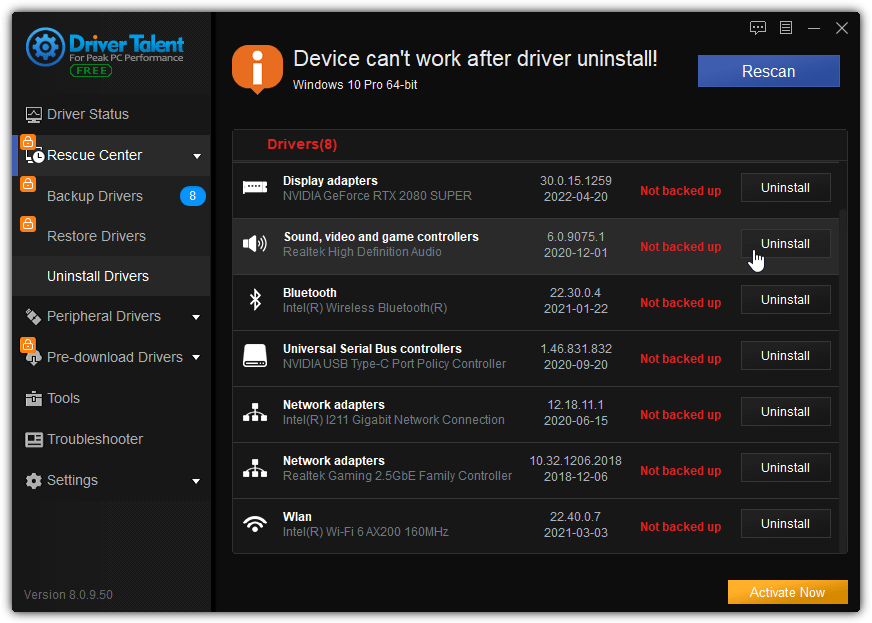 On the initial Driver Talent window, click Tools > Rescue Center > Uninstall Drivers. The window will populate the list with drivers that the program can remove. Simply click on Uninstall and the driver will be removed. Driver Talent will stay in the background unless you go to the Options menu at the top right and select Exit.
---
Windows Device Manager
Although the standard Windows Device Manager has barely changed in decades, it still works. With Device Manager, it is possible to remove hardware drivers and related data. However, this only works on some third party drivers and it won't give you the option on any drivers supplied by Windows. Third party drivers for Video, sound, network, and a few other categories should have the uninstall option.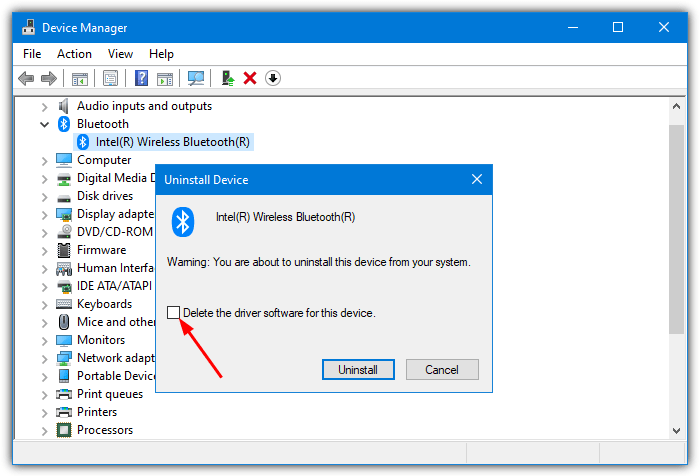 Launch Device Manager and find the device you want to remove. Right click on the device entry and select "Uninstall device". In the small window that pops up, you might see an option for "Delete the driver software for this device". Check the box and press Uninstall to remove the driver and related files/registry entries. This is a good option if you are trying different drivers for a device to find the best/most stable driver.
Final Note: There are a few other driver cleaning tools around but some of them are just too old to be of any real use. Driver Cleaner 3.3 is from 2004 while Diver Deleter 2.9 is from back in 2008. There is a recent tool AMD users might find useful, which is the AMD Cleanup Utility. It's from AMD themselves and can remove video/audio drivers and Radeon software. It will not remove AMD chipset drivers.