5 Ways to Remotely Access Apple Mac OS X from Windows
Controlling your Windows computer remotely using third-party software or the built-in Remote Desktop feature is easy. However, the options for controlling a computer running on a different OS are quite limited.
Although Windows computers dominate the market, many people still use Macbooks that run on OS X. You might want to connect your old Windows PC to a Mac to access some files or programs. 
Apple has its own remote access premium shareware called Apple Remote Desktop (ARD.) It comes with powerful features like software distribution and automation to perform repetitive tasks on remote computers. Unfortunately, it's designed for Mac to Mac and not cross-platform.
In this article, we will be sharing a few methods to remotely access Apple Mac computers from another computer running Windows.
How to Remote to macOS from Windows
1. RealVNC – Best for remotely accessing macOS from Windows overall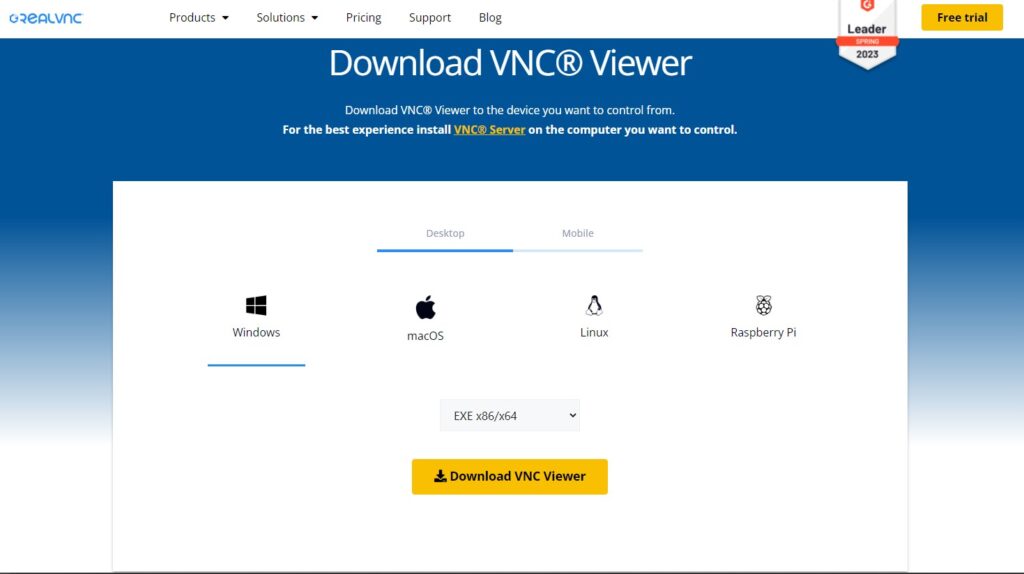 Operating System: Windows, MacOS, Linux, and Raspberry Pi
Pricing: Freemium
Developer: RealVNC® Limited
RealVNC provides server and client tools for remotely connecting to another computer's screen. It's great for people who require 24/7 oversight over their systems to attend to problems when they occur. 
You can use RealVNC to access your macOS computer from a Windows PC. It requires proper credentials, access to the internet, and having the software installed on both computers.
On the Mac, download VNC Connect and add your credentials after installing it. Second, download VNC Client on your Windows computer and verify the account from your email. A remote computer will automatically appear on your app screen. Select it to start controlling the device. 
You'll need to enter your desktop login credentials. Once logged in, you can control every aspect of the computer from your remote location.
Pros
With a stable internet connection, the app takes just a few minutes
Using the RealVNC server ensures your connection is secure
The company offers easy-to-follow tutorials to help you get started faster
Keep your organization connected, saving time and increasing productivity
Cons
Once your free trial is over, you'll pay to access the features
2. Remote IT – Great for connecting users and devices when other solutions fail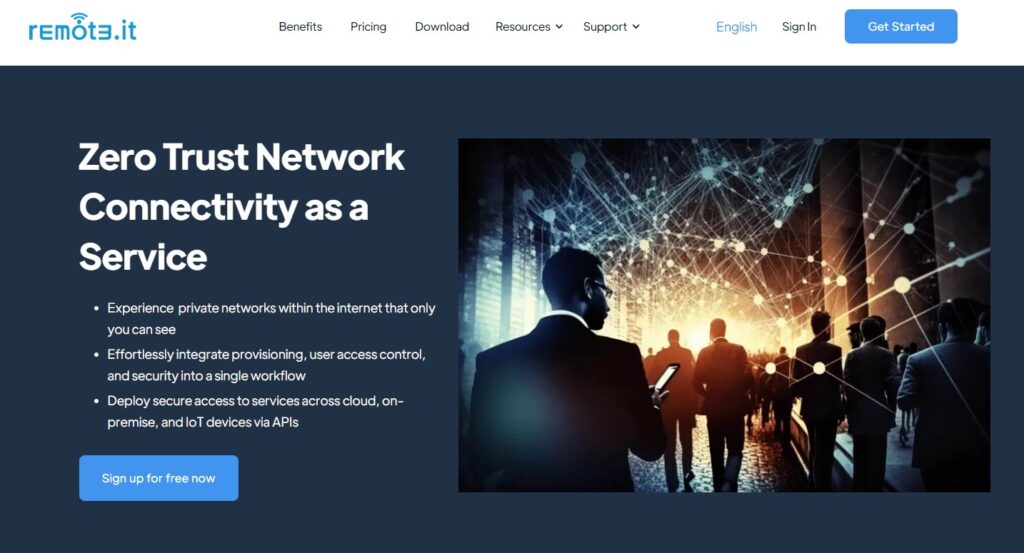 Operating System: Windows, MacOS, Linux, and Raspberry Pi
Pricing: Freemium
Developer: RealVNC® Limited
Remote IT helps you connect computers using your browser, desktop, and mobile like they were on the same local network. Getting started with the application is free. It uses a private network to enhance security and provide better performance.
You can use Remote IT to connect to an endpoint or device, even if you don't have the software installed on the target computer. It offers the option to connect to AWS, Mac, Windows, RasberryPi, Linux, Google Cloud, and Azure, among others.
To connect to Mac normally, download and install the software on the endpoint, register the devices, and add the services you'd like to connect to on port 5900, including SSL, Terraria, and RDP.
Navigate to System Preferences > Sharing and click the box next to Screen Sharing. Click on Allow Access for All Users and exit the window.
On your Windows PC, install any VNC client and open the Remote IT desktop app. The target computer should appear on your desktop under the devices tab. Click on it, log in, and start controlling the computer.
Pros
The application offers a free plan for non-commercial usage
You can connect to up to 2000 devices with access to all features
Connect using a private network with advanced security
Embed Remote IT on small IOT devices where you cannot install VPNs
Cons
You need a third-party VNC client to use it
3. TightVNC – Open-source tool for remotely connecting to computers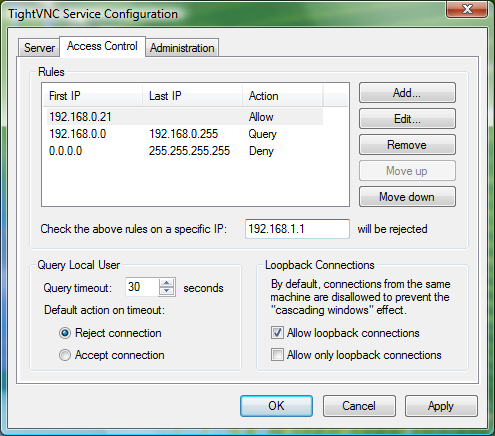 Operating System: Windows, MacOS, iOS, and Android
Pricing: Free
Developer: GlavSoft LLC
TightVNC is a free and open-source remote desktop software for accessing and controlling other computers using the internet. It's made for Windows and Linux, but a commercial license is available for Mac users.
After Screen Sharing your Mac computer with other users, you can use a tool like TightVNC on Windows to connect remotely. First, enable screen sharing then enable a VNC password on your Mac.
Next launch your TightVNC app on your desktop. Type in the IP address from your Mac computer displayed in the Screen Sharing window and click on Connect. Enter your macOS login credentials and start using the computer.
Pros
The software is free and open source to use
You connect to the computer directly using the internet
TightVNC does not require you to create an account
The application requires minimal configurations
Cons
The connection is less secure compared to other options
4. TeamViewer – Great remote access software for remotely connecting computers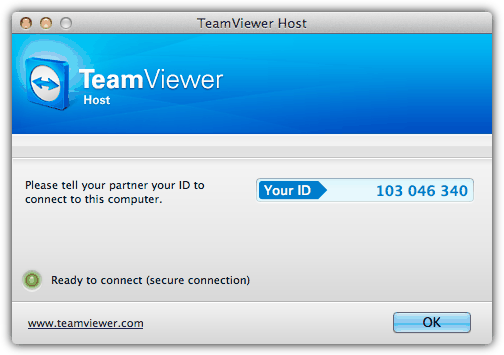 Operating System: Windows, MacOS, Linux, Chrome OS, Android, iOS, and Raspberry Pi
Pricing: Freemium
Developer: TeamViewer
TeamViewer is a popular remote access software commonly used to provide remote support. It's easy to use and comes with compelling features such as file transfer, switch sides, conference calls, VoIP, and screen recording. The app works on multiple operating systems, allowing you to control a Mac OS X system from a Windows computer.
You will need to download and install the "HOST" version of TeamViewer on the Mac computer that you want to remotely control. As for the Windows computer that will be controlling the Mac computer, simply download the TeamViewer full version, and install and run it. Enter the ID followed by the password and you're able to connect to the OS X machine. The ID will not change and always stay the same on the machine.
The TeamViewer Host options can be accessed by clicking on the TeamViewer icon at the menu bar and selecting Preferences. You can change your password, configure the voice, microphone, phone conferencing, access control and etc.
Pros
The software does not require installing an application on the host computer
You can screen record, transfer files, and make conference calls
It's most suitable for business usage and team collaboration
The tool is popular, so it's easy to find solutions to the more pressing problems
Cons
You might experience performance issues for slow computers
5. Zoho Assist – User-friendly remote control tool for quickly initiating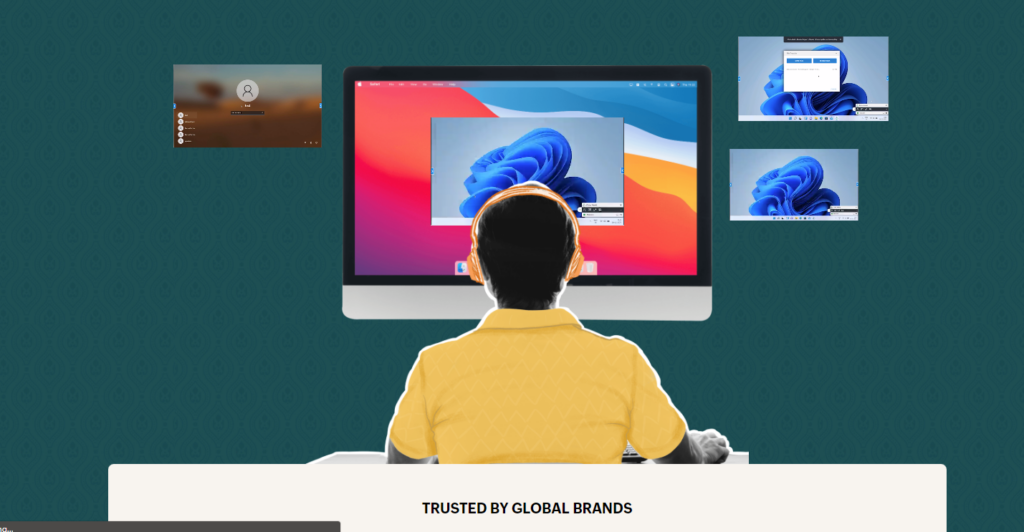 Operating System: Web-based
Pricing: Freemium
Developer: Zoho Corporation Pvt. Ltd
Zoho Assist is a user-friendly remote control application for initiating secure remote support and screen-sharing sessions. It assists you to get secure web-based control over remote PCs, laptops, mobile devices, and servers.
The software provides a Mac remote desktop software to help you access your Mac desktops and back-end servers. You get instant access to desktops so you can provide screen support to your customers anytime.
You must create a Zoho account, start a remote desktop protocol, and share your details with the host computer owner to get started. If you're the owner, create a session and join using your PC and remote control your desktop with ease.
Pros
The software offers a free account for personal use
Schedule a session at your convenient time or start now
When they receive an invite, users can download the shareware and start connecting
The session remains secure as you only share your ID with respective people
Cons
You need an enterprise license to access all features
6. AnyDesk – Excellent for managing remote desktop contacts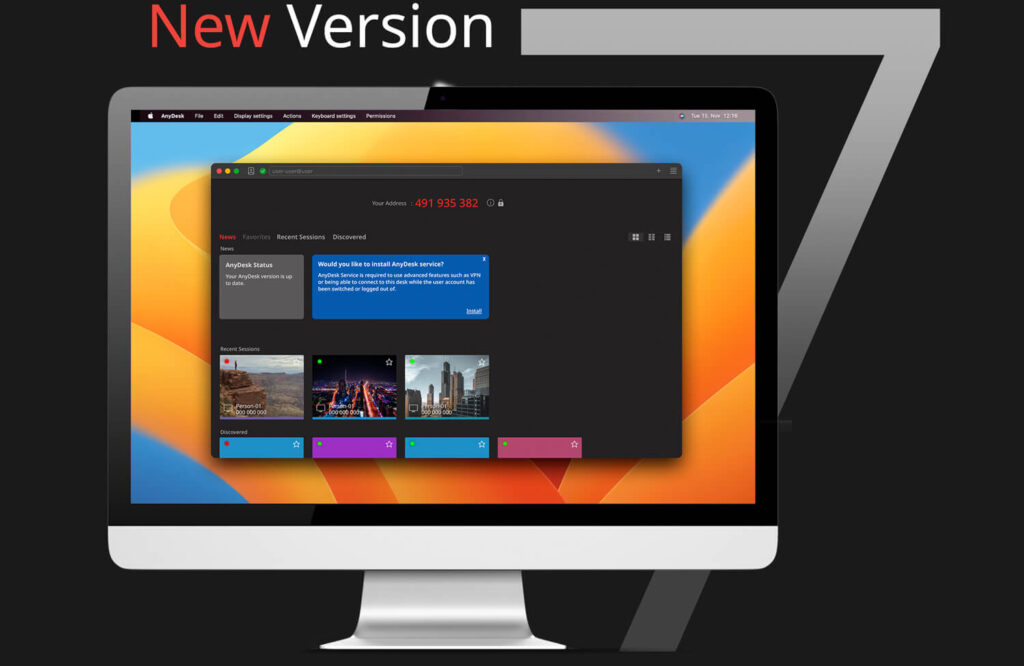 Operating System: Windows, MacOS, Android, iOS, ChromeOS, Linux, and Raspberry Pi
Pricing: Freemium
Developer: AnyDesk Software GmbH
AnyDesk is a remote desktop connection protocol application for managing remote contacts and customers. You can use the software to access personal remote computers or other devices running the app. 
You can use AnyDesk to connect any Windows computer to a Mac device. You don't require an AnyDesk application, but you may need third-party VNC tools. The most recommended tool to use alongside AnyDesk is Atera.
The tool will download AnyDesk automatically on the target computer and enable remote access on your behalf. Copy the given code and paste it into your AnyDesk platform.
Pros
It's easy to find and install AnyDesk on a device on the user's command
The system saves your previous sessions, so it's easier to connect to them in the future
It's easy to adapt the software to your company's needs
Most configurations are done for you by the AnyDesk app
Cons
The premium version can be expensive to use
7. UltraVNC – Great for connecting to a virtual PC or app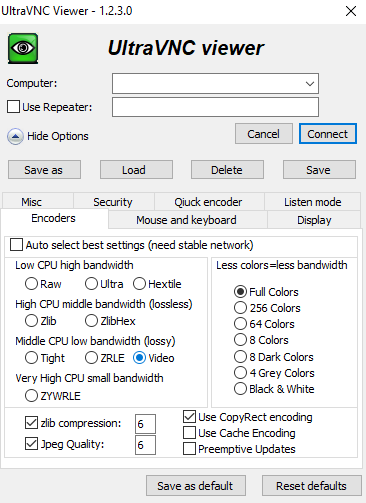 Operating System: Windows, MacOS, and Linux
Pricing: Free
Developer: UltraVNC Team
UltraVNC is a free and open-source remote administration or desktop control utility for Windows and Linux. You don't need to install it on your Mac PC as you can use system settings to share your screen. 
To get started, share your screen from the Screen Share preferences on your Mac computer. On the Screen Share screen, select the Computer Settings button and choose VLC Viewers May Control Screen With Password.
On your Windows PC, open UltraVNC viewer and enter your IP address, and select Connect. Type the password you created on your Mac and the app will connect you to your Mac in a few seconds.
Pros
UltraVNC is free and open-source so you can use it for life
Use your mouse and keyboard to control other computers
Great for connecting PCs in your local network
It comes with features not present on other free versions
Cons
Many companies consider UltraVNC a security risk
8. BeyondTrust – Best tool for accessing your desktop securely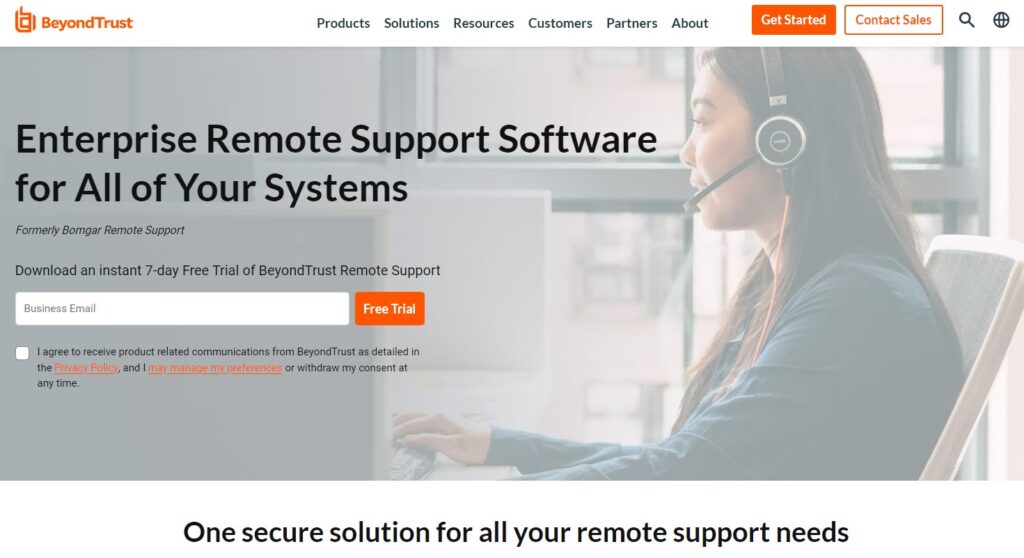 Operating System: Windows, MacOS, Linux, Chrome OS, and web-based
Pricing: Freemium
Developer: BeyondTrust Corporation
BeyondTrust is a company that develops many access management, identity management, privileged remote access, and vulnerability management programs. It ensures that access is managed, monitored, and privileged access. 
The platform supports access to Mac, Windows, and Linux simultaneous connections. You can also access your Android and iOS with screen sharing and remote control. The connections are fast, allowing you to manage unattended and grow your business securely with automation.
With privileged remote access, you can secure, manage, and audit team members' privileges without using a VPN. It brings all appliance-based security that usually requires VPN tunneling, port-forwarding, and firewall configurations.
Pros
Connect computers without the need for port-forwarding or VPNs
Screen share your Android, iOS, Mac, Windows, and Linux devices
See the screen of devices and control devices remotely
Manage a large pool of devices simultaneously
Cons
9. Chrome Remote Desktop – Great for remotely controlling another computer's desktop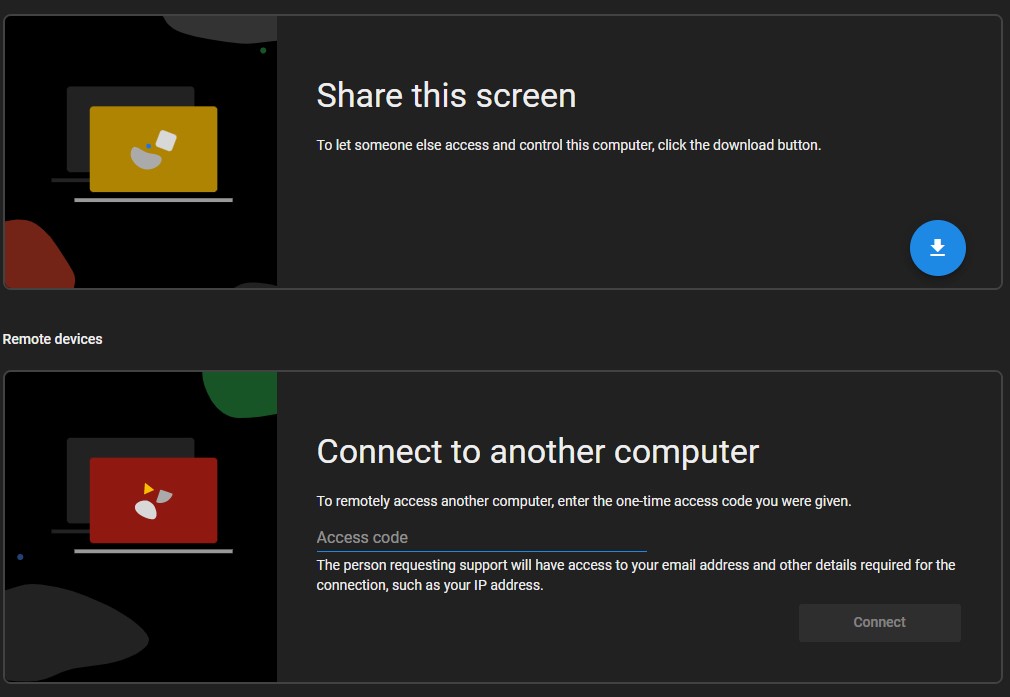 Operating System: Web-based
Pricing: Free
Developer: Google
Chrome Remote Desktop is a remote desktop software designed for remotely controlling another computer internally. You can install the app to access more shortcuts or use a web browser, which takes up less space. 
The downside of the software is that it gives the person connecting to your computer access to your IP and email address, among other critical information. However, if you own the device, then you don't have to worry about anything.
Pros
Allow another user to access and control your PC
Installing a Chrome extension takes a few seconds
Access another user's computer by entering a code
Set up SSH for remote computer connections
Cons
The tool will share your private information
Download Chrome Remote Desktop
10. LogMeIn – Excellent for working remotely with access to remote control tools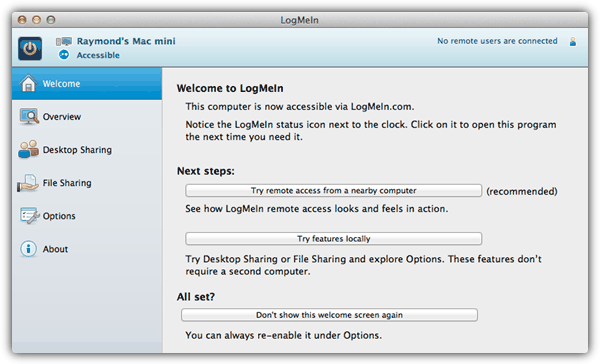 Operating System: Windows, MacOS, Linux, and Raspberry Pi
Pricing: Freemium
Developer: RealVNC® Limited
LogMeIn Free allows you to conveniently remotely control a Mac computer running OS X from Windows through its web interface or the Firefox plugin. You will need to create a free account and log in from the Mac computer.
Click the Add Computer button to download the LogMeIn Installer. After installation, you are able to access that computer from any other computer by logging in to LogMeIn. Do take note that the file transfer feature is disabled in the free version.
Pros
Remotely control a computer from a remote location
Access all your desktop files, programs, and information
Provide high-level customer support by visualizing the problem
Empowers your team to work from anywhere
Cons
LogMeIn is an expensive tool
How Do I Remotely Control Another Mac?
You don't need to install additional software to control another Mac remotely; you can remotely control it using your MacOS. To get started, navigate to the Apple menu > System Settings and click General in the sidebar.
Turn on the remote login and click the info button on the right. Next, click Allow full disk access for remote users checkbox on your panel, giving the other computer full access.
Conclusion
If you have multiple computers or workstations, you don't have to use one at a time. You can operate both computers simultaneously using the same mouse and keyboard. Try the above-mentioned tools to see which is most useful for you.
What do you think about the above-mentioned tools? Have a favorite app that you'd like to share with our readers? Share your thoughts in the comment section below.