6 Tools to Copy Damaged & Scratched DVD/CD [Best in 2023]
Discs are one of the best media that can be used for backup purposes because they are relatively cheap today. A CD-R can store up to 700MB of data while a DVD-R contains 6 times more space than a CD-R. Moreover, writing your files to discs as backup does have another advantage where the data are read only. This means that if you insert the disc onto any computer, no one including powerful virus such as Almanahe that infects executable files is able to modify or delete the files that are written to the disc.
The only problem with CD and DVD disc is it don't last forever and also it's sensitive. If the disc has your finger print or small scratches because of bad handling, chances are old disc players can't read the disc properly. As for most modern disc players, it has error correction and can usually read through fingerprints as scratched surface. That is why some players seems to get stuck on some discs while it plays perfectly on another.
However, if your disc player is unable to read your disc and you need to get back your data or photo from there, here are a few tools that you can use to try to get back your data before taking chances in some weird unorthodox methods such as using toothpaste, banana skin, candle wax or even flushing it in toilet bowl that may just damage the disc entirely!
Before you get to the list of programs that can help you recover data from scratched CD, I would like to explain to you how does all these program work. When a disc is badly scratched, that part or sector will become unreadable. If you copy the CD contents directly through the Windows 7 copy and paste function, you will definitely get an error saying "
Invalid MS-DOS function
", a very generic error message that doesn't even tells you that there is a problem with the disc.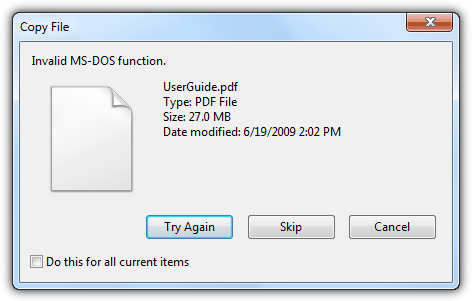 With the programs listed below, you can copy and keep the file till the last bit that it was able to copy without error. That means that it is able to copy whatever it can without giving you error message and stopping there.
1. Roadkil's Unstoppable Copier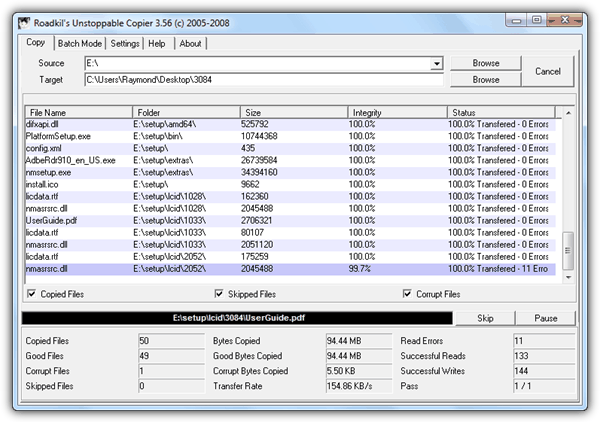 Roadkil's Unstoppable Copier simply copies without stopping even if the file is corrupted. All you need to do is select the source which is usually the drive letter that belongs to the disc, the target where you want to save the files to and click the Copy button. There are some advanced functions such as the Batch Mode where you can copy multiple locations if you do not want to copy from the root of the disc. The settings tab allows you to switch the language of the user interface, skipping damaged files, keeping file attributes and etc. It is recommended to keep the slider at the default location which is the Best Data Recovery instead of fastest which beats the purpose of this utility.
Download Roadkil's Unstoppable Copier
---
2. CD Recovery Toolbox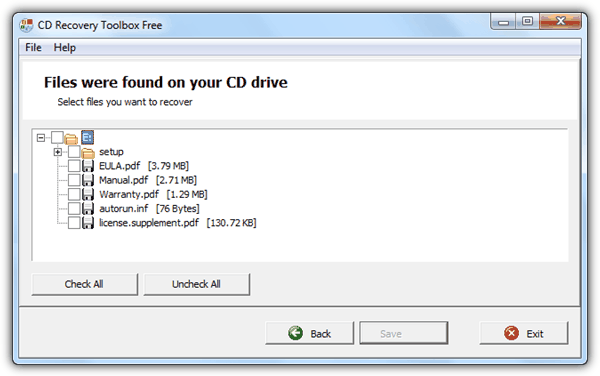 CD Recovery Toolbox is probably our favorite tool because it is free, very easy to use through the wizard style interface and seems to copy faster than the rest. To copy unreadable files from your CD, run the program, select the CD/DVD drive which is automatically listed, followed by the target directory where you want to store the files, and finally it gives you the option to select the individual files or folders to recover by ticking the checkboxes.
---
3. IsoPuzzle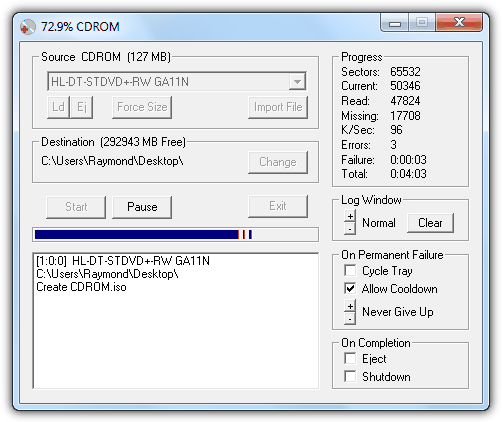 IsoPuzzle is slightly different from the rest because it tries to backup the whole disc by creating an ISO image but with an additional capability of copying files that Windows cannot copy. It is a really simple and no brainer disc recovery software. Just enter the disc, select the destination of where the recovered files should be saved to and click the Start button. You will be prompted to save the ISO file before it starts copying. IsoPuzzle is portable, requires an additional WNASPI32.DLL file to be placed in the IsoPuzzle's directory and it doesn't support audio CD.
---
4. CDCheck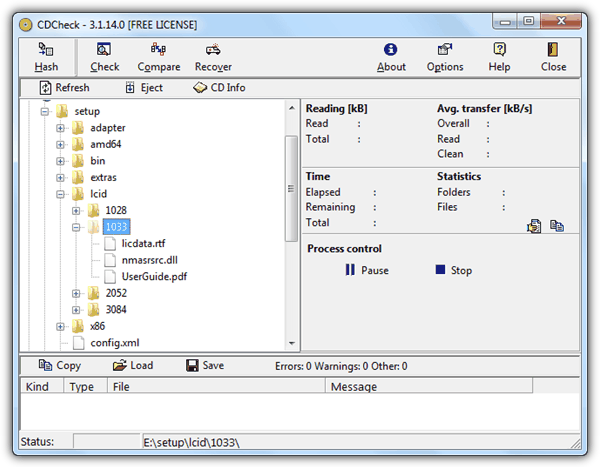 CDCheck is actually a shareware but is free for personal use. You can get your free license by requesting it from this registration page. CDCheck is also very easy to use where the program presents the file in a window explorer like interface and all you need to do is select the file or folder that you want to copy and then click the Recover button. A recover setup window will open allowing you to set the output directory and also advanced options such as the number of retries, timeout and skipping existing output file with matching file size. You can also use CDCheck to check if the files are valid and not corrupted by clicking the Check button.
---
5. IsoBuster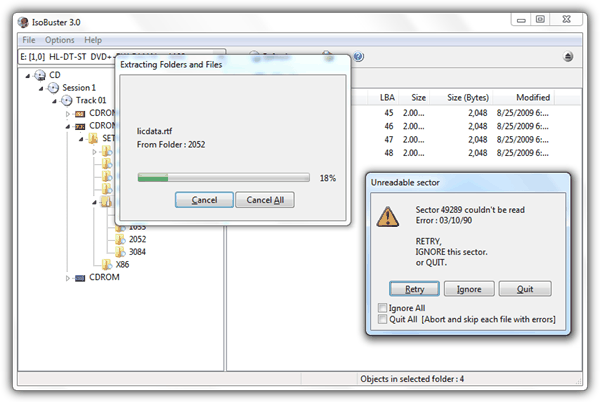 IsoBuster is an advanced tool that can be used to recover deleted files but it is also capable of forcefully copying files that cannot be read. A corrupted file may at least contain a partial of the original file which can be reconstructed with other recovery programs and it is definitely better than not having the file at all. IsoBuster is a shareware but you can opt for the use only the free functions. To recovery your file from an unreadable CD, right click on the folder that you want to recover and select Extract.
---
6. Dead Disk Doctor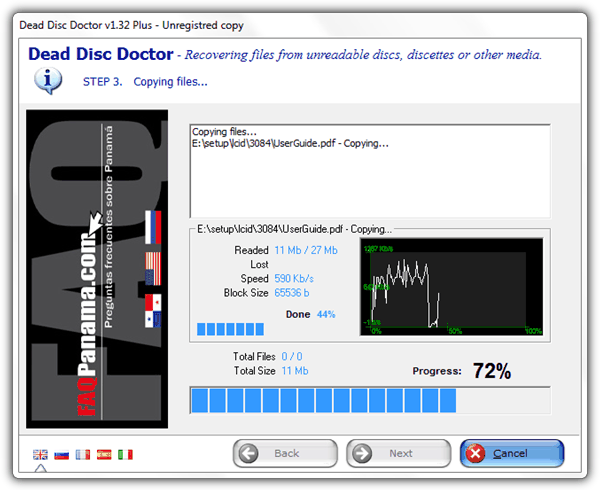 Dead Disk Doctor was featured on another article but we've decided to retest and merge it into this article since it tries to do what is discussed on this article. Dead Disk Doctor is also a shareware that has a limitation of allowing you to recover only 1 file from the disc. If you have multiple files to recover, you'd have to go through the hassle of doing it one by one. When we tested Dead Disk Doctor on one of our CD that is badly scratched, it suddenly quit and prompt a "Disc not ready!" error. Although it didn't work for us, but it is possible that it could work in some other different cases since every computer configuration is different.
---
If you've tried all 6 free data recovery tool for scratched, damaged or defective CD but still doesn't work, you can search for "scratch cd" in YouTube and take the risk by trying those weird methods to fix a scratched disc. Make sure you only try the method that has the most comment and also success rate. Don't ever take your chances if there are only a few comments on the YouTube video with the majority of it saying that it doesn't work, or else you would end up with a damaged CD that is irreversible.