Find & Recover Lost CD Keys for Any Game [Quick Guide]
A large proportion of computer games require you to enter a unique product key to play the game, which is what Windows and most applications require you to do. This is to combat piracy so you couldn't just copy a game CD and distribute it to all your friends. The problem has always been that if you misplace or accidentally throw away the CD case or box, the product key often goes with it. If you haven't yet installed the game then you have a problem as contacting the game retailer/publisher will likely be a waste of time. However, if you have already installed the game and entered a product key, all is not lost.
A large amount of games these days are purchased and downloaded online which isn't such a problem because your game serial numbers are stored either in an email or with the game service such as Steam or Origin, and you only need your username and password to retrieve them. But if you install a game from optical media, quite often the product key gets stored in the system registry, and as it's easily accessible, there's a good chance of recovering any previously typed in game serial.
A utility called
Game Key Revealer
has been designed specifically for the sole purpose of reading and recovering game CD Keys and Serials for installed games on your computer. The creator also has another tool called
SoftKey Revealer
which concentrates on recovering Windows and application serial numbers. Game Key Revealer is possibly the only free tool around to specifically look for and reveal game keys, most other tools are shareware and only show a few characters of the key unless you register.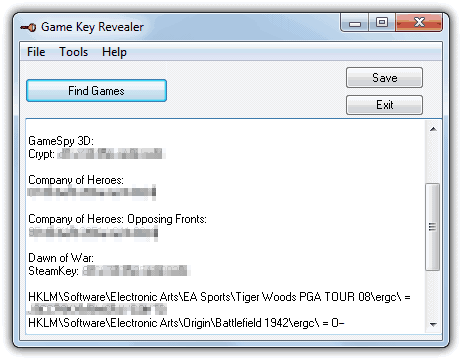 Game Key Revealer is only about 150KB in size and portable so you can run it without installing onto your computer. Just click the "Find Games" button to search for any game CD Keys on the computer and after a second or two, it will display the serials in the window. What you might also find is that there are keys listed which are from games you may have uninstalled ages ago, useful if you no longer have the key to hand.
You can save the found CD Keys in the list to text file (GameKeyRevealer.txt) in the same folder as the tool, open and copy the text directly to Word if you have it installed (File -> Copy to Word), or print it directly to your printer. The list of possible games it can find is pretty impressive, with over 2,000 currently supported. You can read the full list on the website to see if it can detect what you want it to.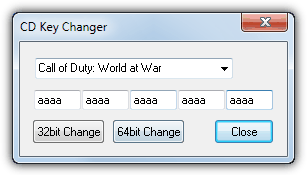 A useful option for around 20 older games enables you to change an already installed serial key for another one, handy if you download and install a game then later buy the legitimate product. Select Tools -> CD Key Changer, choose the game from the drop down and enter the new serial number. Then press depending on your operating system, "32bit Change" or "64bit Change". There is also a Refresh Rate Override tool, but you shouldn't touch this unless you know exactly what changing your refresh rate does.
Game Key Revealer works on anything from Windows 95 up to Windows 8.
There is another free key finding tool which can find a few game keys although on inspection, every game in its small database is already included in Game Key Revealer. But if you have a problem with Game Key Revealer, you might like to try Magical Jelly Bean Keyfinder, one of the oldest Windows/application key finders out there.
---
The last resort – If you can't get the game key you want from one of the tools above and you suspect it's in the registry, the last option is to view the registry yourself and look for it. Using regedit is usually only recommended for experienced users, but it's not a problem if don't try to delete, edit or create anything. Press Win key+R, type regedit into the run box and navigate to the following registry keys:
HKEY_CURRENT_USER\Software\

HKEY_LOCAL_MACHINE\Software\

HKEY_LOCAL_MACHINE\Software\Wow6432Node (64-bit only)
Then have a look for a key with a name of either the publisher (EA Games, UBISoft etc), the game developer (THQ, Treyarch etc) or the game's actual name such as Crysis or FIFA. Expand the key and look for anything that mentions or looks like a serial.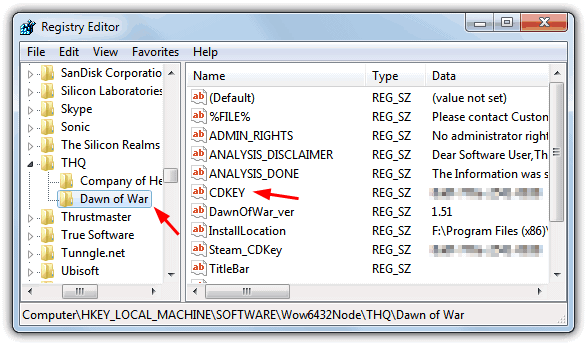 You can also search for the name using Ctrl+F but bear in mind any serials are unlikely to be outside of the 3 registry keys mentioned above. If you find what you're looking for, double click on the entry in the right window and the copy the data.