7 Best Programs to Check Color Code on Screen [2023 List]
Whether you're trying to get the right colors for your website or require an exact color value in a program or image because you would like to use it yourself, doing so by guesswork alone will probably not produce the most accurate results. Getting the colors to fit into you website's theme is quite important because sometimes even slightly wrong shades can make it look pretty unprofessional. A lot of web templates are fine, free or otherwise, but some of their color schemes leave a lot to be desired.
There are a number of tools around that can help you pick the exact color you're after, even programs such as Windows Paint have a color picking option. Obviously you could do this by taking a screenshot with pressing "Prt Scr" on your keyboard and then pasting it into Paint which will then give you the facility to pick the color, but this way is a bit crude and inefficient.
Now you can save all that trouble by simply picking a color on the page under your mouse and transforms it into a number of different color formats. Here's a selection of 7 completely free tools to help you accomplish the task. All tools here have been tested and work fine on Windows 7 64-bit.
1. ColorPix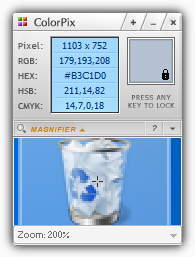 ColorPix is a small, simple and portable tool that grabs the color under the mouse pointer and displays the values for the color in RGB, Hex, HSB and CMYK. Clicking on any of those values will copy it to the clipboard. There is a function to magnify what's under the pointer by clicking the Magnifier button, which can zoom from 100% right up to 2800%. Once you get the color you want simply press any key to lock it in place and then the appropriate values can then be copied, another key press unlocks it again. The little plus sign in the title bar will keep ColorPix on top during use. If there's one criticism about this program, it's why did they have to make it so small!
---
2. ColorPic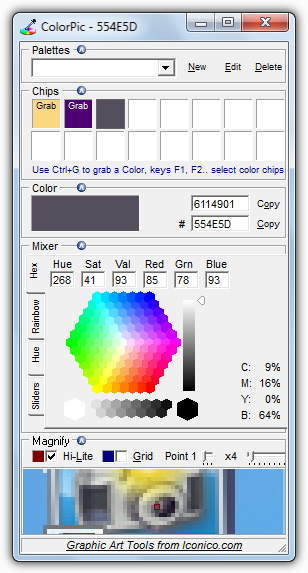 This is quite an advanced color picking tool, and in addition to capturing the color under the mouse pointer by pressing Ctrl+G, it also has the ability to create and edit different color palettes. There are 16 color slots (or chips as the program calls them) available for each palette. There are only decimal and Hex values available, but a useful button is called "Websnap" that converts your chosen color to the nearest web safe color. Plenty of mixing options are available to adjust shades and hues exactly to your liking, and the zoom can go up to 36x for precise control.
---
3. Just Color Picker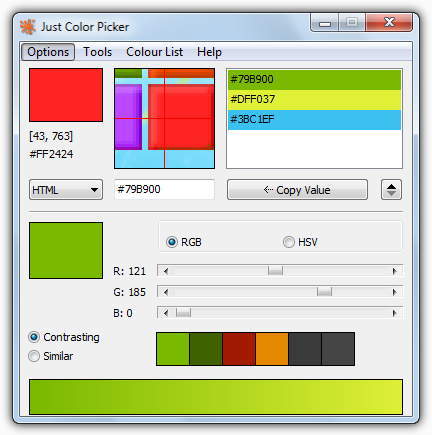 Just Color Picker is a straightforward tool to use and simply captures the color under the mouse pointer by pressing Alt+X which can be changed if you prefer another hotkey combination. Pressing the expand button (to the right of Copy Value) will display the gradient bar and color mixer with RGB and HSV sliders, and also a useful feature of providing contrasting or similar colors which is useful for web design etc. The color values can be displayed in RGB, HTML, Hex, HSV and HSL. Zoom goes from 3x to 15x and from the Tools menu you can also display some color wheels with triads and complementary colors. Just Color Picker is also a standalone executable.
---
4. Pixeur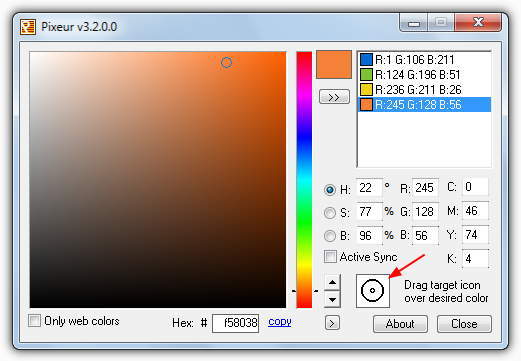 Pixeur is a simple and functional tool that displays the values for HSB, RGB, CMYK and also Hex values, although Hex and RGB are the only ones that can be copied directly to the clipboard. When you click and drag the target icon a zoom window will open in the top left of your screen for finer selection of the specific color. Every time you release the mouse button to pick a color it will be stored in the history box and the history can be edited, exported and imported again at a later time. Other useful functions are showing only web safe colors, a small color scheme window and the Active Sync tick box will change all the colors in the window in real time.
---
5. ColorMania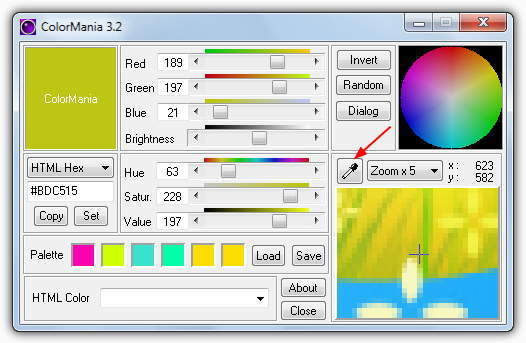 There are a lot of color mixing options available in ColorMania with multiple sliders for RGB, HSV and brightness, as well as buttons to invert the current color or choose one completely at random. And in addition to the standard color values of RGB and HTML etc, there are also some useful ones for programmers such as Delphi, VB and C++ Hex values. Simply grab the picker icon and drop it onto the desired color, the zoom window will go up to 20x. You can also load and save custom color palettes, and the HTML color codes in the drop down can be used directly in CSS and HTML pages (eg. color: aqua;).
---
6. pkColorPicker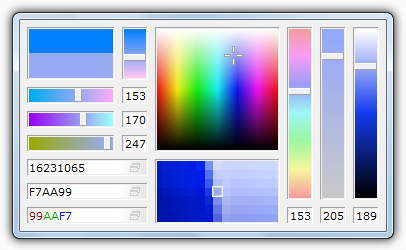 pkColorPicker is definitely a tool which is geared towards the professional or experienced users because there is very little in terms of descriptions or text buttons on the interface. Although the sliders don't tell you what they are, it's obviously pretty self evident because you can see the which color you're sliding to or away from. The color values are decimal, Hex and RGB is at the bottom, there is a tiny icon in each which will copy the value to the clipboard. Clicking in between the sliders or on the tray icon will bring up some options and is also how you actually shut the program down in case you were wondering!
---
7. Color Picker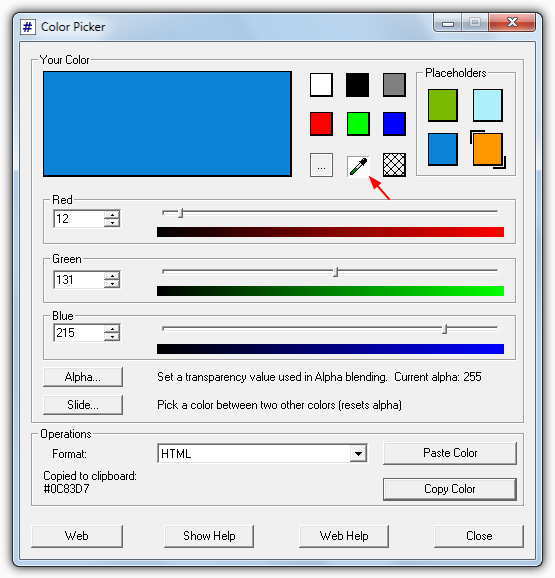 Color Picker is a simple and portable tool which allows you to grab a color using the drag and release procedure of the picker icon, but is not as accurate as other tools because there is no form of zoom function. There are 4 placeholders for storing temporary colors and also a named color window (the … button) where you can choose from over 100 preset colors complete with web friendly names. A couple of useful functions are the Alpha blending slider and also a number of color values for programming such as C++, Visual Basic, .NET, Java etc. A bitmap option will also copy an 8×8 pixel image of the chosen color to the clipboard.
Final Note: For quick and simple color picking, ColorPix is a useful tool because it's small and portable. Pixeur and ColorMania are both good tools for slightly more advanced use although all tools listed here function perfectly fine and do the job as intended.