5 Best RAM Benchmark Test Software & Online Tools
Stress testing is the best way to evaluate RAM performance. Since it overclocks RAM to a higher frequency, users can easily examine how it performs under high voltage and temperature. On top of that, stress testing provides the benchmark for RAM that can be used as a reference. In this article, we'll walk you through the 5 RAM benchmark test software to help you compare RAM performance with similar computers. Without any ado, let's dive into the best tools for checking RAM health.
Best RAM memory speed benchmark tools

Software

Best For

Top Features

1. AIDA64 Extreme

Gathering accurate temperature, voltage, and fan speed readings.

Supports overclocking.

Provides complete information about all the installed applications.

It offers many benchmarks to measure the performance of individual hardware or an entire system.

Ability to reveal complete information about computer internals without opening them.

An extensive hardware database strengthens the hardware detection module.


2. MemTest86

X86 and ARM Computers

Supports all RAM types, notably DDR3. DDR3, DDR4, DDR5, SODIM, XMP, ECC.Support login and report generation.

Provide Options to disable CPU caching for all or individual tests.

Stress test RAM for endurance, reliability, and scalability.

Packed with a configuration file to allow users to set their parameters.Support for extended memory profile.

3. RAM Test

Detecting CPU instability-related issues.

Easy-to-use GUI with mouse support.

It offers portability, so the users can run it anywhere by inserting the USB flash drive into their device.

Optimized code paths for AVX/AVX2 processors.

Play a beep sound when an error is detected.

Automatically stops testing when an error is detected.

4. MemTest64

Testing memory without using the boot disc.
MemTest64 can flawlessly detect bad sectors of the memory.

Ability to sync the speed of RAM with the frequency of overclocking.

Error detection rate is inversely proportional to the extent to which the RAM is damaged.

Thoroughly scan the RAM in 10 seconds.

5. Prime95

Stress testing the RAM, especially with system builders and overclockers.

It uses all the CPU cores to ensure a high-level stress environment.

It feeds the processor with a consistent and verifiable workload to test the stability of RAM.

Sensitive to computational errors and proactively reports them to the users.
AIDA64 – industry-leading RAM benchmark test software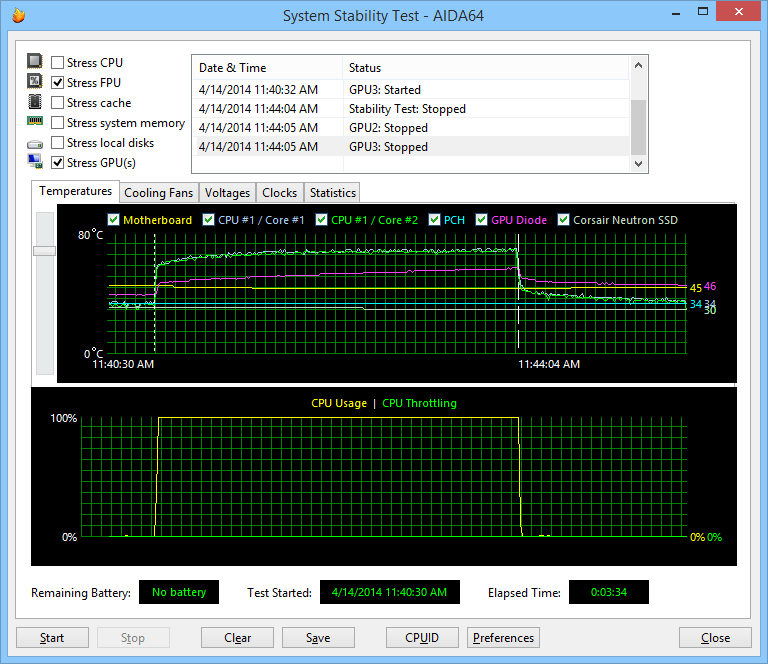 Supported OS: Windows, Mac, and Linux
Developer: FInalWire Ltd.
License: Free (30-day trial)
Required disk space: 60MB
This software is designed specifically for those who don't have sufficient knowledge of hardware components and stress testing. It lets the users perform RAM speed tests by performing intensive tasks like quickly reading, writing, and flashing operations. It examines RAM bandwidth and latency errors by leveraging the multi-threaded memory and cache paging. For this reason, MemTest64 enjoys the reputation of being the best free RAM benchmark software.
Pros
Compatible with both 32-bit and 64-bit Windows operating systems.
Provides complete information about the hardware configuration, software licenses, and Windows settings.
Fully support hard disk, SSD, and OpenCL.
Implements 64-bit benchmark to evaluate how fast the computer performs various mathematical calculations and data processing tasks.
Displays data on different LCD/VFD devices connected to the computer.
Compliant with all the PC processors.
Cons
User-interface is not intuitive.
Relatively more expensive than other tools.
MemTest86 – standalone memory testing software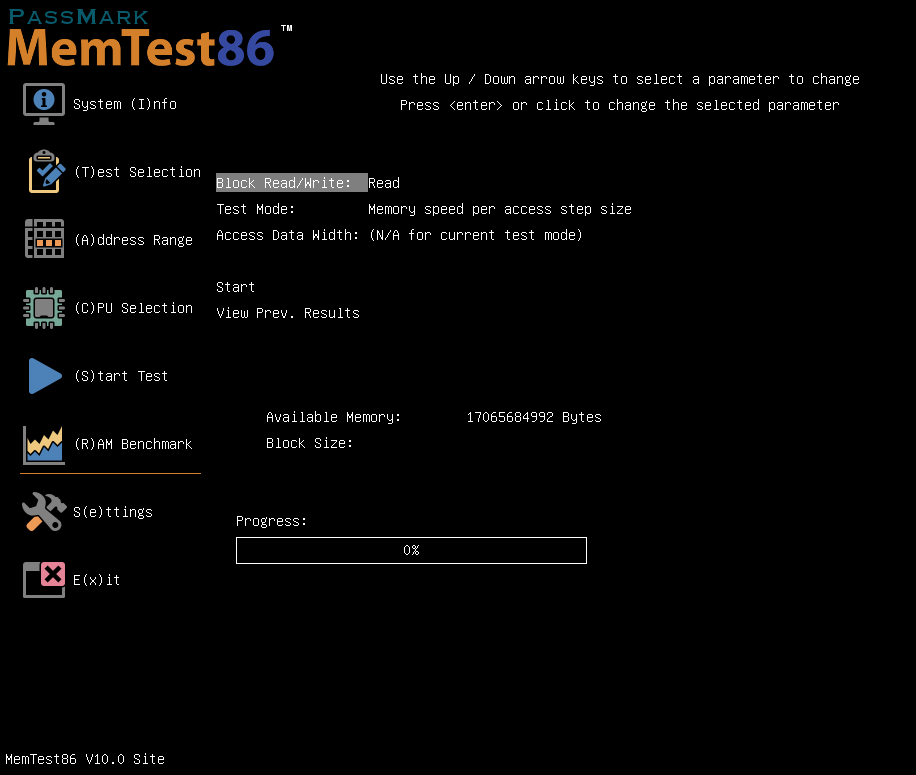 Supported OS: Windows, Mac, and Linux
Developer: PassMark Software.
License: Free
MemTest86 is one of the oldest RAM benchmark test software and hardware test tools available. It adopts a unique and innovative approach to scan RAM for errors. Unlike other stress test tools, it is a bootable program. Therefore, users must install it from a bootable USB device like they install Windows. Once installed, the tool executes different algorithms to check the RAM stability and identify faults.
Pros
Improved USB keyboard support.
Mac USB keyboards are supported in the latest editions of MemTest86.
Improved multi-threading support.
Allow users to compare the performance of their PC RAM with similar computers.
Enable users to evaluate the effect of hardware upgrades.
Equipped with 6 high-quality hardware tools.
No installation is required.
Cons
Novice users could not navigate advanced features.
No option for a disc program.
RAM Test – fast and reliable memory testing software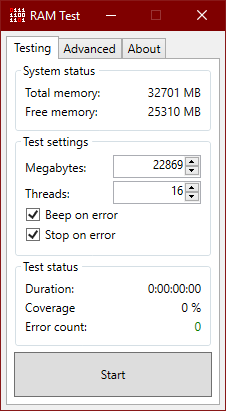 Supported OS: Windows, Mac, and Linux OS.
Developer: Karhu Software Oy.
License: Proprietary License Software
RAM Test comes with a standard GUI-based interface and a host of other compelling features. It allows the users to check how RAM performs after overclocking. Before jumping to any conclusion about system memory's stability, run the test for at least 10 minutes. Likewise, run the test for at least one hour to detect intermittent errors.
Pros
Supports up to 8 TB of RAM and 64 threads.
Enable users to optimize performance by setting the value of threads equal to processor cores in the system.
Unleash the random number generator function to improve performance.
Allows the users to gather important data such as test error count, test coverage, and test duration upon the completion of the test
Cons
The additional FPU (Floating Point Unit) will increase power consumption so that the users will observe a sharp temperature rise.
MemTest64 – best for overclockers who want to maximize memory performance.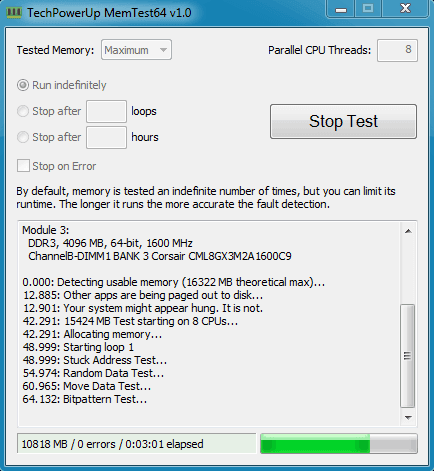 Supported OS: Windows, Mac, and Linux.
License: Freeware
Developer: Tech Power Up
MemTest64 is a standalone utility that lets users detect hardware-related issues. The utility pushes all the files into page files to evacuate memory for testing. Above all, it is a RAM memory benchmark tool compliant with Ryzen and Intel processors.
Pros
Users are not required to insert the DOS code or reboot the system.
Allow users to specify the amount of memory to be tested to minimize operational impact.
Harness different detection algorithms to check the RAM for any possible error.
Users are not required to log in with administrative privileges because all the errors will be identified immediately.
Cons
Since the utility uses 100% of the CPU, users will experience overheating of the CPU or memory during the evaluation period.
Power issues can hamper the software's ability to generate accurate results.
Prime95 – industry-leading online RAM stress testing tool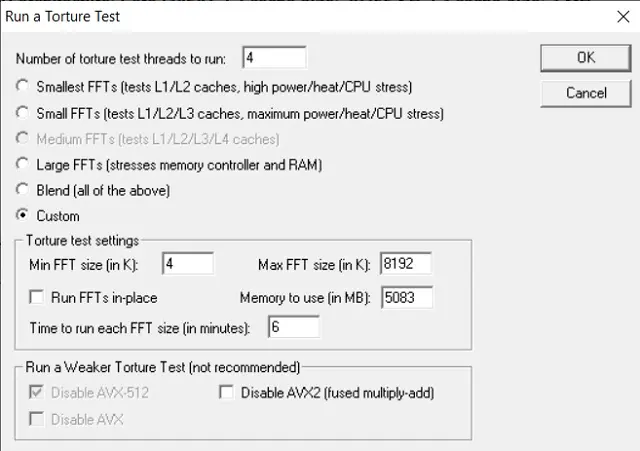 Supported OS: Windows (64 and 32-bit), Linux (32 and 64-bit), FreeBSD, and Mac.
Developer: Mersenne Research, Inc.
License: Freeware.
Prime95 is the preferred choice of users for stress testing RAM. The software has different modes, but you are required to select the blend testing for thoroughly testing the RAM. Above all, it is the best RAM benchmark test tool for windows 10/8/8.1.
Pros
Enable users to specify the number of tortures they want to execute.
Well-suited for overclockers as it allows them to check the stability of a particular configuration.
It provides the benchmark for the RAM so the users can share results with peers having the same system.
Cons
Technical expertise is required to unlock the full potential of Prime95.
How do I check my RAM benchmark?
Benchmarking is an easy process. All it requires is launching an application and hitting the go button. If someone is doing it for the first time, here are the steps to bear in mind to get the most accurate results.
Close all the unnecessary files before the test begins since it is a resource-intensive process.
Stay away from browsing the internet or typing something in the word document during stress testing as it will hurt the software's ability to produce accurate results.
What is the best RAM benchmark tool?
Picking the best RAM benchmark software depends on the users' requirements. However, AIDA86 is arguably the best benchmark tool for all users with different needs. It scans your RAM quickly and efficiently. When it is done, you'll see a results page showing the performance of RAM. Above all, it's a user-friendly tool to get a helicopter view of your RAM performance.
Conclusion
Sometimes, our PC suddenly crashes and starts displaying a blue screen of death (BSOD). These types of issues are closely linked with RAM performance. Therefore, fixing the RAM should be your top priority to prevent such problems from arising. Before users take corrective measures to fix the RAM, they must figure out the problem. The best way to analyze RAM conditions is by using the RAM benchmark tools.