10 Free File Lister Tools for Directory List & Print [2023]
Whether you need to do so for yourself or for someone else, there is sometimes a need to create a listing of the contents of a particular directory, set of directories, or a whole drive. With the size of hard drives today reaching multiple Terabytes, keeping track of all the stored files would be quite useful. It's quite easy to find out what files are taking up the most drive space but it's also handy to know what files are stored where.
There are very simple ways of getting a list of files in a folder without external software. One option is using the Windows command "Dir [folder] > File.txt" from the Command Prompt. However, messing around with console commands is not to everyone's liking and Dir is also quite limited.  Here's a selection of 10 free tools to save or print out content lists of the files inside your folders including to plain text file, an Excel spreadsheet, or an HTML document. All tools were tested in Windows 10 and 7.

1. FileListCreator
What makes FileListCreator a potentially very useful program is the number of available options in specific areas. It has several different file formats you can save to, including text file, HTML page, comma separated value file (CSV), Excel spreadsheet, and even image files (PNG, JPG, or BMP). FileListCreator has a portable version, is multi-platform, and free to use (donations are welcomed by the author).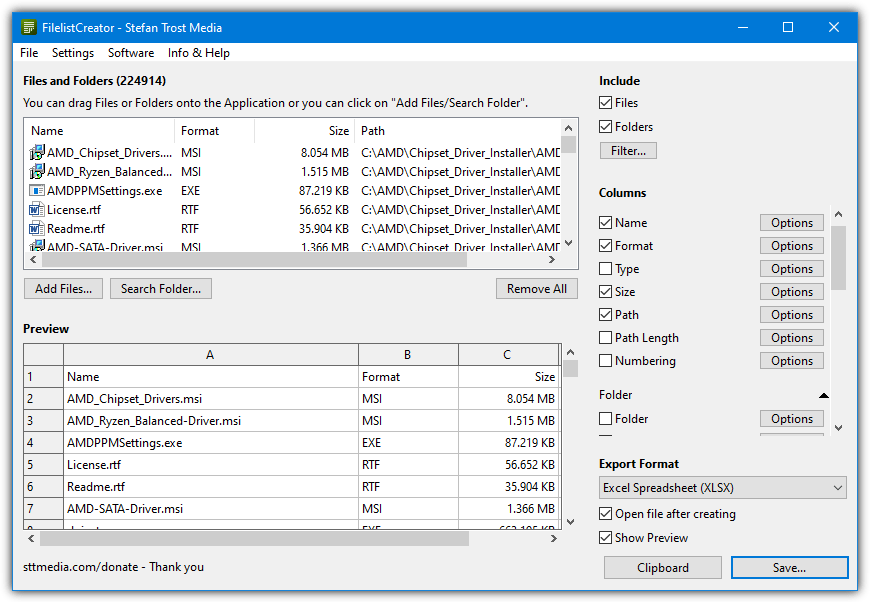 You can add multiple files and folders from different directories or drives by simply using the buttons or dropping them onto the window. The lower pane in the interface is a live preview of the output format which you can copy to the clipboard or save. There's a huge amount of columns you can add to the list including specific columns for images, audio files, video files, text files, documents, attributes, and checksums. Limited output format options such as fonts and colors are found in the Settings.
---
2. Snap2HTML
Snap2HTML is a portable tool that is able to generate a single HTML file that lists all folders and files from a predefined root folder. It's the one tool in this list we actually use ourselves to make content lists of external drives. What makes Snap2HTML so useful is it creates the most functional and visually appealing HTML file from any tool we've seen. It's very easy to navigate through the list of files and folders in your browser.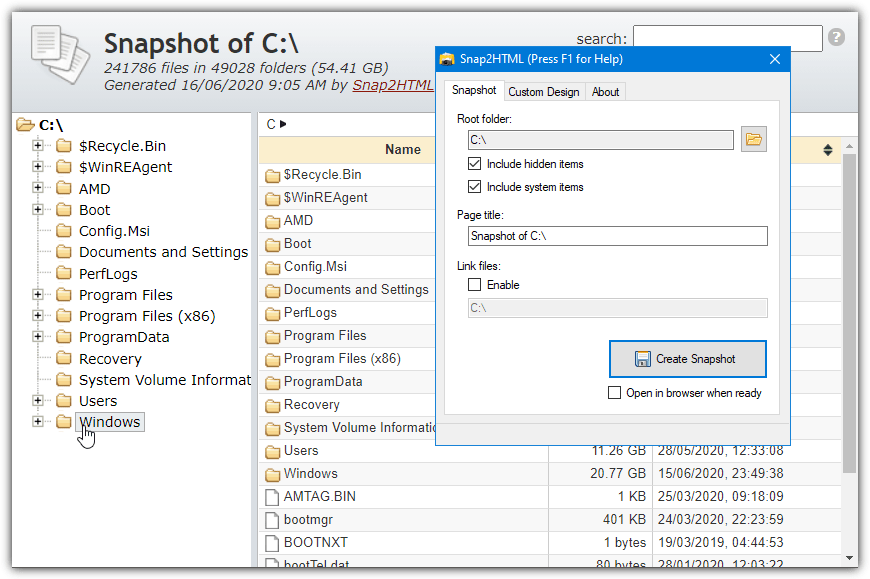 The configuration options are few with tick boxes to include hidden or system files. The Link files option turns file entries into clickable links so you can execute a file directly from the HTML page. Drives or folders are searched recursively. The HTML page looks and behaves a lot like Windows Explorer complete with an expandable tree view down the left and a search option. You can edit the template.html file yourself if you know some CSS. Snap2HTML has command line options for use with Command Prompt and batch files.
---
3. DirLister v2
DirLister is a tool that we have talked about before. The original from back in 2005 is available on the developer's website which doesn't have a .NET 4.6 requirement. The newer version 2 currently in beta is portable and more feature rich than the old version. One improvement is the ability to add multiple drives or folders to the list at once. Use the "Select folder" button or simply drop a folder onto the window.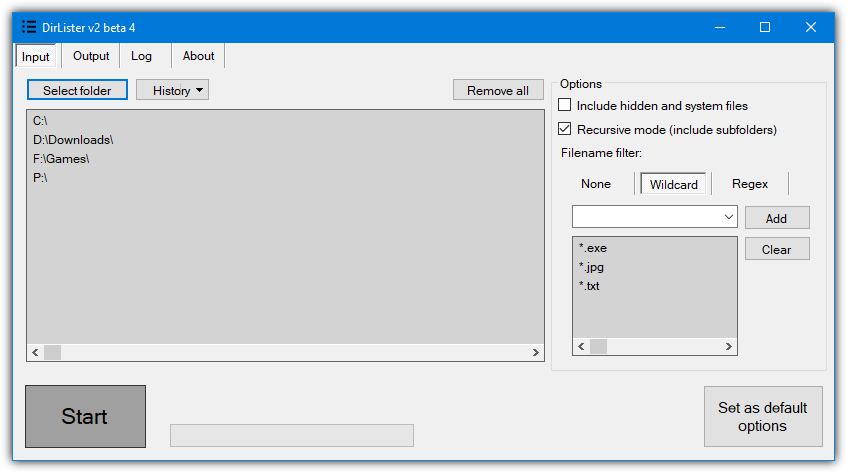 In addition to HTML and plain text files, you have the option to save as a CSV file, an XML file, a JSON file, or a markdown file. Multiple output formats can be selected at once. There's also a filter where you can add normal wildcards (like *.jpg) or Regex if you know how to use it. Optional Explorer integration makes it easy to create a file list from the right click context menu. The HTML page DirLister v2 creates is good and probably only second to Snap2HTML.
---
4. Arclab Dir2HTML
Dir2HTML is a tool that used to be freeware but Arclab took the program full shareware back in 2013/2014. However, we found the last freeware version from 2011 and look at that here as it still works fine in Windows 10. While it might not have as many features as the latest paid version, the old free version of Dir2HTML has a number of useful options to aid in the creation and customization of the HTML index file.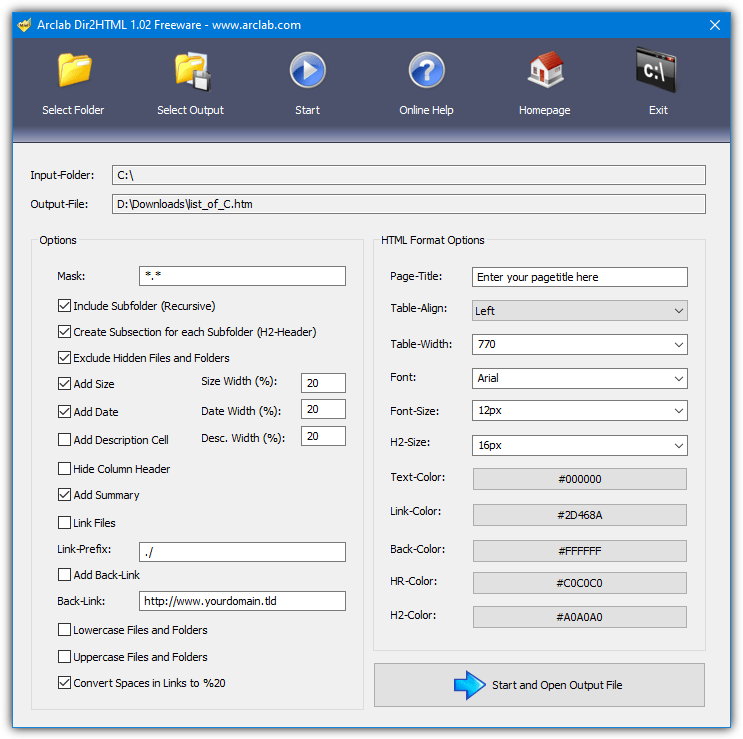 It supports recursive folder indexing, a simple file mask, creating a sub-section for each subfolder, excluding hidden files and folders, including size and date, and many other options. The right side of the window allows you to tailor the output HTML file visually and you can add a customized title, alter the font sizes, colors, and resize different areas of the output. Many of the options can be left alone if the standard layout is acceptable.
---
5. Karen's Directory Printer
Directory Printer has been a popular tool for several years for printing and saving file and folder lists. This is because there's a lot of options you can configure to get the output to your liking. Files have 15 pieces of information that can be displayed including names, dates, sizes, attributes, and checksums. Also included is a file mask filter that already has five format presets built-in for images, music, documents, etc.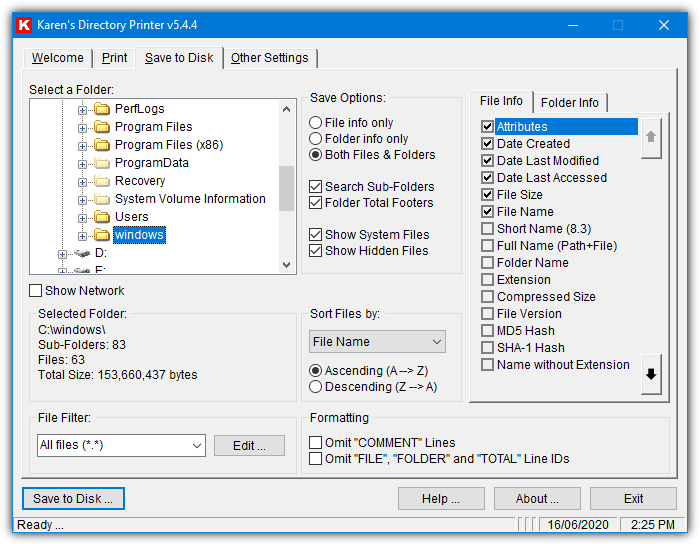 There are various save options for hidden and system files, sorting, and what to include/exclude. The separate Print and "Save to Disk" tabs have a few different options to allow you to set different output formatting. There's a right click context menu function in the Settings tab. Sadly, the only truly useful output file format is a text file. You can extract the setup installer with 7-Zip to create a portable program.
Download Karen's Directory Printer
6. KRKsoft Directory Lister
KRKsoft made Directory Lister a full shareware product some time ago, but they used to have a freeware version. The free version of Directory Lister from 2006 has loads of features and does some things better than many tools that are still being developed. A nice feature is the option to select multiple drives or folders at once from the folder tree.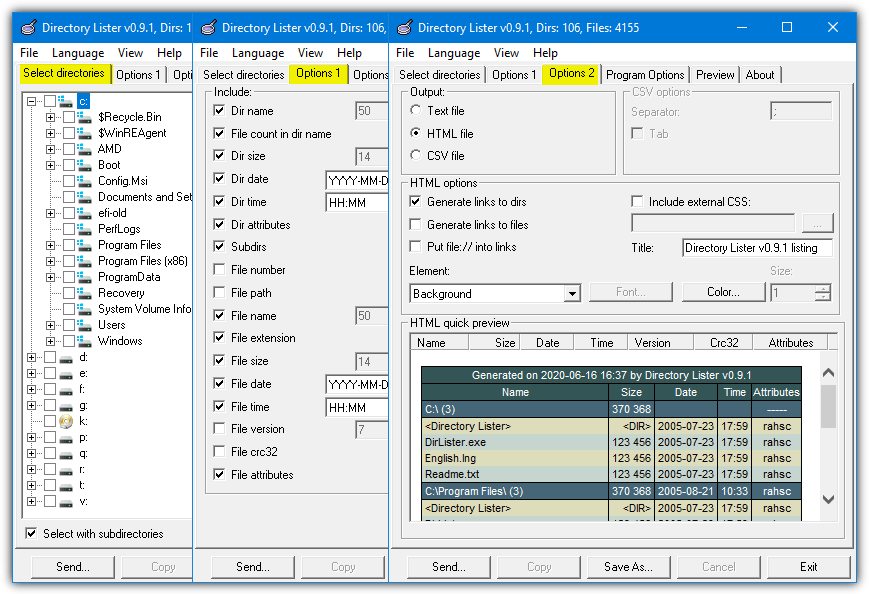 The Options 1 tab is where the column selection is found with 17 different data columns available. There's also various sorting settings and a file mask to select specific file extensions. Options 2 is to choose the output type, which can be a text file, an HTML file, or a CSV file. You can edit a few HTML settings such as color and font or include a custom external CSS file. To see how the output file will look, go to the Preview tab.
Download KRKsoft Directory Lister 0.9.1
---
7. DirLister
Not to be confused with the other DirLister program here, this one is by Barrysoft. It's a small 474KB portable executable with a few options users could find useful. The most notable is the output types of the file to be saved. You can save to plain text, an Excel spreadsheet file, an HTML page, and also tab or space separated text files.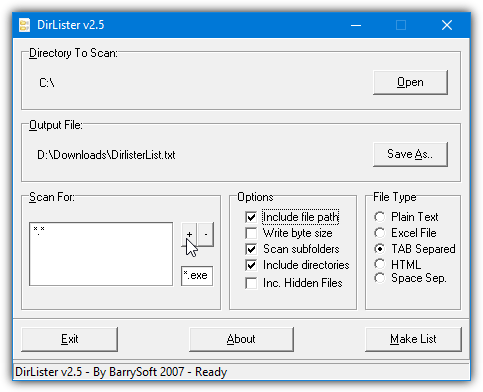 There's an option for multiple file masks so you can include only specific files like *.jpg, *.mp3, or *.exe. DirLister is able to scan down into sub folders, include hidden files in the list, and include the full path to each listed file. The scanning is also pretty fast and a full C drive scan output to an HTML file only took about 5 seconds.
---
8. Filelister
What makes Filelister interesting is it works using profiles that you create for different scenarios. You get three predefined profile types for all files, audio files, and video files but can easily make your own. Each profile has its own basic layout, include filter extensions, selected columns, sort type, and how to save/open the resulting output file. Filelister can be made portable by extracting the installer with 7-Zip.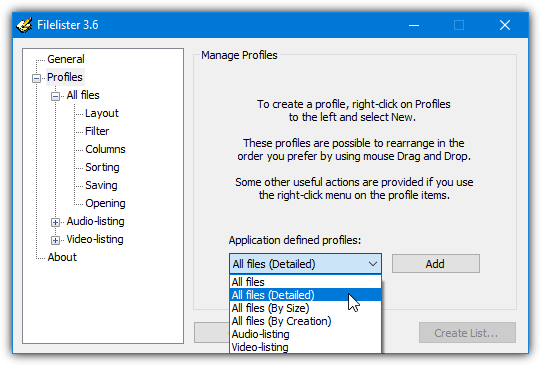 To start off, you have to click on Profiles in the program window and select a starting profile from the dropdown, then press Add. Clicking on the main profile entry allows choosing a text file or an HTML file as the output type. Pressing the + will open the options for layout, filter, columns, sorting, saving, and opening. When you're ready, press Create List to browse for a folder or drive to scan. A profile can be renamed, duplicated, or deleted by right clicking on it.
---
9. Directory List & Print
The free version of Directory List & Print is a severely cut down version of its shareware offering. The first thing you will notice is just how many options are grayed out in this version, and you also get a five second nag when launching the program. Actions, filters, favorites, most display options, and all but the basic columns are not available.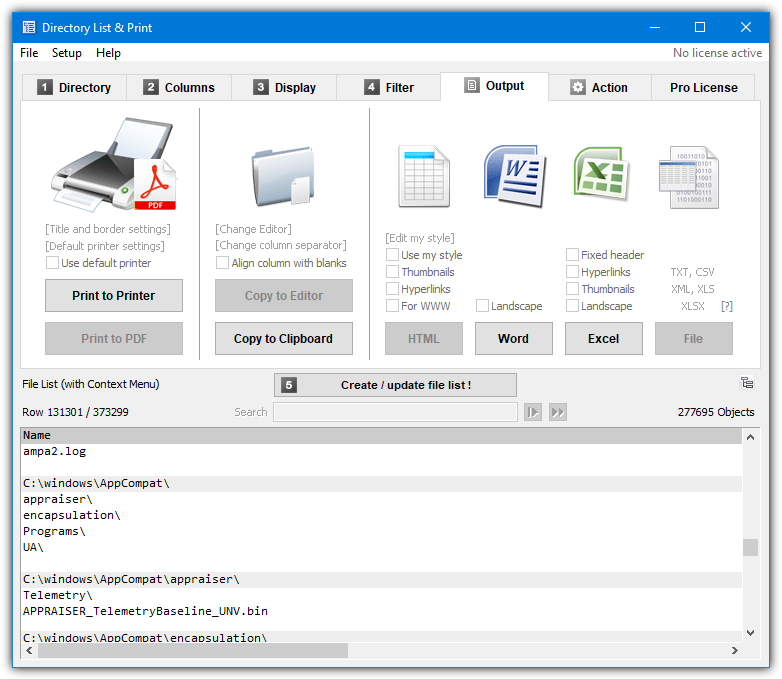 Although even saving to a text file is disabled, one of the useful things that's still available is the option to output the result directly to Word or Excel. You can also print or copy output to the clipboard. The available display columns include file sizes, dates, times, rows, and extensions. Both portable and setup installer versions are available. To remove the large file list warning, turn off the option in the Setup menu.
Download Directory List & Print
---
10. JR Directory Printer
JR Directory Printer is a portable 200KB executable that is able to scan your folders and sub folders and then output the resulting list by opening it directly in your default text editor such as Notepad or Notepad++. The list is nicely formatted and easy to read.

Size, date, time, and attributes can be included/excluded from the list and you can put a limit of the name length or even choose to display old DOS style file names. One area where the program is showing its age is the option to show file sizes only in Bytes or Kilobytes. Although JR Directory Printer dates back to 2001 it still works perfectly fine on Windows 10, including 64-bit.