6 Best Free Windows 7 Repair Tools [2023 List]
When you have a nice and clean install of Windows, everything should work properly and it will be no problem to use. Unfortunately after installing and uninstalling third-party software and drivers etc, the potential for minor or even major issues to appear quickly starts to increase. This is often caused by third-party software or even malware leaving traces behind and not reverting back the changes they may have made to the system.
Not every Windows user knows how to analyze the problem in order to logically figure out a solution, so the best option is to look for possible fixes on the Internet. It shouldn't take too long to come across a utility that will claim to fix your problems with the click of a button, sometimes even for a fee. In the situations when your computer system is misbehaving, it just makes sense to have a utility on hand that can fix a number of the most common issues most users have when things go wrong.
Here's a selection of 4 applications that each have a number of repairs and fixes available to help eliminate various problems in windows. They range from the most common or simple to those that sometimes would normally require the help a professional technician.

1. Restoro
The Restoro repair application is essentially designed to repair Windows operating systems that have a fault. The application operates by automatically replacing system files without losing user data, settings, or programs. Using an updated online database, the application can reverse the damage that affects the Windows 7 software. The Repository server of Restoro has over 25 million OS components that allow the application to provide tailored solutions to millions of users all around the world. For example, it has over 50,000 system files and 431 associated registry keys. Furthermore, the application adds healthy files and a variation to the application's online servers every week.
1. Download the Restoro repair application & Install and then launch the application.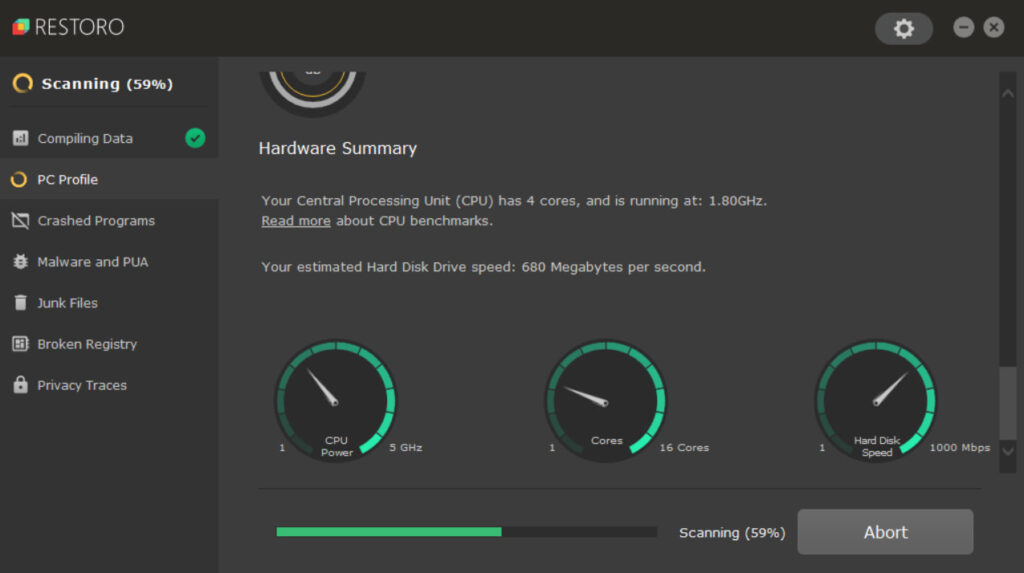 2. To detect abnormalities in the Windows, click the Scan Now button. The application divides the detected problems into Hardware, Security, and Stability issues. Once all reports have been delivered, click the Repair All button to fix all resulting issues.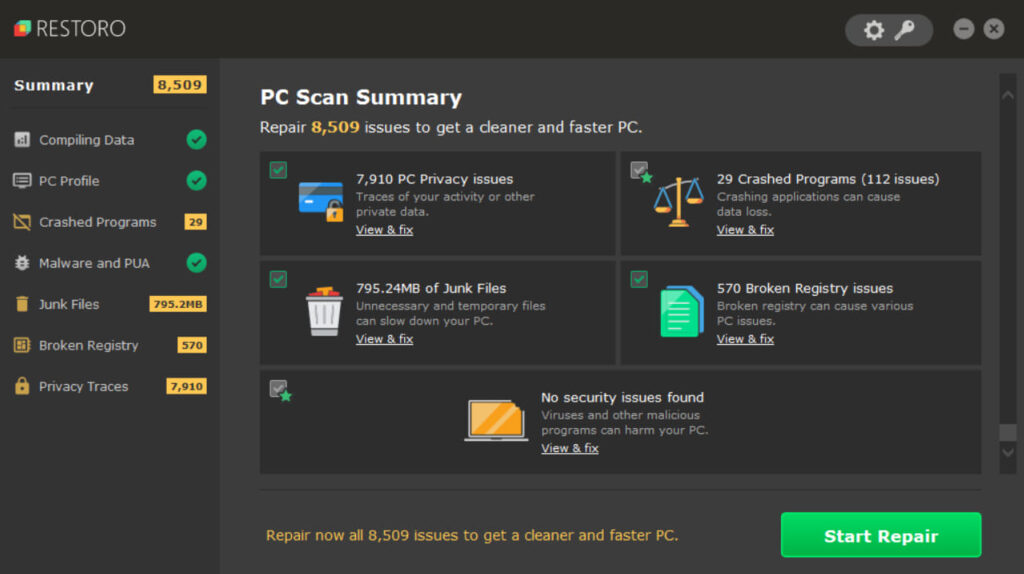 The application is resourceful as it can fix Windows XP, Vista, 7, 8, 8.1, and Windows 10 operating systems.
Download Restoro
---
2. Fortect
This repair tool helps the user keep their device in an optimized state. The application scans the Windows device to detect any system vulnerabilities, missing and damaged files, unwanted apps, and any traces of malware that may affect Windows 7. As soon as the scan process is complete, Fortect goes ahead to repair and replace all damaged registry keys and DLLS to help bring the operating system to life.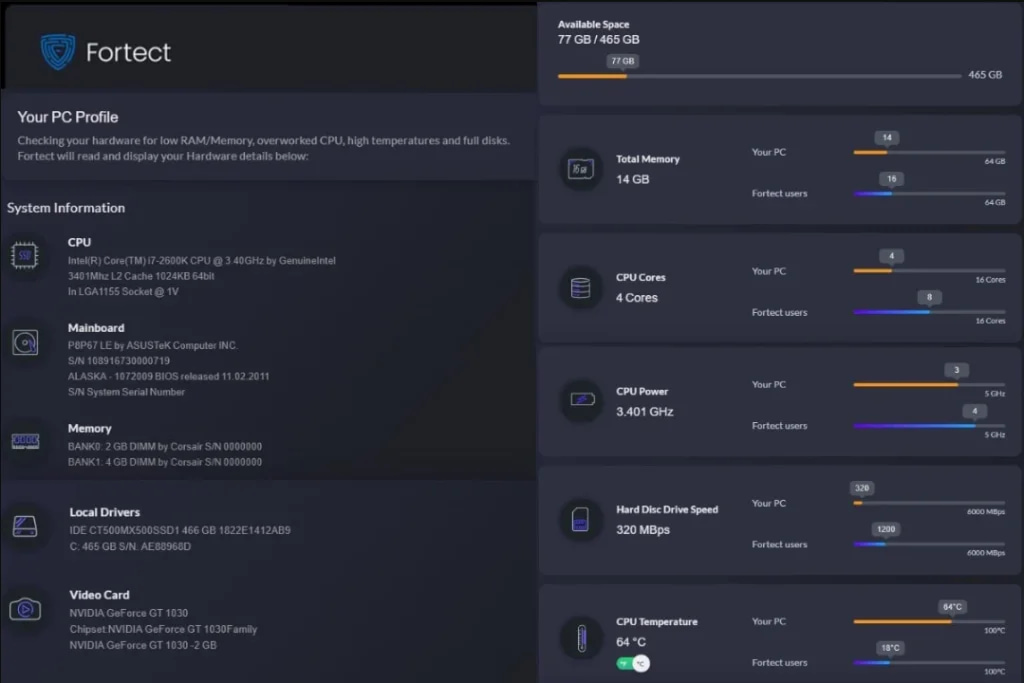 Furthermore, you can use the application to clean up your folder, hard drive, and disk, all in a bid to maintain an optimized Windows device.
---
3. Microsoft Fix It Portable Offline
Microsoft Fix it is a collection of popular troubleshooting tools which Microsoft normally have available on a number of their help and support pages. You can go and search for a solution on the official Fix it website to help solve any issues on your computer, but each one is an individual standalone utility for the specific problem. Here's how to download the portable offline version of the Microsoft Fix it utility so you can use it on any computer, even one without an active Internet connection.
1. Download the MicrosoftFixit-portable.exe file which is 339KB, then run it.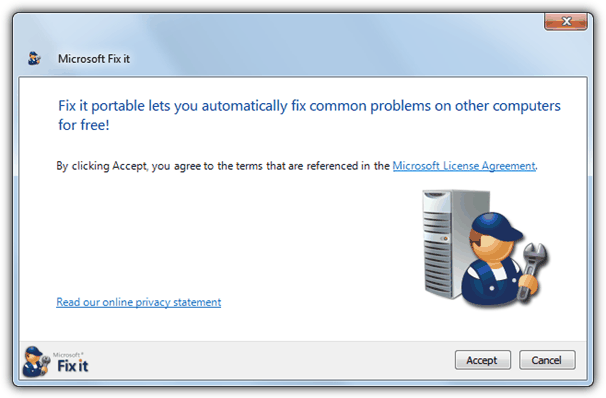 2. Agree to the terms and press Browse to choose the location where you want to save the Fix it portable tool. Leave the option "The computer already has Windows PowerShell installed" unchecked as not every computer you use Fix it on will have PowerShell.
3. After pressing the Save button, the tool will download the necessary files will create an autorun.inf file together with a Fix it portable folder. You can copy the Fix it portable folder to a USB flash drive and then run the "Launch Fix it.exe" on the problem computer. The autorun.inf file is only required if burning Fix it to a CD as USB devices ignore it these days for security reasons.
When you run the troubleshooter simply browse through the list of fixes or narrow it down by clicking on a specific issue. If you find the problem on the computer matches one of the descriptions from the Microsoft Fix it utility, click the Run Now button to launch the automated fixing tool. Clicking the name link will take you to the support page where it will give more details about what can be fixed by that specific Fix it.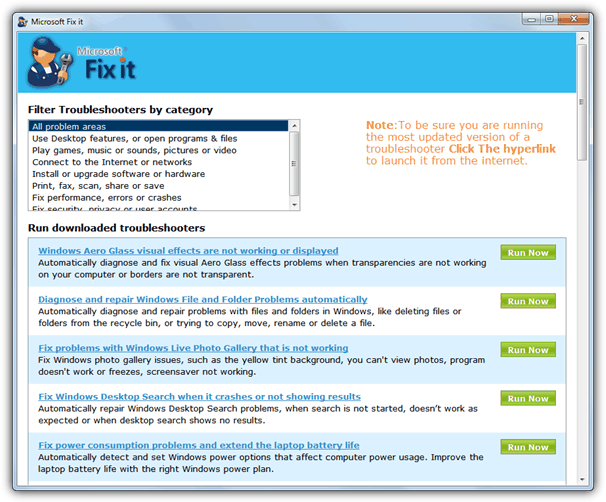 The offline Microsoft Fix it utility is by no means the full selection of Fix its available and actually is only a mini version. It currently contains 28 trouble shooters taken from the top solutions category on the website. If you go to the Microsoft Fix it Solution Center, click on Windows for the problem area and then scroll to the bottom of the page, you will see the total amount of Fix it solutions there are to date, currently 279. The Offline Fix it only has about 10% of the total, but includes the most common fixes.
The good thing is Fix it won't try to repair any non-existent problems so you can't break something that isn't already broken. This makes it a useful tool for average users and budding enthusiasts alike because Microsoft Fix it is designed for anyone to use. You can visit the Microsoft Fix it BLOG for news on new Fix it tools and discussions.
---
4. FixWin
FixWin is a free and portable Windows fixing tool that can apply fixes for several problems that you may experience in Window Vista and Windows 7, XP is not supported. FixWin contains a total of around 50 fixes for a wide range of Windows issues, from easy ones such as re-creating an Internet Explorer shortcut on the desktop, to something more serious like fixing the problem of Explorer.exe not starting at boot or resetting and repairing system components disabled by a virus.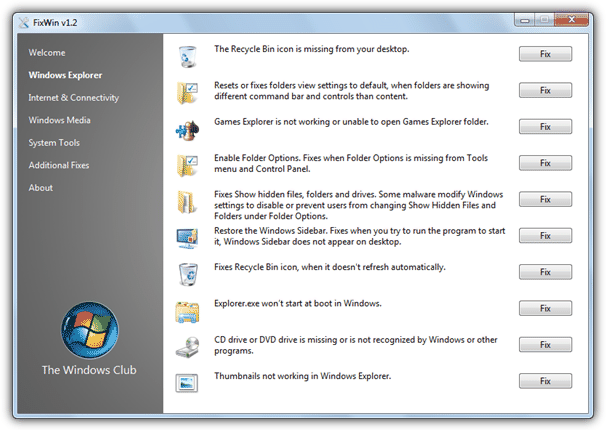 The welcome screen advises you to first run the Windows System File Checker (sfc.exe) utility to restore corrupted system files and then create a system restore point before making any changes with FixWin. A piece of advice we would also recommend which FixWin doesn't, is to check and remove any virus infections before using it because an active virus running in background can instantly reverse a number of the changes FixWin performs.
The fixes are sorted into 5 main categories which are Windows Explorer, Internet & Connectivity, Windows Media, System Tools and Additional Fixes so that you can locate the fix you're looking for a little easier. Always be sure to click only on the fix to the specific problem as there's no confirmation and it will immediately be applied as soon as the button is pressed. FixWin recommends you only apply a single fix at a time, there's also a few links to some other repair tools such as one to repair Security Essentials antivirus.
---
5. Windows Repair (All In One)
Tweaking.com's Windows Repair tool might be able to help where other tools don't go far enough. It isn't for the inexperienced users out there because using some of the more advanced repair functions incorrectly could do more harm than good. Windows Repair can help fix a large amount of known Windows problems including registry errors and file permissions as well as issues with Internet Explorer, Windows Update, missing or corrupted icons, Windows Firewall, Windows services and more. Malicious software and installed programs can modify your default settings and you can easily restore them back to the original settings.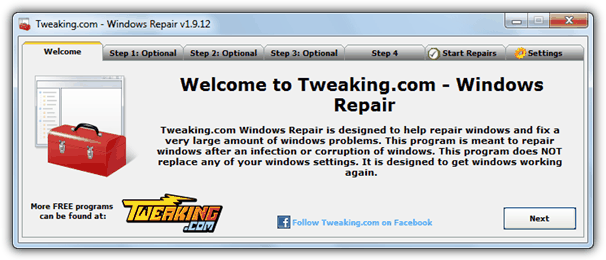 The program has four optional steps which it highly recommends you perform before starting with the repair. The first step is to make sure your computer is clean from virus infections which can be causing the problem. The second step can check the filesystem for errors using check disk and the third is checking the system files using the Windows System File Checker. The final fourth step advises the creation of a system restore point and backing up the registry using another of Tweaking.com's useful tools before starting the repair.
You can skip these steps but doing so could mean you're applying fixes which are unnecessary and no backups could leave you with big problems if anything goes wrong and you have nothing to fall back on.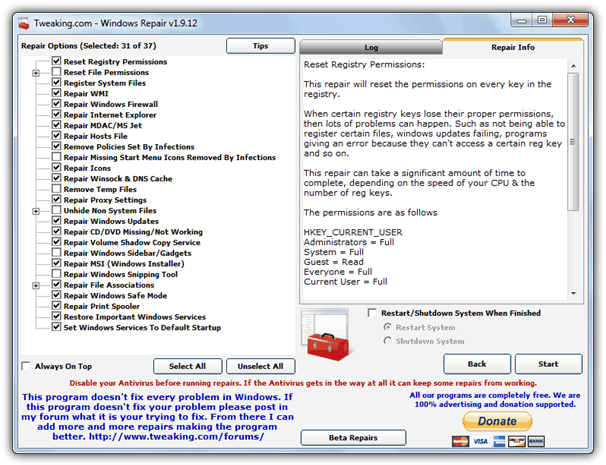 At the Repair window you can select which fixes to apply, 31 of the 37 fixes listed are already enabled by default but unless you have severe problems such as after a major virus infection, it's recommended to only tick what applies to your problem. The information window on the right will describe the fix and what it does. When you are ready, click Start and wait for the repairs to be processes. If used sensibly, Windows Repair can be an incredibly effective and useful tool. It works on Windows XP and above, there are portable and setup installer versions available.
Download Windows Repair (All In One)
---
6. 7 Quick Fix 2 / XP Quick fix Plus
Quick Fix is a bit more of a general repair tool because it also has a few system tweaks included, but still has a huge amount of quick one click fixes to repair a number of common problems that affect the running of Windows. There are a total of 108 options available split into six categories, around 15 are actually tweaks but they're still highly useful functions like adding a "Take ownership" or "Command prompt here" context menu entry.
Start the program and it will present you with six different windows accessible from the icons in the center which perform the repair functions. They are; Enable / Disable, Restore Missing Stuff, Performance, Errors and Crashes, Tweaks and finally Associations. Simply look in the relevant section for the fix you require, hovering over a button will tell you what it will do and whether a restart will be required.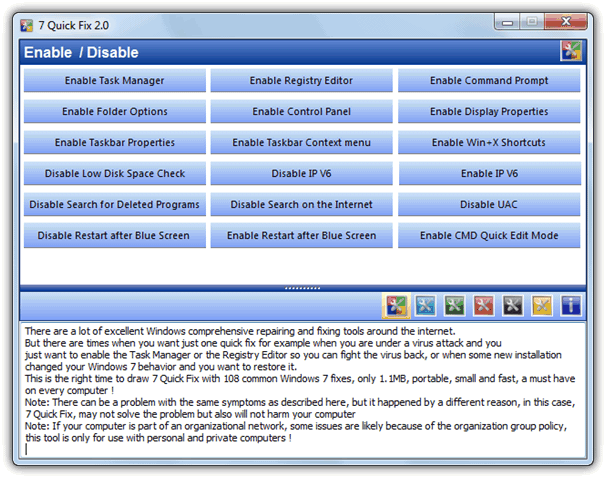 7 Quick Fix 2 uses a combination of registry modifications, ini file modifications, re-registering system components, stopping and starting services or removing files to perform the fixes and tweaks. When any button is clicked there will be a named undo folder in a folder called Backup where the QF.exe is located. Depending on the fixes applied, there will be a mixture of batch, registry and ini files along with a readme text file on how to reverse the procedure should you need to.
The program IS portable but you have to install it using the installer which has adware, and then copy the executable from the Program Files folder, or more easily extract the setup file using Universal Extractor. 7 Quick Fix 2 is compatible with Windows 7 only (32 & 64 bit)
There is also a separate version for Windows XP called Quick Fix Plus and doesn't have as many fixes, totaling around 40 but is still easy to use and very useful.