Check POP3 or IMAP Email from Web Browser with Mail2Web
You can either check your email by using your web browser to login to the webmail or use an email client software to download the emails to your hard drive. The good thing about using a webmail is you can access all your emails anytime on any computer but it has a risk where you'll have to key in your username and password on public computers that can be stolen if a keylogger is installed. As for using email client, you must have access to your computer to run the email client software. Both method has its own pros and cons.
If you have a website with your own domain name (such as mydomain.com) that is hosted under a webhost company, most of the time they'll provide you with both methods to login to your email which is web based and POP3. If you don't know the address of the web based email, you can try appending the word "webmail" to your domain's subfolder (http://mydomain.com/webmail) or subdomain (http://webmail.mydomain.com) which is a standard being used by all webhosting company that uses cPanel. If it neither address work and they don't provide you with web based email access such as most corporate email servers, then you can give mail2web a shot.
Mail2Web is a free online service where it offers web based email access to email accounts that only allows POP3 or IMAP protocol. Basically mail2web acts as a middleman by connecting to your mail server via POP3 or IMAP and pushing all the details to your web browser. You can view the emails as text or HTML and also write new message with a rich text editor.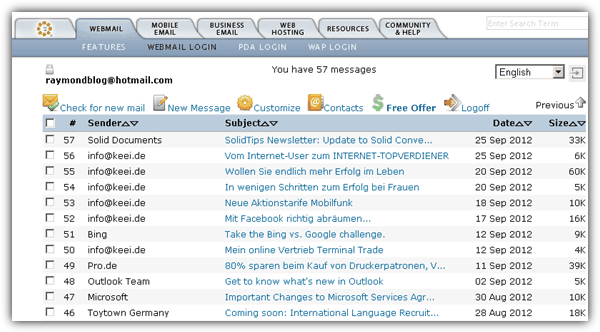 The most common problem in using POP3 or IMAP is to specify the correct mail server, port, protocol, and encryption. If you have a few POP3 email accounts hosted under different webhost, there is a big chance that all the information are different and memorizing all of them can be a problem. Mail2Web solves this problem by automatically trying to determine to correct information through their "Intelligent Login" method. All you need to do is enter your email address and your password. If for some reason web2mail intelligent login fails to login to your email account, you can always click the Advanced Login to manually enter your server IP address, protocol and SSL.
Mail2Web also offers free creation of an account where you get your personalized subdomain name such as http://mail2web.com/raymond/ where you can add multiple email accounts and select from the list to login. You will still need to enter your password because Mail2Web does NOT remember or log your password.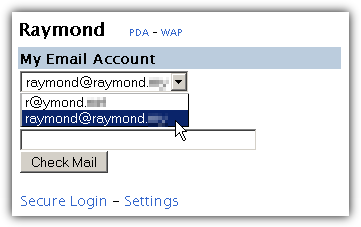 Make sure you always use the "Secure Login" where all the submitted information are encrypted through SSL to protect your login information from being captured by packet sniffers. Mail2Web is a very useful service but it is quite heavy on advertisements where you can find one at the top, right hand side and bottom. A good ad blocker such as AdFender should easily take care of that and give you a clean mail2web.com interface without ads.