5 Best PHP Monitoring Tools in 2023 (Ranked & Reviewed)
PHP is efficient and versatile. However, developing and releasing a new feature on PHP sites and applications is a long and arduous task. At this time of writing this article, 80% of websites still run PHP, no wonder given the fact it powers most CMS like WordPress.
Not only will you need to write, develop, and test the code, but you will also need to optimize the code for performance, conduct load testing, and set up a decent user experience for the product. Moreover, it offers too many configurations that even a minor bug can lead to severe scalability and performance problems.
As a result, PHP application monitoring upon its release is extremely crucial if you want to ensure a decent user experience.
If your PHP app is not fast by modern standards, it will also be much harder to maintain and scale as your visitor count grows. PHP application performance monitoring helps you identify the regions of code where an error occurs, allowing you to fix the app behavior for optimal runtime speed and resource usage, paring it with network uptime tools is a good idea to prevent any potential issues.
In the following article, let's take a look at the best PHP monitoring tools available in the market right now.
Also, read our top picks on FTP monitoring software and server monitoring tools.
Best PHP Application Monitoring Tools in 2023
Software
Best for
Top Features
ManageEngine Applications Manager
End-to-end visibility into PHP apps
APDEX score monitoring
Identify slow database calls
Comprehensive management reports
New Relic
Full-stack observability
High-level app summary page
Key transaction tracking
Track custom metrics
AppOptics
Infrastructure health monitoring
Root cause summaries
Transaction tracing
Code-level analysis
Atatus
Team collaboration
External service instrumentation
HTTP failure monitoring
Deployment tracking
PHP Server Monitor
Monitoring multiple services
Multiple notification channels
Two-level user authentication
Easy cronjob deployment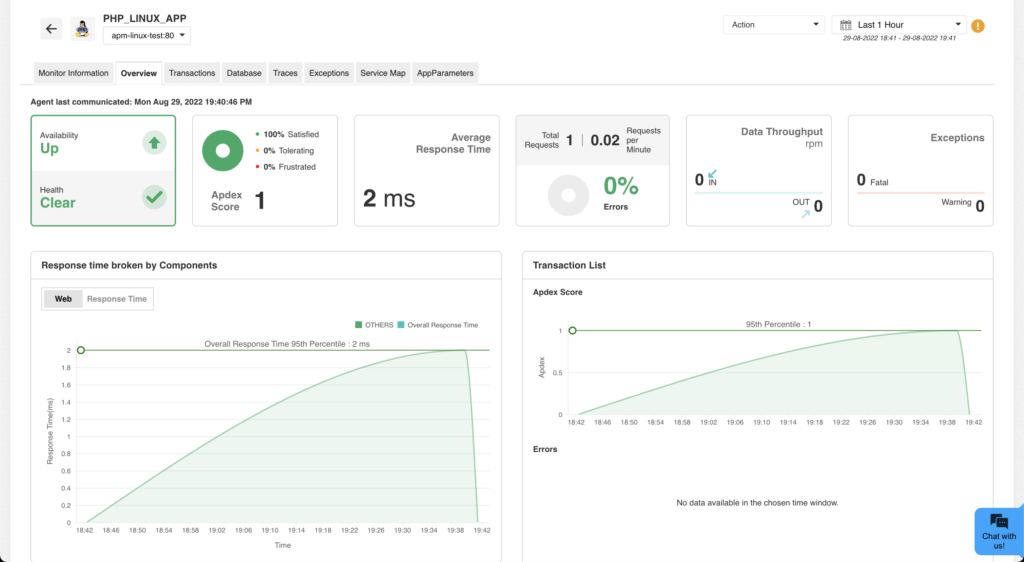 Operating System: Windows, Mac, Android, iOS.
Pricing: Paid; subscription and one-time license models available on request
Developer: ManageEngine
ManageEngine is one of the best PHP monitoring tool suites available in the market right now. The PHP monitoring system connects to your app's PHP server and scans crucial performance metrics like response times, throughputs, and availability at regular intervals.
The app monitoring agent provides extensive information about every transaction occurring in your application in a neatly designed dashboard. You can easily identify hidden bugs and pinpoint the root cause of any error.
With comprehensive information about database operations, like response times, throughput details, and the number of transactions, you can identify slow database calls and SQL queries to resolve app performance issues at the earliest.
Another intuitive feature of ManageEngine is Transaction Traces. Primarily used for debugging, traces allow you to identify performance issues with records in the order of invocation. The tool also has an automatic service mapping feature that lets you visualize application dependencies and monitor the operational status of all components instantly.
Pros
Out-of-the-box PHP server monitoring
Monitor all crucial performance metrics
Configuration-based action execution
Instant performance graphs and reports
Historical and current PHP performance monitoring
Cons
Some users have reported problems monitoring devices using SNMP
Limited agents for APM
Visit ManageEngine PHP application monitoring
2. NewRelic – Best for full-stack observability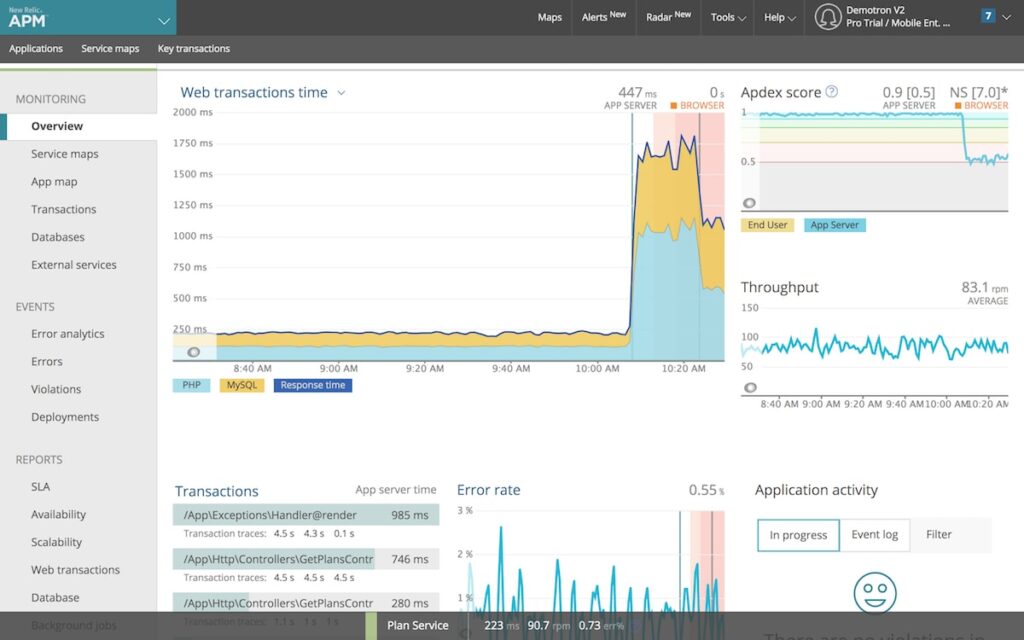 Operating System: Windows, Mac, Android, iOS.
Pricing: Paid; usage-based pricing
Developer: New Relic
NewRelic is one of the industry-leading application performance monitoring tools that offers a single platform to monitor your entire tech stack at a glance.
With this platform, you can instantly monitor golden metrics and set up custom alerts to stay ahead of app issues and fix them before end users encounter them. Distributed tracing allows you to visualize the service request path and dependencies, making debugging quicker and easier.
NewRelic brings over 525 integrations, including Postman, CoreDNS, Windows Services, OpenAI, MongoDB, etc., which take the app monitoring capabilities to the next level. Apart from the traditional APM features, NewRelic also provides AIOps, which improve app performance by identifying data trends and analyzing events.
Pros
Custom app query records using New Relic Query Language
Key transaction tracking using contextual logs
Comprehensive app summary page with key highlights
Visual architectural maps for your app
Custom metrics tracking
Automatic instrumentation for popular languages and frameworks
Cons
Cannot turn off UI alerts
The user interface is slightly tricky to get used to.
3. AppOptics – Real-time monitoring across distributed apps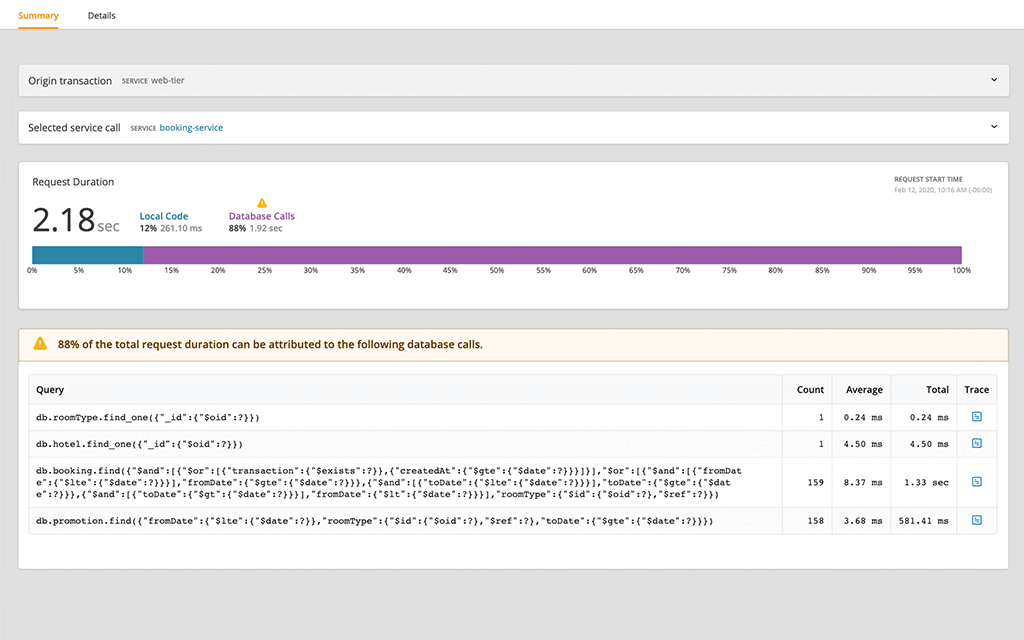 Operating System: Windows, Mac, Android, iOS.
Pricing: Paid; starts at $599
Developer: SolarWinds
SolarWinds AppOptics is another popular APM with robust PHP memory usage monitor and performance monitoring capabilities.
The well-designed dashboard offers maximum visibility across distributed applications and allows users to monitor real-time app performance in single service tiers. AppOptics brings simplified service-level and trace-level root cause summaries, which make it easier to pinpoint the exact error in your PHP applications.
Like ManageEngine's APM, AppOptics also brings Transaction Tracing to identify the link between deep-down bottlenecks and user impact. You can view the individual requests and the end-to-end behavior of each transaction in real-time and debug performance impact to improve customer satisfaction.
Pros
Monitor and track PHP memory footprint
Root cause summaries
Transaction tracing
Out-of-the-box access to popular frameworks and libraries
Code-level analysis
Create and customize plugins
Cons
The pricing structure is expensive and not flexible
Integration with other tools is not extensive
4. Atatus – Unified monitoring for apps, websites, servers, and logs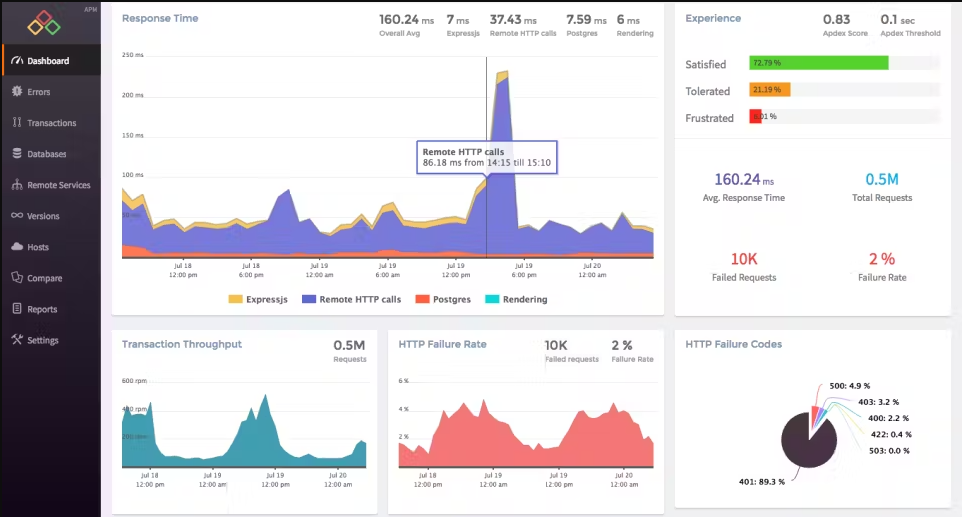 Operating System: Windows, Mac, Android, iOS.
Pricing: Paid starts at $0.07 per APM Host Hour per month
Developer: Atatus
Atatus is a popular observability platform with robust PHP application monitoring capabilities. The unified monitoring module lets you identify performance bottlenecks and optimize your PHP apps to deliver an exceptional user experience.
One of the strongest features of Atatus is the actionable insights the platform offers, allowing users to isolate app performance issues and solve them holistically. You can isolate down to the transaction level to visualize where your app spends the most time and how to reduce it.
Apart from transaction metrics, Atatus also lets you resolve slow database queries, determine hidden API failures, and identify high-priority production incidents. In fact, you can stay ahead of potential PHP app issues by studying the breakdown of the code.
Pros
Transaction monitoring for slow API calls
SQL query performance using Database Monitoring
External service instrumentation
HTTP failure monitoring
Real-time error monitoring
Deployment tracking
Cons
The UI is at times slow
Missing custom application logs
5. PHP Server Monitor – Open source server monitoring tool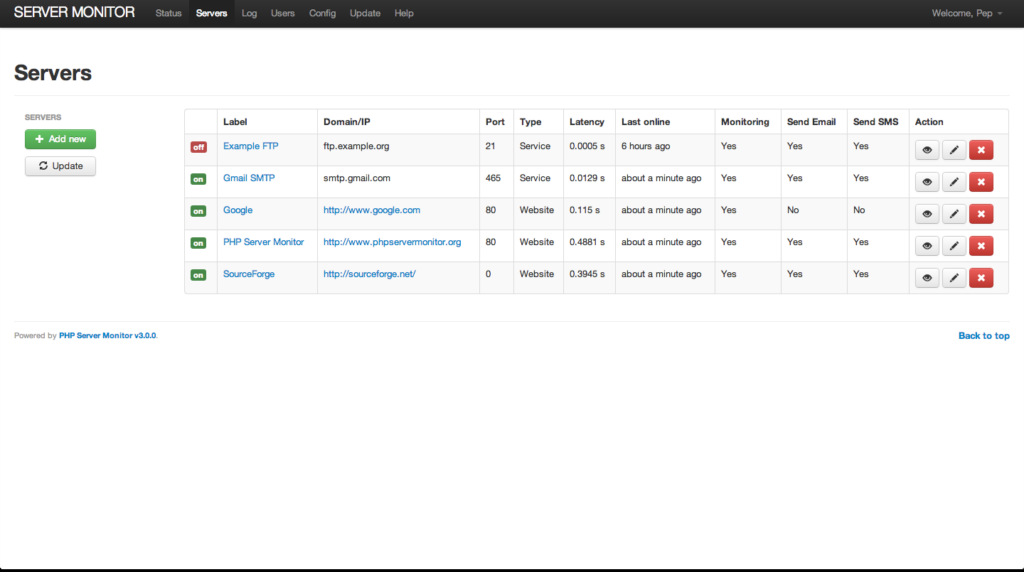 Operating System: Windows, Mac, Android, iOS.
Pricing: Free; open source distributed under GNU license
Developer: PHP Server Monitor
PHP Server Monitor is a free and open-source script that verifies the uptime and running status of your PHP applications.
With PHP Server Monitor, there are two ways you can monitor a PHP server. First, you can create a port connection to an IP or domain and check the runtime of the services on that machine. Second, you can use cURL by entering the link of the website, and the tool will check the HTTP status code to return the uptime status.
Server Monitor has a web-based UI with a rather simplistic, retro-styled interface that makes it easy to manage users and connections. You can also add cron/status.cron.php as a cronjob to keep the server status up to date.
Note that this platform lacks any debugging tools. So if you are looking for only a simple PHP ping monitor to check the server status, this is the one to check out.
Pros
Continuous monitoring of websites and services
Logs of connection errors and notification blasts
Empirical graphs of server status and performance
Multiple notification channels – emails, SMSes, and pushover.net
Two-level user authentication
Easy cronjob deployment
Cons
Lacks advanced debugging tools
Limited ability to configure the platform
How to choose the best PHP monitoring tool?
PHP monitoring tools are essential for developers and website owners to monitor the performance of their PHP-based applications and ensure they are running smoothly. With a vast array of PHP monitoring tools available on the market, it can be challenging to choose the best tool that fits your needs. In this comprehensive guide, we will discuss the key factors you should consider when choosing the best ones for your application.
Performance Metrics
The first and most crucial factor to consider when choosing PHP monitoring tools is the performance metrics the tool can measure. Some of the essential performance metrics to consider include response time, CPU usage, memory usage, and database query performance. Guarantee that the tool you choose can measure all the essential performance metrics and provide real-time insights. If you are running your own servers, make sure to pair them with good UPS monitoring software to keep the system stable.
Customization
Another critical factor to consider when choosing PHP monitoring tools is the ability to customize the tool to fit your needs. Ensure that the PHP monitoring program you choose allows you to customize the dashboard and alerts to your specific requirements. This will ensure that you can focus on the metrics that matter most to your application.
Integration with Other Tools
The third factor to consider when choosing PHP monitoring tools is the ability to integrate the tool with other apps in your tech stack. Make sure that the PHP monitoring tool you choose can integrate with other tools such as logging tools, alerting tools, and analytics tools.
Final Thoughts
App performance and speed are two of the most critical factors affecting the success of your PHP application. With these PHP application monitoring tools, you will be able to identify performance-related issues on your app that might affect the end user. Make sure that you read the pros and cons of each entry on this list to find a tool that best meets your requirements.