Windows 7 Offline Update: How to Download & Install
3. Portable Update
Portable Update has been created with the idea of being able to download patches using an online Windows and then install them to an offline system from a source such as USB flash drive, via LAN share or network drive etc. It also uses the standard Windows API to perform the updates, the patches to be installed are copied to the Windows\SoftwareDistribution folder. This has an advantage of showing all actions in the Windows Update History log as if you had used Windows Update itself.
On first running Portable Update it will need to download around 85MB of files from Microsoft before it can be used. The program is split into tabs; Going into Search and pressing Start will start the process and look for updates that can be applied to the computer it's running on. This will also populate the Download tab with all available update files that can be downloaded, the patches that can be applied to the current machine are ticked ready to be downloaded. Obviously if you want a complete offline update distro just click the select all tick box which will download everything to the Cache folder when you click Start.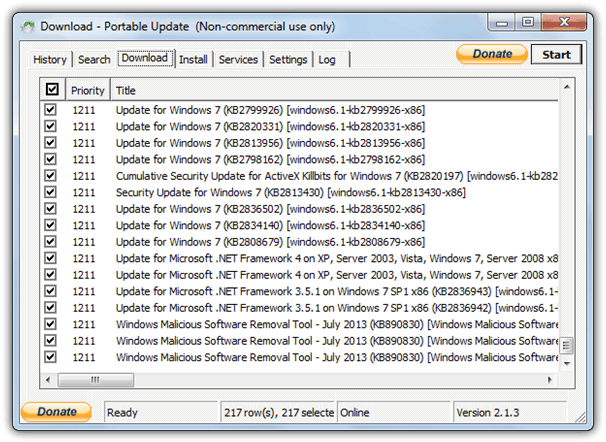 After all the files have downloaded nothing else needs to be done. Now, when you take Portable Update and run it on a target computer, click Search to check which updates are already installed and what needs installing. Because all the patches have already been downloaded to the cache folder for offline use, instead of the Download tab, click the Install tab and tick everything that needs to be installed. Then hit Start to begin the updating process. This program is perhaps a bit safer than Autopatcher or WSUS Offline Update because it uses the Windows Update API for updating and doesn't rely on the software itself to get everything right.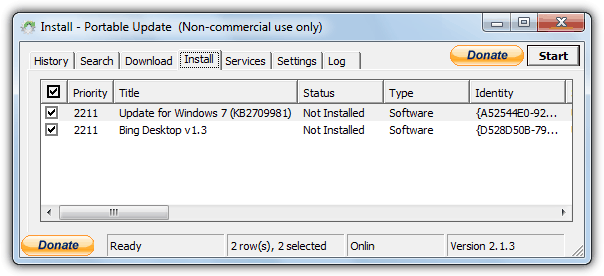 The History, Services, Settings and Log tabs are only really for informational purposes. Although Portable Update can update Windows 2000 SP3+, XP SP2+, 2003, Vista, 2008, 7 and 8, it does have one drawback. It will only update the same version of Windows you are running the program on to download the patches. For example, you couldn't download the files on Windows 7 and then update an offline XP or Vista. For a true multi version update tool, you would need to have access to an installed copy of every Windows. However, if all Windows versions you want to update are going to be the same, Portable Update is very useful.
---
4. Windows Updates Downloader (WUD)
Windows Updates Downloader differs from the other tools here, because it does exactly what the name suggests, which is it only downloads the service pack files and all the hotfixes for a specific version of Windows. It does NOT automate installing any patches or updates but is more of a solution to get all the files and store them locally for deploying onto computers yourself manually.
The good thing is WUD works from a series of separate "Update Lists", you download and install whichever ones you want into the program. Lists for Office 2003, Windows 2000, 2003, XP, Vista and Windows 7/8 are available although the Vista lists seem to have been abandoned since 2009. After installing the program, simply download and double click an update list file to integrate it into WUD, they are then switchable via the update list drop down menu.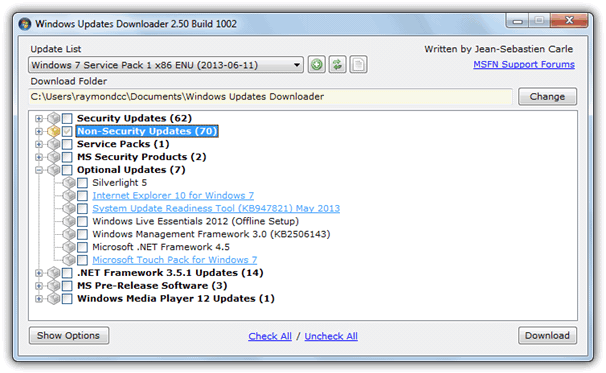 The process is easy, once the list you want is displayed simply go through the list and select what you want, or press Check All to get everything including any Service Packs, Windows Live Essentials and Security Essentials etc. Then press Download and wait a while to let the program do its job.