3 Facebook Chat Instant Messenger for Desktop
Facebook is a great place to find old friends and to keep in touch because nearly everyone has an account there. Due to the huge amount of active users, this naturally made the chat feature which is docked at the right hand of your screen very useful because you can quickly send an online or offline message to your friends. You can say that the Facebook Chat is similar to instant messaging programs but it is only available as an online web based service.
Earlier this year Facebook launched a standalone web version of the Messenger that runs on a browser and is mobile friendly with a responsive web design. Messenger apps for smartphones and tablets that can be installed on iOS, Android and Windows Phone are also available. There used to be an official desktop messenger chatting program for Windows but it was quickly discontinued for unknown reasons. In fact, Facebook has also discontinued their XMPP Chat API that broke the compatibility of Facebook chat with most of the third party multi-protocol instant messaging programs like Digsby and Pidgin.
If you're looking to run an instant messaging program in Windows that still works with Facebook chat, here are 3 options.
1.
Trillian
Most people would have heard of Trillian, a multi-protocol instant messaging program that allows you to connect to different chat services such as ICQ, AOL Instant Messenger, Google, Yahoo! Messenger, IRC, and even Facebook in a single program. An ad-supported version of Trillian is available to download and use for free but if you appreciate Trillian, a Pro or Lifetime license can be purchased to remove the advertisements in the program and enable the cloud history feature.
Setting up Facebook chat in Trillian is very easy. After creating and logging in to your Trillian account, all you need to do is enter your Facebook email and password and click the Next button.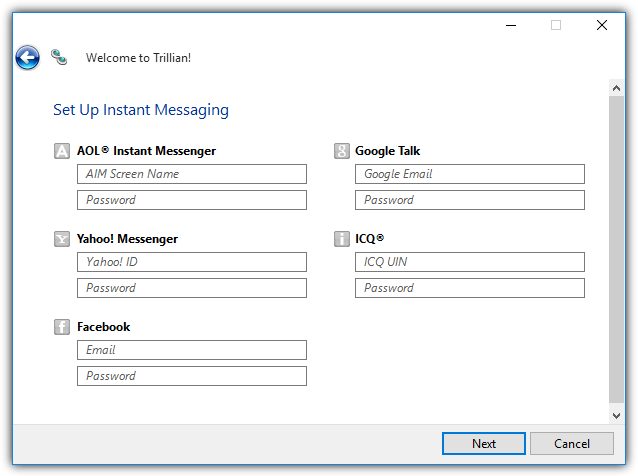 Alternatively, you can also click on the Trillian icon located at the top left and select Manage Accounts. Click the "Add a new account" button which is located at the bottom of the Trillian Preferences window, select Facebook and enter the email address and password that you use to login to Facebook.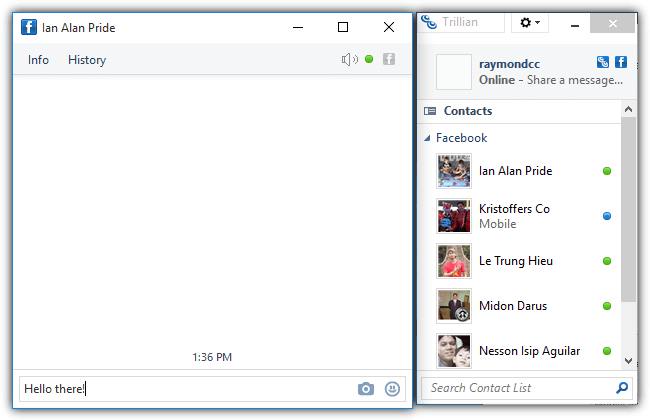 After successfully connecting to your Facebook account using Trillian, your list of Facebook friends will be pulled and grouped in a category where you can easily send message by double clicking at the user's name. You can only send text based messages but not make voice or video calls to Facebook friends from Trillian.
---
2. Messenger for Desktop
Messenger for Desktop is an unofficial instant messaging application for Facebook Chat. It looks exactly the same as the web based Facebook messenger except it runs as an independent application without the web browser. All features from the official web based Messenger such as sending text messages, making voice or video calls, sending stickers, group chats, know when messages are delivered and seen are all supported in this desktop version.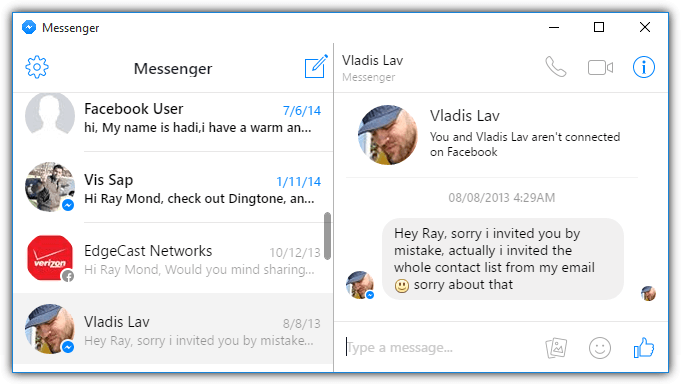 Messenger for Desktop is available for Windows, Linux and Mac OS X. Do take note that Messenger for Desktop can take up quite a lot of memory usage up to over 100MB with 4 Messenger.exe running processes.
Download Messenger for Desktop
---
3. Pidgin
Pidgin is a free and open source universal instant messaging client similar to Trillian that supports different types of chat services. Although you can find Facebook listed in the supported protocol, it actually does not work because it uses the discontinued XMPP Chat API. For Pidgin to connect to Facebook, you will need to use a third party plugin called Purple Facebook.
There are 2 DLL files that need to be downloaded and placed at the correct directory. The libjson-glib-1.0.dll needs to be in the Pidgin main directory while the libfacebook.dll will be in the Pidgin's plugin directory.
Download libjson-glib-1.0.dll and save it to C:\Program Files\Pidgin\
Download libfacebook.dll and save it to C:\Program Files\Pidgin\plugins\
After downloading the two DLL files and placing them at the correct location, you can now run Pidgin, press Ctrl+A and click the Add button. Click at the Protocol drop down menu and select Facebook (not the one with XMPP) and enter your Facebook's username and password.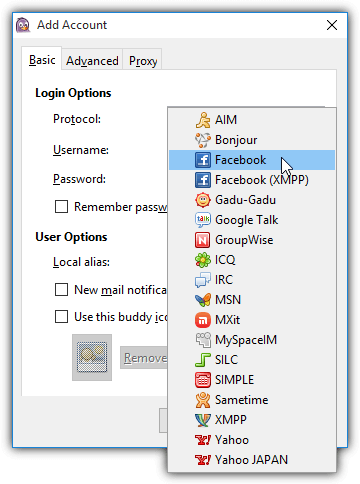 Do take note that your Facebook username is not the same as the email address used to login. To check your Facebook username, visit the official Facebook settings page and check the username.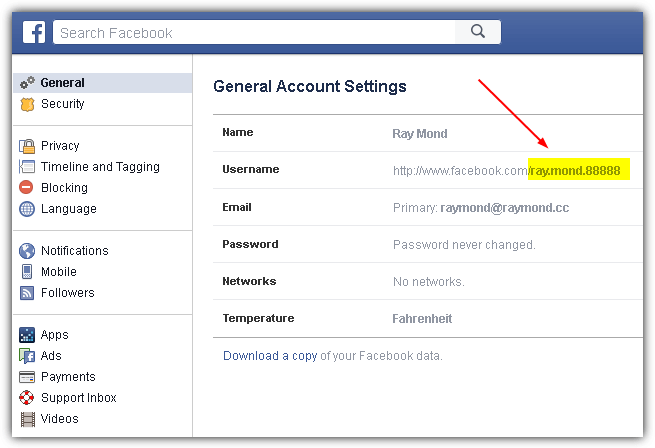 You can start sending messages to your Facebook buddies from Pidgin after a successful connection. Do take note that the DLL files are updated very frequently. If you're experiencing problems in connecting to Facebook using Pidgin, the first thing you need to do is download the latest DLL files from the link that we've given above and replace the old ones with the updated files.