7 Best NOC Monitoring Tools in 2023
As IT infrastructures continue to grow in complexity, Network Operations Centers (NOCs) are becoming increasingly crucial for ensuring the smooth functioning of an organization's network. A NOC is responsible for monitoring and managing an organization's network, ensuring that it is secure, available, and performing optimally. NOC monitoring tools are designed to help NOC teams manage their networks more efficiently, providing real-time insights into network performance, availability, and security.
The NOC is vital in detecting, isolating, and fixing IT, network, and cloud infrastructure issues that inevitably occur because of operational realities. These faults can cause costly downtime. As IT infrastructures evolve, NOC requires reliable, powerful tools to monitor, analyze network performance, and troubleshoot. This article will provide you with the best NOC monitoring tools.
Best NOC monitoring software
Best For
Top Features
1.
PRTG Network Monitor
Ensuring that your computer systems are running smoothly and that no outages happen.
Activity Tracking
Access Controls/Permissions
API
2.
Nagios XI
Monitoring, alerting, graphing, and reporting platform for your entire infrastructure
Powerful monitoring engine
Capacity planning
Updated Web Interface
3.
Solarwinds network performance monitor (npm)
Fault, Performance, and Availability Monitoring
Scalability
SD-WAN Monitoring
Dynamic Network Discovery and Mapping
4.
ManageEngine OpManager
Monitoring network devices such as routers, switches, firewalls, load balances, wireless access points
Alerts and troubleshooting
Network mapping
Network discovery
5.
Zabbix
Monitoring numerous parameters of a network and the health and integrity of servers.
Data gathering
Real-time graphing
Web monitoring capabilities
6.
Datadog
Determining performance metrics as well as event monitoring for infrastructure and cloud services.
Access Controls/Permissions
Ad hoc Reporting
Activity Tracking
7.
Icinga
Checking the availability of your network resources notifies users of outages and generates performance data for reporting.
Monitor servers
Monitor network
Monitor storage systems
1. PRTG Network Monitor – Best NOC monitoring software overall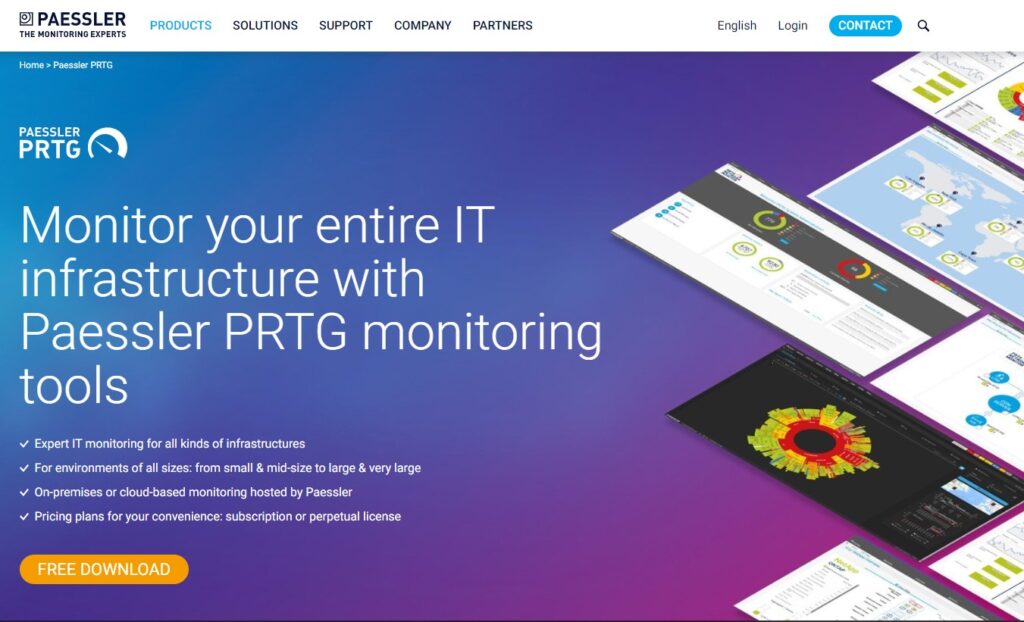 Starting at $1,750 for a perpetual license covering 500 sensors, PRTG Network Monitor is a recognized and mature workhorse in the network monitoring landscape.
PRTG Network Monitor is a real-time unified infrastructure monitoring tool that allows IT Professionals and home users to locate problems throughout their entire network and fix them before they escalate and become business-critical.
With PRTG Network Monitor, you can monitor all systems, traffic, devices, and applications of your IT infrastructure using technologies like SNMP, Flows and Packet Sniffing, REST APIs returning XML or JSON, HTTP requests, and WMI and Windows Performance Counters.
More than 300,000 sysadmins in both small and medium businesses and large companies use PRTG Network Monitor to enhance the speed of their network and make it more reliable and responsive.
Pros
Offers deep support for many devices
All features are available in the licensed version
It's very extensible
Cons
Requires dedicated, on-premises server
It's windows explicitly based, so it doesn't work correctly on the Linux system
2. Nagios XI – Perfect for IT professionals searching for NOC software for their entire infrastructure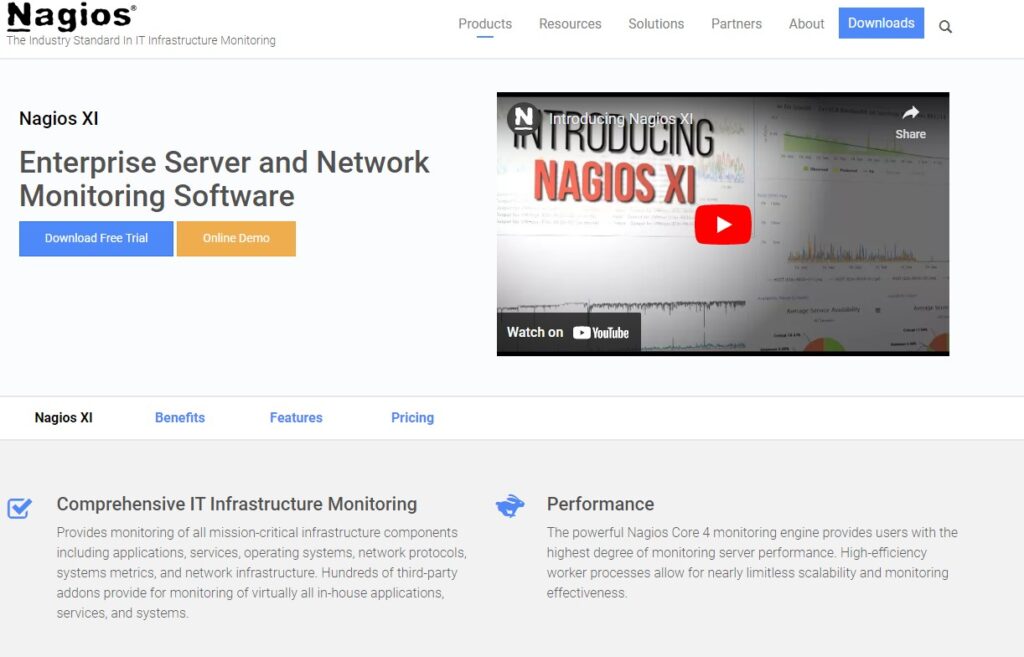 If you have been an IT personnel for some time, you might have heard of Nagios XI. Starting at $1,995.00 for a one-time fee for the standard software version, Nagios XI is perfect for IT professionals searching for a monitoring, alerting, graphing, and reporting platform for their entire infrastructure.
These include applications, operating systems, servers, websites, and hypervisors.
Nagios XI provides users with a configurable dashboard. The configurable dashboard has to be set up after the first login. Many of the monitoring tool's services can be configured using configuration wizards. However, it can be complex when a new type of service is to be configured.
When testing this monitoring tool, we found a few appealing things. First, users can configure any new service for all the network devices in one go by following a few straightforward processes. The second thing is that Nagios XI uses Linux OS at its core. Owing to this, meshing the service with a custom script is easy. Lastly, deployment of Nagios XI is simple as it doesn't take time to be ready.
Pros
Extremely flexible
A huge community of users
Plugins are simple to write
Cons
Dated interface
Steep learning curve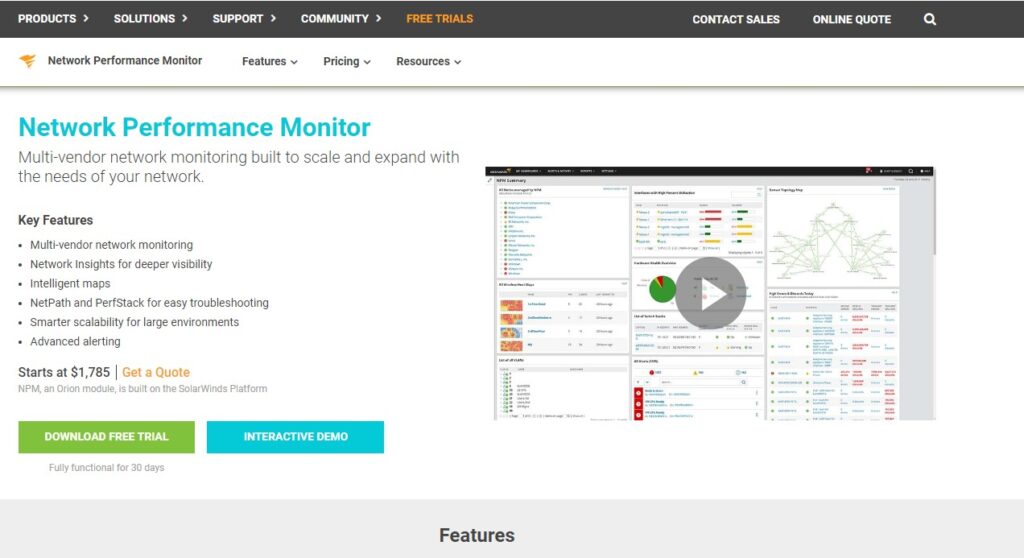 Solarwinds is among the world's top IT management software producers, and the brand's network performance monitor (NPM) is one of its major products. This affordable and powerful monitoring software lets you quickly detect, diagnose, and fix network performance problems and outages.
Solarwinds Orion NPM monitors hardware, including routers and switches, endpoint devices (desktop pcs, terminals, mobile devices), and office equipment like printers. Solarwinds NPM's regular monitory process helps gather metrics used for troubleshooting tasks.
Pros
Monitor Cisco devices in general
Provide different kinds of reports and alerts
Monitor Azure Gateways
Cons
Bugs sometimes occur
Pollers for Aruba Devices
4. ManageEngine OpManager – Real-time network visibility into traffic, performance, and errors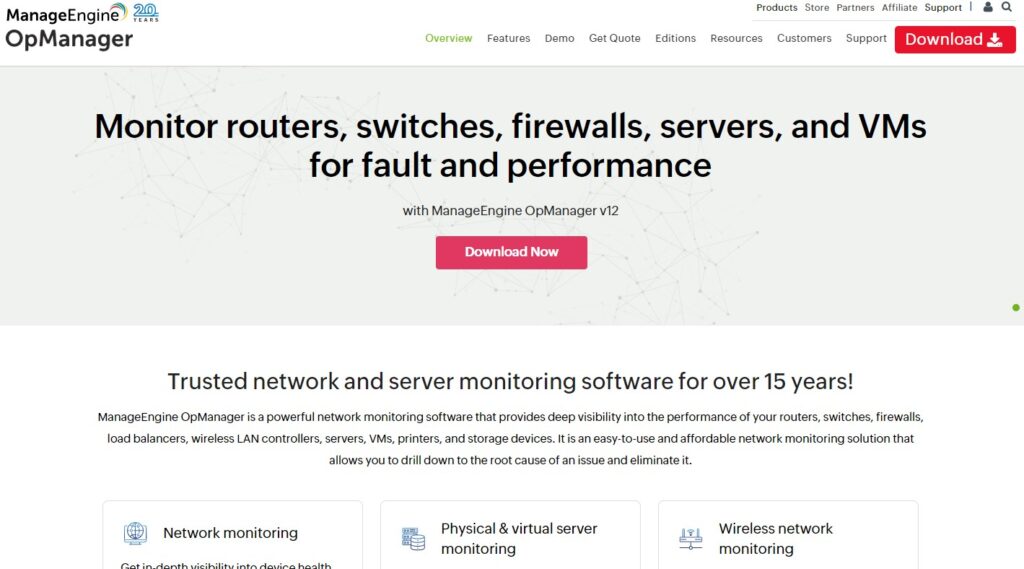 This is network monitoring and management software. It offers real-time network visibility into traffic, performance, and errors across switches, routers, firewalls, virtual and physical servers, and VMs.
ManageEngine OpManager's standard functionalities include a customizable dashboard, add-on capabilities, and multi-level customizable alert thresholds based on monitoring metrics, such as packet loss, latency, errors, and performance bottlenecks.
In terms of cost, the tool is cost-effective. Plus, its user interface is friendly and self-explanatory.
Pros
Flowless Notification system
Monitor physical and virtual servers' CPU and Memory
Cons
Agentless monitor
Remote monitoring needs to open ports from the device
Download ManageEngine OpManager
5. Zabbix – an open-source solution built to monitor the availability and performance of servers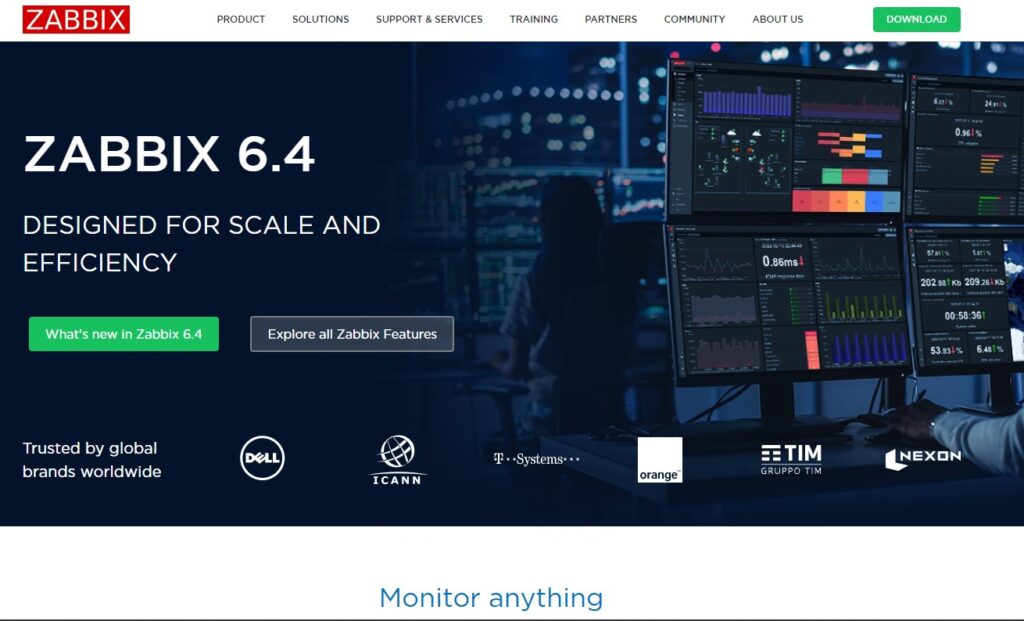 Zabbix is an enterprise-class open source distributed monitoring solution built to monitor the availability and performance of servers, services, devices, and other IT resources.
The tool is an all-in-one monitoring solution that permits users to collect, store, analyze, and manage information received from the IT infrastructure, show on-screen, and notify by SMS, e-mail, or Jabber when thresholds are reached.
It also permits administrators to recognize devices and server problems quickly, decreasing the system downtime and risk of system failure. Both large and medium-sized businesses across different industries are actively using Zabbix.
Pros
Supports different operating systems
Creation of new alerts – either fault-based or performance-based
The reporting function is excellent, with beautiful graphics
Cons
Some of the errors do not provide enough information to troubleshoot issues
More VM-based data collection counters should be introduced to have better VM monitoring
6. Datadog – Superb security, monitoring, and analytics tool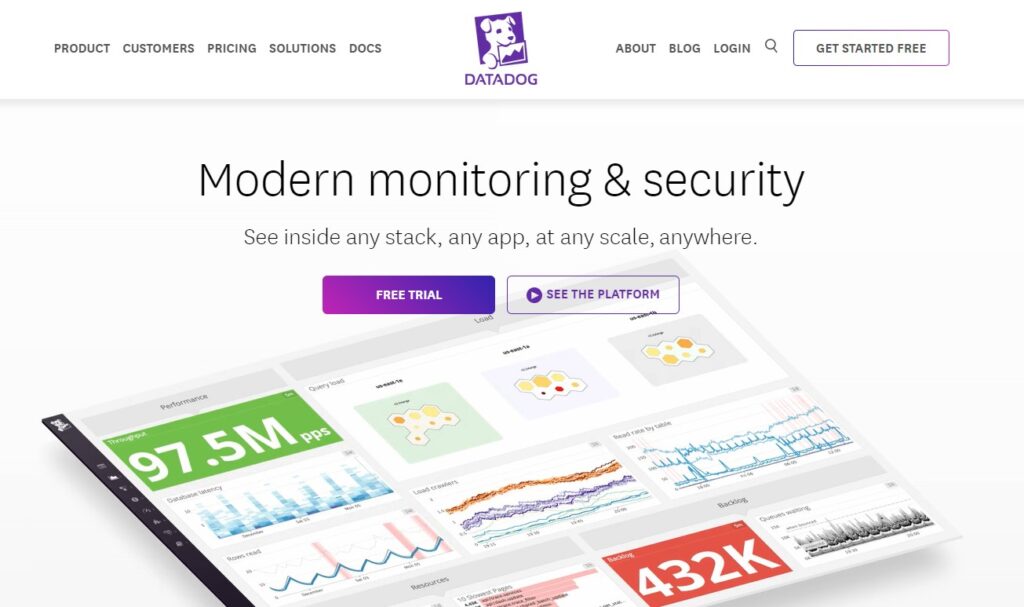 This is a security, monitoring, and analytics tool for IT operations teams, developers, business users, and security engineers in the cloud age.
The platform integrates and automates log management, infrastructure monitoring, and application performance monitoring to offer real-time observability of their customers' entire technology stack.
Businesses of all sizes and across different industries use Datadog to permit digital transformation and cloud migration, security, and operations, cut downtime for issues resolution, inspire collaboration between development, understand user behavior, and track key business metrics.
Pros
Playbooks, which are a collection of "views" that you can aggregate into a single dashboard
APM
Log streaming
Cons
JSON parsing on logs
Documentation
7. Icinga – Newest edition, open-source monitoring with reporting and alerts capabilities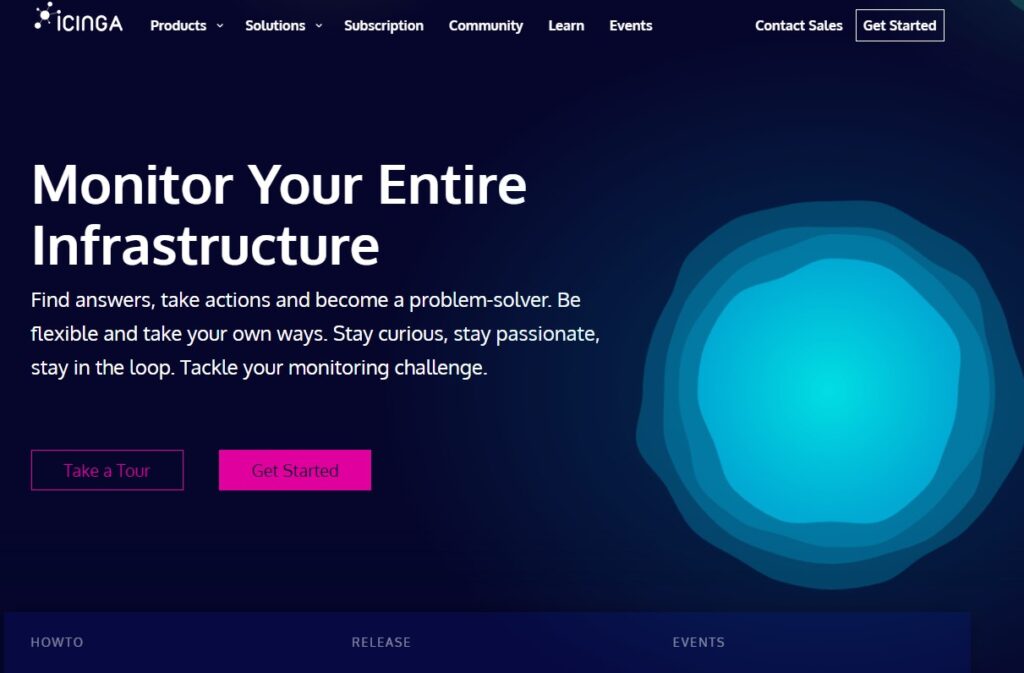 Lcinga is a network monitoring platform, and its newest edition is open-source monitoring with reporting and alerts capabilities and allows community development and the platform's support.
The monitoring tool offers automated data import methods from preexisting and external sources.
Furthermore, the extended functionality of Icinga is modularized for well-planned licensing. Again, Add-ons include certificate monitoring, VMware integration, and Elasticsearch compatibility for data logging.
Pros
Business processing
Incident dashboard
Stats
Cons
The dashboard seems to get very overwhelming
It would be helpful to split environments or clients into different areas
What is NOC monitoring?
A NOC is a central hub where computer and telecommunications network systems are monitored and controlled 24 hours a day. It serves as the initial battle waged against network failures and disruptions.
NOCs collaborate with companies to supervise their complex networking environments, such as firewalls, servers, devices, and databases.
Depending on the company's requirements, the IT infrastructure can be on-premises or with a cloud-based provider.
NOCs typically follow a tiered structure. Incidents are classified on a scale of one to three. One is the lowest level, including checking alerts from infrastructure devices.
On the other hand, three are critical incidents, including a network outage or ransomware attack. If a technician cannot fix an issue fast, it is escalated to a more experienced technician. NOC analysts then troubleshoot problems and seek ways to prevent future connectivity and network downtime.
What is the difference between NOC and SOC tools?
Although the NOC (Network Operations Center) and the SOC (Security Operations Center) are teams within an organization with similar roles, they differ in some ways.
The first difference between the both is objective. At a high level, the NOC and the SOC have a common goal. The goal is to ensure that the company's network meets the needs of the business. However, the details of these objectives vary.
The NOC ensures that the network can meet service level agreements (SLAs) during normal operations and address natural disruptions such as power outages, internet outages, and natural disasters. On the other hand, the SOC's primary function is to safeguard the network and business operations against cyber threats.
Again, the NOC and the SOC protect the company's network from disruption. However, they deal with different types of adversaries.
The NOC concentrates on preventing network interference by natural or non-human-driven events like those mentioned earlier. Meanwhile, SOC analysts work to avoid disruptions caused by humans, such as cyberattacks. Their responsibilities include identifying, assessing, and responding to cyber threats that could harm the business.
How to choose the best NOC monitoring tool?
Selecting the right Network Operations Center (NOC) monitoring tool is essential for ensuring the smooth operation of an organization's network. With so many NOC monitoring tools available in the market, it can be challenging to determine which one is the best fit for your organization. Here are some factors to consider when selecting the best NOC monitoring tool:
Network size and complexity: The size and complexity of your organization's network will influence the type of NOC monitoring tool you need. For example, a small business with a simple network may require a basic monitoring tool, while a large enterprise with a complex network may require a more advanced tool with advanced analytics and automation features.
Scalability: The NOC monitoring tool you choose should be scalable and able to grow with your organization's network. As your network expands, your monitoring tool should be able to accommodate the additional devices, traffic, and applications without compromising on performance.
Integration: The NOC monitoring tool should integrate with your organization's existing IT infrastructure seamlessly. Integration with other tools, such as incident management systems, can enhance the overall effectiveness of the NOC monitoring tool.
Customization: The NOC monitoring tool should be customizable to meet the specific needs of your organization. This includes the ability to configure alerts, thresholds, and other settings to match your network's requirements.
Bottom Line
NOC monitory tools are vital for any business that ensures the availability and reliability of its network infrastructure. With the seven NOC monitory tools we reviewed in this article, there's no excuse why your business should not have comprehensive visibility into its network performance.