7 Best Network Uptime Monitor Tools in 2023 [Free & Paid]
Do your customers primarily come from website conversions, or are you a blogger with a million monthly visitors? However, if your website slows down due to network uptime issues, you risk losing business.
Numerous reasons lead to network downtime including power outages, malware attacks, or even human operational errors. Manually addressing each of them can be overwhelming, which is why you need network uptime monitoring.
A network uptime monitor tool can track your network issues and enhance server uptime, resulting in an optimal user experience. Along with monitoring your internet connection, you should also ensure that your site is accessible all the time, if you are running on PHP-based ones, check the best PHP monitoring tools that will spot any errors and areas that should be improved. To make it simple for you, we've done the research and picked the best network monitoring tools in this article.
Best Network Uptime Monitor Tools
| | | |
| --- | --- | --- |
| Tool | Best For | Top Features |
| Uptrends | Global uptime maintenance | API monitoring, data automation, accurate alerts, third party integrations |
| Better Uptime | Minimize downtime | Easy to set up, high monitoring frequency, status pages, free basic plan |
| OpManager | Monitors entire network | Customizable dashboards, instant alerts, automated analysis reports, user friendly interface |
| Uptime Robot | Leading uptime monitor service | Scans the devices globally, supports several ports, free trial for 50 monitors |
| Site24x7 | Website availability checker | Monitors from over 90 countries, user friendly interface, uses distributed monitoring, synthetic monitoring |
| Dotcom-Monitor | Ensure accessibility | Customizable reports, private agents to boost monitoring reach, flexible performance testing |
| Net Uptime Monitor | Simple Internet Connection Monitor | Clear display details, accurate log records, customizable target servers, lightweight software |
1. Uptrends – Best network uptime monitoring tool overall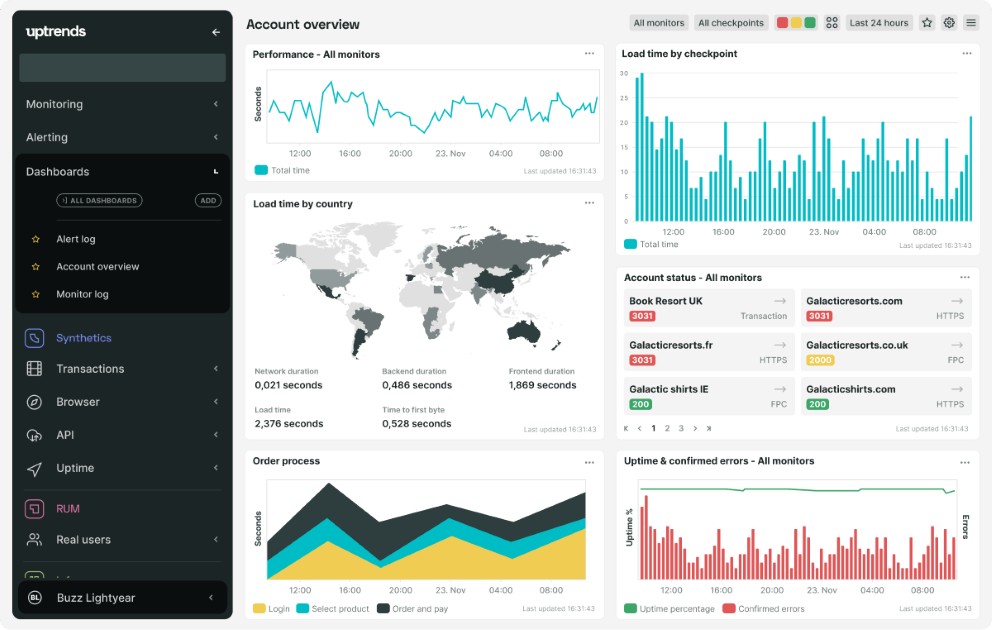 Uptrends is a well-known network uptime monitor tool for faster and more reliable internet for your site. It provides consistent uptime tests along with performance track records of your site from over 233 checkpoints worldwide. Moreover, concurrent monitoring in Uptrends allows simultaneous checks from different locations, ensuring accurate results.
You can even download the test reports and insights in your favorite format. Another key benefit is, Uptrends automates data collection and analysis to predict the trends in downtime.
The tool alerts you with messages along with error screenshots so that you can see what's exactly wrong with the site.
Pros:
Best for API monitoring.
Data automation.
Accurate alerts.
Supports third-party integrations.
Cons:
2. Better Uptime – Best to minimize downtime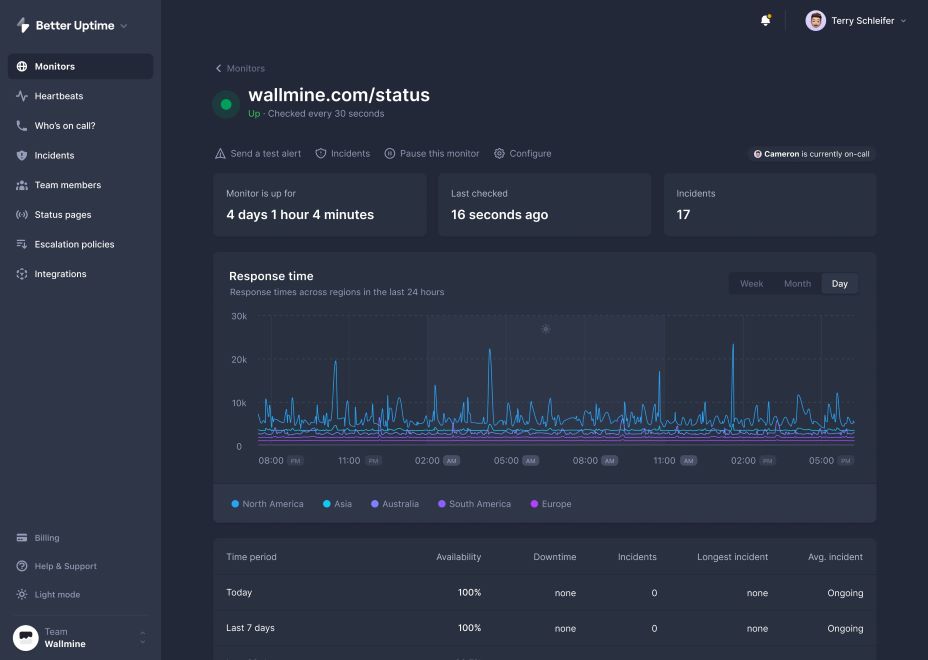 Better Uptime offers not only uptime monitoring services but also a platform for seamless communication between businesses and users through status pages. Status pages are nothing but custom pages created by businesses to update their customers on ongoing services in real time.
The tool allows you to customize the monitoring intervals based on your needs. In fact, the tool is capable of checking the network for every 30 seconds.
Better Uptime ensures the occurrence of outages from 3 different locations, just to be perfect before alerting you.
Pros:
Easy to set up.
High monitoring frequency.
Status pages
You can sign up for a basic plan at no cost.
Cons:
Not highly customizable compared to other tools in the market.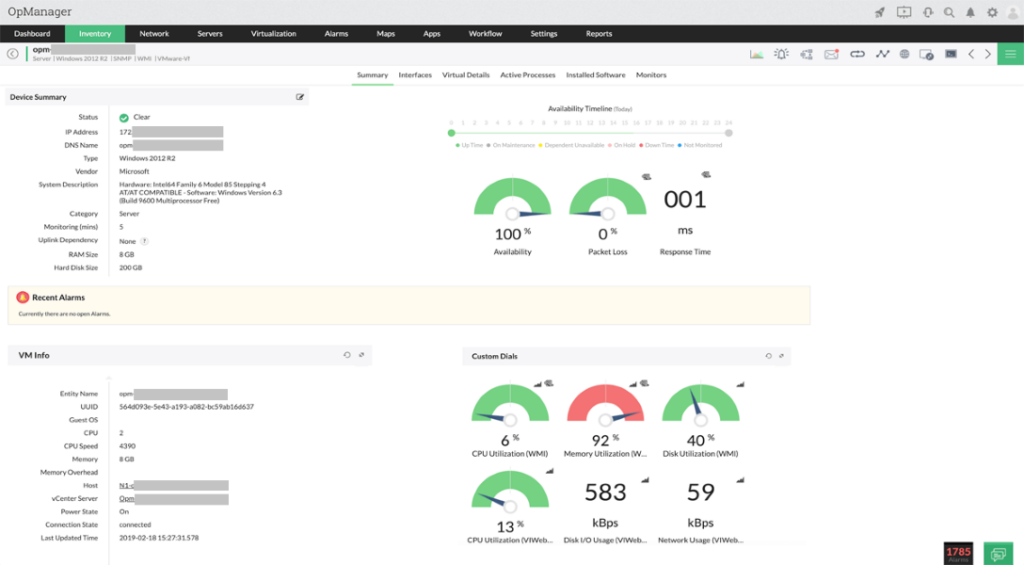 An overall best tool for network monitoring, specialized to handle servers and network uptime.
The tool employs various techniques, such as pinging the IP addresses, sending SNMP requests, and using WMI monitoring to ensure the accessibility and performance of the network.
OpManager gives instant notifications if the server is down or responding poorly to requests.
Additionally, the tool assists you with detailed analytical reports by identifying downtime patterns in past data. These insights can help you make actionable decisions to enhance network performance.
Pros:
Customizable dashboard.
Instant alerts.
Automated analysis reports.
User-friendly interface.
Cons:
Expensive.
Complex tool for newbies.
4. Uptime Robot – Leading uptime monitoring service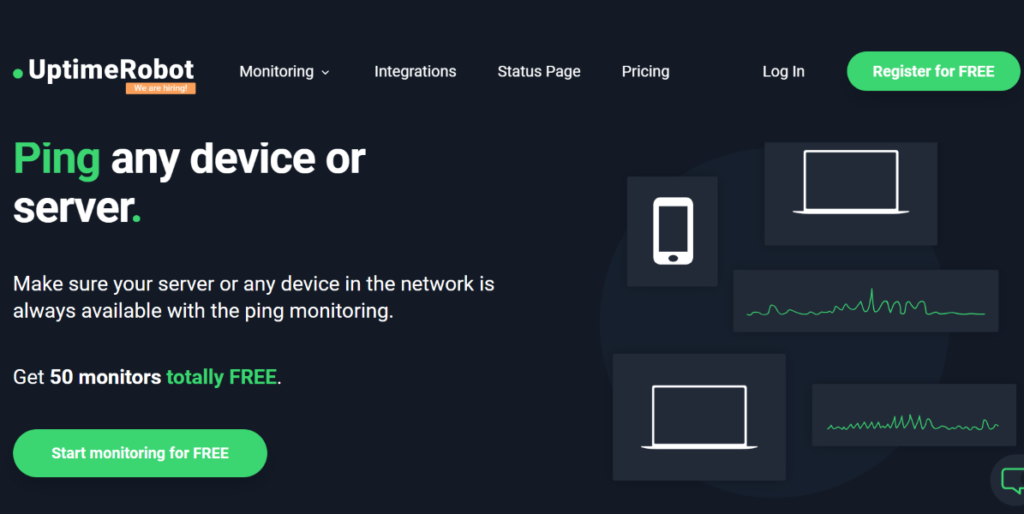 Uptime Robot is one on the list that offers robust uptime monitor services with over 1.9M happy users. This tool equips your servers with an optimized network speed by leveraging ping and port management techniques.
With Uptime Robot, you can automate periodical scans to track suspicious activities immediately and avoid downtime issues. Not to mention, the alerts from the software are so accurate that it cross-checks the occurrence of outage before pinging you.
You can now check the performance and uptime of specific ports including HTTPS, SSH, POP3, SMTP, and many more.
Pros:
Scans the devices globally.
Supports several types of ports.
Numerous integration options.
The free trial works for up to 50 monitors.
Accurate alerts.
Cons:
Limited customer support
Advanced features are only available on high-end plans.
5. Site24x7 – Best website availability checker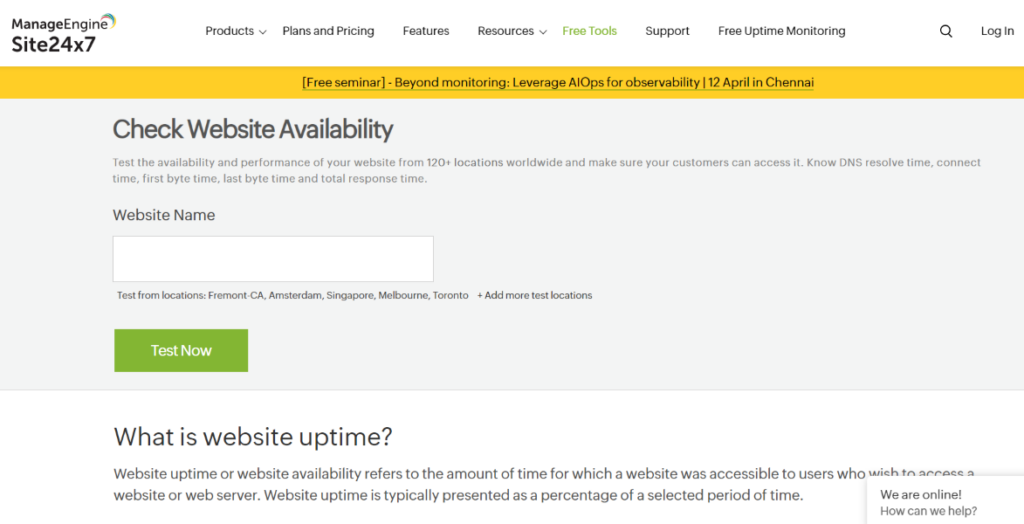 Site24x7 is an all-in-one solution including website monitoring, server monitoring, network monitoring, APM management, and Log management, specially designed for DevOps and IT teams. It tracks websites uptime from numerous global locations to ensure that the user has the optimal experience.
The tool is capable of analyzing the performance of each page or component in the URL to spot the root cause for downtime. Besides this, you can get instant notifications if the website is underperforming.
VMware, SAP, and GoDaddy are among the top brands that have already adopted Site24x7. You can either sign up for a demo or a 30-day free trial.
Pros:
Monitors from 90 different countries.
User-friendly interface.
Uses distributed monitoring.
Notifies suspicious changes or behavior on the web.
Synthetic monitoring to optimize uptime.
Cons:
Not pocket friendly for small organizations and individuals.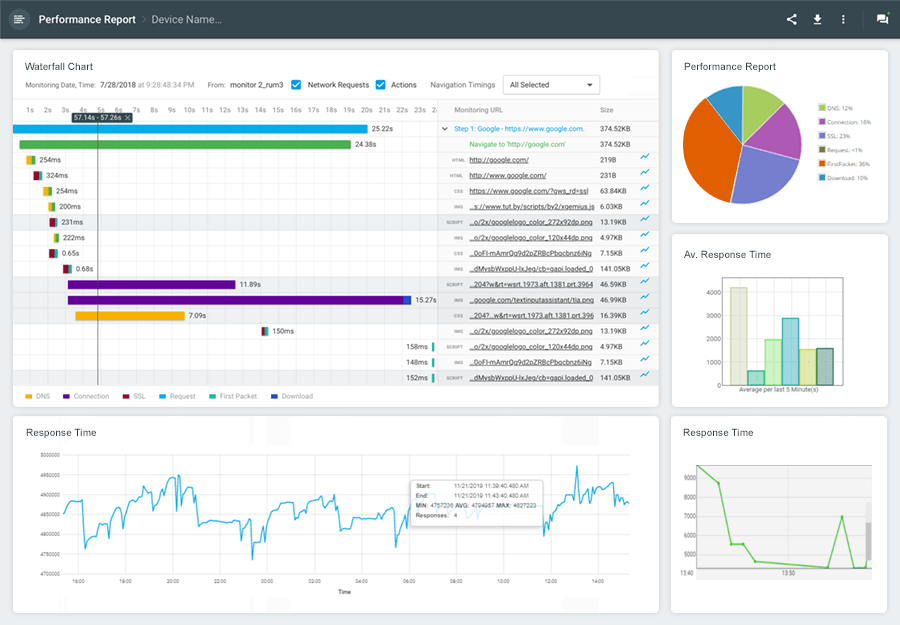 Another powerful tool on the list to make your website accessible and available to users all the time is Dotcom-Monitor. It monitors the uptime from real browsers to understand the performance in real-time.
The tool supplies the required data to maximize, performance, and availability for the team. On top of that, whether you are dealing with a small application or an entire infrastructure, the Dotcom-Monitor is here to assist you.
Pros:
Customizable reports.
Private agents to boost the monitoring reach.
Flexible performance testing.
Cons:
7. Net Uptime Monitor – Simple internet connection tool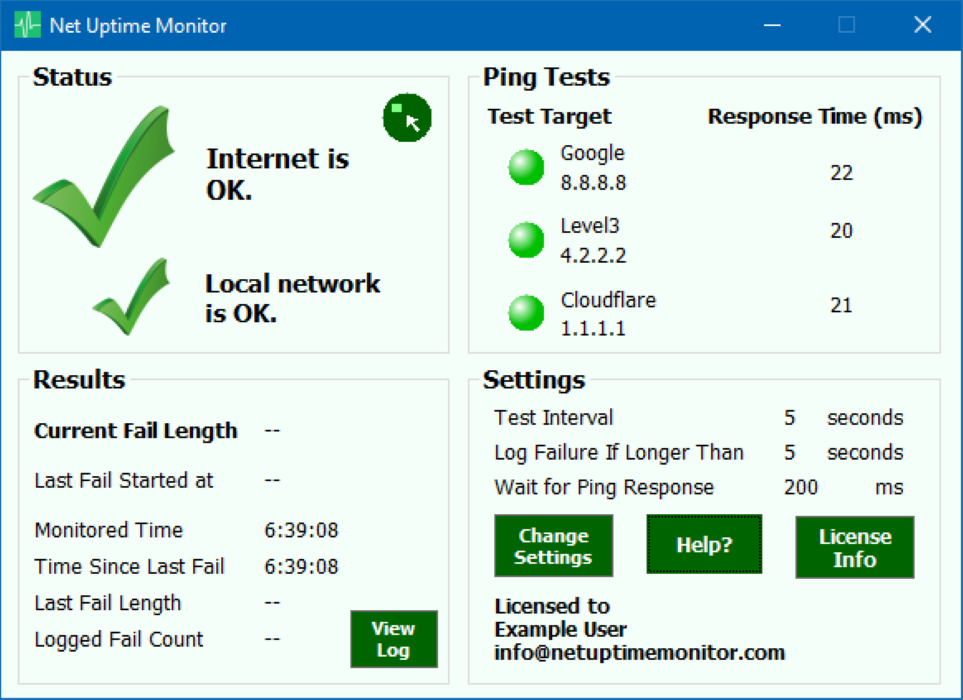 A lead developer problem turned out to be a solution for thousands of people today!
Once, a software developer's broadband connection dropped out multiple times, so he wrote a program to track those outages, which is now a popular network uptime monitor tool used by individuals across 70 different countries.
The tool records the details of outages such as downtime duration, traffic loss, and failed transactions that helps your network provider identify the core issue and avoid such failures often in the future.
Net Uptime Monitor uses the "ping" command to identify the network speed. That is, it continuously pings the three popular public servers Google, Cloudflare, and Level 3. If all of them fail to respond, then your connection is more likely to be down.
Moreover, you can effortlessly migrate the tool between devices. It's just a one-time fee of 9.95 USD to use the tool limitless.
Pros:
A free trial is available as many times as you want, but it only works for 30 minutes per session.
Clear display details.
Accurate log records.
Customizable target servers.
Lightweight software.
Cons:
NUM cannot run as a Windows server.
Only available for Windows.
What are network uptime monitoring tools?
Uptime monitoring tools are software applications or services that continuously check and verify whether a website, server, network or service is available and functioning properly. These tools automatically probe at regular intervals and trigger notifications when they detect downtime or other significant performance issues.
Key features of uptime monitoring tools may include:
Continuous Monitoring: These tools conduct regular checks, often every few minutes, to verify the availability of the target website, server, or service. They function 24/7, ensuring the constant monitoring of your resources.
Alerts and Notifications: When downtime or another significant issue is detected, the tool sends an alert via email, SMS, or another chosen method. This enables you to respond and resolve the issue promptly, minimizing the duration of the outage.
Performance Reports: Many uptime monitoring tools generate reports detailing the uptime, downtime, and performance trends of your website or service over time. These insights can help you identify patterns or recurring issues that need to be addressed.
Response Time Monitoring: In addition to verifying availability, these tools often track the response time of your servers or website. If the response time consistently exceeds an acceptable threshold, the tool can alert you to the performance issue.
Multiple Check Locations: Many tools perform checks from multiple geographical locations. This allows you to ensure your website or service is accessible worldwide and not just in a specific region.
What is good Network Uptime?
Uptime is nothing but the time when the server and site are accessible at their complete potential. When it comes to good network uptime, "five nines- 99.999%" is the industry standard for network availability. So, if your average calculated uptime meets this benchmark, then your site or network is performing well. If not, there is something wrong with the website.
A few ways to detect downtime are refused connection requests, poor performance, and longer response time. However, the tools mentioned are designed to automate these tasks to enhance the uptime of the network.
Final Thoughts
Uptime monitoring tools are pretty useful to manage the website's performance and uptime efficiently. However, every tool mentioned in this list has its own pros and cons, which we've outlined for you. So, this article should help you choose the right tool for your business.