10 Best Local Network (LAN) Speed Test Tools in 2023
Measuring your local network speed helps you understand the capabilities and limitations of your network infrastructure.
You can easily identify any potential bottlenecks and performance issues and make informed decisions to optimize the network performance and user experience. By pinpointing the cause of network issues, i.e., if it lies within the network or external factors, you can troubleshoot network performance and verify Service Level Agreement (SLA) Compliance.
Whether you are streaming music or video across the local network or constantly copying large files between computers, it is important to make sure that your network connection is working properly in order to achieve the fastest speeds. Here are the top free network benchmarking tools that can be used to test your network speed between computers to make sure the network is running at the expected speeds.
Best LAN Speed Test & Benchmark Tools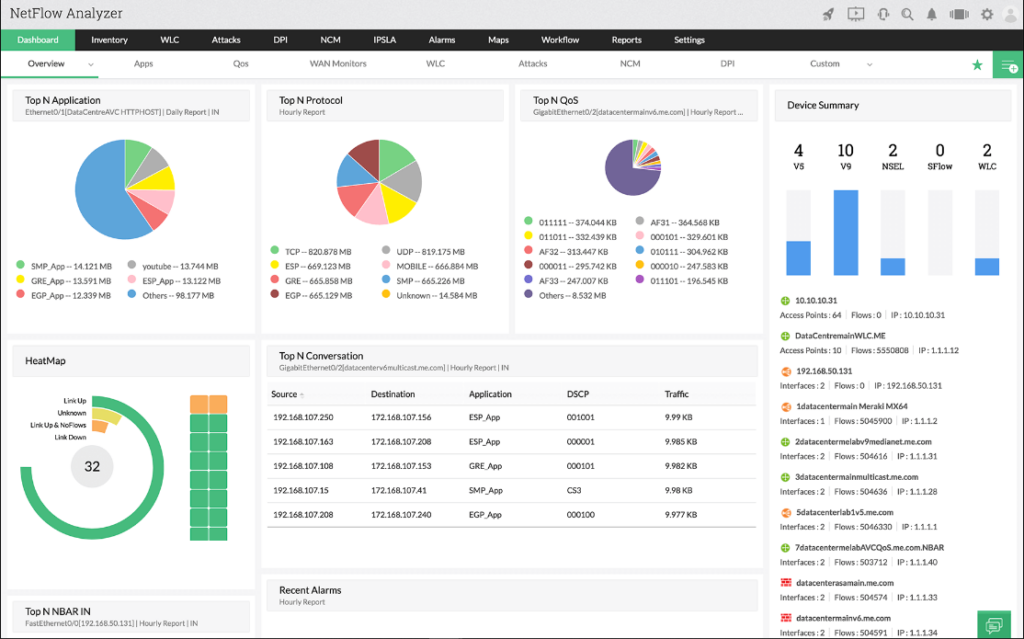 Operating System: Windows, Mac, Android, iOS.
Pricing: Paid
Developer: ManageEngine
ManageEngine Netflow Analyzer is one of the most comprehensive network traffic analysis and monitoring tools that helps users optimize networks by providing a holistic overview about network performance.
This bandwidth monitoring tool uses Cisco's NetFlow protocol to capture crucial network information and provides insights into network behavior and performance in detailed reports. The tool provides real-time monitoring of network traffic, including bandwidth utilization, top talkers, and protocols.
By using this tool to test local network speed, you gain insights into the types of traffic traversing your LAN, such as the amount of data transferred, the applications or services consuming bandwidth, and the sources and destinations of network traffic. NetFlow Analyzer provides real-time monitoring of network traffic, including bandwidth utilization, top talkers, and protocols.
NetFlow Analyzer also provides historical reporting, allowing network admins to optimize network infrastructure and allocate resources.
Visit ManageEngine Netflow Analyzer
2. PRTG Network Monitor – comprehensive network monitoring and alerting solution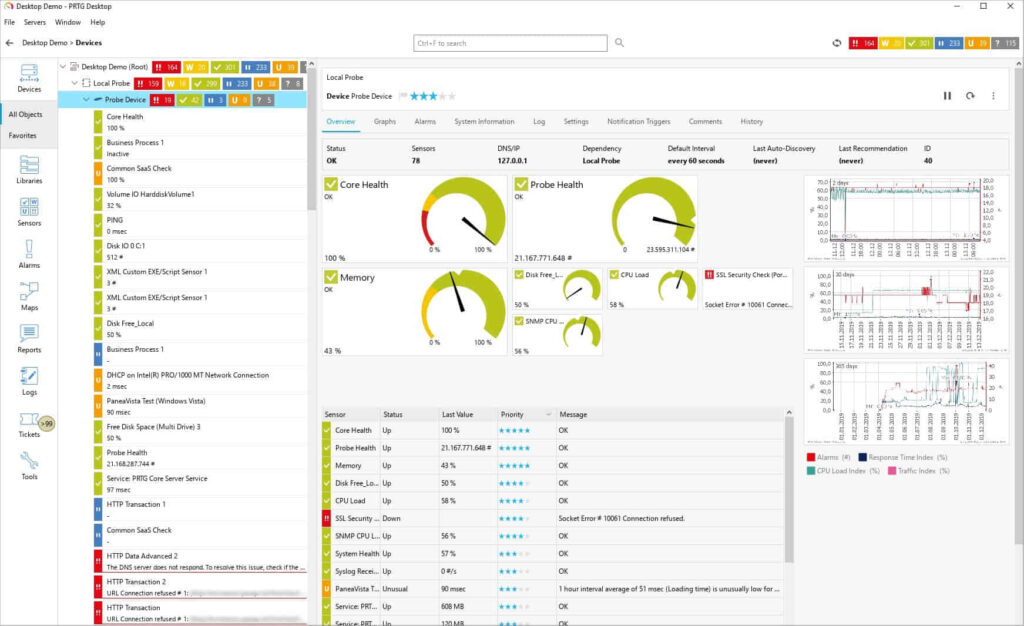 Operating System: Windows, Mac, Android, iOS.
Pricing: Free
Developer: Paessler AG
If you're looking for an efficient LAN speed test tool, the PRTG Network Monitor stands out.
The software has an intuitive user interface and an organized dashboard that displays the status of your network in real-time. With over 300 types of sensors available, you can use the software to monitor different aspects of your network, including servers, routers, switches, and apps.
Another great feature of the PRTG software is the ability to monitor multiple websites and networks simultaneously. This flexibility makes it an excellent choice for businesses that operate in multiple locations. The application also provides a detailed report of your network's performance, bandwidth usage, and website uptime.
3. Aida64 – hardware and software information and diagnostics tool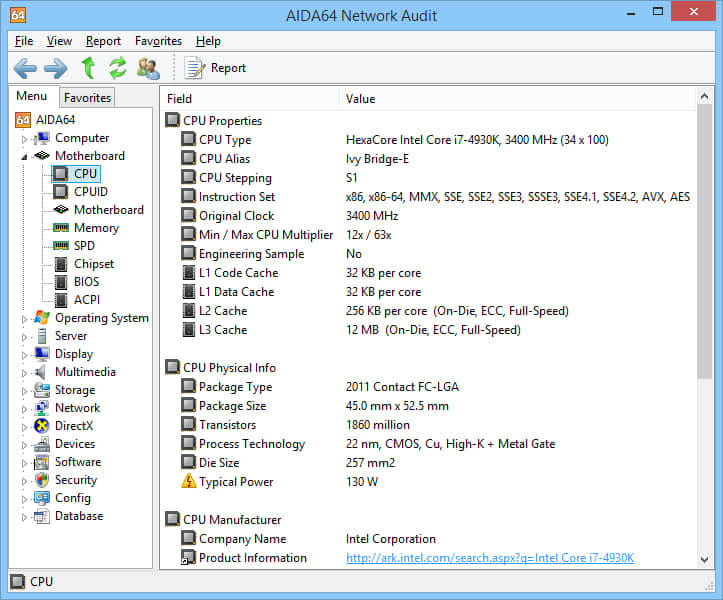 Operating System: Windows, Android, iOS, macOS
Pricing: Free
Developer: FinalWire Ltd.
Many users praise Aida64 for the software's reliability and accuracy. This LAN speed test tool was designed to be a PC information and diagnostic tool. The application provides an accurate overview of your internet speed and overall performance. It also allows you to customize your tests to get more tailored feedback.
The software can also measure your network's latency, packet loss, and throughput. Because it has an intuitive user interface, the application is ideal for users who are not network experts. If you're looking for an application that works perfectly with wired and wireless networks, this LAN monitoring tool is a great option.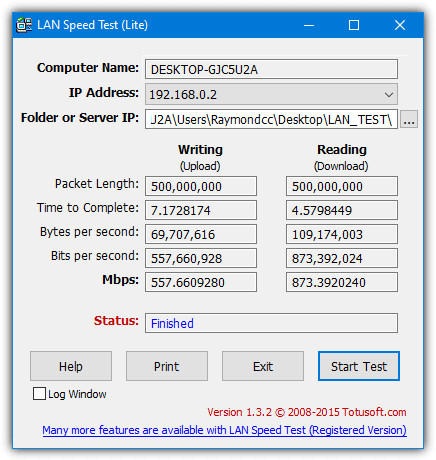 Operating System: Windows
Pricing: Free; the Full version is paid
Developer: Totusoft
The Lite version of LAN Speed Test is a standalone portable executable of 122KB and basically an older free version of the shareware program. It's an easy-to-use tool for measuring the speed on your LAN by copying a file to another computer that is located on the same local network. All you need to do is browse to a folder of another computer on the network where you have write access and click the Start Test button.
You will then be prompted to set the file size of the dummy file to be transferred. The default is 20MB, but that will need to be at least 10 times higher to test faster networks, such as Gigabit. The good thing about this tool is you don't need to set up master and client connectivity; it just needs write access to a shared folder. You can also print the results at the end of the test.
Download LAN Speed Test (Lite)
Note: There is a newer version that is also portable, but it's the limited free version of the full shareware tool. However, it gave us inaccurate write test results, so we'd recommend sticking with the Lite version. The installer may also contain adware, so download LAN Speed Test portable if you want to try it.
5. LANBench – measure network performance with multiple simultaneous connections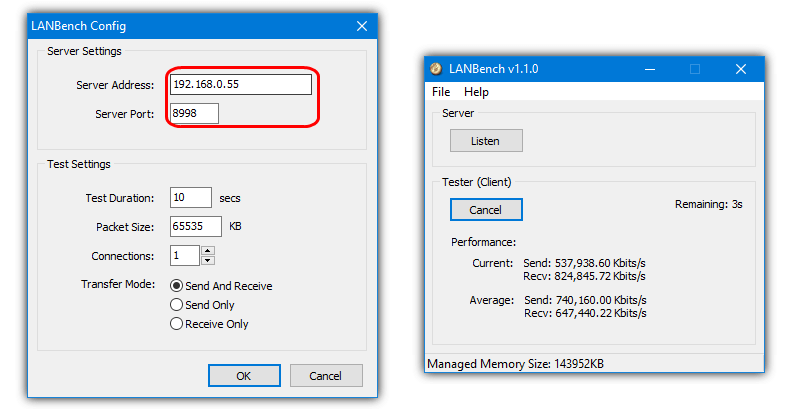 Operating System: Windows
Pricing: Free
Developer: Zack Saw
LANBench is a free and portable utility that tests the network using TCP. You need to run LANBench on both computers, one as the server and the other as the client, which will be the tester. On the server PC, you only have to run the tool and press the Listen button.
The client PC will require a bit of setting up, go to File > Configure, add the IP address of the server and check it's using the same port as the server; the default is 8998. The default packet size is 2MB which might need increasing depending on your network. You can also define the test duration, packet size, connection, and transfer mode. You can see the live transfer rate and average performance during the network benchmark.
6. NetIO-GUI – customizable real-time network performance monitoring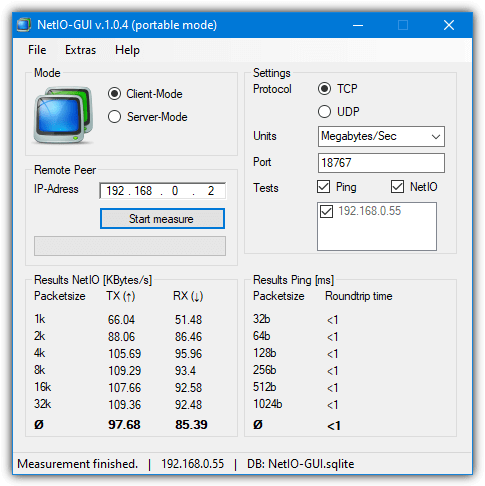 Operating System: Windows, Mac, Android, iOS.
Pricing: Free / Paid / Freemium
Developer: Company Name
NETIO is actually a command-line utility for benchmarking network throughput. NetIO-GUI is a third-party graphical user interface that acts as a frontend, making the tool much easier to use.
After downloading, run the extractor followed by running NetIO-GUI.exe. It's portable, but an additional option is to install a Windows service from the Extras menu if you plan to run NetIO-GUI regularly.
You will need to run NetIO-GUI on both computers you want to test. On the server PC, simply press Server-Mode and click Start Server. On the other PC, make sure it's in Client Mode, then enter the IP address of the server PC and click Start Measure. NetIO will then test the connectivity based on different packet sizes. Protocol, measuring units (MB/s will likely be best), port, and ping tests are all optional settings.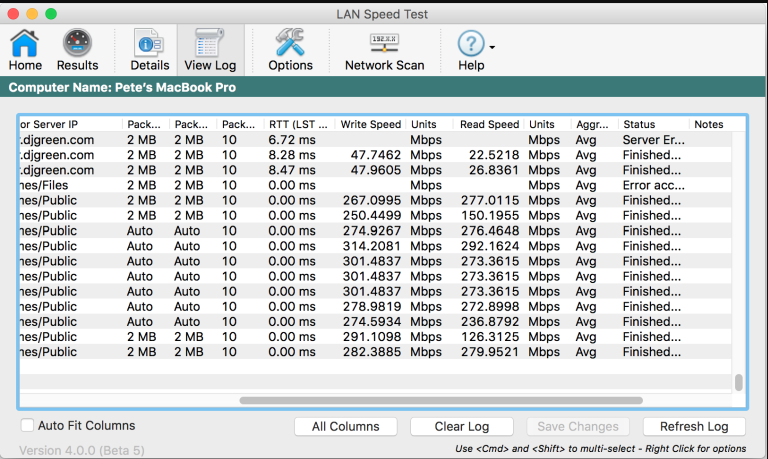 Operating System: Windows, Mac, Android, iOS, Linux.
Pricing: Freemium
Developer: Totusoft
LAN Speed Test by Totusoft is a powerful tool designed to test network speed between two computers in a local network.
It provides a simple yet effective way to monitor the upload and download speeds between the client and server devices, giving network administrators, IT professionals, and home users an accurate overview of their network's performance capabilities.
You can use the shareware to conduct both single- and multi-threaded tests. It is particularly helpful to assess real-world network performance. The tool also provides customizable test packet sizes, allowing you to test different network configurations and compare the performance of various network devices.Visit LAN Speed Test by Totusoft
8. iPerf and JPerf (GUI) – advanced network performance testing and analysis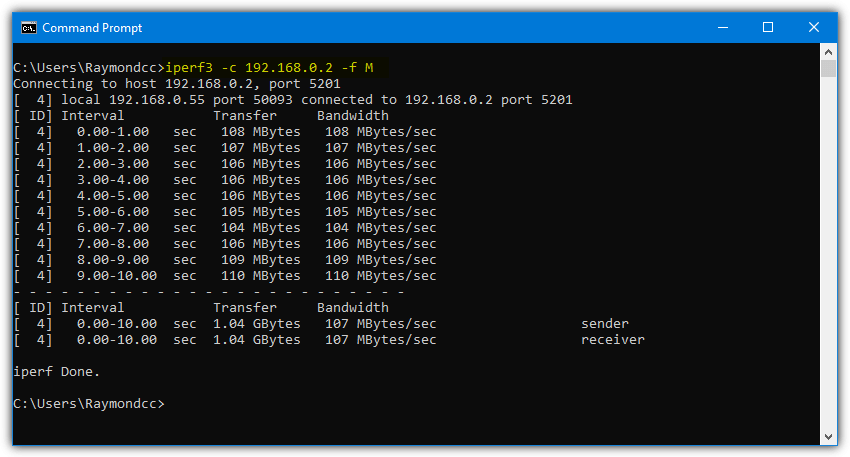 Operating System: Windows, Mac, Android, iOS, Linux.
Pricing: Free
Developer: iPerf
iPerf is a popular and well-known multi-platform command line benchmarking tool. This means it can be run on Windows, Linux, macOS, iOS, and Android devices. To get iPerf running, download the zip archive and extract it onto two computers, then open a Command Prompt on each machine. On the first computer, run the following command, which sets it up as the server.
iPerf3.exe -s
On the second computer, run the below command replacing the zeroes with the computer's IP address running as the server.
iPerf3.exe -c 0.0.0.0 (e.g. iperf3.exe -c 192.168.0.2)
A speed test will be performed for 10 seconds, giving the results in Megabits per second. To get the Megabytes per second score, append "-f M" to the end of the command (note the upper case M).
Several other commands can be used in iPerf, although we won't go into that here. They include changing the default port, using UDP instead of TCP, running for a custom time period, transferring a specific number of blocks/bytes, setting MTU, using only IPv4/IPv6, and much more.
If you're not a fan of Command Prompt, an option is to use a frontend GUI. There aren't many free frontends, but one popular with network admins is JPerf. The drawbacks with JPerf are that you will need Java installed on your system, and it's also from 2009 with an old version of iPerf. You can't replace it with the latest iPerf, but version 2.0.9 from 2016 works; the included version 1.7.0 is from 2003.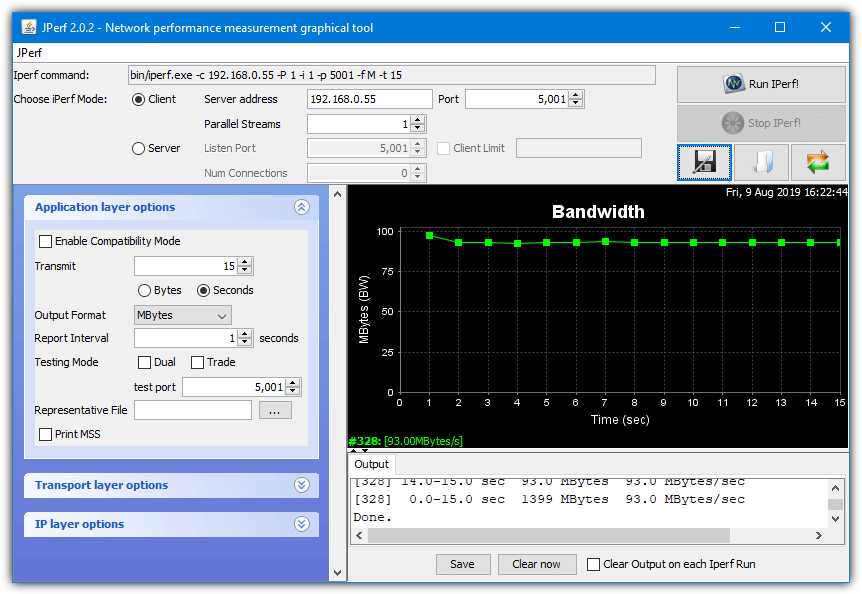 Run the jperf.bat batch file to launch JPerf. Usage is pretty much the same as with other tools here; on one computer, set the program as server and press the run button. Use the second computer as the client, enter the server IP address, and press Run IPerf. The advantage here is most of the iPerf commands can be edited from checkboxes and text boxes.
For more advanced users, we did find another free iPerf GUI called PPerf. It's actually a PowerShell script that will allow you to switch between either version 2 or 3 of iPerf during testing.
9. NetStress – best for stress-testing network devices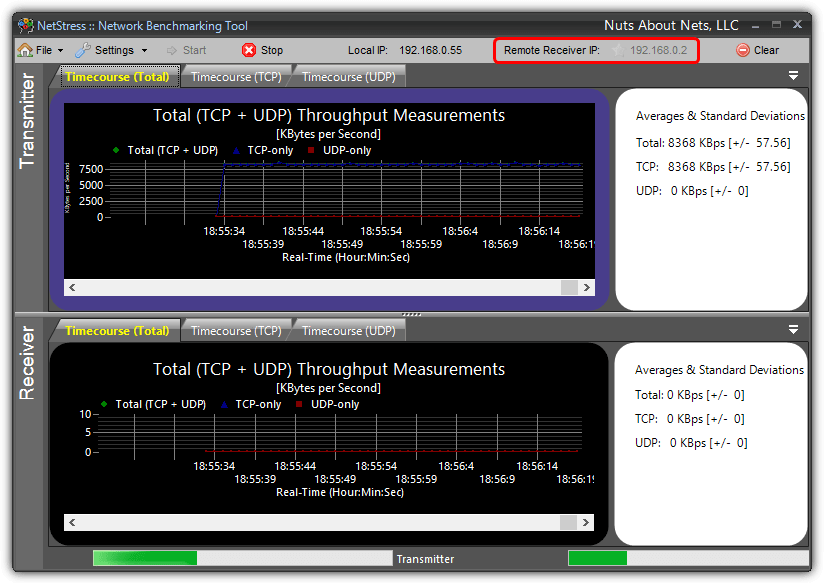 Operating System: Windows, Mac, Android, iOS.
Pricing: Free
Developer: Nuts About Nets
NetStress is a free and simple network benchmarking tool created as an internal tool by Nuts About Nets which was then released to the general public. The biggest problem with NetStress is the horrible user interface, which isn't very easy to see or navigate and only runs as a fully maximized window.
NetStress also needs to run on both computers that you want to test, but one good thing is it can automatically find the receiver's IP address. To run a test, click on 0.0.0.0 at the top beside the Remote Receiver IP, select the IP address listed in the window, and click OK. The Start button will then be enabled, and clicking on it will begin measuring the TCP and UDP throughput.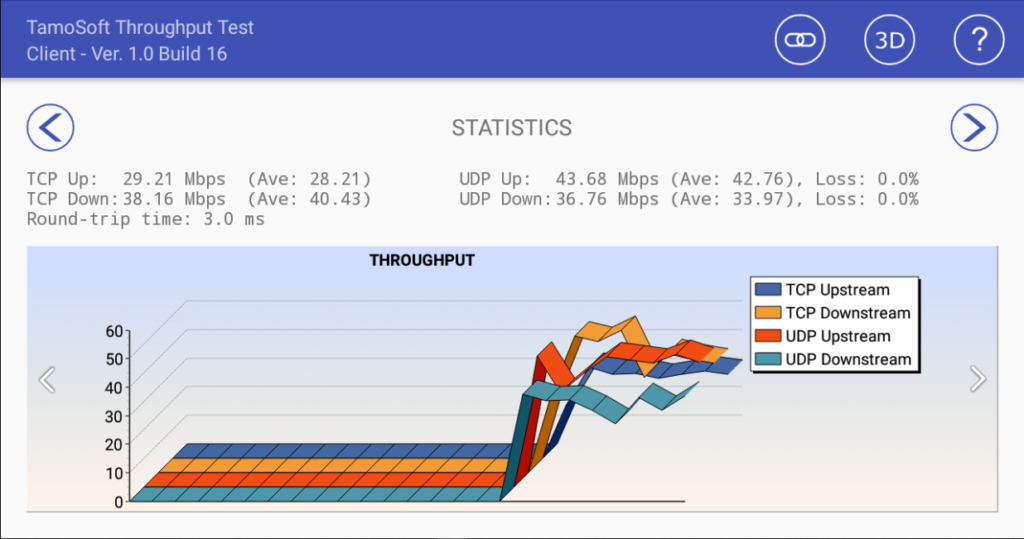 Operating System: Windows, Mac, Android, iOS.
Pricing: Free
Developer: TamoSoft Ltd
TamoSoft Throughput Test is a comprehensive utility designed to test and measure the throughput and performance of your network infrastructure.
The tool provides extensive features to assess the maximum data throughput achievable on a network link or connection. By generating network traffic and measuring the actual throughput, it helps identify potential bottlenecks, bandwidth limitations, and performance issues within the network.
To test local network speed, this tool can emulate various types of traffic, including VoIP, video streaming, file transfers, and web browsing. This allows users to test network performance in real-world scenarios. TamoSoft Throughput Test also generates detailed and comprehensive reports, presenting information such as throughput, latency, packet loss, and other important metrics.
Visit TamoSoft Throughput Test
Overview of the best LAN speed test tools
| Software | Testing methodology | Customization options | Reporting and analytics | Cost and licensing |
| --- | --- | --- | --- | --- |
| ManageEngine Netflow Analyzer | Monitor network bandwidth and traffic patterns at an interface-specific level | Completely customizable to user needs | Capacity planning reports, historic reporting | Commercial license |
| PRTG Network Monitor | Monitor 500 to 10,000 aspects | Limited customization | Customizable reporting, SLA reporting | Commercial license |
| Aida64 | Comprehensive hardware testing | NA | Basic | Commercial license |
| LAN Speed Test (Lite) | Single-threaded | Packet sizes | Basic | Free |
| LAN Bench | Multi-threaded | - | - | Free |
| NetIO-GUI | Single-threaded | Packet sizes, duration | Basic | Free |
| LAN Speed Test by Totusoft | Single/Multi-threaded | Packet sizes, connections | Detailed | Free/Premium |
| iPerf and JPerf | Single/Multi-threaded | Various parameters | Basic | Free |
| NetStress | Single-threaded | - | - | Free |
| TamoSoft Throughput Tester | Single/Multi-threaded | Packet sizes, connections | Detailed | Commercial license |
How to choose the best free LAN speed test tool?
When choosing the best LAN speed test tool to test network speed between two computers, here are some of the top factors you should consider.
Accuracy and reliability – Look for a tool that provides accurate and reliable speed measurements. Check user reviews or recommendations to gauge the tool's reputation for delivering consistent results.
Testing methodology – Determine if the tool uses a single-threaded or multi-threaded testing approach. Consider your specific needs and the type of network traffic you want to simulate to choose a tool that aligns with your requirements.
Customization – Check whether the tool offers customization options such as adjustable packet sizes, test duration, or the number of connections. The ability to tailor the tests to your specific network environment can provide more accurate and relevant results.
Reporting and analytics – Look for features like detailed test results, graphical representations, and the ability to export or save reports for further analysis or documentation.
Ease of use – Choose a tool with a user-friendly interface and intuitive controls. A tool that is easy to set up and navigate will save you time and effort during testing.
You can get most of the information from our comprehensive guide. That said, you should check the reviews and recommendations from trusted sources to gain valuable insights into the tool's performance and reliability.
How To Get The Server IP Address
Some of these tools require you to run an instance of the program on two computers, one as a client and one as a server. You will be asked to enter the server's IP address on the client, so you will need to know its local IP address. Experienced users will know how to do that, but others might not be too sure. Here are some simple ways for less experienced users to get the local IP address of a computer.
Downloading a utility that shows the information in a GUI window is an easy option to get the server IP address. Simple IP Config allows editing the settings of installed network adapters, but all you have to do is download and run the portable tool. Then copy the IP address from the lower right and close the program. You may need to select a different adapter from the drop-down if you have more than one, such as Ethernet or Wifi on a laptop.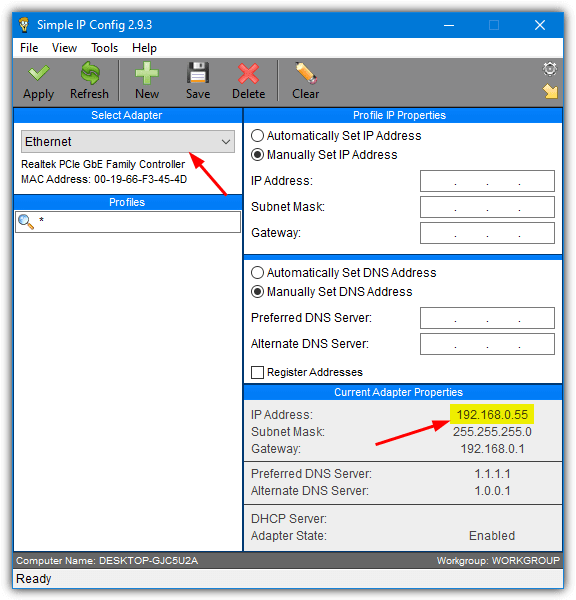 How can I test my LAN speed?
LAN speeds can be influenced by several factors, including network hardware, device capabilities, network congestion, etc. You can use various tools to test the LAN speed, some of which are discussed below.
Transfer files between devices – One of the simplest ways to test local network speeds is to transfer files between devices on your network. Copy a large test file from one device to another and measure the transfer time, then divide the size of the file with the transfer time to get MBps.
LAN speed test tools – Use dedicated LAN speed test tools like iPerf, LAN Speed Test, or LANBench, which allow you to measure the transfer speed between devices on your network. They usually involve running a client-server setup, where one device acts as the server and the other as the client. The client device sends data to the server, and the tool calculates the speed based on the transfer time.
Network monitoring tools – Network monitoring tools like ManageEngine NetFlow Analyzer and PRTG Network Monitor capture and analyze network traffic, allowing you to monitor bandwidth utilization, identify network congestion, and measure your LAN speed at different points in your network infrastructure.
What is typical LAN speed?
Ethernet networks have long replaced traditional LAN systems due to their superior speeds and reliability. Here are some common LAN speeds based on different network standards.
Fast Ethernet (100Mbps): The most widely used LAN standard, Fast Ethernet at 100 Mbps is found in older networks and home networks.
Gigabit Ethernet (1 Gbps): For handling higher data transfer rates than Fast Ethernet, Gigabit Ethernet is most commonly found in big home networks and modern office networks.
10 Gigabit Ethernet (10 Gbps): This is typically used in more demanding environments such as data centers, large enterprise networks, or high-performance computing setups.
However, note that these are theoretical maximums, and the actual achievable speeds can be lower than this due to network congestion, cable quality, and other overheads associated with network protocols.
Final Thoughts
Measuring your local network speeds regularly can help you stay on top of potential network issues that might disrupt your experience. You can optimize your network infrastructure, troubleshoot problems, and ensure your network runs at its full potential.
To test network speed between two computers, you will need a LAN speed test tool that allows you to monitor different types of traffic entering and exiting your network. Make sure to go through the entire list to find a tool that matches your exact requirements.