5 Free Tools to Continuously Monitor Internet Connection
Your internet connection is a complex mesh of software and hardware interacting continuously to keep you online.
Therefore, monitoring your internet connection is crucial to ensure maximum uptime. You do not want interruptions or downtime during important work tasks, video conferences, or file transfers. If you continuously monitor internet connection online, you can identify latency issues, network problems, packet losses, etc., and troubleshoot whenever necessary.
For instance, other computers on the network may consume more bandwidth than they should, causing an overall slowdown of the internet service.
You can run a network traffic monitoring program that scans and logs how much internet bandwidth a computer consumes over hours, days, weeks, or even months.
Here are 5 free tools to try that can monitor and log your internet traffic. All have been tested in Windows 7 and 10.
Best tools to continuously monitor internet connection
1. ManageEngine – the best tool to monitor internet connection overall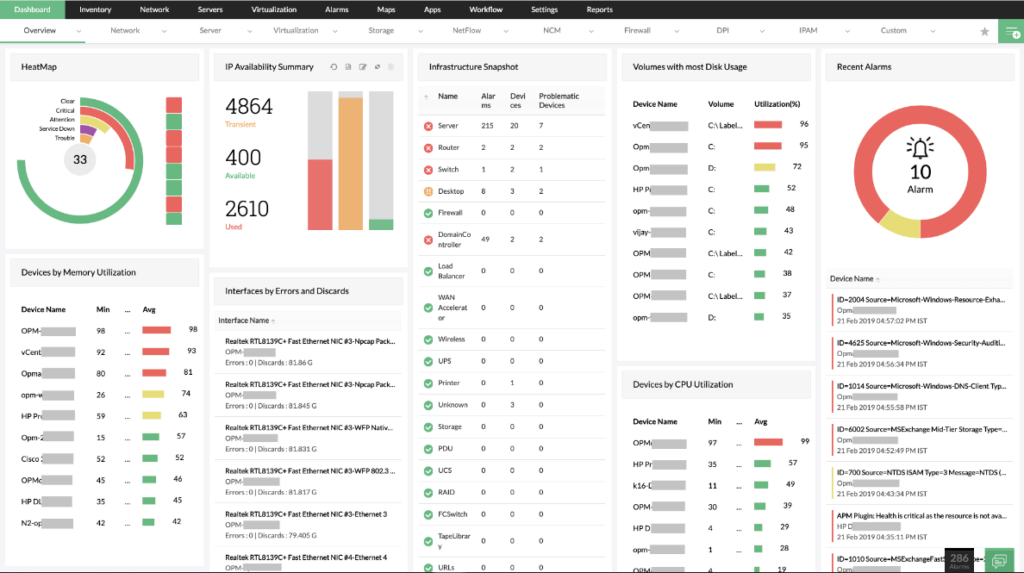 Operating System: Windows, Mac, Android, iOS.
Pricing: Freemium
Developer: ManageEngine
ManageEngine is one of the leading providers of network monitoring tools, offering comprehensive solutions to monitor and manage network infrastructure effectively.
ManageEngine focuses more on businesses and empowers organizations to ensure network performance, minimize downtime, and proactively address issues. It offers a variety of sensors and monitoring options to capture critical network performance metrics, including bandwidth usage, latency, packet loss, and response times.
The network monitoring capabilities of ManageEngine follow the classic service model. Essentially, it queries each device on the network through SNMP to track the state of the device. This way, ManageEngine can identify and create an inventory for all devices on the network in real time and draw a network topology map.
The software system also excels in comprehensive alerting and reporting. You can set up customized alerts based on predetermined thresholds and get notifications each time there is an issue on the network. Moreover, the tool integrates with Slack and other third-party systems to deliver notifications to your preferred system.
Pros
Comprehensive network monitoring capabilities
Wide range of sensors and metrics
Extensive alerting and reporting features
Scalable solution for enterprises
User-friendly interface and intuitive navigation
Cons
Steeper learning curve for some advanced functions
Limited support for less common or niche network products
2. PRTG – comprehensive network monitoring tool for real-time visibility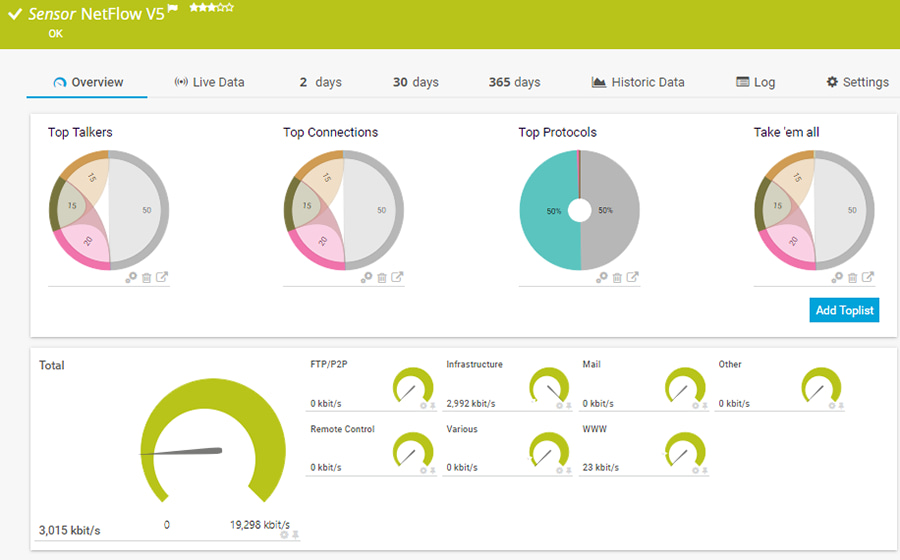 The application has a user-friendly interface that makes it easy for users to download and navigate. After installation, the software uses over 100 sensors to eliminate sever problems and improve internet connection. PRTG uses SNMP, WMI, Flow, and packet sniffing to monitor your connection. A free version of the software is available to private users interested in learning about the internet traffic on their networks.
3. Site24x7 – cloud-based infrastructure monitoring with deep insights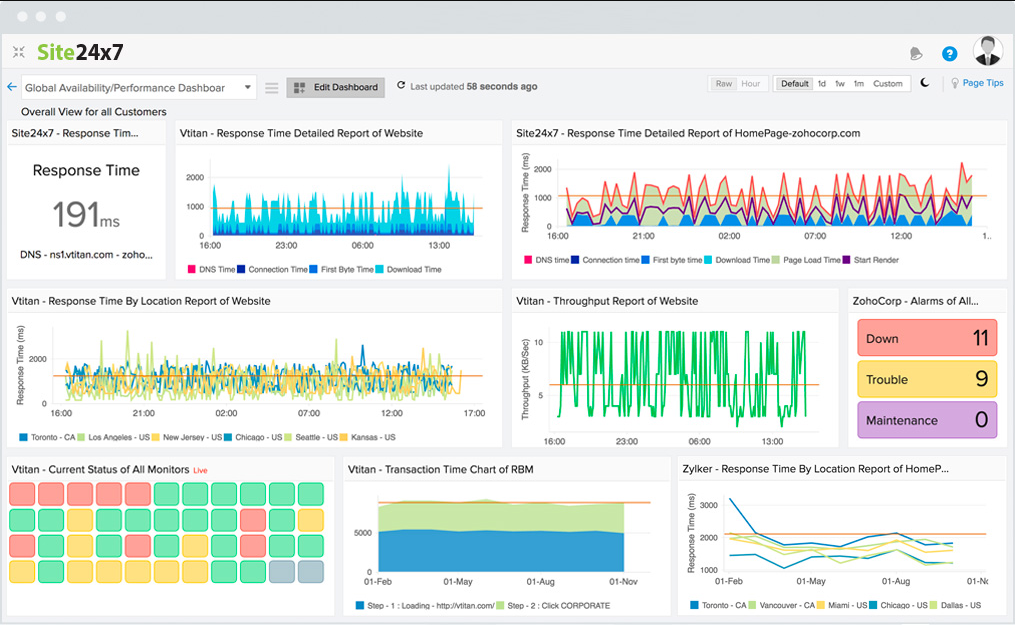 Operating System: Windows, Mac, Linux.
Pricing: Freemium
Developer: ManageEngine
Site24x7 is a popular system monitoring platform that offers full-stack observability. It is designed to provide organizations with deep insights into the availability, security, and performance of their network infrastructure.
It offers a wide range of monitoring options, including ICMP, SNMP, HTTP, HTTPS, TCP, UDP, DNS, etc. As the tool is cloud-based, you simply need to ping the nominated server to execute website and server monitoring. You can also monitor multiple servers based in different locations.
Site24x7 is an all-in-one tool that offers much more than simple network monitoring. It offers root cause analysis capabilities, making it an indispensable tool for IT Admins and DevOps.
Pros
Flexible cloud-based monitoring solution
Out-of-the-box monitoring options and templates
End-to-end monitoring of network devices, servers, applications, and websites
Comprehensive reporting and analytics
Integration with popular collaboration platforms
Cons
Advance features require higher subscription tiers
Limited control over monitoring infrastructure due to the cloud-based nature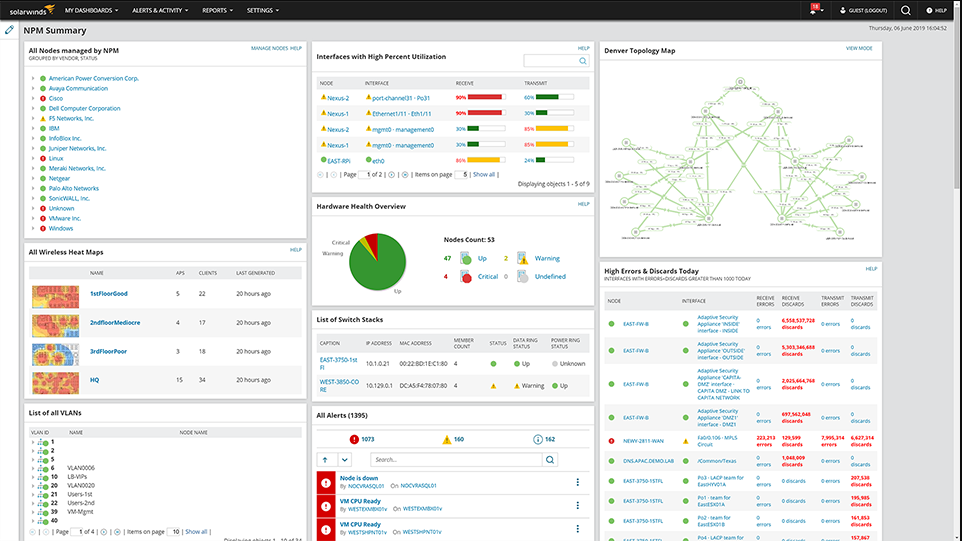 Operating System: Windows, Linux.
Pricing: Freemium
Developer: SolarWinds Worldwide, LLC
SolarWinds Network Performance Monitor (NPM) is a leading network monitoring software that provides organizations with complete visibility into their network infrastructure.
It is one of the most scalable network monitoring solutions available in the market. It can manage network configurations, router compliance, switches, and other networks effortlessly from a single window, allowing network admins to monitor everything at once and make data-backed decisions.
The user interface is intuitive and allows users to understand critical network paths easily. It shows all devices, applications, networks, and vendors on a single window. You can easily identify the cause of network slowdowns and take necessary actions to resolve issues.
Pros
Easy setup and configuration
Real-time monitoring of network devices, apps, and servers
Flexible threshold-based alerts
Graphs and other visual elements to view network pathways
Integration with other SolarWinds products for seamless network management
Cons
Limited scalability for larger network environments
Paid tiers are costly compared to other products on the list
Visit SolarWinds Network Performance Monitor
5. SoftPerfect NetWorx – bandwidth monitoring tool with usage statistics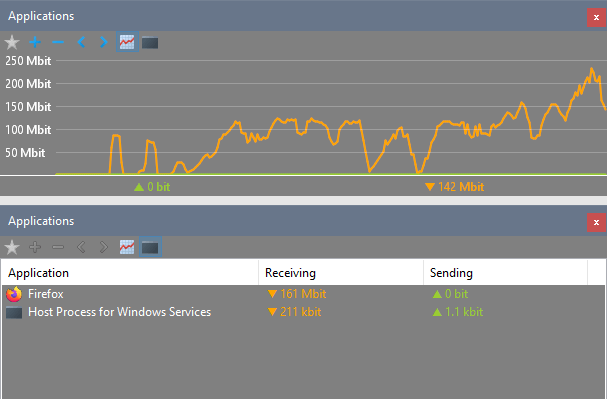 Operating System: Windows (portable and installer), Mac and Linux (preview only)
Pricing: Freemium
Developer: SoftPerfect
Perhaps one of the most well-known network monitoring and logging tool is NetWorx. It's also one of the most feature-rich programs while still being easy enough to use for most people.
While the NetWorx tray icon does not show an animated speed meter by default, you can easily turn it on and have bars or a mini graph by going into the settings. A resizable graph can be shown to see what has been uploaded and downloaded in the last few minutes.
To get older usage statistics, right-click the tray icon and select Usage Report. This gives a wealth of statistical information. The data in this window can be backed up, restored, or exported to HTML, CSV, or text files.
Other notable features include a speed meter to test the network throughout, a traffic quota system that can show a warning or send an email when a certain amount of bandwidth has been reached, and a notification feature that performs a number of actions when an amount of traffic has been sent or received. NetWorx can also set up quiet hours, connect with other instances of NetWorx on your LAN, and control dial-up connections.
Pros
Lightweight application with a portable version
User-friendly UI with intuitive navigation
Real-time bandwidth monitoring with usage statistics
Customizable threshold-based alerts and notifications
Detailed reports with historical analysis
Cons
Limited in-depth network monitoring features
Does not integrate with other network tools
Overview of best free tools to continuously monitor internet connection
| Software | Top Feature | Free trial | Monitoring protocols | Customizable reports | Integrations |
| --- | --- | --- | --- | --- | --- |
| ManageEngine | Real-time monitoring, alerting | 30-day | SNMP, WMI, ICMP, HTTP | Yes | ServiceNow, Jira, Slack, PagerDuty, Zapier |
| PRTG | Comprehensive monitoring | Free version | SNMP, WMI, ICMP, HTTP | Yes | Slack, Microsoft Teams, Zapier |
| Site24x7 | End-to-end monitoring | 30-day | ICMP, SNMP, HTTP, HTTPS | Yes | ServiceNow, Slack, Zapier |
| SolarWinds Network Performance Monitor | Real-time monitoring, alerts | 14-day | SNMP, WMI, ICMP, HTTP | Yes | SolarWinds Orion, ServiceNow, Jira |
| SoftPerfect NetWorx | Bandwidth monitoring | 30-day | SNMP, ICMP | No | N/A |
How to choose the best network monitoring tool? – H2
When choosing a network monitoring tool, you need to consider your unique monitoring requirements and preferences. Here are some important factors you need to consider to make an informed decision.
Identify your monitoring needs: One of the first things you need to understand is your exact monitoring needs. Determine the types of devices, systems, applications, and protocols you want to monitor, as well as the specific metrics and alerts you require.
Scalability and flexibility: Over time, your network requirements will change as you add more devices to your network. Your network monitoring tool should be able to accommodate current and future network infrastructure without a drop in performance.
Monitoring features: Look for essential monitoring features such as real-time monitoring, alerting mechanisms, customizable dashboards, historical data analysis, and reporting capabilities. Your choice of network monitoring software should offer the protocols and sensors to monitor critical aspects of your network.
Compatibility: The monitoring software should integrate seamlessly with your existing network infrastructure. It should be compatible with a wide range of operating systems, cloud services, virtualization platforms, databases, etc., for uninterrupted integration.
Tool reliability: A reputable developer is more likely to offer reliable software with regular updates and bug fixes. Make sure that you have researched the developer's track record in the industry, i.e., their experience, stability, and commitment to product development and support.
How to monitor internet speed continuously?
Follow these steps to monitor your internet speed continuously.
Select a reliable speed testing tool that can measure your internet connection's download and upload speeds.
Determine how frequently you want to run network speed tests, such as every hour or every few minutes. Remember that running tests too frequently will consume data and impact network performance.
Look for tools or scripts to automate the speed-testing process. For example, you can use command-line tools like speedtest-cli or PowerShell scripts to schedule and execute tests automatically.
Invest in network monitoring tools that offer continuous monitoring capabilities. These tools can monitor not only internet speed but also other aspects of your network, including devices, bandwidth usage, and network health.
Consider setting up alerts for when your network speed falls below a certain threshold. This way, you can immediately find the cause of the network drop and resolve the issue quickly.
Store the speed test results in a log or database for analysis. Historical speed analysis helps you identify patterns and recurring issues with your internet speed.
One important thing to remember is that network speeds can vary due to various reasons, like the time of the day, network congestion, etc. The ideal way to test network speeds would be to conduct a bunch of tests over a period and consider the mean or average value as the internet speed.
Final Thoughts
Finding the right network monitoring tool that can measure internet speeds and other important network metrics helps you gain complete control over your internet connection. Test one of the network monitoring tools mentioned in the list above and see which one works the best for your needs.