Mozilla Maintenance Service maintainanceservice.exe by Firefox
With the User Account Control enabled by default starting from Windows Vista, installing most software and drivers will prompt the UAC window requesting for permission to copy files into protected areas in your hard drive. The Google Chrome is one of such software that doesn't require UAC elevation when you install or update it because it is installed in C:\Users\UserName\AppData\Local (%LocalAppData%) folder. It is by design that the AppData folder doesn't require any notification when a change is being made in that folder. As for Firefox, it is installed in Program Files folder and making any changes in that location requires higher permission which is why you get the UAC window prompt.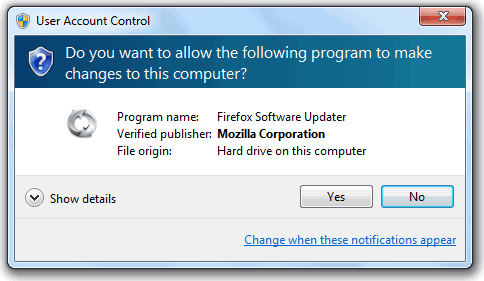 Starting from Firefox 12, it is capable of installing updates silently without prompting the User Account Control window by using the Mozilla Maintenance Service. If you've updated to Firefox 12 from an older version,the Mozilla Maintenance Service will be installed by default and the same goes to the new installation if you selected the Standard setup option. You can find the Mozilla Maintenance Service program (maintenanceservice.exe) installed in the following path C:\Program Files\Mozilla Maintenance Service\ together with an uninstaller (Uninstall.exe).
You can also find the Mozilla Maintenance Service from the Services Snap-in. Click the Start button, type services.msc in the Search programs and file bar and followed by hitting the Enter key. Look for the Mozilla Maintenance Service name and double click on it to open the Properties window. Fortunately the Mozilla Maintenance Service is set to manual startup type with the service status showing Stopped, meaning that the service is inactive and doesn't put any extra load on your computer. The maintainanceservice.exe file will ONLY be called when Firefox is installing an update.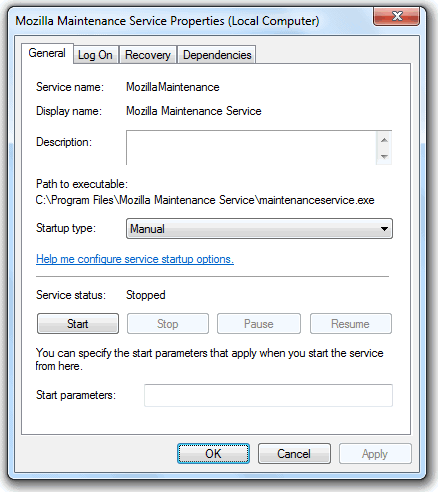 If the UAC is disabled on your Windows PC, the Mozilla Maintenance Service is pretty much not needed anymore and it is safe to remove it from your computer. You can either run the Uninstall.exe file from C:\Program Files\Mozilla Maintenance Service\ folder or use the Programs and Features in Control Panel to uninstall Mozilla Maintenance Service. It is also possible to disable Firefox from using Mozilla Maintenance Service to silently install updates by going to Options > Advanced > Update tab > uncheck "Use a background service to install updates" but the service still remains installed on your computer except it will not be used.