Macro Recorder Software: 10 Free To Use in 2023
Spending endless hours performing repetitive tasks like transferring a large amount of data from an Excel spreadsheet to a database can be frustrating and time-consuming. However, with the help of macro software, you can automate such tasks effortlessly.
Macro software helps you automate repetitive tasks by recording keyboard and mouse actions. You may need to write a macro script, but the software can perform most tasks you require. You can find both free and paid versions.
Here is a list of the best macro recorder software to use in 2023. They have a clean interface and can record mouse keyboard inputs, and use command lines.
Best Free Macro Recorder Software For PC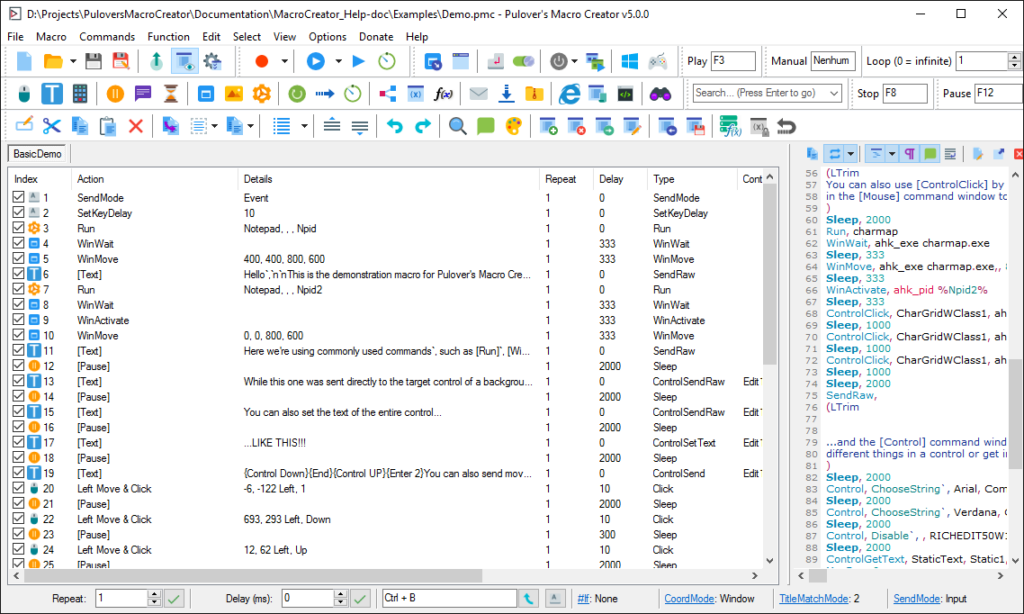 Operating system: Windows
Pricing: Free
Developers: Pulover's Macro Creator
Pulover's Macro Creator is a free automation and script generator tool based on the AutoHotkey language. The software features many automation commands, a built-in recorder, and features to capture inputs in its interface.
You can execute the macros internally or export them to AutoHotkey Script format. The tool is easy to use, allowing you to compile scripts to EXE, repeat/loop playback, macro edit, and use hotkeys to start/stop recording/playback.
You can customize hotkeys, schedule, and speed up playback. The compiled executable macro merely uses up 1.2MB of memory when running and does not increase RAM usage when played repeatedly.
Download Pulover's Macro Creator
2. Do It Again – Best for adjusting a recorded script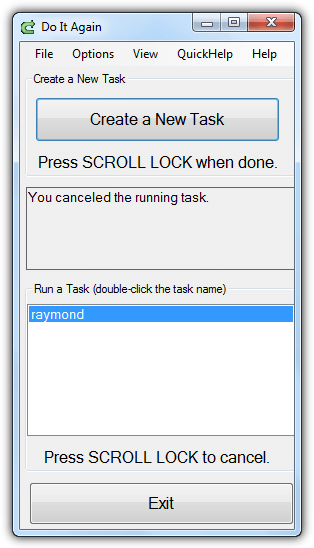 Operating system: Windows
Pricing: Free
Developer: Spacetornado software
Do It Again is a small and effective software for creating programs that execute repetitive tasks. The software can check for new emails, run antivirus, and take a backup of your files once you record the activities using the tool.
Although it's different compared to MacroDollar, WinMacro, and GhostMouse, Do It Again has an advantage, The list of macro recordings displayed in the program makes it convenient for users to run different tasks without manually loading the scripts to the program.
For advanced users, the recordings saved as a DIA extension stored in the program's folder are in clear text format. You can actually edit the actions and reuse the scripts.
3. TinyTask – Best for turning recordings into standalone programs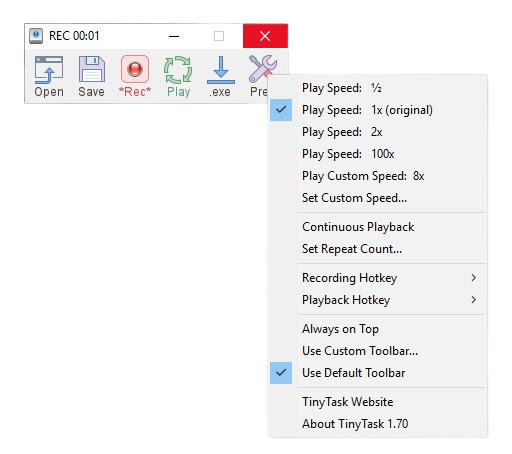 Operating system: Windows
Pricing: Free
Developer: Vista Software
TinyTask is a utility that lets you record keystrokes and mouse actions. It's the smallest macro software with an impressive 33KB. It would be most suited for novice macro users who don't know how to use a macro editor.
With that file size, you would expect a really simple application with only two functions: record and playback, but there is more than that. Besides providing easy access for automating playback or recording, you can use the software to create an EXE file.
Among gamers, TinyTask is the most commonly used auto-clicker. It records you performing some actions or series of tasks on your PC and plays it back. You don't need to know how to code to use it.
4. Mouse Recorder – Setting a script to be played at a specific time using the calendar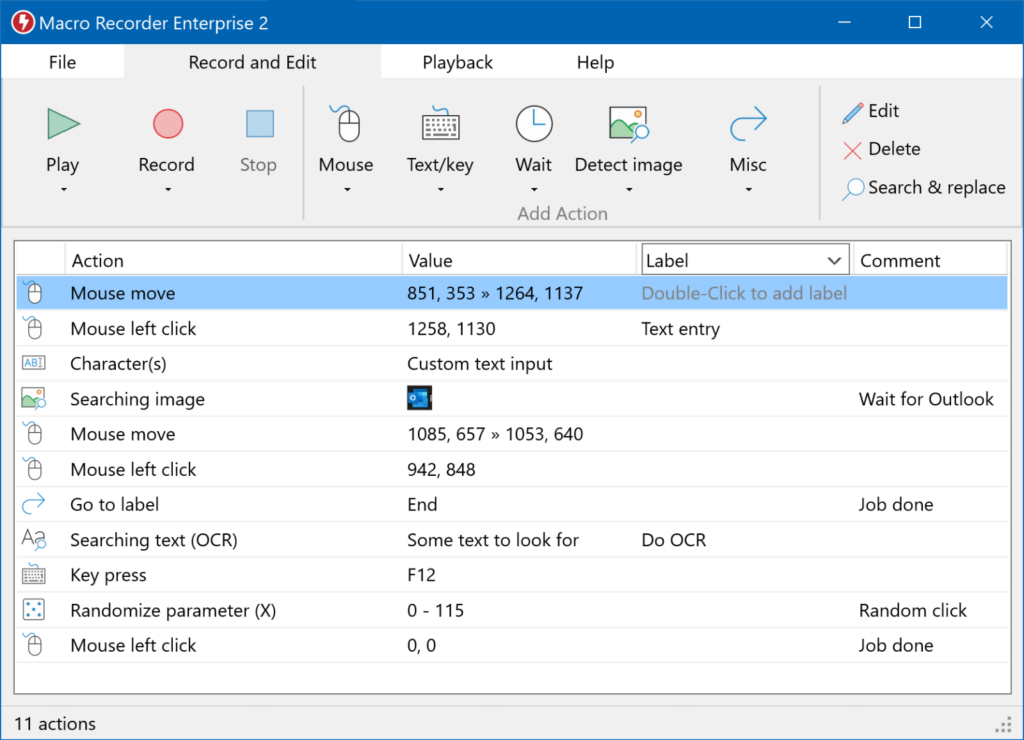 Operating system: Windows
Pricing: Free
Developer: Nemex Studios
Mouse Recorder is a utility tool for recording computer mouse and keyboard inputs. The program easily edits and sets the repeat time of your recordings. It can also play what you have been recording at the scheduled time you set.
The software has a built-in macro editor that allows you to add or remove events to fine-tune the actions' accuracy. The software has user plugin support where you can code your own plugins using C# or Visual Basic .Net to manipulate your recording and playing script.
5. AutoIt – Best for speeding up your efficiency and finishing tasks faster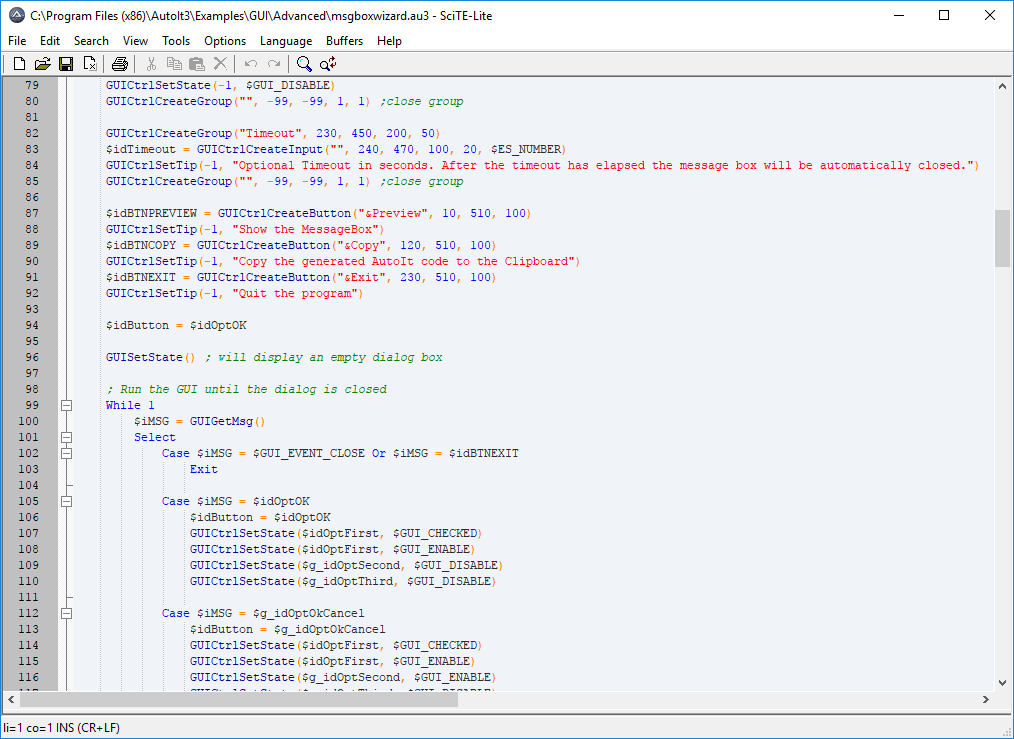 Operating System: Windows
Pricing: Free
Developer: AutoIt Consulting Ltd.
AutoIt is a free BASIC-like scripting language used for automating tasks on the Windows GUI and general scripting. It automates activities through simulated mouse movements, keystrokes, and window/control manipulation, making it more reliable than other languages.
The software is self-contained, small, and can run on any version of Windows without any additional runtimes. Scripts created with AutoIt can be turned into a compressed and stand-alone executable that can run on computers without the AutoIt interpreter installed.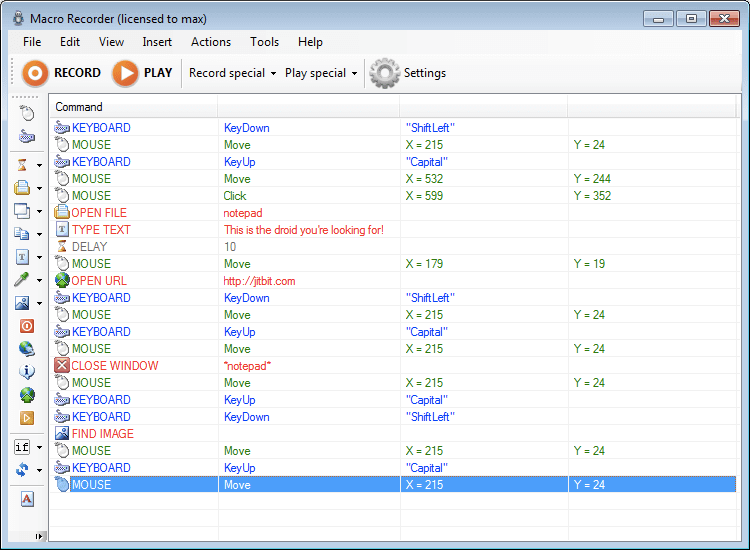 Operating System: Windows
Pricing: Free
Developer: JitBit
JitBit allows you to record your mouse clicks, typing, and cursor movements on your screen for future use. It isn't limited to just keyboard and mouse recording. With this tool, you can add your own custom statements and commands to your macros.
The software allows you to convert your macro into an EXE file that runs on any Windows-compatible computer. It has a user-friendly interface, and getting started is easy. You won't have to spend hours reading instruction manuals.
7. GhostMouse – Best for playing keyboard/mouse actions in a loop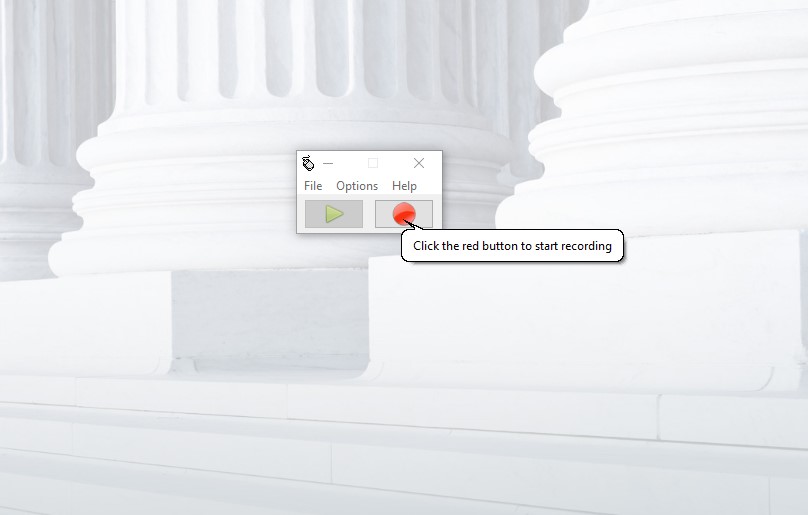 Operating system: Windows
Pricing: Free
Developer: remouse.com
GhostMouse lets you automate and record a sequence of keystrokes and clicks on a Windows computer. It is more suitable for quick and short-term use but certainly not for automating repetitive tasks because there is no repeat or loop functionality.
It has the ability to perform a list of actions, such as turning off the computer on playback completion. Getting started with GhostMouse is easy. You just need to hit and start simulating the keyboard and mouse actions you will want the software to record.
8. Mini Mouse Macro – Best for actively recording your mouse movements, clicks, and keys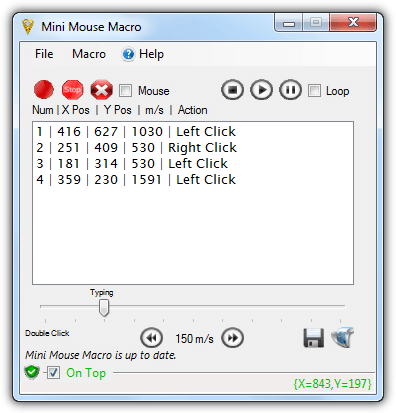 Operating system: Windows
Pricing: Free
Developer: Stephen Turner
Mini Mouse Macro is an open-source macro software hosted at SourceForge. Besides the ability to record mouse & keyboard actions and looping/repeating playback, it also comes with a simple editor to add/remove/edit the captured actions.
The tool is perfect for users with little experience in macro software. Since no download is not needed, you can drop the executable file in a custom directory on the hard disk and click it to run.
You can also save the software in a flash drive or similar storage device to run it on your computer with minimum effort and no previous installers.
9. AutoHotKey – Best open-source scripting language tool for Windows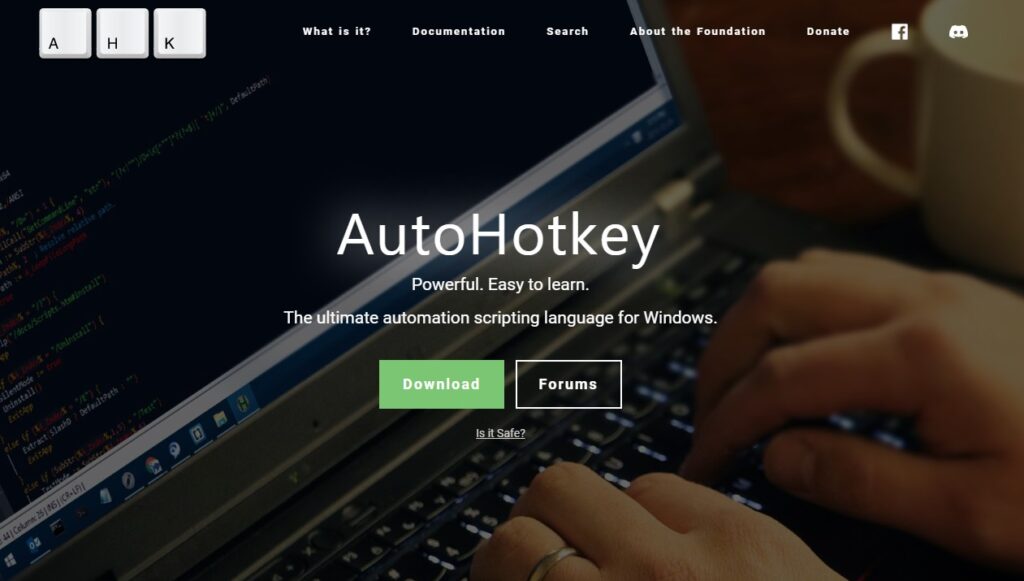 Operating system: Windows
Pricing: Free
Developer: Chris Mallett
AutoHotKey is a free and open-source scripting language for Windows that allows users to create scripts to perform repetitive tasks. It comes with easy-to-learn commands for beginners and advanced code for experienced users.
You can use AutoHotKey to automate any desktop tasks, define hotkeys for the mouse and keyboard, remap keys and buttons, and find auto-correct-like replacements. Follow the available documentation to learn how to use the app.
10. Macro Commander – Best for recording and playing repetitive tasks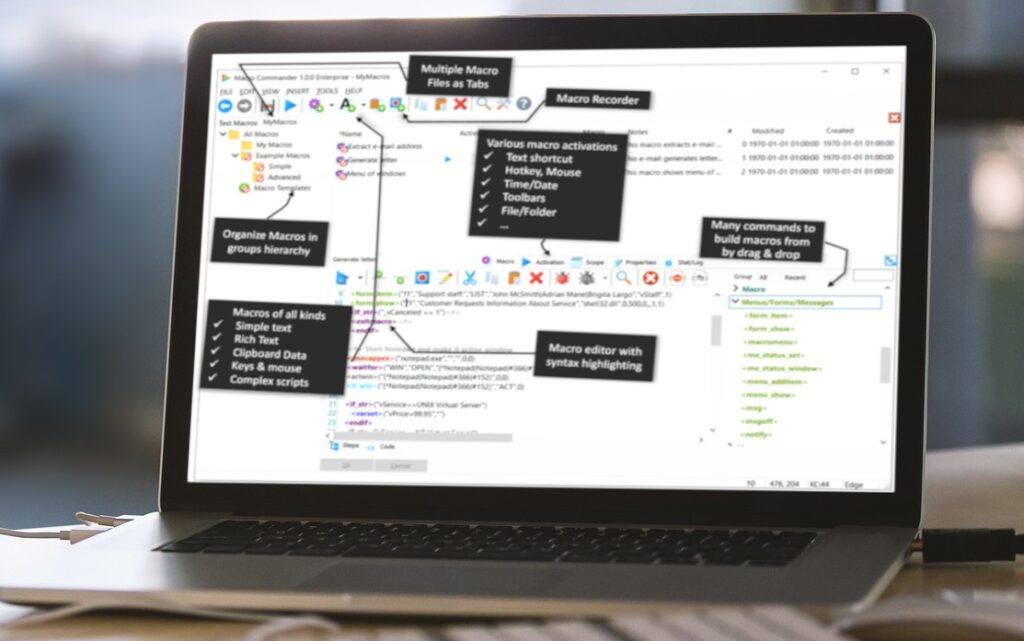 Operating system: Windows
Pricing: Free
Developer: Softutils s.r.o
Marco Commander is a great tool for automating repetitive tasks, inserting text, paragraphs, and images into other applications, and creating scripts on demand. You can perform over 300 tasks using in-built commands, to manipulate files, folders, images, text, and network.
Build a macro in a full-featured editor supporting syntax highlighting and recording. If you don't want to download the software on your PC, you can use the web version and record web macros. The program comes with heavy password protection features to protect your sensitive data.
How to choose the best macro recorder software
With numerous free macro recording tools available, choosing the right one can be a daunting task. Here are the critical factors to consider when choosing a free macro recording tool:
Functionality: Consider the features offered by different macro recorder software. Look for essential capabilities such as recording, editing, and playback functions. Advanced features like variable manipulation, conditional statements, and loop controls can provide additional flexibility.
User-Friendliness: A user-friendly interface makes the software accessible to users of all skill levels. Look for intuitive navigation, clear instructions, and visual elements that facilitate easy macro creation and management.
Compatibility: Ensure the software is compatible with your operating system and the applications you intend to automate. Cross-platform compatibility is essential if you work on multiple devices or operating systems.
Security: If you are dealing with sensitive data, prioritize software that offers secure encryption and password protection to safeguard your macros.
Final Thoughts
Macro recorder software is great for automating repetitive tasks and saving time. Our top pick provides easy-to-use features for beginners and advanced actions for more experienced users.
Regardless of which macro recorder software you choose, it can undoubtedly increase your productivity and efficiency. What do you think about the above tools? Share your thoughts in the comment section below.