5 Best Keylogger Detector Tools in 2023
How to detect and remove keyloggers is people's biggest concern because this rootkit malware has affected millions worldwide. Above all, keyloggers attempt to steal sensitive information like credit card details and login credentials. Therefore, it becomes necessary to take preventive measures against such threats. In this article. We'll discuss the 5 best keylogger detectors tools that can stop attackers from exploiting the users' system.
Best Keylogger Detector Software
Software
Best for
Top Features
1.
Malwarebytes
Proactive protection against the rootkit.
Protection against malicious websites and phishing attacks.

Its malware rootkit scanner protects the users' devices and data.

Its anti-rootkit technology can identify rootkit origin based on its behavior and stop it from infecting the system.

Clocks all third-party ad collectors.
2.

Avast

Preventing your device from keyloggers.

Effectively clean and scan rootkits, mainly keyloggers inside the users' system.

Equipped with useful tools like free anti-spyware detector and removal, anti-ransomware removal, virus scanner and removal, and adware scanner and cleaner.

Block all intruders from accessing your WI-FI.

Protect the system from keyloggers and ransomware.
3.
TDSSKiller
Safeguarding an organization's security against evolving cyber threats.
Ability to detect and eliminate bootkits and rootkits.

Completely scan your system in 15 seconds.

Ability to protect your privacy by blocking unauthorized access to the users' webcam.
4.
MacScan
Identifying and destroying malware threats and remnants of browsing data
Protection against all malware threats, including but not limited to keylogging.

Allow users to schedule the scanning.

Regularly update users about any possible threat.

Automatically remove tracking cookies.

Provide users access to a knowledge base.
5.
UnHackMe
Detecting and removing suspicious files in the system.
Ability to scan installed applications for potentially damaging software.

Scan browser add-ons and extensions for vulnerabilities.

Enable users to detect and remove suspicious files manually.

Allow users to customize the scan according to their needs.

Scan Windows startup programs and drivers for potentially unwanted programs.
Malwarebytes – Stops keyloggers from compromising system performance.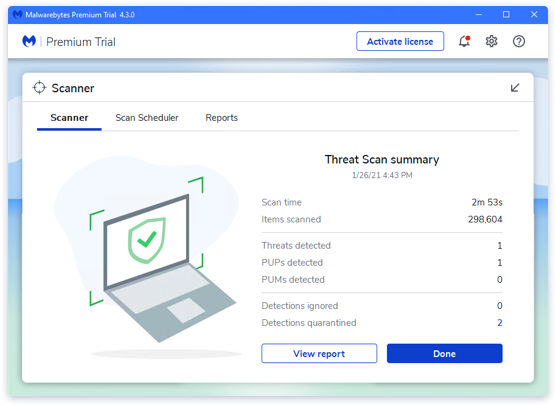 Supported OS: Windows, Mac, iOS, and Android.
License: Freeware
Developer: Malwarebytes
MalwareBytes removes the deeply embedded rootkits by penetrating into the system and scanning it thoroughly. Leveraging the power of cutting-edge technology, it removes and repairs the damages caused by keyloggers.
Pros
Real-time protection against ransomware, brute force, and zero-day attacks.
Remove irritating ads that bombard the screen.
Intuitive UI.
Ensure WiFi security to protect sensitive information.
Protect the digital footprint via no-log VPN.
Available in 30+ languages.
Excellent virus detection rates.
Cons
No live chat support to address customer queries.
The free version does not offer real-time protection.
2. Avast – Best free keylogger detector and removal tool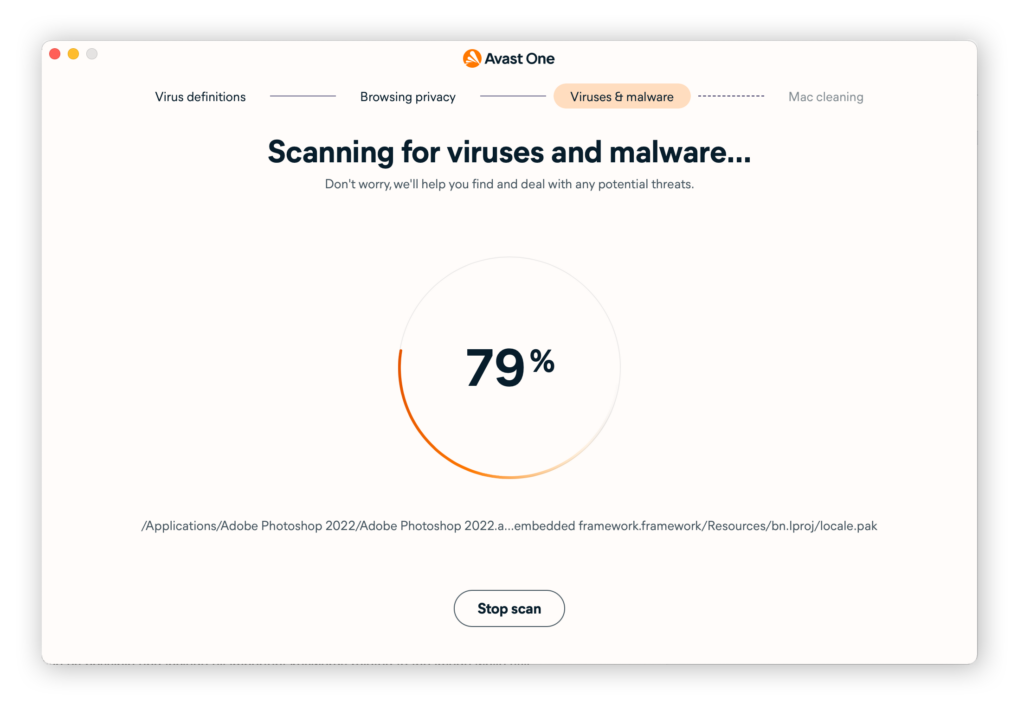 Supported OS; Windows, Mac, iOS, and Android.
Hard disk space required: 2GB.
RAM required: 1GB.
License: free (trial version)
Avast thoroughly scans the system for the popular kits, including but not limited to hardware rootkit, memory rootkit, application rootkit, and kernel-mode rootkits. The latest edition of Avast leverages virtualization technology to detect malware with more accuracy. It is the best keylogger detector tool for Windows 10/ 8 / 8.1/ 7.
Pros
100% free and easy to use.
Lightweight application, so it does not burden system resources.
Ability to deal with all kinds of threats.
Scan all the files, apps, and software to find vulnerabilities
Alert users regarding any potentially damaging files.
Protect personal, business, and customer data from a breach.
Endorsed by many software reviewing sites like AV-Comparatives, PC MAG, and TechRadar.
Cons
Big business plans are costly.
Only a few features are available in the free plan.
3. MacScan – Mac malware removal tool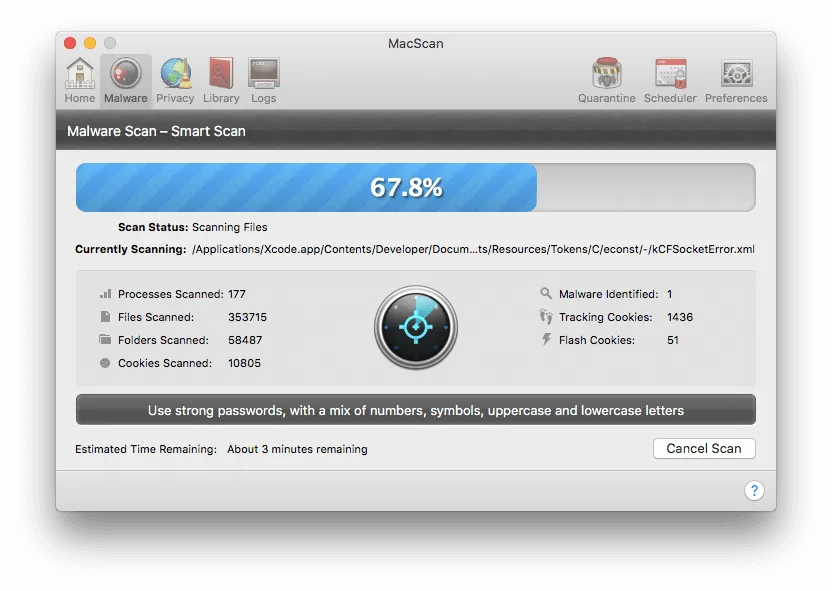 Supported OS: macOS 10.19 or higher
Disk space required: 500MB.
Processor: Macintosh Computer with a 64-bit processor.
Developer: SecureMac
License: Freeware (trial version)
Mac malware removal tool has become necessary because keyloggers have discovered different ways to infect the macOS. Despite the prevalence of prominent security threats, many systems are unprotected. MacScan is a standalone keylogger detector tool that can scan and remove all rootkits.
Pros
MacScan can flawlessly identify and clean common malware that infects the macOS, including Keystroke Loggers, Spyware, Adware, Trojan Horses, and Stalkerware.
Easy to use and understand.
Technical support is only one click away from the user.
Offers a customized solution for the customer's needs.
Easy to install, use, and launch.
Cons
The developer hasn't updated the tool for almost 2 years.
Quit automatically when there is nothing to report to the users.
4. TDSSKiller – Top-rated rootkit detector tool for safe and private internet browsing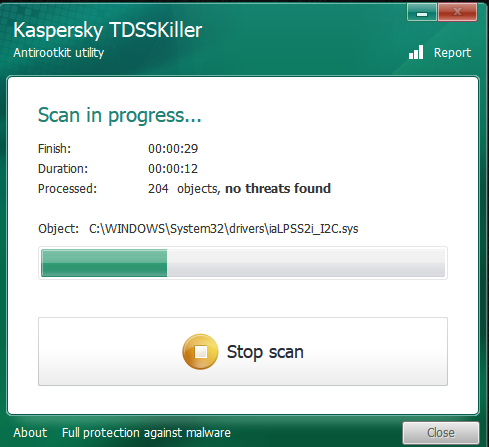 Developer: Kaspersky
Supported OS: Windows, Mac, Android, and iOS.
License: Freeware.
TDSSKILLER is a keylogger detector tool for online shopping. On top of that, it can flawlessly detect and remove all kinds of rootkits hidden inside your system. Since its inception, it has blocked 114M unique malicious URLs and stopped 687M cyber-attacks.
Pros
Stop others from eavesdropping on the users' activities.
Online payment protection using the hacker-proof secure browser.
Scan emails and frequently visited sites for security vulnerabilities.
Provide maximum security while consuming minimum resources of the system.
24/7 customer support.
Cons
Sometimes windows crash during the scan process.
UnHackMe – Ultimate malware removal tool for windows OS
Supported OS: Windows 10/8/8.1/7/XP.
Developer: Greatis Software.
License: Freeware.
UnHackMe is an impressive keylogger detector tool readily available and primarily designed as anti-rootkit software. It can flawlessly eliminate malware from the system, notably Keyloggers, Adware, Spyware, Bots, and Slow Browsing.
Pros
Compatible with all antivirus software.
30-day money-back guarantee.
Lightweight application, so it does not slow down the computer during installing and scanning.
Allow users to copy UnHackMe on CD or USB stick and run it without installation.
No annual fees.
Free upgrades for 2 years.
Quick and easy to install.
Cons
Does not provide real-time scanning.
Advanced tools for removing viruses/keyloggers/Trojans are only available on the top-tier subscription plan.
How do I know if someone is keylogging me?
Like any other malware, keyloggers can intrude on Windows, Mac, iOS, and Android. All it takes is opening malicious email attachments or visiting a legitimate but infected website. Here are some indicators of keylogging.
Suspicious process: Keylogger applications are like any other software. They hide inside the computer and are difficult to detect without any specialized tool. Consequently, the victim will experience an unexpected process. To mitigate this problem, check all the processes running in the system.
Frequent alerts from antivirus software: Antivirus utilities frequently issue warnings when they identify keyloggers on the device.
System performance: You will experience a dramatic decline in website loading speed and computer performance. Some keyloggers deteriorate the system performance by consuming too many system resources.
Keyboard and mouse malfunction: You might experience external peripherals like the keyboard and mouse going out of control. For instance, mouse points start pointing to random locations without your direction. Likewise, the keyboard cursor starts moving without your intervention.
Can keyloggers be detected?
Are there any tools to detect keyloggers so the users can take preemptive measures? The answer is an absolute yes. Like any other malware, keyloggers can be detected on Mac, Windows, iOS, and Android using the abovementioned tools.
Therefore, the best strategy to protect your system against malware like keyloggers is to scan your device too frequently using these tools.
Final Thoughts
Keyloggers can be in email attachments, social media networks, chats, or even text messages. If someone sends you an email asking for personal information, it might be prone to keyloggers.
The conventional antivirus cannot detect keyloggers because they boot up with Windows ahead of the antivirus. Although some antiviruses have a rootkit and malware detector tools, they cannot fix the system if the keyloggers are installed.