How to Install Google Chrome in Program Files
Most people install Google Chrome from the official website which is http://www.google.com/chrome. Clicking the big blue Download Google Chrome button will first download the Google Chrome installer (ChromeSetup.exe) which is only 716KB in size. The installer will then download the latest Google Chrome to install it on your computer. Since Windows 95 until the current Windows 7, most if not all third party software is recommended to install in Program Files folder so that we can easily keep track of what software that has been installed on the Windows computer.
If you haven't noticed, Google Chrome by default installs to AppData folder instead of Program Files. The good thing about installing Chrome in AppData folder is it doesn't require UAC elevation so any user including Guest account will be able to successfully install without problems.
However, for advanced users that prefers to keep all installed software in a standard location which is the Program Files, here is how to do it.
The easiest way is to uninstall the current Google Chrome from Control Panel and then download the alternate offline Google Chrome installer for Windows which the setup will install Chrome in Program Files folder. When you uninstall Google Chrome, make sure that the option "Also delete your browsing data?" is unchecked so that the extensions, cookies and caches will be retained. Do note that installing the offline Google Chrome will prompt the User Account Control window asking you to allow the following program to make changes to your computer. Click the Yes button to continue.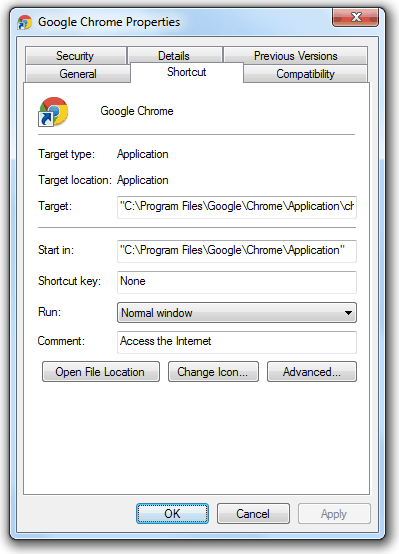 Another advantage of the offline Google Chrome installer is you can reinstall or install it on multiple computers without redownloading the whole web installer, saving both your time and internet bandwidth.